Chase format needs to come to the minor leagues
If NASCAR is serious about adding value to the Busch and Craftsman Truck series, it will add a Chase format that would exclude Cup drivers, writes Terry Blount.
Updated:
October 24, 2006, 3:25 PM ET
By
Terry Blount
| ESPN.com
The final four races of the Busch Series season are almost meaningless.
Kevin Harvick has a ridiculous 775-point lead and has clinched the championship. Clearly, NASCAR's version of Triple-A baseball could have used a Chase format.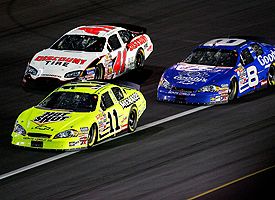 Streeter Lecka/Getty ImagesPaul Menard, driving the No. 11, had to get used to being stalked by full-time Cup drivers moonlighting in Busch.
And while we're at it, leave Harvick out, along with the rest of the top six drivers in the Busch standings. Cup regulars need not apply.
Take a wild guess who agrees with that idea? None other than Mr. Harvick himself.
"If they decide to have a Chase in the Busch Series, maybe lock the Cup guys out of it," Harvick said. "Make it where the Cup guys can't run for the championship. Make it just the top 10 Busch teams."
Harvick made his comments last month in a satellite interview with members of the Texas media. Harvick could become the first person to win the Busch and Cup championship in the same season.
He realizes the Busch Series today is dominated by Cup regulars who run in the Busch races for top Cup teams. He's taken advantage of the system, but Harvick knows changes are needed to keep regular Busch teams from going out of business.
"I believe there are things we can do to make the stand-alone Busch guys more of a story," Harvick said. "We need to get them more exposure on television so the sponsors are happy.
"Right now, the sponsors want Cup guys. They're winning the races and getting all the TV time. I believe there's a balance we can find for everybody to race, but I also believe the Busch regulars need more of a story put behind them."
Eight of the top 10 drivers in the Busch standings are full-time Cup drivers. Paul Menard, the true Busch champion this season, ranks seventh, and Johnny Sauter ranks ninth. The drivers ranked 11th through 19th all are Busch regulars.
If NASCAR had a 10-race Busch Chase, using the same rules as the Cup Chase, 10 drivers would have made the cutoff after the 25th race. Busch has one less race than Cup this season.
To get 10 Busch drivers in the Chase, the cutoff point would have come at Todd Kluever in 18th place. Only 12 Busch regulars had competed in every Busch race up to the 25th event.
Part of the reason for it is stand-alone Busch teams can't afford to compete with Cup teams racing full time in the series. It takes $5 million to $7 million a year to even consider being competitive.
But the Busch guys can't get major sponsors. Those companies go to the Cup drivers running in Busch. They have the name recognition, and they are the guys running up front most of the time.
Because of the testing limitations in Cup, more Cup drivers than ever are racing full time in Busch.
Rookie Cup drivers Reed Sorenson, Clint Bowyer, J.J. Yeley and Denny Hamlin all raced a full Busch schedule to gain more track time at each event.
Eliminating Cup drivers from the Busch Series isn't an option as far as track operators are concerned. They say the Cup entries are needed to sell tickets to the Busch events.
NASCAR isn't going to stop Cup drivers from racing in Busch events, but some changes are needed to give the Busch regulars a fair shake. Don't allow Cup regulars to race a full Busch season. Place a limit of 12 to 15 Busch events a year for each full-time Cup driver.
Most young Busch drivers say they like having the Cup regulars in their events because it helps them get better. But the Busch drivers aren't competing on equal footing. The Cup drivers in Busch have better equipment and better crews.
NASCAR chairman Brian France has said he wants to see the Busch Series receive more media attention. Adding a Chase format is an easy way to do it.
And the best way to bring attention to Busch regulars is to give them a championship to shoot for instead of watching the Cup guys take their title.
The Craftsman Truck Series doesn't have the same problem of Cup domination, but the series also could use a Chase format. Todd Bodine has a 79-point lead over Johnny Benson with four races remaining, but Benson is the only driver within 250 points of Bodine.
A Truck Chase would require a reduced version of the format, maybe eight races instead of 10. The NCTS has only 25 races a year.
Both Busch and Trucks join the Cup Series at the final three events of the season. Both feeder leagues are overlooked down the stretch because media and fans are focusing on the Chase. It's worse this year because Harvick has sewn up the Busch crown so early.
It doesn't have to be that way. Give both series a Chase and add some much-needed excitement for teams that really deserve it.
Terry Blount covers motorsports for ESPN.com. He can be reached at terry@blountspeak.com.
ESPN Seattle Seahawks reporter
Covered the NFL at the Houston Post and Houston Chronicle, including eight Super Bowls
Received Citation for Writing Excellence from Hearst Newspapers
Also has covered NBA Finals, World Series, Finals Fours, Indy 500 and Daytona 500
MOST SENT STORIES ON ESPN.COM