Long green-flag runs plus old model car adds up to snoozer
After another boring race at one of NASCAR's so-called cookie-cutter tracks, the Car of Tomorrow can't arrive at those intermediate ovals soon enough, writes Terry Blount.
Updated:
July 15, 2007, 10:24 PM ET
By
Terry Blount
| ESPN.com
JOLIET, Ill. -- Surely the Car of Tomorrow will be better than this.
Except for a couple of interesting moments near the end, Sunday's USG Sheetrock 400 at Chicagoland Speedway was three hours only a driver's mother could love.
Watching
Tony Stewart
climb the fence in victory was the thrill of the day for the sellout crowd. Stewart earned his first win of the season by 1.7 seconds over
Matt Kenseth
, an eternity in Nextel Cup racing.This was the last time the current version of the Cup car will race on this 1.5-mile oval.
Amen. Nice to have known you. Rest in peace. Bring on the COT. The sooner the better.
Late in the race, Cup veteran
Kyle Petty
, working in the TV booth for TNT, told it like it was:
"Guys, this has not been the most exciting race in the world," Petty said. "Let's be honest." The question is whether the COT will be any better on this type of track.
"I'm sure in time it will get that way," Stewart said. "But I don't think [the COT] is going to solve the world's problems in racing right off the bat."
No doubt Hendrick Motorsports would welcome the COT on the intermediate ovals, but they'll have to wait until next season before the COT debuts on the so-called cookie-cutter tracks.
Hendrick drivers have won six of eight COT races this year, but that's old news now. After winning 10 of the first 14 races this season, Rick Hendrick's foursome is winless in the last five.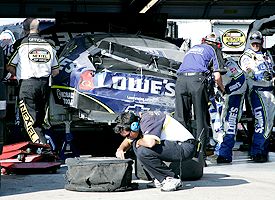 John Harrelson/Getty Images for NASCARThere wasn't a whole lot left of Jimmie Johnson's car after a tire failure put him in the wall.
That might have changed Sunday if
Jimmie Johnson
had made it to the end. Johnson was running second behind Stewart when he blew a tire and hit the wall with 44 laps to go.
"I had no indication it was coming," Johnson said of his tire failure. "I did get a little looser chasing Tony before that happened. When it exploded, I thought the drive shaft had come off because it was so violent. I hit my funny bone and it knocked the wind out of me a little, but I'm OK."
Johnson won four of the first 10 races, but he hasn't visited Victory Lane in the last nine events. Domination always is fleeting in this business.
And close racing on this type of track often is scarce. Long green-flag runs lead to laps with lots of space between the racers.
Cars get strung out at times on intermediate tracks. That was the case Sunday, but this track is much better than it was when the pavement was new.
Drivers were able to take a high line, something they couldn't do when the speedway opened in 2001.
Calling all the 1.5-mile ovals cookie cutters is unfair, but it is fair to say too many races on tracks like the Chicagoland circuit leave the fans wanting.
Changing that problem is one of the goals for the COT. The hope is the bigger, boxier car will make passing easier on intermediate ovals. Whether it works out that way is anybody's guess.
Changing that problem is one of the goals for the COT. The hope is the bigger, boxier car will make passing easier on intermediate ovals. Whether it works out that way is anybody's guess.
"I really don't know if the COT will be better or worse here," said
Carl Edwards
, who finished third Sunday. "I know it makes a bigger hole in the air, but that could make it harder to race side-by-side. It's going to bring a different dynamic."
Kenseth got side-by-side with Stewart on Sunday on a restart with 38 laps to go, but couldn't quite get by him.
"When you're on bottom racing for position, it's hard to hang on to it," Kenseth said. "I got so loose I was afraid I would wipe us both out."
Would things have turned out differently in the COT?
"I don't know," Kenseth said. "I know those cars are really tight. It seems harder to get side-by-side, but once you do, the car doesn't get as loose as this one does."
Translation: Kenseth feels it's hard to get beside another car in the COT, but it's easier to pass them once you do.
Jeff Gordon
won in the COT model at Darlington, a 1.3-mile oval. But he said he doesn't think the car makes passing easier. He said he feels the COT still has aero-push (drifting toward the wall when behind the leader) just like the other car.
"Anyone who said this COT would eliminate aero push is mistaken," Gordon said last month. "It may be worse."
The COT has produced some exciting finishes this season on other types of tracks. The short-track events and Martinsville and Bristol came down to last-lap thrills.But can it make the racing better at places like Chicagoland? "It might be," Kenseth said. "But we just don't know."
Terry Blount covers motorsports for ESPN.com. He can be reached at terry@blountspeak5.com.
ESPN Seattle Seahawks reporter
Covered the NFL at the Houston Post and Houston Chronicle, including eight Super Bowls
Received Citation for Writing Excellence from Hearst Newspapers
Also has covered NBA Finals, World Series, Finals Fours, Indy 500 and Daytona 500
SPONSORED HEADLINES
ESPN TOP HEADLINES
MOST SENT STORIES ON ESPN.COM