Commentary
Hendrick drivers struggle in opener, just like last year
What did we learn from Sunday's Daytona 500? The Hendrick stable still has plenty of muscle, but another runaway season isn't likely, writes Terry Blount.
Updated:
February 19, 2008, 1:19 PM ET
By
Terry Blount
| ESPN.com
DAYTONA BEACH, Fla. -- Hendrick Motorsports had a bad day in the Daytona 500 Sunday. But guess what? It wasn't as bad as a year ago.
[+] Enlarge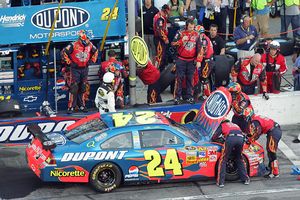 AP Photo/David GrahamHaving the hood up on pit road is never a good sign -- as Jeff Gordon's crew discovered Sunday.
If you think the Hendrick boys are off their game, a look back at the 2007 Daytona 500 shows a slow start in the first event doesn't mean much.
Jimmie Johnson
finished 39th one year ago and went on to win his second consecutive Cup title.
Jeff Gordon
was the organization's best finisher in 10th, but started the Chase on top of the points standings.
Dale Earnhardt Jr
. was the top Hendrick finisher Sunday in ninth. Gordon had suspension part failure. Johnson and
Casey Mears
were involved in accidents late in the race.It was a four-strikeout day for the Hendrick heavy hitters, but how things go at Daytona rarely is indicative of how the season will unfold.Hendrick's guys will win their share. One rotten outing doesn't change that fact. But other teams have gained ground, so last year's Hendrick domination appears unlikely.Toyota is vastly improved with Joe Gibbs Racing. And Dodge has stepped up because of improvements at Penske Racing, Ganassi Racing and Gillett Evernham Motorsports.Ford probably has only three who can challenge Hendrick --
Carl Edwards
,
Matt Kenseth
and
Greg Biffle
at Roush Fenway Racing -- but all three are serious Chase contenders.Hendrick still is the best team in Sprint Cup. It hasn't slipped off the mountaintop, but a few other teams have climbed up there too. To pit or not to pit?
Controversial decisions by the No. 88 team in the final 40 laps of the Daytona 500 ruined Dale Earnhardt Jr.'s chances of winning Sunday. Crew chief Tony Eury Jr. elected not to pit under yellow when Earnhardt was running third with 38 laps to go.The leaders had pitted seven laps earlier under caution, but the lead pack came in again for right-side tires, believing new tires were the way to go.Earnhardt stayed on the track and moved to the lead. Eury was banking on another caution, and he was right. It came 11 laps later.But Earnhardt again did not pit, this time because of a miscommunication on the team radio.Another yellow flag flew with 18 laps to go, but it was too late to pit then. Earnhardt would have given up too much track position to make it up in the final laps.Earnhardt said after the race that failing to pit didn't matter. He said tire wear wasn't a factor and he needed track position to get to the front.Really? If tire wear didn't matter, why did the other contenders come in for new tires with only seven laps on the old ones?
Kyle Busch
had the fastest car all day. Busch was beatable, as we saw. But did Eury think Earnhardt would beat Busch on old tires?Earnhardt was stuck on older tires than everyone else in the top 10.You don't win at Daytona on old tires. It was a bad call and it cost Earnhardt dearly.Hornish stands out
What do Daytona 500 winners
Dale Jarrett
, Jeff Gordon, Jimmie Johnson and
Michael Waltrip
have in common? They all finished behind Cup rookie
Sam Hornish Jr
. in Sunday's Daytona 500.Go ahead and add Matt Kenseth, Carl Edwards and
Mark Martin
to that list. They also ended the race looking at Hornish's rear wing. Hornish's 15th-place showing in his first Daytona race was nothing short of phenomenal. The man can wheel a race car.Hornish ran in the top 10 for a good portion of the race, making moves in the draft that most drivers take years to perfect in restrictor-plate racing.He ran as high as fourth at one point. Hornish still has a lot to learn, but he'll get there if he has the team and the equipment equal to the task. Same ol' story
New name, same results. The opening Nationwide Series event was a Cup warm-up race, just as it was in the old Busch Series.Cup regulars dominated the Camping World 300 Saturday at Daytona. Eleven of the top 12 finishers were Cup regulars, including race winner
Tony Stewart
.The hero of the day was 18-year-old Nationwide rookie Bryan Clausen, who finished sixth.
Kelly Bires
in 12th was the next Nationwide-only driver on the box score.Changes are coming next season, but NASCAR officials have no intention of limiting the involvement of Cup regulars and Cup teams. The series needs the big names from Cup to help sell tickets and sponsorship. What it doesn't need is Cup stars racing for the Nationwide championship and running the entire Nationwide schedule.It's likely NASCAR will ban Cup regulars from earning points in the Nationwide Series, starting in 2009.Hopefully this will discourage the Cup guys from running every event in the feeder league and cause NASCAR team owners to put more up-and-comers in the cars. Foyt vs. Andretti
The awkward moment of the weekend at Daytona came during the prerace drivers' meeting when all the former Daytona 500 winners were on stage behind the competitors.As it worked out,
A.J. Foyt
and
Mario Andretti
were sitting right next to each other.Fortunately, both of them are too old now to throw down. Otherwise, the prerace activities for the 50th 500 might have included a glimpse of the brawling days of yore. Foyt versus Andretti was one of the great rivalries in racing history, and all these years later, they still can't stand each other. The vitriol between them makes Tony Stewart and
Kurt Busch
look like BFFs.
Terry Blount covers motorsports for ESPN.com. He can be reached at terry@blountspeak.com.
ESPN Seattle Seahawks reporter
Covered the NFL at the Houston Post and Houston Chronicle, including eight Super Bowls
Received Citation for Writing Excellence from Hearst Newspapers
Also has covered NBA Finals, World Series, Finals Fours, Indy 500 and Daytona 500
SPONSORED HEADLINES
ESPN TOP HEADLINES
MOST SENT STORIES ON ESPN.COM
DAYTONA 2008
More Sprint Cup Coverage
•
Monday Rundown: Big opening weekend
•
Newman: McCauley shares in emotional win
•
Ryan Newman takes on Mike & Mike

•
Jayski podcast: What a finish in Daytona

•
Blount: Newman, Penske and Dodge golden
•
Zoom Gallery: 50th running of the Daytona 500
•
Newton: Junior's storybook start has so-so ending
•
Ashenfelter: Hornish 'masterful' at Daytona
•
Newman delivers Daytona 500 win for Penske
•
Notebook: No Wood Brothers entry in 500
•
Blount: Ganassi hoping merger rumors true
•
Newton: Salley says he wants to own Cup team
•
McGee: Little double-dipping at Daytona
•
Blount: Bowyer's 07 takes beating
•
Blount: All aboard the Earnhardt Express
•
The Eliminator: Take Gordon, please
•
Inside The Hauler: Controversy doesn't stir JJ
•
ESPN.com's Top 25 Drivers vote
|
Rank 'em
•
Kyle Busch worried about tires in Daytona 500
•
Jayski podcast: Looking ahead to Sunday

•
Insider: Dr. Jerry Punch on Mike Tirico Show


•
Duels:
Newton
|
Blount
|
Recap
|
500 grid
•
Jayski podcast: The Duels and The King

•
Newton: Hendrick leader of Chevrolet pack
•
Blount: Feel-good afternoon at Daytona
•
Newton: Junior off to blazing start
•
Vickers, Wallace hitch onto Daytona 500 field
•
Cowlishaw's Power Rankings: JJ No. 1
•
Newton: Ford teams unite
•
Blount: Gatorade Duels mystify
•
Jayski podcast: Kyle Busch and more

•
Newton: Who's leading Dodge?
•
Garrow: Daytona 500 preview
•
Door-To-Door: Jarrett's Daytona dream
•
Notebook: Jarrett says no to Reutimann's ride
•
Newton: Probation right call for Stewart, Busch
•
Jayski podcast: Stewart ain't talking about it

•
Blount: Fairy-tale ending at Daytona?
•
Blount's Blitz: Let the Junior comparisons begin
•
Jayski.com's Mark Garrow wraps up Week 1

•
Newton: Beware of Toyotas
•
McGee: 500 turns 50
...
Zoom Gallery
•
Blount: 2008 a matter of redemption
•
Newton: 2007 in rearview mirror
•
Jayski: How do you make the Daytona 500?
•
JJ on 500 pole
|
Speeds
|
Grids:
Duel 1
|
Duel 2
•
Blount: Waltrip goes from disgraced to embraced
•
Newton: Junior Nation alive and well
•
Smith: Eury dedicates Shootout win
•
Newton: Get your No. 3 commemorative die-cast
•
Blount: Junior wins quickly
|
Shootout recap
•
Newton: Interchangeable cars? Not quite
•
Sources: Stewart punched Kurt Busch
•
Ashenfelter: Hamlin's '07 a learning experience
•
Inside The Hauler: Martin not looking back
•
Blount: Big weekend with Shootout, Pole Day
•
Newton: Reality check for McMurray
•
McGee: 'Shifting Gears' with Junior
•
Ashenfelter: Truex now the man at DEI
•
Marty Smith's Door-To-Door: Valentines for Liam
•
Blount: Who are these open-wheel guys?
•
Blount: Daytona 500 victory or Cup title?
•
Blount's Blitz: Boys will be boys
•
Ashenfelter: Bowyer drawing lofty comparisons
•
McGee: 50 things you need to know
Nationwide Series
•
Stewart smokes 'em from pole
...

•
2008 season preview

•
Ashenfelter: Opener no lock for Harvick
•
Dale Jr.'s Nationwide ride impounded for spoiler
•
Ashenfelter: Coleman ready for full-time gig
•
Mark Garrow previews the series

•
Ashenfelter: Times change, but maybe not at top
Craftsman Truck Series
•
Notebook: Unfinished business for Skinner
•
Schwarb preview: It's the Ron & Jack Show
Blogs
•
Breeze: The scissors were ready for Smoke
•
Newton: Judd settles for jeans on race day
•
Newton: NASCAR tells Judd to dress down
•
Blount: Moonshiner Johnson's come full circle
•
Newton: Ashley who? Say hello to Ingrid
•
Newton: NASCAR must rule on Judd's dress
•
Blount: Junior still sells big
•
Smith: Smoke vs. Busch? All good
•
Blount: Say what? Media Day talkers
Fantasy
•
The Good, The Bad, The Ugly: Daytona 500
•
Harris: Spin The Black Circle
•
Daytona 500 fantasy rankings
•
Fantasy Focus Weekly

•
Chat wrap: Garrow on Fantasy NASCAR

•
ESPN.com experts' Mock Draft
•
Engel: Stock car strategy guide
•
ESPN Fantasy Stock Car 2008
•
ESPN Stock Car Challenge
•
2008 ESPN Fantasy Draft Kit
SportsNation
•
Chat wrap: Jayski

•
Chat wrap: Analyst Brad Daugherty

•
Chat wrap: ESPN.com writer Tim Cowlishaw

•
Chat wrap: Sprint Cup driver Sam Hornish Jr.

•
Chat wrap: David Newton and Terry Blount

•
Chat wrap: ESPN.com writer Terry Blount

•
Chat wrap: ESPN analyst Rusty Wallace

•
Chat wrap: Jayski.com's Mark Garrow

•
Chat wrap: ESPN.com writer David Newton

•
Chat wrap: Driver Ryan Newman

•
Chat wrap: Driver Jamie McMurray

•
Chat wrap: ESPN.com writer Terry Blount

•
Chat wrap: Jayski.com's Jayski

•
Chat wrap: NASCAR Now's Nicole Manske

Classic 500s
•
McGee: Blizzards, the King and a fight
•
McGee: Cope with a surprising victory
•
McGee: Finally, one for the 3
•
McGee: The Kid against the world
•
McGee: It was Harvick by a nose