Commentary
Shortcoming in postrace inspection could cost Edwards points lead
The news was all good for Carl Edwards Sunday at Las Vegas Motor Speedway ... until his No. 99 Ford failed the postrace inspection. Two straight wins make Edwards the Cup points leader for the first time in his career, but that spot may be temporary, writes Terry Blount.
Updated:
March 2, 2008, 11:31 PM ET
By
Terry Blount
| ESPN.com
LAS VEGAS -- No truth to the rumor that a clown act from Circus Circus was working in the pit box for
Carl Edwards
on Sunday.Tires were rolling all over the place outside the No. 99 pit stall, something NASCAR officials don't take kindly to.And contending drivers were wrecking wildly as they tried to catch Edwards near the end of the UAW-Dodge 400.The race had plenty of sideshows, including the postrace inspection, but nothing could stop Edwards from doubling down.He held off
Dale Earnhardt Jr.
on a final restart with two laps to go, earning the championship belt that comes with a victory at Las Vegas Motor Speedway.Two victories in less than a week make Edwards the Sprint Cup points leader for the first time in his career. But that top spot might be temporary.The No. 99 car had a problem in the postrace inspection. The lid of the oil tank reservoir was off, so NASCAR officials are taking the car to the Research and Development Center in Concord, N.C. Any possible penalties would come later this week, probably Tuesday. Five Nationwide Series teams were penalized for a similar violation at Daytona."It's a very special win," Edwards said before knowing of the postrace issue. "I feel like we're back to close to the form we had in 2005."Edwards fell only 35 points short of the championship in 2005, but the miscues on pit road Sunday didn't resemble a championship effort. The team had two stops on which tires got away from the pit box.The first time, it cost the No. 99 team a big penalty and dropped Edwards back in the field midway through the UAW-Dodge 400.Edwards was running in the top 5 on Lap 115 of the 267-lap event, but his penalty was to restart at the tail end of the longest line, officially 16th, but way back in the field."I tried hard to stay calm," Edwards said. "And I'm not the best at it sometimes. We all know that."But Edwards calmly worked his way back to the front. He was leading the race when he pitted under caution with 51 laps to go.Crew chief Bob Osborne wasn't taking any chances. Roush Fenway Racing driver
Jamie McMurray
was having a bad day, so Osborne made a midrace trade. He brought in McMurray's rear tire changer -- Kyle Power -- to work the final stop for Edwards. Then the unthinkable happened. A tire got loose again, this time on the front end, rolling out toward the frontstretch like it was escaping captivity.
[+] Enlarge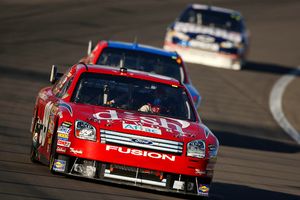 Chris Graythen/Getty ImagesCarl Edwards held off Matt Kenseth and Dale Earnhardt Jr. down the stretch to win Sunday.
This time, the crew got a reprieve. A cameraman in the pits got in the way of the guy catching the old tire at the pit wall.The crew was furiously appealing to the NASCAR officials as they watched replays of the incident. After a review, officials agreed the 99 crew was wronged. Think of it like the obstruction rule in baseball.The team wasn't penalized, so Edwards restarted third. He took the lead from teammate
Matt Kenseth
with 30 laps to go. But the bizarre happenings weren't over yet, including a red flag with three laps to go.Edwards was coasting to a victory when
Kurt Busch
crashed with nine laps to go. When green flew again with five laps left, cars bunched up three wide behind Edwards.
Jeff Gordon
clipped the back of Kenseth's car exiting Turn 2. Both cars went into a slide, and Gordon slammed head-on into the inside wall. He wasn't injured."Thankfully, we built a great race car because that's the hardest I've ever hit," Gordon said. "It was my fault. I didn't want to be inside, but I drafted up into Matt. I'm sorry it happened."Earnhardt also was sorry it happened because he thought he had a chance to win had the race stayed green. "I had the car where I wanted it, but that red flag really killed us," he said. "I was terrible on cold tires. And the anxiety just kills you on those red flags. It's all you can take. I wish all of you knew what that felt like. I hate it."After thinking it over, Earnhardt knew the best team won."Carl wasn't going to get beat today," Earnhardt said. "He had it in the bag. He was so strong."It's the same thing drivers were saying six days earlier in California when Edwards won the Auto Club 500 at Fontana.Edwards is on a roll that started late last season. He has three victories and six top-5s in the past 12 races.And all three wins have come in the new car, proving Jack Roush's group has caught up after struggling most of last season on the new design.It's working for Edwards, who now goes to Atlanta, a 1.5-mile oval similar to Las Vegas and a place Edwards has won twice.Edwards is finding a way to win regardless of the craziness that goes on around him."This was a little nerve-racking," Osborne said. "The problems today changed our game plan, but Carl did a great job coming through traffic, as he always does."
Terry Blount covers motorsports for ESPN.com. He can be reached at terry@blountspeak.com.
ESPN Seattle Seahawks reporter
Covered the NFL at the Houston Post and Houston Chronicle, including eight Super Bowls
Received Citation for Writing Excellence from Hearst Newspapers
Also has covered NBA Finals, World Series, Finals Fours, Indy 500 and Daytona 500
SPONSORED HEADLINES
ESPN TOP HEADLINES
MOST SENT STORIES ON ESPN.COM