Penske still without Cup title, but he's working on it
Owner Roger Penske has been a success at nearly everything in his life. But a Cup title has eluded him, but not for lack of trying, writes Angelique S. Chengelis.
Updated:
March 13, 2007, 7:56 PM ET
By
Angelique Chengelis
| ESPN.com
Success, it seems, has always followed Roger Penske.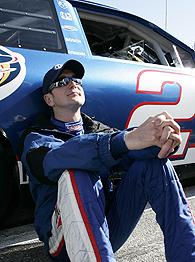 Jason D. Smith/US PRESSWIRE Kurt Busch wants to be the driver to give team owner Roger Penske his first Daytona 500 victory.
The self-made billionaire is listed by Forbes Magazine as one of the wealthiest individuals in the country, his net worth upwards of $2 billion.
But wealth and business aside, Penske's passion always has been racing.
Always.
It is, quite literally, what drives him.
He has won the Indianapolis 500 14 times, and he has won 18 national championships, including nine in Champ Car, two in IndyCar and three in Trans-Am.
What's missing, though, is a NASCAR Cup championship, but it's not for lack of effort. Penske has been involved in Cup racing since 1972, but it wasn't until 1991 that he began running full seasons with Rusty Wallace. Wallace, who competed for Penske Racing through 2005 before retiring, came close in 1993 to giving Penske a Cup series title. Wallace was runner-up to Dale Earnhardt by 80 points.
Penske remains optimistic that he can find the key that will lead to a championship with drivers Kurt Busch and Ryan Newman. Newman currently is 15th in points and Busch is 23rd.
"It's a goal that I have," Penske, speaking in Detroit on Monday, said about winning a Cup title. "We've been very close, and I think we feel this year is going to be a great year for us. We've come out of the box competitively, although obviously, we haven't won a race yet."
The fact Penske is title-less in the Cup series is not lost on his drivers. He also has yet to win a Daytona 500.
"I would say that he does [want a title]," Busch said recently. "Just as much as he's won 14 Indianapolis 500s, he has no Daytona 500s. But next year they're going to wave the green flag on another race down there, and I hope that I'm there and hope I'm part of it and learn exactly what happened this year so I could translate it into a win for him, because it would mean the world for me to give him a win at the Daytona 500."
Clearly, resources are not an issue at Penske Racing. He has now consolidated all three of his teams -- his NASCAR, Indy Racing League and American LeMans groups -- under one enormous roof in Mooresville, N.C. That includes approximately 260 employees working in a state-of-the-art, 425,000-square foot, shop.
It is an impressive campus that includes a wind tunnel and a seven-post vehicle dynamics rig, and now with all the teams, all the engineers, all the employees under one roof, the thought is there can be plenty of knowledge sharing. For instance, a Cup crew chief can study the aerodynamics of an open-wheel car and apply what he learns to the Cup car, particularly the new Car of Tomorrow.
Penske said he is finalizing plans to build a test track near the shop. There is plenty of land to spare, and about 70 acres will be used.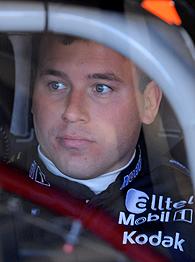 Mark J. Rebilas/US PRESSWIRE Ryan Newman has made the Chase for Roger Penske in the past.
"We could build an oval that's the size of the Richmond [International Raceway]," Penske said, referring to the .75-mile track. "And we'd put a road course in. We look at it as a test track, but our sponsors could use it. There's lot of different things you could use something like that for, so I think it will be terrific."
Penske is, of course, thinking out of the box yet again. He figures that the test track would cut the expenses of going on the road for testing, and it would eliminate some of the travel wear-and-tear on the drivers and crews. Of course, Penske figures the test facility could be used for sponsor and customer entertainment, as well.
Even two-time Indianapolis 500 winner Helio Castroneves, who has said he could see himself driving a Cup car in the future, has said he would be happy to help run Penske's Busch cars on the test track. That would give Castroneves a chance to get a feel for the cars while generating data for the crews.
The future is now for Penske, though. He isn't demanding a series title, but he sure would like one. And by the way Busch has talked early this season about Penske Racing's Car of Tomorrow, the future could be bright. The car is being phased in this season, and the first race where it will be used is March 25 at Bristol Motor Speedway.
"I think we're like everyone else is -- we have a lot to learn," Penske said of the COT. "It levels the playing field, and we'll see what happens."
But Penske Racing has moved quickly on developing its Car of Tomorrow, and Penske favors what has been speculated in recent weeks that NASCAR could go to the car full-time next year, rather than in 2009.
"I think we'll see the changeover go quicker, rather than over a three-year period," Penske said. "Hopefully they'll say, 'Look, let's build them and go next year.' I would absolutely [be happy with that]."
Angelique S. Chengelis is a contributor to ESPN's NASCAR coverage.