Robby Gordon bucking the system, making it work
At a time when mega-sponsors and superteams dominate the sport, lone-wolf owner and driver Robby Gordon is practically a throwback, writes Angelique S. Chengelis.
Updated:
March 21, 2007, 3:54 PM ET
By
Angelique Chengelis
| ESPN.com
He has that tough-guy, Robert Conrad, I-dare-you-to-knock-this-battery-off-my-shoulder way about him.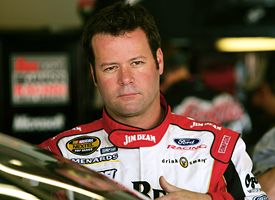 Chris McGrath/Getty Images Robby Gordon is one of the busiest men in NASCAR, fighting big battles on and off the track.
He has a swagger. He has those squinty eyes that are so tough to read. And then there's the straight-line mouth that occasionally hints at a smile.
This is Robby Gordon, the lone-wolf racer-owner in the Nextel Cup series, who should appeal to anyone who has bucked the system and gone off on his or her own to establish a career.
"I am not a throwback," Gordon said, almost defiantly.
But clearly, in so many ways, he is.
The comparison most often made is to the late Alan Kulwicki, the former Cup champion and owner-driver, who generated his own sponsorship and called all the shots. Gordon went out on his own in 2005 with Robby Gordon Motorsports, built a shop just north of Charlotte, N.C., and has dealt with the rigors of almost-constant sponsor battles.
Most recently, Gordon endured yet another round of haggling with NASCAR over his primary Motorola sponsorship at Atlanta Motor Speedway last weekend. When his black car arrived there Thursday, the enormous "M" decal was on its hood. On Friday, NASCAR said it was one of the wireless communications sponsors not allowed per its agreement with series sponsor Sprint Nextel.
Gordon challenged NASCAR, calling Motorola a supplier and nothing more. NASCAR acquiesced somewhat and by Saturday night, Motorola was back on the car as Motorola digital audio player, a nonwireless product.
"It was a headache," Gordon, 38, said.
But Gordon wouldn't take the complaining any further. In fact, he was quick to point out that feeling sorry for Robby Gordon is hardly necessary. The Californian has a group in Los Angeles, "Supporters of Robby Gordon," who are working with sponsors, contacting them and negotiating.
"I don't worry about it," he said. "I'm not just one person doing this. We have an operation that handles that so I can worry about racing."
Jim Beam has been and will be on the car as a sponsor, as will Menards. It is a long season, however, and his marketing group has not yet secured sponsors for every race. At Las Vegas, for instance, he drove without any primary sponsorship.
"You'll see a black race car on the track some races, unfortunately," Gordon said.
The bottom line, of course, is that Gordon will be on the track, regardless.
Entering Atlanta, the little team that could was 14th in points. That is no small feat considering the phenomenally funded competition he faces every weekend.
"Were not struggling to make races," Gordon said, praising his Ford connection and the Roush-Yates engines he buys. "I'm fine with where we're at."
Gordon finished 20th at Atlanta last Sunday and slipped two spots in the standings.
"It's another top-20 for our little single-car team," Gordon said after the race. "We were better than that. We were a fifth- or sixth-place car."
From the outside looking in, it often is with head-scratching wonderment that Gordon keeps plugging away as an independent owner in a sport so profoundly guided by the world of corporate America and enormous race shops with hundreds of personnel and master's-degree toting engineers.
To look at Gordon's career is to see what can be considered a throwback-type involvement in the sport. He has driven everything he has gotten his hands on. Open-wheel cars, off-road vehicles, stock cars, you name it. He has won the Baja 1000 and been an almost-winner of the Indianapolis 500.
His Cup career is, well, checkered. The highlight was finishing 16th in points with Richard Childress Racing in 2003, the season he had two of this three career victories, but as an independent, he has had finishes of 37th in 2005 and 30th in 2006 in the points standings.
This year is bound to be different, he said.
He means it.
"We'll win a race this year," Gordon said. "I'm confident of that."
And he even had that dare-to-question-that-prediction look.
Angelique S. Chengelis is a contributor to ESPN's NASCAR coverage.
SPONSORED HEADLINES
ESPN TOP HEADLINES
MOST SENT STORIES ON ESPN.COM