Stewart on stupidity, beer cans, retirement and Indy
Tony Stewart likes to speak his mind, and NASCAR's self-proclaimed poster child for stupidity didn't hold back while talking about stress, beer throwing and retirement, writes Angelique Chengelis.
Updated:
May 14, 2007, 4:01 PM ET
By
Angelique Chengelis
| ESPN.com
BROOKLYN, Mich. -- Tony Stewart sat surrounded by his favorite people -- members of the media -- looked at everyone and immediately set the tone.
"Ready, aim, fire," Stewart said, eliciting an enormous amount of laughter.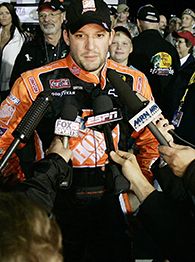 Jason Smith/WireImage.comTony Stewart's willingness to say what's on his mind makes him a favorite among media types.
It was a moment that cut the tension for Stewart, who has, in fact, been under fire in recent weeks.
About a month ago, he raised eyebrows when he suggested that he would consider retirement from the NASCAR Nextel Cup series if it no longer brought him enjoyment. Then he stormed out of Phoenix International Raceway a few weeks ago after finishing second and snubbing a standard postrace media interview. And only three days after that, he went on a satellite radio show and accused NASCAR of playing "God" and likened the sport to professional wrestling.
Oh, so that's all?
"I'd be foolish to say I'm not stressed out, but I mean, it's a stressful business that we're in," Stewart said during a recent gathering at Michigan International Speedway. "There's times where you're going to question what's going on, but I got the answers to the questions I had, and that part in itself has kind of relaxed me a little bit now, and it's back to business."
Early Friday morning of Talladega race weekend, Stewart was called to the NASCAR hauler and endured a stern talking-to, but also had some questions answered. This came on the heels of a $10,000 fine for skipping out on the media at Phoenix.
There's part of Stewart that seems as though he wants to apologize for some of the things he says and does, but there's also a part that enjoys being the lone driver on the island of outspokenness, the driver who is willing to say what many of his peers are thinking.
Often, it is all about delivery, and sometimes Stewart doesn't take the time to polish the rough edges before he speaks or reacts.
"I'm the poster child for doing stupid things in NASCAR, obviously," Stewart said bluntly.
"[But] we don't drive around for 500 miles and get out and say, 'Oh that was great, I'm going to go home now and do something else.' It's a little [more] personal than that, it's a little more passionate than that, and it's a lot more heated than that. It's not always looking at the consequences of how it's going to affect other people or the sanctioning body and the sponsors when you say something."
His fellow racers often question Stewart's outspoken nature.
"Not to dog on Tony at all, but I just think he opens his mouth a little too much, I think," Kyle Busch said recently.

I would like to believe I'm better looking than Rosie O'Donnell.
Tony Stewart
Four-time series champion Jeff Gordon praised the "flavor" Stewart brings to the sport and referred to him as the "Rosie O'Donnell of NASCAR."
"I would like to believe I'm better-looking than Rosie O'Donnell," Stewart dead-panned.
Felix Sabates, a team owner in the series, suggested during the Talladega weekend that Stewart should be suspended for the year.
"Felix needs to go build multimillion boats and not worry about what I'm doing," Stewart said, this time with a bit of an edge in his voice. "If it wasn't for [team owner] Chip Ganassi, Felix would be struggling anyway."
Ouch and ouch.
Stewart is not one to back away from a zinger if he can help it. And he doesn't intend to stop speaking his mind, either.
He is who he is, after all.
"I can be politically correct like everybody else, and then we'll listen to everybody gripe like they did a few years ago when I tried that and everybody complained about how vanilla I was and how they didn't like it," Stewart said. "Either way, obviously, I can't win and I can't make everybody happy, so I might as well do it my way. One of my biggest faults is I can't say, 'No,' and I don't know how to be politically correct. If you ask me an honest question, you deserve to have an honest answer. The race fans, they deserve an honest answer, whether it's politically correct or not, whether it's popular or not.
"Over eight years I've had drivers come up to me and say, 'I agree with what you're saying, thanks for what you said.' I'm not saying that's what they said in this case. Everybody is so scared of getting in trouble. It's a shame when you can't say what's on your mind."
So, he isn't scared?
"Don't confuse bravery with stupidity," Stewart said, sharply. "I'm going to say what's on my mind. If that means I'm going to lose my job doing it, then I don't need to be where I'm at anyway."
Which brings up the retirement talk that surfaced after the Texas race when he was beyond frustrated.
"I'm ready to retire," Stewart said at the time. "As soon as I get enough money saved to where I can retire, I'd be more than happy to retire."
He is closing in on his 36th birthday later this month, he is a two-time Cup champion and is seventh in the point standings with six top-10 finishes through 10 races this season.

And he's ready to retire?

"What I meant by that that didn't come out, I've got two and a half years on my contract [with Gibbs Racing] and I may resign after that, and I may not," Stewart said. "It depends on whether I'm still having fun doing what I'm doing. Trust me, until the end of that year, I'm not going to talk about it.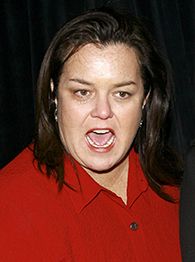 Jemal Countess/WireImage.comIs Rosie O'Donnell the Tony Stewart of talk TV?

"When everybody says, 'Are you going to resign or not?' I'm not going to make that decision until the end of 2009. It literally depends on how much fun you're having. I enjoy my race team. They're like a family to me. I enjoy racing, but we have to see what direction it goes. We'll see what direction it heads."

Stewart has the luxury to think that way because not only has he made an awful lot of income from racing, but he has diversified. He owns three tracks, including Eldora Speedway, he runs Tony Stewart Racing, which backs two USAC teams and an Outlaw team, and there's the Tony Stewart Foundation, which supports nonprofit charities.

There's also the radio show, "Tony Stewart Live," which normally airs on Tuesdays on Sirius.

"I love the radio show -- I like it just because I can finally say I'm a member of the media," Stewart said, drawing laughter again. "If you can't beat 'em, join 'em. [The post-Phoenix week] was a reminder that even though I'm an honorary member of the media, I don't get treated like a member of the media. I haven't seen too many called to the [NASCAR] trailer from the media center. But I like it. Honestly, it's two of my favorite hours of the week. I enjoy the most taking calls from the callers and listening to what they have on their mind."

As always, Stewart has plenty on his mind.

He was asked about the new sport of beer can throwing that greeted Jeff Gordon after each of his back-to-back victories at Phoenix and Talladega. The win in Talladega marked his 77th career victory, pushing him past the late Dale Earnhardt into sixth all time, and drawing the ire of Earnhardt fans, who threw beer cans and other debris onto the track.

Stewart believes all offenders should be thrown out of the sport, as many of the tracks are doing. Talladega Superspeedway detained 14 violators, who have been banned for life.

"Ten years ago, you would never have heard of something like that happening," he said. "I think what people forget a lot of times this isn't just a job you go out there and get a paper cut and that's the worst thing that can happen to you. People die doing what we're doing out there every week.

"There are 43 drivers out there, and you can pull for whoever you want every week, but if you don't like somebody, at least have enough respect for the fact of what they're doing and what they're trying to do for the race fans out there to at least not throw full beer cans out there. Don't throw anything. They teach you in elementary school not to throw things. Why is it OK to do that at a sporting event now?"

He praised Talladega officials for their swift measures before and after that race.

"It's nice to see somebody be proactive about it and get it under control before it gets worse," Stewart said. "What's next? What's going to be the next thing? What's after a beer can? It doesn't really make a lot of sense. It's funny that we hear race fans all the time complaining how we're not good role models when we do something stupid, then you turn around and see stuff like Talladega, and you're like, 'And they're telling us we're not role models?'"

Stewart didn't criticize what he calls a new era in NASCAR racing, but he did acknowledge the youth movement in the sport is, well, younger than ever.

"Ten years ago, you didn't see guys 18 or 19 years of age getting hired to drive Nextel Cup cars," Stewart said. "You had to be in racing a long time and established yourself and prove yourself before you got rides. This era of racing, you've got car owners who are hiring kids before they have valid driver's licenses. It's definitely a changing era in NASCAR. But the thing that has changed the sport more than the age of drivers coming in is technology. Technology has ruined every form of racing. You can't stop it. The Car of Tomorrow is the perfect example … engineers are making the difference right now, not the drivers, not the manufacturers."

On yet another subject that has been quite the story line each and every week, Stewart said it is impossible not to have empathy for Michael Waltrip, owner of three-team Michael Waltrip Racing, for which he also drives a Toyota Camry. Waltrip has failed to qualify in nine straight races since making the season-opening Daytona 500.

"Oh, God, everybody [feels for him]," Stewart said. "If anybody doesn't feel for Michael Waltrip, you're not very human. Michael has made a huge investment to build his race teams, and that's a huge sacrifice on his race teams, not only as a driver but as a car owner. It's a lot of responsibility. I can't handle that. I don't have time to do that. That's a lot of responsibility knowing you have to feed those families every week. I couldn't do that. I think Michael has handled it all well, better than most could have handled it."

And finally, there's the Indianapolis 500, still a passion for the native Hoosier. Stewart won the Indy Racing League championship in 1997 and was the Indy 500 rookie of the year in 1996. In 1999, he became the first driver to complete the racing double, finishing ninth in the Indianapolis 500 and fourth in the Coca-Cola 600 in Charlotte, N.C., later that night.

He did the double in 2001, finishing sixth at Indy and third in the Coca-Cola 600.

Stewart, who never won the Indy 500 but won at the famed track in 2005 in the Nextel Cup race, has not raced in the Indianapolis 500 since then. Still, he makes a point of visiting during the month of May and checking the speed charts on a daily basis.

"It's gone but not forgotten," Stewart said. "Every month of May it starts tugging my heartstrings, because I still want to be up there."

Angelique S. Chengelis is a contributor to ESPN's NASCAR coverage.
SPONSORED HEADLINES
ESPN TOP HEADLINES
MOST SENT STORIES ON ESPN.COM