Commentary
Dramatic '79 Daytona 500 put NASCAR on the worldwide map
First there was an East Coast blizzard. Then there was a wreck. Then there was a fight. What was the outcome of the 1979 Daytona 500? Pure NASCAR magic.
Updated:
January 14, 2008, 1:15 PM ET
By
Ryan McGee
| ESPN The Magazine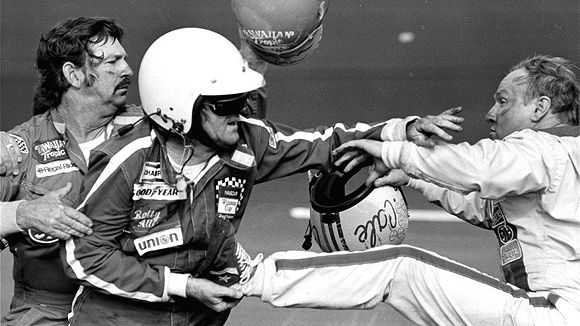 AP Photo/Ric FeldBobby Allison, left, and Cale Yarborough exchange pleasantries after the 1979 Daytona 500.
The 1979 Daytona 500 is NASCAR's version of the perfect storm. A larger-than-life day that used a mixture of snow, mud, TV, fisticuffs and superstars to launch stock car racing from the back page of sports pages to the frontal lobes of American sports fans.If you have no idea what we're talking about, you can see it for yourself on ESPN Classic Monday at 2 p.m. ET and again prior to the Daytona 500. In the meantime, here's the Cliff's Notes version:
[+] Enlarge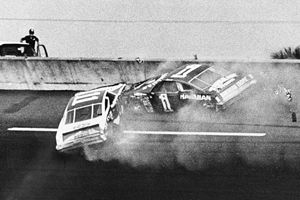 AP Photo/Ric FeldThis last-lap tangle between race leaders Donnie Allison (1) and Cale Yarborough in the '79 Daytona 500 put Richard Petty in Victory Lane.
Feb. 18, 1979. The Great American Race is being televised live flag-to-flag for the first time. It's a rainy, sloppy day in Florida while most of the East Coast is sacked by snowstorms. Cale Yarborough and Donnie Allison pound on each other's cars running 1-2 on the final lap. Big wreck in Turn 3. Richard Petty sweeps by to win his sixth Daytona 500. Bobby Allison stops on the cool-down to check and see if brother Donnie is OK. Two drivers commence beating the hell out of each other live on CBS Sports. Millions of people without anything else to watch one month after football and two months before baseball fall in love with NASCAR.Got it?As the milestone race approaches its 30th anniversary, the legend of the '79 500 continues to grow with age. So much so the race has achieved Paul Bunyan-like levels of mythology in the minds of NASCAR fans and brass alike. Auto racing's version of Babe Ruth's called shot or the Immaculate Reception is rumored to be receiving its very own wing in the soon-to-be-built NASCAR Hall of Fame.However, as is the case with those other historic sports moments, the truth becomes a bit fuzzier with each retelling of the story. So as you look back on the race and look on during the ESPN Classic telecasts, let's take a look at the facts and fictions that surround perhaps the greatest of the 49 Great American Races. Myth No. 1: Cale and Donnie's showdown began with one lap to go
By the 200th and final lap, Yarborough and the Allisons had been pissed off at each for nearly three full hours. On Lap 32 the three got tangled up when Donnie lost control of his Hoss Ellington-owned Oldsmobile and collected Cale and his big bro. Donnie's ride came away muddy but unscathed, while Bobby got the worst of it and Yarborough, the three-time defending Cup champ, went four laps down repairing his Junior Johnson Olds.Yarborough made up the laps one by one, mostly during one confusing 35-lap stretch of caution periods. Each time the yellow came out, Ellington told Donnie not to try and race Yarborough back to the line to keep him laps down -- a strategy that basically handed Cale a free pass back to the front.Myth No. 2: Petty was running third when Yarborough and Allison wrecked
Donnie and Cale had been so dominant that the third-place car was still in the middle of Turns 1 and 2 when they began banging on each other in the middle of the backstretch, a full 15 seconds behind. But the car that should have inherited the win didn't.
Vote: Great American Race
What's the greatest Daytona
500 of all time? Cast your SportsNation vote now!
Vote
A.J. Foyt, not Petty, was running third when all hell broke loose. But the normally unflappable four-time Indy 500 winner was so taken aback by what he saw up ahead that he slowed momentarily when the caution light came on. It took only a split second for Super Tex to jump back in the throttle, but the hiccup had been just long enough for fourth-place Petty to whip by, bringing Darrell Waltrip with him. While the fight was beginning in Turn 3, The King edged D.W. by one car length to grab his sixth Daytona 500 victory. As it turns out, the finish had a huge impact on the championship outcome nine months later, when Petty prevailed by only 11 points. Myth No. 3: Cale and Donnie are the guys who are seen fighting live on TV
In fact, the two guys attempting to reroute each other's nasal cavities were Cale and Bobby. When Bobby stopped by to check on Donnie, Yarborough strolled over to have a chat with the elder Allison, whom he believed had slowed during the closing laps to keep him from executing a decisive pass, thus creating the final-lap melee.
"Cale came over to my car and questioned my ancestry," Bobby still says with a smile. "And I knew that if I backed down from him at that moment I would have to back down from him for the rest of my life. So I began to beat on my knuckles with his face."Legendary CBS Sports play-by-play man Ken Squier added to the eyewitness confusion when he described the action: "And there's a fight -- Cale Yarborough and Donnie Allison!" Of course, Squier assumed what any viewer had, that the two men who had duked it out on the track were now duking it out in the infield, but in reality Donnie was simply standing by and watching alongside the stunned safety crew.Myth No. 4: All three participants were hit with heavy fines and suspensions
The fines were announced as "nominal" and probations -- not suspensions -- were issued. When asked if the monies were ever actually collected, all three drivers respond with tight-lipped smiles.An estimated 16 million people watched the race, a number that jumped to nearly 20 million over the closing laps. CBS won an Emmy for the broadcast, televised the Daytona 500 until 2000 and showed a fledgling cable network called ESPN the value of the racing business."Suspensions?" NASCAR president Bill France Jr. laughed as he said it to a sportswriter at Rockingham one week later. "Fines? Hell, I should be giving those boys a bonus." Myth No. 5: Cale and the Allisons are still mad about the whole mess
Not at all. In fact, tensions were relieved just six days later at a dinner prior to the next weekend's race at The Rock. Yarborough was the honoree of the night, and when he strode to the podium the tension in the room was thicker than Crisco, especially with the Alabama Gang sitting on the front row.

Cale came over to my car and questioned my ancestry. And I knew that if I backed down from him at that moment I would have to back down from him for the rest of my life. So I began to beat on my knuckles with his face.
-- Bobby Allison
"Hello, Bobby and Donnie," he said with a grin. "I have to admit, it was an unfair fight last weekend. I used both hands."The comment eased tensions so much that even when Donnie and Cale tangled on Lap 10 the following day, both quickly dismissed the mess as a "racing deal."Then again, if you ask all three combatants to recall the '79 race today, their stories still differ when it comes to who hit who first or who should be losing sleep three decades later over the blame, though the venom of that day has given way to sly winks and acceptance of their crucial roles in ushering their little ol' southern sport into the big room.But that's the beauty of the truly transcendent sporting events. No matter how much dust the box score collects, the edges of the paper still have the ability to draw a little bad blood.
Ryan McGee, a motorsports writer for ESPN The Magazine, is the author of "ESPN Ultimate NASCAR: 100 Defining Moments in Stock Car Racing History."
ESPN The Magazine, NASCAR
ESPN The Magazine senior writer
2-time Sports Emmy winner
2010, 2014 NMPA Writer of the Year
MOST SENT STORIES ON ESPN.COM