Commentary
Cope's dream of a lifetime only served to extend Intimidator's misery
Dale Earnhardt was supposed to win the 1990 Daytona 500. His loss -- and Derrike Cope's amazing win -- still makes for one of the greatest moments in Daytona history, writes Ryan McGee.
Updated:
January 21, 2008, 10:58 AM ET
By
Ryan McGee
| ESPN The Magazine
Richard Childress still has the tire up at the shop.
Honestly, it looks more like a wig from a cheap witch costume than a Goodyear Eagle, with long strands of black rubber hanging off one side. But even now, nearly 20 years later, Childress gets that sour feeling in the pit of his stomach every time he strolls by it.
[+] Enlarge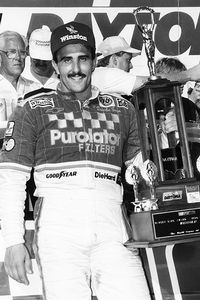 RacingOne/Getty ImagesDerrike Cope said he can still remember the feeling of the warm Florida sun on his face after his first career Cup victory.
"We figured out about a dozen ways to lose the Daytona 500," says the man who comes to this year's event as the defending-team winner. "But 1990 was easily the hardest one to live with. The Daytona 499."
Dale Earnhardt
's career oh-fer streak in the Great American Race was already painful enough entering his 12th 500, but the story of Speedweeks 1990 moved his futility from merely annoying to damn near demoralizing.The Chevy that Earnhardt and Childress brought to the beach looked as though it was running on rails from the time they unloaded it for the first laps of practice. Wherever Earnhardt wanted it to go, it went. Whenever Earnhardt wanted it to make a pass, it did. He won Thursday's 125-mile qualifier with such ease that rivals began to grumble that the boys at Richard Childress Racing secretly had developed some sort of F1-style ground effects to keep their Lumina glued to the bottom of the track.While the racing world remained focused on the Flying Aces, hardly anyone noticed the orange -- or was it pink? -- and white checkered No. 10 Chevy of Whitcomb Racing. The car was driven by some guy named
Derrike Cope
, a former minor league catcher out of -- where was it? -- Spanaway, Wash."Yeah, you could say that NASCAR hadn't quite reached Spanaway yet," admits Cope, now a part-time racer and sometime TV commentator. "But even though no one noticed, we had a pretty solid car all week. [Crew chief] Buddy Parrott hit on something early, and by the time the race came around, we knew we had a pretty good car."But no one had a car as good as the one Childress had built for Earnhardt. He estimates that he'd sunk a half-million dollars just into the engine, an unheard-of amount at the time. From the moment the green flag was shown, the investment was proving to be worth it."We started second and pretty much jumped into the lead as soon as the race started," recalls then-crew chief, now-driver,
Kirk Shelmerdine
. "We could have led every lap if we wanted to, but we didn't want to completely show our hand. You never want to draw too much attention from NASCAR, you know?"Earnhardt led 155 of the race's 200 laps, with some drivers claiming they could see him smiling in the cockpit as he went by them. "I think he might have even waved at me one time," 18th-place finisher
Harry Gant
says with a chuckle.The race itself was a bit of snoozer: a conga line of cars chasing the black No. 3 for the first 2 hours, 45 minutes.
Vote: Great American Race
What's the greatest Daytona
500 of all time? Cast your SportsNation vote now!
Vote
"Then," Parrott says with a sly grin, "things got interesting."With eight laps remaining, the caution came out, ending a long green-flag run and bringing the leaders to pit road. Parrott calmly radioed to his driver to stay out. When the field lined up for the late restart, the No. 10 Purolator Lumina was sitting up front."When we got the green, there were five laps to go and I was trying to keep my eyes pointed forward," Cope says. "But that GM Goodwrench logo in my rearview mirror looked like it was 50 feet across."Right on cue, Earnhardt blasted by Cope nearly as soon as the green was shown, but Cope managed to hang on to his old tires and slipped into the draft behind Earnhardt to hang on to second.Five to go … four to go … three to go … two to go … final lap.Earnhardt hammered his way through the second turn, trying to suppress a smile. In the pits, Childress was far from smiling, knowing there was still two miles to the finish. In the family motorcoach lot, CBS cameras were live in the Earnhardt RV as wife Teresa clutched 1-year-old daughter Taylor in her left arm, a radio scanner in her right, bouncing up and down nervously.That's when the bang happened exiting Turn 2. Then the vibration on the backstretch that turned into a shimmy. "I could tell something wasn't right before we got to Turn 3," Cope says. "How he kept the car from hitting the wall as we went into 3, I'll never know."Earnhardt had run over a piece of metal in Turn 2, and his right-rear tire was slowly going flat. The car wiggled, then suddenly shot up the banking. Cope swept by underneath and held off a trio of Hall of Famers --
Terry Labonte
,
Bill Elliott
and
Ricky Rudd
-- to earn his first Winston Cup victory in the sport's biggest event. It all happened so fast, looked so strange, felt so impossible, that it caught the CBS broadcast booth off guard. Childress stayed frozen in disbelief, still waiting to see his car coming off the final turn and by him to take the checkered flag. When cameras cut back to the Earnhardt RV, Teresa was screaming "No!" and baby Taylor was crying, somehow knowing that something was terribly wrong.As Earnhardt's car was towed back to the garage in some sort of safety crew funeral procession, Cope stood atop his Chevy in Victory Lane, one of only two victories in what eventually would be more than 400 career starts, his second win coming just four months later at Dover."Everyone should get to experience that feeling," Cope says now, smiling as he thinks back. "To stand in Victory Lane, the sun warming your face. It's the greatest feeling in the world. People ask, 'Why do you do this? Why do you hang on?' "That feeling is why."For Earnhardt, the feeling was nothing but the pure pain of cruel denial. When the team returned to the shop in Welcome, N.C., Childress turned that emotion into motivation, creating a daily reminder that to win races and championships, a team must keep pushing until the final feet of the final lap, no matter how easy the day might seem or how heartbreaking the last race might have been."He took that shredded tire and nailed it over the door at the shop," says gas can man Danny "Chocolate" Myers. "Every damn day we had to look at it, and it just made us mad, made us work that much harder."
It hung there for eight years, until the team finally won the Great American Race in 1998. The tire is still on display at the shop, but now that shop is a museum and Myers is the curator."Yeah, it's still here," he says with a wince. "It's in the back. And yes, it still stings to look at it."
Ryan McGee, a motorsports writer for ESPN The Magazine, is the author of "ESPN Ultimate NASCAR: 100 Defining Moments in Stock Car Racing History."
ESPN The Magazine, NASCAR
ESPN The Magazine senior writer
2-time Sports Emmy winner
2010 NMPA Writer of the Year
SPONSORED HEADLINES
ESPN TOP HEADLINES
MOST SENT STORIES ON ESPN.COM