Speed thrills: The cars are tearing it up at Vegas
Fast cars and quick quips were the order of the last two days at testing in Las Vegas, writes David Newton.
Updated:
January 30, 2007, 5:20 PM ET
By
David Newton
| ESPN.com
Here's what we've learned from testing at the refigured Las Vegas Motor Speedway:
• Tony Stewart is too tired and cranky after rushing from the 24-hour race in Daytona Beach, Fla., to participate in a two-day test he'd just as soon skip.
• Kasey Kahne will not cheer for the NFC champion Chicago Bears on Sunday in Super Bowl XLI because they eliminated his beloved Seattle Seahawks.
• Reigning Nextel Cup champ Jimmie Johnson has been so busy surfing on golf carts that he wasn't aware the season-ending banquet might be moved from New York City to Vegas.
And, oh, the new track is bumpy and fast.
Perhaps too fast.
Kahne turned in the fastest lap on Monday at 184.685 mph, which was almost 10 mph faster than the track-record 174.904 mph he set during qualifying in 2004. Of the 78 fast laps recorded by more than 50 teams, the slowest was 179.057 mph by Robby Gordon.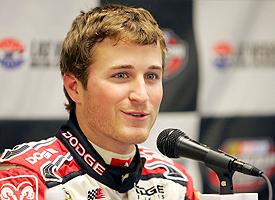 Lisa Blumenfeld/Getty Images for NASCARKasey Kahne blasted around the track with the top time on Monday.
"I mean, we're running ridiculously fast speeds," Stewart said Monday. "It's stupid to be running this fast in a Cup car, I think. It doesn't make a lot of sense to me why we're running in the mid-to-low 29-second laps in a 3,400-pound stock car around here."
Only the rough spots, which are unusual for a new surface, kept speeds from going higher.
Four-time Cup champion Jeff Gordon jokingly accused track owner Bruton Smith of adding "Humpy Bumps," referring to the bumps named after Lowe's Motor Speedway president Humpy Wheeler before a recent resurfacing of the Charlotte track.
"I like the banking. I like the configuration and transition," Gordon said. "But it is certainly rough. It creates challenges for the teams. If it had been perfectly smooth, you could have had a one-groove, single-file racetrack going here, and that's certainly not what any of us want."
That's what Vegas had before, prompting the change. Kahne hopes warm temperatures and a slicker surface will slow cars even more and create even more grooves when drivers return for the March 11 race.
"When the tracks are that fast, it makes it tough to pass another car," he said. "It definitely makes it tough to ride side by side with the car close to you on the outside. It takes air off the spoiler and makes it hard to drive. That hurts racing somewhat."
Johnson, who won the last two races at Vegas, said the bumps will force teams to look for a second or third groove that should promote better racing.
"This is a good move for the racetrack," he said. "It's going to put on better racing."
One thing that didn't change was those drivers who were fast on the old track were fast on the new track. Stewart, who always seems fast on intermediate tracks such as this 1.5-mile configuration, was second-fastest in Monday morning's session with a top lap of 183.492 mph.
Kahne, who won a series-high six races on intermediate tracks a year ago, was third-quickest at 183.144 mph. Greg Biffle, who won the pole for last year's Vegas race at 172.403 mph, was seventh-fastest at 182.611 mph.
Johnson was eighth fastest at 182.587 mph.
"To me, this is the biggest test of the year, the test that really kind of shows where we're at, shows where the other teams are," said Kahne, who is using the same cars that were successful a year ago. "You know, we went to Kentucky, we went to Nashville and did a lot of different testing during the off season. "Daytona is a huge test for the 500, and other than that doesn't mean a whole lot for the rest of the year. Vegas means a lot for 20, 24 of the races we go to this year."
Stewart apparently can't wait for the season to begin. Most of his answers during a break between sessions were short and curt, particularly on the arrival of Toyota and the Car of Tomorrow.
On Toyota, he said, "I don't care if Kia comes in."
On the COT: "I mean, it is what it is. We're stuck with it."
Stuck?
"Well, isn't it on the schedule?" he added.
As is the Vegas test.
"We've had a long weekend, obviously," said Stewart, whose team finished 48th in the 24-hour race due to mechanical problems. "It was hard to sleep [Sunday] night because our sleep schedules are all screwed up. I've been tired all morning.
"No, I don't really get excited about testing at all. I never have and probably never will. But you know, it's a necessary evil, unfortunately."
David Newton covers NASCAR for ESPN.com. He can be reached at dnewtonespn@aol.com.
ESPN Carolina Panthers reporter
Covered Panthers, NFL for 11 years
More than 25 years experience covering NFL, college football and NASCAR
Joined ESPN in 2006
SPONSORED HEADLINES
ESPN TOP HEADLINES
MOST SENT STORIES ON ESPN.COM