Ganassi says be an owner or be a driver, but not both
Dale Earnhardt Jr. could be an owner and driver. Nextel Cup owner and former open-wheel driver Chip Ganassi wishes him luck, writes David Newton.
Updated:
February 25, 2007, 8:17 PM ET
By
David Newton
| ESPN.com
Chip Ganassi leaned back in a folding chair outside his motor coach at Daytona International Speedway last weekend and pointed to a half-eaten blueberry muffin on a nearby plate.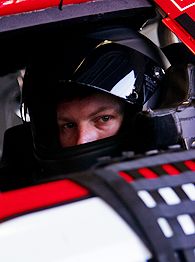 Chris McGrath/Getty Images for NASCARDale Earnhardt Jr. could be an owner and a driver. The way Chip Ganassi has it figured, doing both successfully is close to impossible.
"Can you get me one of those?" he asked a member of his staff.
In a matter of seconds, Ganassi had devoured the muffin and crumpled up the wrapping in his hands that always seem to be fidgeting with something in front of him.
Patience isn't his strong suit.
Insight is.
And when Ganassi gets on a roll, as he was on this day, he can be as insightful and entertaining as anybody in the Nextel Cup garage.
He offered advice on everything from driver Juan Pablo Montoya's new golf hobby -- which truly amazes him knowing Montoya's impatience -- to whether it is healthy for a driver such as Dale Earnhardt Jr. to get majority ownership of Dale Earnhardt Inc. because he has the popularity and power to do so.
"The good news for me is I've never seen a player in a major sport make the transition to ownership while he was currently a player that had any impact," Ganassi said.
Ganassi then ran off a list of a list of names from Michael Jordan to Wayne Gretzky.
"All these guys tried to do that and the success hasn't blown them away," Ganassi said. "Sports and sports teams need owners and players. I think the demise of any sport would be all the players become owners."
He's got a point. Jordan was arguably the greatest player in NBA history, but the Washington Wizards never made the playoffs while he was a part-owner and the jury is still out on what will happen with the Charlotte Bobcats.
Gretzky could perform magic with a hockey stick, but the Phoenix Coyotes have not scratched the playoffs since "The Great One" took over as part-owner and head coach three years ago.
All-time hits leader Pete Rose never owned the Cincinnati Reds, but in six years as a manager -- three as a player-manager -- the team never made the playoffs.
In general, great athletes don't transform into great owners or coaches. Mean Joe Greene, as Ganassi noted, was a much bigger star with the Pittsburgh Steelers than Tony Dungy, but it was Dungy who became a winning Super Bowl head coach.
Ganassi argued that most of the top coaches in any sport were average players who didn't make a name for themselves until they got into management.
"Look at Mario Lemieux in hockey," Ganassi said. "Even he can't maintain the type of ownership he would like."
Lemieux became the first former NHL player to become majority owner of his former team in 1999. Since then, the Pittsburgh Penguins have finished no better than third in their division and haven't made the playoffs the past five years.
Ganassi could use himself as an example. As a driver, he never finished better than eighth in the Indianapolis 500 before his career was cut short by injury.
As an owner, he won Champ Car titles from 1996 to '99 and an IRL title in 2003. He won the 2000 Indianapolis 500 with Montoya, who has rejoined his Nextel Cup organization after a stint in Formula One.
He understands what it takes to be successful.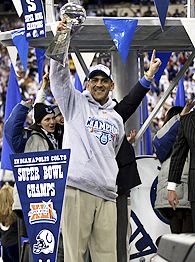 Tasos Katopodis/Getty ImagesTony Dungy was far from the star on his Steelers Super Bowl teams, but he certainly managed to become a star as a coach by leading the Colts to the Super Bowl XLI title.
Many stars who move into ownership or management often grow impatient because they don't understand or know how to handle failure. They don't realize how difficult putting a winning team together is because their talent made winning so easy.
Look at NASCAR. Rick Hendrick barely drew a blip on NASCAR's radar as a driver in the late '80s. As an owner he's won six championships, four with Jeff Gordon and one each with Terry Labonte and Jimmie Johnson.
Jack Roush never drove a stock car competitively, but he's won titles with Matt Kenseth and Kurt Busch and has the only five-car team in the sport -- at least for a few more years until NASCAR makes him shrink to four.
Richard Childress never won a race as a driver, but he won six titles as an owner with Dale Earnhardt.
Earnhardt had the best chance to prove a great driver can become a great owner in today's world, but we'll never know for sure because he died when his organization was reaching maturity.
Being a Cup owner means more than having your name on the company door, which Earnhardt Jr. certainly does.
It means handling budgets, making personnel decisions and spending more time in an office than you ever would on the track.
That's why Daytona 500 champion Kevin Harvick is satisfied owning a Busch and Truck Series team and has no desire to move to Cup.
"The Cup car, there's so much involved," Harvick said. "I see how much time it takes from Richard [Childress]. We can still enjoy being the driver and being a team owner with the Busch and Truck, where I don't think we could do both if we owned the Cup car."
Maybe Earnhardt Jr. will be the exception if he gets control of DEI in his next contract, which will begin in 2008.
Or maybe he'll one day appreciate many of the duties team owner/stepmother Teresa Earnhardt handles while he's shooting commercials and making appearances.
"I'm not saying Dale Jr. can't do it, but it's never been done before," Ganassi said.
And if Earnhardt Jr. can't work out an agreement to stay at DEI, Ganassi is looking for somebody to drive a fourth car for him next season.
"Give him my number," said Ganassi, calling out the first few digits of his cell phone before realizing he was talking to reporters.
Ganassi has more than insight.
He has common sense.
David Newton covers NASCAR for ESPN.com. He can be reached at dnewtonespn@aol.com.
ESPN Carolina Panthers reporter
Covered Panthers, NFL for 11 years
More than 25 years experience covering NFL, college football and NASCAR
Joined ESPN in 2006
SPONSORED HEADLINES
ESPN TOP HEADLINES
MOST SENT STORIES ON ESPN.COM