Reutimann thankful to have survived hard crash
NASCAR driver David Reutimann is looking forward to Sunday's race in Mexico. Thanks to safety improvements that likely saved his life, Reutimann is looking forward to a lot of things, writes David Newton.
Updated:
March 2, 2007, 12:56 PM ET
By
David Newton
| ESPN.com
BRISTOL, Tenn. -- Backpacks and suitcases were scattered on the couch in the back of the No. 00 hauler at Bristol Motor Speedway. In the middle of the clutter was David Reutimann, looking as though he'd been dragged through the mountains that surround this half-mile oasis.
"I would hate to have hit that same wall going that same speed without a SAFER barrier. It would have been a bigger hit than it was, and it was by far the biggest hit I've ever had."
-- David Reutimann
"Here, take this," a member of his crew said.
Reutimann swallowed the pill, then settled into the couch.
It's been a rough week for the 37-year-old rookie.
He knocked team owner Michael Waltrip out of Sunday's Nextel Cup race at California Speedway by taking the last spot in qualifying. Headed for a decent finish with six laps remaining, he hit the wall so hard it left his body feeling the kind of pain quarterbacks do after multiple sacks from Brian Urlacher.
And to top it off, he caught the flu, thus the pill.
"Everything hurts," said Reutimann, forcing a smile.
But Reutimann doesn't have time to wallow in his pain. He's 10 or more years older than most of the rookies and even many veterans, such as Kyle Busch and Kasey Kahne.
He won't get another chance like this. He has to seize the opportunity and make the most of it.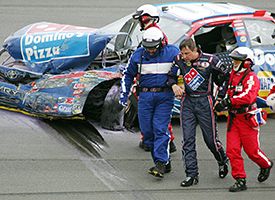 AP Photo/Dave WatersDavid Reutimann had to be led away from his wrecked car by safety crews after a crash in Turn 4 at California Speedway on Sunday.
So instead of being in bed where he belonged, Reutimann spent Wednesday at Bristol testing the Car of Tomorrow.
He then hopped on a plane for Mexico City to compete in Sunday's Busch Series race at the Autodromo Hermanos Rodriguez, an experience he hopes will prepare him for road course racing in Cup.
"My weakness is I want to drive all the time," Reutimann said. "In a lot of cases, I'm no different than other drivers. I get in the car when I'm feeling less than 100 percent."
Reutimann would be feeling significantly less than 100 percent were it not for all the safety features NASCAR has implemented since Dale Earnhardt was killed on the last lap of the 2001 Daytona 500.
He might not be alive were it not for the SAFER [Steel And Foam Energy Reduction] barriers that have replaced concrete walls and the head and neck restraints that have become mandatory.
"That stuff definitely saved my life," said Reutimann, who celebrated his birthday Friday. "I would hate to have hit that same wall going that same speed without a SAFER barrier. It would have been a bigger hit than it was, and it was by far the biggest hit I've ever had."
NASCAR officials say Reutimann's hit didn't register half the g-forces of Earnhardt's fatal crash. They also acknowledge that Reutimann's g-forces were lessened because the barrier absorbed much of the impact.
Reutimann isn't concerned with numbers.
He's simply thankful.
"They said it was high," he said of the g-forces. "Hopefully, they'll be able to use the data to maybe improve more things. But right now they've got it as safe as you're probably going to make it.
"NASCAR has done a really good job."
NASCAR hasn't had many compliments lately. The governing body spent most of the week before the the Daytona 500 passing out suspensions and fines, then drew criticism for not throwing the caution before Kevin Harvick beat Mark Martin to the finish line with cars spinning out of control behind them.
There was more criticism last week at California, from reigning Nextel Cup champion Jimmie Johnson questioning a late caution for "mystery" debris to Tony Stewart questioning a pit-road speeding penalty.
But when it comes to safety, there is no questioning NASCAR's intentions, at least not since Earnhardt's death, particularly with the debut of the COT only a few weeks away.
Officials spent seven years developing a COT that, despite criticism of its boxy look, will provide more safety to what already are the safest cars in motorsports.
Such dedication to protecting the driver allowed Reutimann to walk into his house, albeit with a limp from a sore foot, and hug his 5-year-old daughter who saw Daddy momentarily slumped in his seat after the initial impact.
It allowed Reutimann to fly to Mexico City to compete on a road course for the first time in his career.
It allowed him to joke about how he will be unable to communicate with Spanish-speaking media that might ask him to describe how Greg Biffle got into the back of his Toyota and sent him into the wall.
"I know 'hola' and 'agua,'" Reutimann said with a laugh. "Agua? That's water, right?"
Yes, that's water.
"I never took Spanish in high school," Reutimann continued. "I had enough trouble trying to master the English language. I guess I need to be well-versed; at least enough to know how to say Domino's and Aarons if there is a different way to say it in Spanish.
"I'm sure there is a different flair."
Reutimann is sore, but not too sore to forget sponsors come first. He's been wondering the past few days if Mexico City, which has Home Depots and Lowe's and practically every other sponsor seen in stock car racing, has a Domino's.
"If there is, I'll have to order one up," he said.
There is.
But Reutimann also is looking forward to a good Mexican meal or two. Thanks to NASCAR's emphasis on safety, he's looking forward to a lot of things.
"Thanks to all those things combined and the good Lord looking over me," Reutimann said as he slumped farther into the couch. "I've wrecked cars before, but this was probably the worst one.
"It could have been a lot worse, though. A lot worse."
David Newton covers NASCAR for ESPN.com. He can be reached at dnewtonespn@aol.com.
ESPN Carolina Panthers reporter
Covered Panthers, NFL for 11 years
More than 25 years experience covering NFL, college football and NASCAR
Joined ESPN in 2006
SPONSORED HEADLINES
ESPN TOP HEADLINES
MOST SENT STORIES ON ESPN.COM
Telcel-Motorola 200
Related Stories
English
Post-race
•
Zoom Gallery
|
Surround
•
Blount: Vintage -- and spectacular -- Montoya
•
Newton: Win doesn't win over peers
•
Montoya wins in Mexico City
Video
• Montoya makes history


• Could Montoya have avoided Pruett?


• An emotional win for Montoya


• Pruett displeased with move

Race preview
• Newton: Montoya feeling at home | Blog

• Pruett on the pole
• Blount: Pick 'em | Blog

• Agulla: Montoya rising to challenge
• Vega: A nice show, but only that
• Guerra: What's in track's name?
• Newton: No more chicanery
• Blount: Biggest stars absent
• Hangin' with Hamlin
• Rusty Nails It
• Fofaria: It's better in Mexico

Video
• Scott Pruett takes pole


• Rusty Wallace: Mexico preview


• Who will win?


• Busch Series gearing up for Mexico

Español
Noticias y análisis
• Montoya se queda con la victoria
• Posiciones finales de la carrera
• Vega: La NASCAR salió ganando
• Montoya se disculpa con Pruett
• Mexicanos no tuvieron suerte
• NASCAR confirma México 2008

Entendiendo el deporte
• ¿Qué es NASCAR?
• El sistema de puntaje
• Las mejores carreras y circuitos

Video
• Montoya festejó en México


• Análisis de Agulla/Pombo


• Adrián Fernández, conforme


• Goeters el mejor mexicano


• Jourdain agradece apoyo