Montoya bigger than ever on return to Mexico City
Juan Pablo Montoya is an international superstar. His friendliness -- and skill -- won over Mexican fans long before he became one, writes David Newton.
Updated:
March 3, 2007, 8:08 PM ET
By
David Newton
| ESPN.com
MEXICO CITY -- Juan Pablo Montoya sat on the back step of his hauler, taking a break between practices for Sunday's Busch Series race at the Autodromo Hermanos Rodriguez.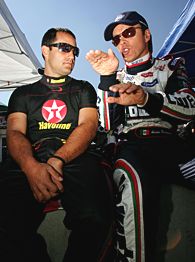 Jonathan Ferrey/Getty Images for NASCARColombian Juan Pablo Montoya, left, first earned fans in Mexico when he and local favorite Adrian Fernandez battled on the track. They are good friends off it.
"Are they selling much of my stuff outside the track?" he asked.
Chris Weiller, the vice president of business development for Chip Ganassi Racing with Felix Sabates, laughed.
"Nothing licensed," he said.
The merchandise haulers that follow stock car drivers around the Busch and Nextel Cup series aren't quite comfortable making the trip to Mexico City, but Montoya is.
Mexico is where the Colombian driver competed when first making a name for himself, winning the Formula N series here as an aggressive 19-year-old.
The fans embrace him here the way they do local heroes Adrian Fernandez and Michel Jourdain Jr.
"They are as passionate [as American fans], but they want a picture and then to hug you," Montoya said. "And they'll slow you down just to make sure the picture is good when they're hugging you."
This also is the only place Montoya can race now that he's made the jump from Formula One to NASCAR where the majority of the people speak his native language, which has been more than evident by the amount of Spanish he's spoken in press conferences.
He was so excited to get here that the first thing he did was visit a Mexican restaurant he remembered from '94.
"And man, it was good," said Montoya, who will start third behind teammate Scott Pruett and Carlos Contreras.
Mexico City is excited to have Montoya as well. There are posters all around town with him predominantly posed in the center with the words, "Regresa A Mexico …… Juan Pablo Montoya."
Translated: "Juan Pablo Montoya returns to Mexico City."
The large backdrop in the media center features Montoya top and center with seven Mexican drivers around him.
"People are excited to see the Adrian Fernandez and Juan Pablo Montoya fight again," said Fernandez, recalling epic battles with Montoya in Champ Car and several other series.
Montoya is ready to get back to the form that helped him become one of the most famous drivers in the world, winning everything from a world title in Champ Car to the Indianapolis 500 to the 24 Hours of Daytona.
When talking about his chances of winning the pole before qualifying, he turned the subject to winning the race and battling for a title.
"We have zero points. We have two DNFs," said Montoya, who actually has 89 Busch points after an engine failure at Daytona and crash at California. "We need to get in good position for the championship.
"Right now, we're not doing ourselves any favors the way we've been running."
Many say it's only a matter of time before Montoya starts winning in Busch and Cup, where he is 20th in points after finishing 19th at Daytona and 26th at California.
"To me, Juan Pablo is one of the most naturally talented drivers I have ever competed with," Fernandez said. "He has won in everything he has competed. There is no doubt Juan Pablo is one of the greatest drivers ever born."
Different ballgame
Montoya was disappointed Saturday when he didn't win the pole after having the fastest lap in the final practice session. He blamed a last-minute adjustment that made the setup tight.
"I expected him to be a little more standoffish. He's got a great personality. He brings a lot of excitement to the crowd and he's a lot of fun to be around. He's just a great guy."
-- Shane Huffman
But Montoya didn't lose focus of the ultimate goal.
"My main goal in the Busch program is to get experience in my Cup program," he said.
Montoya has an opportunity in NASCAR that top Mexican drivers long for. It's one many never will get.
"When you have just a short period of time to prove yourself, it's very difficult," said Fernandez, who was introduced to his future wife by Montoya. "It's hard to get sponsors for Mexican drivers. NASCAR is a very competitive series. To get in is not easy."
Montoya understands the frustration, but doesn't buy into the theory.
"They complain," he said. "Everybody complains. You go to the States and they say they don't have any sponsors here and you've got 43 cars full of stickers. And you've got 43 full of stickers in trucks.
"How bad is it?"
Montoya hopes his presence and more events like this one will open some doors that traditionally have been closed.
"This is good for the Mexican drivers to get a chance," he said. "The thing is, being a road course and they grow up on road courses, they're going to be good.
"Once they get to the oval, it's a different ballgame."
Regular guy
Carl Edwards doesn't have to go farther than his roommate's bedroom to know how popular Montoya is.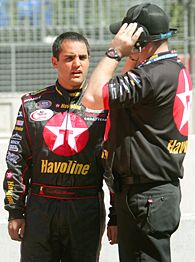 Chris McGrath/Getty Images for NASCARJuan Pablo Montoya, left, and crew chief Brad Parrott are still learning. Montoya says he's racing in the Busch Series to help him with his Nextel Cup program.
"He's only got two hats," Edwards said of fellow Columbia, Mo., native Josh Amelunke. "He's got a Carl Edwards hat and a Juan Montoya hat. He's a huge fan … he loves that guy, and I think there's a lot of people out there like that who really like him a lot."
Edwards said Montoya seems like a normal racer and regular guy.
"For a guy who has somebody help him put his gloves on, he's pretty cool," said Edwards, referring to Montoya's personal assistant, Gonzalo Mejia, otherwise known as Gonzo.
Busch Series regular Shane Huffman said Montoya has been nothing like he imagined.
"I expected him to be a little more standoffish," he said. "He's got a great personality. He brings a lot of excitement to the crowd and he's a lot of fun to be around. He's just a great guy."
Montoya is more comfortable in the Busch and Cup garages than he ever was in other series. He said it's much easier to have a good relationship with a driver off the track here than in F1.
He recalled how Kevin Harvick actually volunteered to help him last year at Homestead before his Cup debut.
"He said, 'Hey, I followed you and you need to go a little bit more here and do this a bit more,' " Montoya said. "And I was, 'Man, if this is Formula One, I would have been talking to my crew chief about it, making a laugh out of what the guy was doing wrong. Let God help the guy.'"
What pressure?
Almost lost in the mix of Dale Earnhardt Jr., Jeff Gordon and Jimmie Johnson jackets in the small souvenir store outside the garage is a No. 42 Texaco/Havoline cap like the one Montoya wears.
The store is not nearly representative of the Montoya merchandise mania. There have been orders from 24 countries on Ganassi's Web site, with Brazil, Colombia, Canada, Spain, Germany and Russia topping the list.
That's significant because 97 percent of current NASCAR merchandise sales are inside the U.S., with half of the other three percent sold in Canada.
Montoya gear represented 87 percent of Ganassi's Web business in February, and the No. 42 merchandise trailer is doing almost five times as much business as it did a year ago when Casey Mears was the driver.
Don't think Montoya hasn't noticed.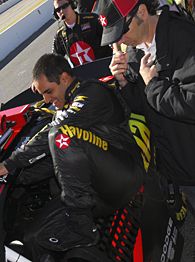 Getty Images for NASCARJuan Pablo Montoya is already settling nicely into NASCAR racing, earning praise -- and even some free advice -- from his competitors.
"A little bit," he said. "My wife does a little more."
But Montoya doesn't feel pressure to sell goods any more than he does to succeed.
"I don't think you can put any pressure on Juan Pablo," Fernandez said. "He is very good at that. That has been one of his strengths. I remember before the races he was always the most calm guy."
But there is a level of maturity in Montoya that wasn't there 10 or 15 years ago. Ganassi, who lost Montoya to F1 shortly after they won the Indianapolis 500 in 2000, attributes that to age and Montoya's wife, Connie.
"If you wrote the book on how you would like to have him come back [to our team], he's come back with all the proper prerequisites," he said. "It's like a semester at sea or something.
"He really surprised me by telling me he took up golf, which I still can't believe. Does he strike you as someone who has enough patience to be on a golf course? No."
In many ways Montoya is like a kid in a man's body. When he's not behind the wheel, he's usually playing paint ball, riding horses or playing golf.
A 10 handicap, Montoya spent four hours at the Taylor Made golf company last week in California.
"I hit more than 200 balls," said Montoya, proudly showing off a blister on his right hand.
Jourdain, who has competed against Montoya for almost 14 years, has never seen Montoya happier.
"I used to see him in the middle of a crowd in F1 and you could see he was unhappy," he said. "It's really important to enjoy what you're doing no matter where you're at."
Had Montoya realized stock cars were so much fun 10 years ago, he might have made the change then. His aggressive nature is better suited to this than F1, where the mind-set was to race hard and pass in the pits.
"The show is great," Montoya said. "The fans are amazing and the racing is good. Something you always miss in F1, and I always got in trouble with, was I would try to pass people.
"It's, 'He made a move. They wrecked.' If you pass somebody and touch wheels it's, 'What an animal!' "
Montoya is as aggressive on the track as he is animated off it, often saying as much with facial expressions and hand motions as he does with words.
Such was the case when asked if he would share the name of that favorite restaurant he visited a few days ago.
"Nooooooo," he said.
David Newton covers NASCAR for ESPN.com. He can be reached at dnewtonespn@aol.com.
ESPN Carolina Panthers reporter
Covered Panthers, NFL for 11 years
More than 25 years experience covering NFL, college football and NASCAR
Joined ESPN in 2006
SPONSORED HEADLINES
ESPN TOP HEADLINES
MOST SENT STORIES ON ESPN.COM
Telcel-Motorola 200
Related Stories
English
Post-race
•
Zoom Gallery
|
Surround
•
Blount: Vintage -- and spectacular -- Montoya
•
Newton: Win doesn't win over peers
•
Montoya wins in Mexico City
Video
• Montoya makes history


• Could Montoya have avoided Pruett?


• An emotional win for Montoya


• Pruett displeased with move

Race preview
• Newton: Montoya feeling at home | Blog

• Pruett on the pole
• Blount: Pick 'em | Blog

• Agulla: Montoya rising to challenge
• Vega: A nice show, but only that
• Guerra: What's in track's name?
• Newton: No more chicanery
• Blount: Biggest stars absent
• Hangin' with Hamlin
• Rusty Nails It
• Fofaria: It's better in Mexico

Video
• Scott Pruett takes pole


• Rusty Wallace: Mexico preview


• Who will win?


• Busch Series gearing up for Mexico

Español
Noticias y análisis
• Montoya se queda con la victoria
• Posiciones finales de la carrera
• Vega: La NASCAR salió ganando
• Montoya se disculpa con Pruett
• Mexicanos no tuvieron suerte
• NASCAR confirma México 2008

Entendiendo el deporte
• ¿Qué es NASCAR?
• El sistema de puntaje
• Las mejores carreras y circuitos

Video
• Montoya festejó en México


• Análisis de Agulla/Pombo


• Adrián Fernández, conforme


• Goeters el mejor mexicano


• Jourdain agradece apoyo