Stewart's frustration gets best of him again
Tony Stewart is clearly frustrated right now. That he's letting it get the best of him is not a positive sign, writes David Newton.
Updated:
April 23, 2007, 3:22 PM ET
By
David Newton
| ESPN.com
AVONDALE, Ariz. -- Tony Stewart was so upset after last week's race at Texas Motor Speedway that he talked about retiring. He was so upset after Saturday night's race at Phoenix International Raceway that he didn't talk at all.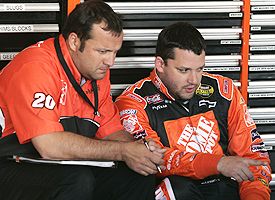 AP Photo/Steve HelberTony Stewart, right, and crew chief Greg Zippadelli are trying to figure out how to get to Victory Lane.
Yes, Stewart is frustrated.
He should be. He has led more laps in the first eight races of the Nextel Cup season than anybody on the planet, including a race-high 132 in Saturday's second-place finish to Jeff Gordon.
His 584 laps led are 216 more than Jimmie Johnson, who has three wins.
Stewart has none.
But to leave the track without fulfilling his obligations -- the top three finishers are required to come to the media center for interviews -- was childish and could be costly depending how NASCAR president Mike Helton and series director John Darby handle it.
How Stewart handles his frustration will go a long way toward determining whether he competes for a third title or implodes and misses the championship chase for the second straight year.
"There's a lot of pressure," crew chief Greg Zipadelli said after being left to defend his driver. "There's a lot of pressure on us to win. I feel it every day.
"It is absolutely no fun when you come to the racetrack [and don't win], and it seems like the longer it goes, the more pressure gets built. You feel it. As much as you want to ignore it, it's still there, you know."
The pressure is all from within. Team owner Joe Gibbs and president J.D. Gibbs certainly aren't pressuring Stewart. His primary sponsor, Home Depot, isn't crying that its driver is seventh in points and gets tons of exposure every week.
"This is our eighth race of the year, and probably four or five of them we should have won and didn't," Zipadelli said. "We'll leave it at that."
If Stewart wants to feel real pressure, he should trade places with Kasey Kahne, who is 33rd in points, only 11 ahead of Kyle Petty.
Or Ryan Newman, who was headed for a top-5 finish before getting caught in the pits during a late caution and driving off with the left side of the car jacked up as he tried to avoid going a lap down. The damage he caused to his car backing up cost him 11 laps and left him 38th in the race and 26th in the points standings.
Then there's Kurt Busch, who -- for the second straight week -- was caught on pit road under a late yellow when he had a top-10 car.
Or what about Stewart's teammate, Denny Hamlin? He could have won all three Car of Tomorrow races were it not for some misfortune that put in him a position of playing catch-up after dominating early. He led 70 laps Saturday, but was put back in the field after a penalty for speeding on pit road and finished third.
If Stewart really wanted to feel pressure, he could step into the shoes of Michael Waltrip, who has been a spectator for seven straight races.
Even Gordon has as much reason to be frustrated. He had to wait 26 races between wins to tie Dale Earnhardt for sixth place on NASCAR's all-time win list. He easily could have had three or four wins this season, finishing second three times and third another.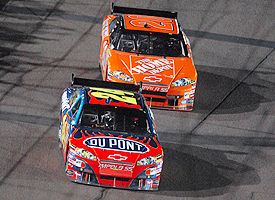 Mark J. Rebilas/US PresswireJeff Gordon pulled ahead of Tony Stewart with 11 laps left in the Subway Fresh Fit 500 at Phoenix International Raceway on Saturday.
He appeared headed for second again Saturday when Stewart passed him with 12 laps remaining. But instead of getting frustrated, Gordon pushed past Stewart on the next lap and pulled away for his first victory since last season at Chicago.
"You know, Tony has to handle things the best way he possibly can," Gordon said. "We all know he gets wound up. And I'll be honest, when the heat of the moment's on and the adrenaline is flowing, not all of us think straight, including myself.
"And if he wanted to avoid controversy by saying something he didn't want to say, then maybe that's why he didn't come in."
That's still no excuse. Gordon would never bail on an obligation, and he has had plenty of reason to.
He was furious after finishing second to Johnson at Martinsville when he obviously had the faster car. But he collected himself and addressed the situation outside his car, then again in the media center.
He was leading the race late last week at Texas before hitting the wall and finishing fourth, but he addressed that, as well.
"I just hide my emotions a lot more," Gordon said. "When I'm frustrated, when I'm upset, I try to contain that or keep that for myself privately or keep it with the people I'm close to.
"I think for me to crack and really go out and say things that I wish I hadn't said, it takes a little bit more. He's got a short fuse; I've got a long fuse. They have their pluses and minuses."
Stewart, as great a driver as he is, could learn a few things from Gordon.
"I want to see him having more fun, and I understand what he means when he says [he's ready to retire]. At this level of racing, it's tough, man."
-- Jeff Gordon
Nobody wants to see him driven out of the sport way before his time. Not even Gordon, who might benefit with a few more wins.
"I love what Tony brings to this sport because he's got a flair to it," Gordon said. "It would be a loss for him to not be here past whenever his contract is up.
"I want to see him having more fun, and I understand what he means when he says [he's ready to retire]. At this level of racing, it's tough, man."
But there are a lot of people in tougher situations than Stewart, and he should consider that the next time he leaves in a huff after finishing second.
"It's not like there's a statistic out there that said we should have won," Zipadelli admitted. "We feel as a team we're good enough to win and we should have and we haven't. That's where it comes from.
"If we won today, it would wear on me if we went to Talladega and didn't win or felt like I didn't do a good job or felt like we weren't capable of winning."
David Newton covers NASCAR for ESPN.com. He can be reached at dnewtonespn@aol.com.
ESPN Carolina Panthers reporter
Covered Panthers, NFL for 11 years
More than 25 years experience covering NFL, college football and NASCAR
Joined ESPN in 2006
SPONSORED HEADLINES
ESPN TOP HEADLINES
MOST SENT STORIES ON ESPN.COM