Garage savvy, hands-on approach fuel Stremme
Juan Pablo Montoya grabbed most of the early headlines for Chip Ganassi Racing. But teammate David Stremme arguably has been NASCAR's biggest surprise so far, writes David Newton.
Updated:
April 28, 2007, 4:57 AM ET
By
David Newton
| ESPN.com
CONCORD, N.C. -- David Stremme arrived at Chip Ganassi Racing on Tuesday wearing blue jeans and a faded T-shirt with the words "Pool boy" in barely visible white letters across the chest.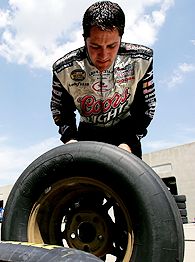 Streeter Lecka/Getty ImagesWhether it's driving a race car or checking tires, David Stremme likes to stay involved.
No, the driver of the No. 40 Dodge never has been a pool boy.
He has never lived at a home with a pool.
Stremme wore the shirt because he can hang out in the shop here or at his own garage in Mooresville, N.C., without worry of getting grease and oil on it.
"What ends up happening is if I put on really good clothes and go to my shop, I'll get dirty because I'll start working on stuff," Stremme said as he leaned back in a chair overlooking the Ganassi shop. "And then I end up ruining clothes, so I don't put on nice clothes.
"If I wanted to, I could go down there and work right now."
If this were basketball, Stremme would be a gym rat. He's as likely to have his head buried under the hood of his Nextel Cup car as to have his hands on the steering wheel.
He can build a car from the ground up just as easily as he can find his way around Talladega Superspeedway, where NASCAR's premier circuit is this weekend.
"Sometimes you can't even tell it's him he's got his head so far down under the hood," said Doug Riepe, the tire carrier for Stremme's team. "This past weekend at Phoenix, as soon as we went to the garage after we got into that accident, he was assessing the damage, seeing if he could find a way to help."
Stremme was 12th in points until unavoidably getting caught up in a wreck with David Ragan that left him 43rd in the race and dropped him to 18th in the standings.
But he's still arguably the biggest surprise in this young season with six top-20 finishes and four of 13th or better, including a career-best 10th at Texas three weeks ago.
The 29-year-old from South Bend, Ind., didn't have his first top-20 finish last season until the 15th race, when he was 19th at Michigan. His best finish during that rookie season was 11th at New Hampshire four weeks later en route to a 33rd-place finish in the standings.
The relationship he has developed with his team hanging out at the garage has played an important role in the improvement.
"I've always been a hands-on type of person," said Stremme, who hopes to improve on last year's finishes of 33rd and 34th at Talladega. "I like coming in and being involved in things. I figure the more information I can give them, the better we'll be.
"I know pretty much 99 percent of everybody in the building."
"He always wanted to be around the car. He didn't want to go to his graduation party. He didn't want to go to the prom. None of that. He just wanted to go race."
-- Cindy Stremme, David's mother
Stremme doesn't have a real hobby outside racing. He'd rather spend time tearing a car apart than tearing up a golf course.
His idea of fun is going to his shop in the evening when nobody is around to tinker on the late-model cars.
"That's where I can go and relax," he said. "It reminds me of where I came from and how I grew up."
To say Stremme has racing in his bloodlines is an understatement. Not only do his father and younger brother race, but so does his mother, Cindy, who is a two-time street stock champion at a three-eighths-mile banked track in Michigan.
"He always wanted to be around the car," said Cindy, 53. "He didn't want to go to his graduation party. He didn't want to go to the prom. None of that. He just wanted to go race."
Stremme began racing Big Wheels when he was 6. By the time he was 12, he could build a car almost from scratch. He won his first race in his mother's street stock car at 15, which led to a temporary retirement when track officials discovered he was underage.
He even got his first stitches in the garage, when his father accidentally hit him in the head with a four-way lug nut wrench while changing a tire on the family car.
"He was never one to play football or basketball," said Cindy, who drives school buses when she's not racing. "He went through T-ball and the minors, but once he had to go to the majors, he was, 'I want to go to the races.'"
Stremme has been racing ever since, whether it's against his family or his current teammate, former Formula One star Juan Pablo Montoya.
For the record, he has lost to his mother.
Many times.
"I've always been a hands-on type of person. I like coming in and being involved in things. I figure the more information I can give them, the better we'll be."
-- David Stremme
"When I started racing, she beat me a lot," Stremme said. "A lot of people tease you, and it wasn't really other kids. It was more people I raced against.
"The thing is, she beat a lot of people, and I'd tell them that."
Stremme eventually began winning himself. He captured 24 races, two rookie of the year awards and two track championships in a two-year period in the mid-1990s.
In 2002, he won the American Speed Association rookie of the year award with two wins, 13 top-5s and 15 top-10s in 20 starts.
Ganassi signed this rising star as a developmental driver for the Busch Series in 2003, and he was in Ganassi's No. 40 Cup car by 2006.
There were a lot of growing pains last season, but there were significant signs of improvement by the end of the year. Stremme had four finishes of 18th or better in the final six races, including 11th in the finale at Homestead-Miami Speedway.
"When we ended the season last year, we all said, 'However we end up the season is how we're going to start the next year,'" Stremme said. "And we did. We finished 11th at Homestead and 11th at Daytona.
"We've definitely been stronger."
Some of the credit belongs to Montoya. Although a rookie in NASCAR, his vast experience and desire to exceed have rubbed off on Stremme.
"He's been able to help me relax a little more and probably teach me to have a little more drive in myself, wanting to do better," Stremme said. "He has so much determination, it doesn't surprise me at all that he's done as well as he has."
Montoya is 16th in points. His fifth-place finish at Atlanta is not only the best among Ganassi's three drivers this season but the best among all Dodge drivers.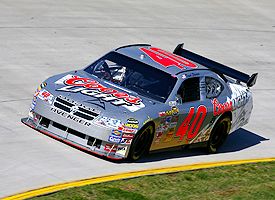 Rusty Jarrett/Getty Images for NASCARDavid Stremme has racked up six top-20 finishes in the No. 40 Dodge.
Stremme doesn't hesitate to call Montoya the senior driver at Ganassi even though he technically is, having been with the organization a year longer than Reed Sorenson.
"He's older," Stremme said with a laugh of the 31-year-old Montoya.
There's one area where nobody has more seniority than Stremme, though, and that's in the garage.
"In a sport now where drivers stay away from the race cars as much as possible, seeing Dave getting his hands dirty and seeing how much dedication and passion he has is impressive," Riepe said.
"Sometimes you can't tell him from one of our mechanics because he's down there getting dirty with oil and grease on him."
The first time Riepe noticed the young driver had a fondness for the garage, Stremme was carrying springs across the shop floor "like he's a shop parts guy."
"It's kind of cool," Riepe said. "And listening on radio, he sounds like a second crew chief suggesting what changes there need to be."
As much as Stremme wants to help, he sometimes is reminded by those who work on his car full time that it's unnecessary. Some of the things he's accustomed to doing, such as installing his own seats, they won't let him do.
"The guys on my team have a lot more respect for me because they know I can probably build a car from the ground up if that's what I need to do," Stremme said. "But that's not my job anymore.
"My job is to drive them."
Perhaps in time he'll drive them well enough that he'll have time to enjoy a pool and hire a pool boy.
David Newton covers NASCAR for ESPN.com. He can be reached at dnewtonespn@aol.com.
ESPN Carolina Panthers reporter
Covered Panthers, NFL for 11 years
More than 25 years experience covering NFL, college football and NASCAR
Joined ESPN in 2006
SPONSORED HEADLINES
ESPN TOP HEADLINES
MOST SENT STORIES ON ESPN.COM