Stewart breaks through for first win; breaks out of sour mood
Tony Stewart is happy he won, happy with his team and happy he has some time off. Winning at Chicagoland -- and a pep talk from team owner Joe Gibbs -- will do that for you, writes David Newton.
Updated:
July 16, 2007, 12:14 PM ET
By
David Newton
| ESPN.com
JOLIET, Ill. -- Tony Stewart was in time-out on Saturday.
He was in Victory Lane on Sunday.Life and big-time stock car racing certainly is funny.Apparently the 30 minutes that Stewart missed of Saturday's final practice at Chicagoland Speedway while owner Joe Gibbs lectured him on the merits of being a good teammate didn't hurt.A week after wrecking
Denny Hamlin
and then blaming it on his Joe Gibbs Racing teammate, Stewart got the victory he felt should have been his at least three or four times this season.The two-time Nextel Cup champion held off Roush Racing teammates
Matt Kenseth
and
Carl Edwards
to collect his first victory in 20 races and end his longest drought to start a season -- 18 races -- since his rookie year.He didn't blame anybody.But he did credit his team for getting him out front with fast pit stops and into the clean air he needed.Stewart also didn't forget how to celebrate.He pulled his No. 20 car to the start/finish line and scaled the fence to the flag stand to collect the checkered flag as has been his recent tradition.Once there he raised both arms into the air and pumped his fists several times like Tiger Woods after making a birdie putt in the final round of a major. The scowl that was on his face a week ago was replaced by a huge smile.Relief!"Actually, more overjoyed than anything," Stewart said. "I'm glad we've got the monkey off our back at least for one week. This should have been the fourth or fifth time we sat in this room."The monkey apparently loosened Stewart's tongue. Instead of being short and sometimes terse -- as he was during several interviews since last weekend -- he was witty and charming.He talked of how much he looked forward to a week off and how he planned to celebrate by getting to the bottom of a case of beer -- Schlitz of all things -- or pass out getting there.But Stewart insisted he wasn't nearly as frustrated as everybody made him out to be during his winless streak."When I've got a car that I at least have the capability of running up front with, you know you can't have bad luck forever," he said.Team president J.D. Gibbs concurred."I don't know if he was like crazy frustrated," Gibbs said. "Crazy frustrated would have been running mid-pack and you don't have a chance to win."Stewart has had plenty of chances to win. He had the fastest car in a handful of races but fell short because of a fluke such as fuel mileage or a wreck.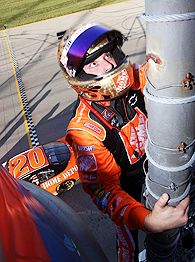 Jamie Squire/Getty ImagesTony Stewart climbed to new heights on Sunday at Chicagoland Speedway, breaking the longest winless drought to start a season since his rookie year in 1999.
"I really felt good about the season even though the win column doesn't show it," said Stewart, who came to Chicagoland with a pair of runner-up finishes and a third-place result.But after last weekend at Daytona International Speedway there were those who thought Stewart was losing touch with reality.Hamlin included.Stewart was running second to Hamlin on Lap 15 when he got his teammate loose and forced a spinout that took both cars out. He then said Hamlin checked up to cause the wreck, and even took it a step further when he questioned Hamlin as a teammate. That didn't sit well with Hamlin.After a week of avoiding each other, Stewart and Hamlin got a surprise visit from their owner, who made a detour to the 1.5-mile track on his way to vacation in Colorado. Joe Gibbs wanted to get his two drivers together to iron out their differences before they got any deeper into the season. He did it at the expense of both missing practice time."He was more intense yesterday than he normally is in the racing world," J.D. Gibbs said of his dad, who coaches the Washington Redskins in his other world.Message received.Stewart said he and Hamlin communicated better than ever, directing each other where to go all day.Not that they were close much of the afternoon. Stewart led a race-high 108 laps, including the final 36. Hamlin never led en route to a 17th-place finish. "It was a good meeting," Stewart said. "The good part was it was fairly short. Joe can get long-winded sometimes. [But] that's Joe Gibbs' strength. He knows how to motivate people and he knows how to keep a team atmosphere."Stewart's only real competition on Sunday was defending Cup champion
Jimmie Johnson
, whose day ended when he hit the wall hard on Lap 222 of the 267-lap event."Man, we were so even at the end," Johnson said. "We were just mirroring each other on times so I think it would have come down to traffic or if we would have had another pit stop and who got in the front then would have probably won the race."Perhaps the bad luck that befell Stewart and Hamlin during the first half of the season when Hendrick Motorsports won 10 races -- four each by Johnson and teammate
Jeff Gordon
-- is turning around.Hamlin won two weeks ago at New Hampshire to give JGR two of the last three wins. And Stewart traditionally is stronger over the second half of the season.His explanation? He runs better when the weather is warm and the tracks are slick."It's kind of like running Sprint cars on dirt," Stewart said.

You don't know how glad I am to have a weekend off. I'm taking this momentum to vacation.

Tony Stewart
Or maybe it's because Stewart typically runs better when surrounded by chaos and it takes this long in a season for that to reach a boiling point."You know, there is something to be said for that," J.D. Gibbs said with a laugh. "Of course, with Tony there's always a lot of chaos going on."There was no chaos around Stewart after the win. He was so loose that he told a reporter he couldn't climb the fence for $1 million. When the reporter said he would climb it or die trying, Stewart wagered $500 the reporter would die trying.J.D. Gibbs was much looser than a week ago, too, saying his dad would have to return to his race world full time if the Redskins have another 5-11 season."It was a good wrap-up to a tough week," Gibbs said.Now it's time for a week off.And no, Stewart doesn't wish he could climb back into the car next weekend to maintain this momentum."You don't know how glad I am to have a weekend off," he said. "I'm taking this momentum to vacation."
David Newton covers NASCAR for ESPN.com. He can be reached at dnewtonespn@aol.com.
ESPN Carolina Panthers reporter
Covered Panthers, NFL for 11 years
More than 25 years experience covering NFL, college football and NASCAR
Joined ESPN in 2006
SPONSORED HEADLINES
ESPN TOP HEADLINES
MOST SENT STORIES ON ESPN.COM