Martin the crown jewel in the DEI merger with Ginn Racing
Dale Earnhardt Inc. gets something special with the addition of Mark Martin in its recent merger with Ginn Racing. The team gets a leader, one that could make the rumored signing of Kyle Busch a dream scenario, writes David Newton.
Updated:
July 26, 2007, 7:07 PM ET
By
David Newton
| ESPN.com
INDIANAPOLIS -- Dale Earnhardt Inc. lost its leader when Dale Earnhardt was killed on the last lap of the 2001 Daytona 500.
It found a new one this week.Tuesday's merger between DEI and Ginn Racing may have been primarily about real estate and expansion, but the real jewel to the deal was the addition of
Mark Martin
.Martin, 48, gives DEI the veteran leadership it hasn't had since Earnhardt's death, the kind of direction soon-to-be-gone Dale Earnhardt Jr. couldn't give because of his awkward relationship with stepmother/team owner Teresa Earnhardt and his popularity that keeps him so busy.That was evident on Thursday as Martin took the stage at a Chevrolet event outside of Indianapolis Motors Speedway with DEI management to further explain the merger that he says will make the company a superpower."The one thing when I look at this whole [merger], the huge plus is they have a team leader in Mark Martin," said
Kyle Petty
, who drives the No. 45 Dodge for Petty Enterprises. "A lot of teams have organizations with no team leaders. When Mark Martin is there they have a team leader."That's what
Jeff Burton
has done for Richard Childress Racing. He's a team leader. And there's a difference in being a teammate and team leader, and there's very few team leaders out here."Martin admittedly felt strange wearing the DEI logo only a year removed from wearing the Roush Racing logo he donned for 19 years before moving to Ginn Racing.He also looked strangely comfortable.He relishes his role as a part-time driver -- he plans to split the rest of this season and next with
Aric Almirola
-- and fulltime head of the driver development program.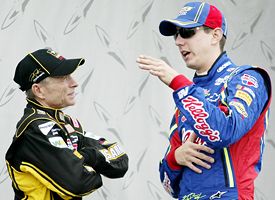 Marc Serota/Getty ImagesMark Martin, left, and Kyle Busch aren't teammates ... yet.
He particularly relishes the possibility of working with
Kyle Busch
, who is strongly considering replacing Earnhardt after NASCAR's most popular driver was named as his replacement at Hendrick Motorsports in 2008."I would embrace that challenge," Martin said.Martin and Busch are as opposite as two can be in terms of driver temperament. Martin is the Martha Stewart of NASCAR, all about being polite and doing the right thing on the track.Busch is more the -- gender aside -- Paris Hilton with his bad-boy image and aggressive driving style that often draws criticism from his peers.Martin couldn't help but have a positive impact on that."Mark Martin makes anybody a better driver," Petty said. "Mark is so knowledgeable and so patient with everybody he works with, it doesn't matter if he's talking to me who has raced as long as I have or a kid who is 8 years old." The 22-year-old Busch is neither an also-ran like Petty nor an 8-year-old, even though he sometimes acts like one. According to Martin, Busch is the greatest talent on the track today."And that's big for me to say that when
Tony Stewart
is out there,
Jeff Gordon
is out there and
Kurt Busch
is out there," Martin said. "To have an opportunity to possibly have some influence on what he did with that, that's cool."Martin already is excited about working with
Martin Truex Jr.
and
Paul Menard
, the two remaining drivers in the old DEI stable.Perhaps Martin will have a chance to work with Busch soon. According to some General Motors officials at the Chevrolet press conference/luncheon/golf outing, Busch and DEI are close to a done deal.DEI officials deny that, but multiple sources said Busch has narrowed his focus to DEI and Joe Gibbs Racing.Busch's agent, Jeff Dickerson, says five organizations -- DEI, JGR, Evernham Motorsports, Richard Childress Racing and Chip Ganassi Racing -- remain in the hunt and that he has received a handful of contract offers.He also says the merger between DEI and Ginn isn't a deal maker or a deal breaker. "We were strongly considering DEI before the merger," Dickerson said. "We would go there for the strength of the organization. We would go there for the team they built before then."But there's no question DEI has made itself stronger with the merger and that Martin is a major part of that strength.Busch would make it stronger -- at least on the track -- than it ever was with Earnhardt Jr."You put Kyle Busch in anything and that's an improvement," Petty said. "You might not like his personality and people might not like the things he does and says, but he's a racecar driver."

That's a knee-jerk reaction that somebody would say DEI would falter, that it's built around Dale Jr. This is one major step that the company is showing they're wrong, that they will emerge from this.
Mark Martin
He added that Busch is the best thing to hit NASCAR from a raw talent perspective since Tim Richmond, whose flamboyant career ended early because of AIDS."He will drive a car backwards and sideways, pushing and loose, and make something out of it all day long," Petty said. "He's the kind of guy that can take a 10th-place car and run in the top 5 and maybe win with it."Combining Busch and Martin might not make DEI a powerhouse, but it might quiet those that said the company will fall apart without Earnhardt."That's a knee-jerk reaction that somebody would say DEI would falter, that it's built around Dale Jr.," Martin said. "This is one major step that the company is showing they're wrong, that they will emerge from this." Less than two full days on the job and Martin already is sounding like a leader, the type of person the elder Earnhardt would have been proud to have on his payroll.Martin is so proud of his new role that he is careful to talk about the company as Dale Earnhardt Inc., not DEI as most refer to it."When you say DEI you say that quickly," Martin said. "I thought about it Monday when I stepped inside the door for my first time in that building. When I saw the pictures on the wall it put me back to competing with [Earnhardt] in the '80s and '90s. It made me realize what was about to take place."I am real sad that Dale Jr. is moving on. I will do everything in my power to make him proud and make his father proud and represent the company in a way that they would be proud of."
David Newton covers NASCAR for ESPN.com. He can be reached at dnewtonespn@aol.com.
ESPN Carolina Panthers reporter
Covered Panthers, NFL for 11 years
More than 25 years experience covering NFL, college football and NASCAR
Joined ESPN in 2006
SPONSORED HEADLINES
ESPN TOP HEADLINES
MOST SENT STORIES ON ESPN.COM
ALLSTATE 400 AT THE BRICKYARD
Related Content

Cup Surround | Standings | Schedule
Stories
•
Newton: Kyle Busch growing up?
•
Blount: Dodge poised to make move?
•
Monday Rundown: Chevy still on top
•
Crucial Crew Call: 42 crew good, 20's better
•
Blount: Stewart starting another summer roll?
•
Newton: More Montoya magic
•
Recap: Stewart tames the Brickyard
•
Schwarb: Junior's trouble a break for bubble boys
•
Schwarb: Johnson's hopes go up in smoke
•
Notebook: Harvick won't be penalized for love tap
•
Sorenson, Montoya on front row
•
Newton: Small-town boy, big-time dreams
•
Blount: Should Johnson be worried?
•
Schwarb: Solving the Brickyard puzzle
•
Notebook: Competition yellow will fly
•
ESPN.com's Allstate 400 at the Brickyard picks
•
Five drivers to watch at the Brickyard
•
Five things to watch at the Brickyard
•
Blount: Brickyard launched the new NASCAR
•
Inside The Hauler: Get big or get out?
•
Chase Tales: A special race at special place
•
The Eliminator: You have to love Jeff Gordon
•
Newton: Will Martin make a DEI dream team?
•
Door-To-Door: Siegel comes full circle
•
Blount's Blitz: That good ol' Indy magic
•
Power Rankings: Is Stewart ready to roar?
Video
•
Draft Track: Introduction
•
Draft Track: Jeff Gordon and Denny Hamlin
•
Draft Track: Matt Kenseth and Jimmie Johnson
•
Tony Stewart wins at the Brickyard
•
Stewart celebrates second Brickyard win
•
Rusty Wallace's take on this year's Brickyard
•
Dale Jarrett breaks down the Brickyard
•
Sorenson scores first career pole
•
Who'll kiss the bricks?
•
Brickyard brings out the best in drivers
•
Tech Center with Tim Brewer
•
State of Evernham Motorsports
•
Crew chief suspensions
•
Dale Jr.'s ready to roll with Mark Martin
•
Mark Martin's ready to go
•
The history of NASCAR at Indy
•
Is NASCAR welcomed at Indy?
•
NASCAR Driver Pick'em
•
Fantasy NASCAR: Brickyard Preview
•
Kissing the Bricks at Indy
•
Which are the biggest NASCAR races?
•
Racing at the Brickyard
•
NASCAR's 2007 First Half Images
PodCasts

•
RaceDay: Stewart masters the Brickyard
•
RaceDay: Stewart, Johnson talk Brickyard
•
RaceDay: Burton, Gordon and Mears get ready