Montoya nearly pulls off impossible at the Brickyard
Juan Pablo Montoya made headlines by winning the 2000 Indy 500. Seven years later, he almost won again at the historic track -- but this time in a stock car, writes David Newton.
Updated:
July 29, 2007, 11:18 PM ET
By
David Newton
| ESPN.com
INDIANAPOLIS --
Juan Pablo Montoya
was turning laps of more than 200 mph a couple of laps into his first practice for the 2000 Indianapolis 500.That was OK for veterans.Not for rookies."Track officials called him in and said he needed to slow it down until he got used to it," team owner Chip Ganassi recalled. "Juan shrugged his shoulders and said, 'I'm OK.'"Montoya was more than OK. He qualified second and led 167 of 200 laps to capture the biggest race of the Indy Racing League.He almost duplicated history this weekend in a stock car.Colombian-born Montoya qualified second on Saturday and on Sunday finished second to
Tony Stewart
in his first trip to the Brickyard in a Nextel Cup car. It was the best oval finish of Montoya's brief career and the best finish for a rookie at Indianapolis since stock cars began racing here 14 years ago."This is the most fun I've had so far in this," Montoya said as he leaned against his car on pit road. "The Indy 500 was very special to me, but we really cruised to the victory. Nobody could touch us. It was by ourselves."Here, to get the second place, we had to fight for it. It was exciting."It also was a lot less stressful. In 2000, Montoya was considered almost an outlaw coming from the CART series.The way he attacked the track from the outset was considered disrespectful to many of the top drivers, including two-time Indy 500 winner Al Unser Jr.Unser actually warned that if Montoya didn't show the track more respect, it would "bite you -- hard."Nobody ever questioned Montoya's respect for the track this weekend. Four-time Brickyard 400 champion
Jeff Gordon
was so impressed Sunday that he made a special effort to congratulate the driver afterward."I had fun racing with him," said Gordon, who finished third. "We were better than him most of the day, but there at the end he made a good pass on me and I was just following him to the end then."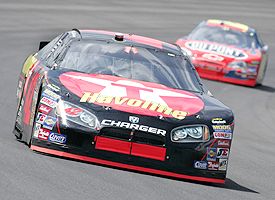 AP Photo/Tom StrattmanJuan Pablo Montoya almost got his second win at Indy -- but this time in a stock car.
Montoya passed Gordon by taking a different line around the 2.5-mile track than everybody else, just as he took a different line on the road course in Sonoma, Calif., when he collected his first Cup victory."He was just arching it way wide to the corners and getting that run to the straightaways," Gordon said. "I couldn't make it work for my car, but it worked good for him."Gordon followed Montoya in the postrace news conference, too. He sat through the first five consecutive questions as Montoya held court.It's not often the four-time Cup champion and points leader gets overshadowed, but Gordon didn't seem to mind. "It's obvious how talented he is," he said. "Everything he's driven, he's been fast and had success. I guess I had expectations of him being able to showcase his talent when he came here, and he has."When their team steps up and gives him the car, he steps up and shows what he can do."Montoya definitely had good equipment Sunday. But the finish had as much to do with his ability to manipulate the four corners of this historic place better than everybody but Stewart."The track, to learn, is simple," Montoya said, almost duplicating what he said in 2000. "I found it pretty simple when I came here for the first time. It's a very difficult oval, but it's a mixture of an oval and a road course."I like it."Despite what he said about having nothing for Stewart at the end, one got the impression he might have been a factor had the race lasted another 10 laps.But Montoya wasn't complaining. "It's big," he said of his finish. "But we're at a point now where it's frustrating because we're so close. Our fifth place was real exciting at Atlanta. Second place here is really nice and really cool, but a little frustrating."

This is the most fun I've had so far in this. The Indy 500 was very special to me, but we really cruised to the victory. Nobody could touch us.

Juan Pablo Montoya
Montoya has shown he'll be a force to reckon with in the coming years, maybe even this season. His problem has been consistency. He followed his win at Sonoma with a 19th at New Hampshire and a 32nd at Daytona. He followed his fifth-place showing at Atlanta with a 32nd at Bristol.But if Montoya drives the next six races as well as he did this one, it's not impossible to think he could overcome the 200-point deficit between him and
Dale Earnhardt Jr.
for the 12th and final spot in the Chase for the Championship."I tell you the truth, if you could get this type of finish for the next three races, then you have a chance," said Montoya, who is 18th in points. "If you go next weekend and you have an average weekend, then you're out."It doesn't mean that we're going to give up. We're going to go more forward to try to get wins that get into the Chase."There definitely isn't pressure. Montoya hasn't felt pressure since he called Ganassi last season and said he wanted to move from Formula One to NASCAR."I managed to achieve a lot of things in life already," said Montoya, who has won races -- and generally championships -- at every level. "I don't have the pressure of performing to keep a job."The pressure might be on everybody else to keep up once he learns to drive other ovals as well as he drives Indy."We're getting closer," Montoya said. "We're there already. We've just got to be a faster car like Tony was today."
David Newton covers NASCAR for ESPN.com. He can be reached at dnewtonespn@aol.com.
ESPN Carolina Panthers reporter
Covered Panthers, NFL for 11 years
More than 25 years experience covering NFL, college football and NASCAR
Joined ESPN in 2006
ALLSTATE 400 AT THE BRICKYARD
Related Content

Cup Surround | Standings | Schedule
Stories
•
Newton: Kyle Busch growing up?
•
Blount: Dodge poised to make move?
•
Monday Rundown: Chevy still on top
•
Crucial Crew Call: 42 crew good, 20's better
•
Blount: Stewart starting another summer roll?
•
Newton: More Montoya magic
•
Recap: Stewart tames the Brickyard
•
Schwarb: Junior's trouble a break for bubble boys
•
Schwarb: Johnson's hopes go up in smoke
•
Notebook: Harvick won't be penalized for love tap
•
Sorenson, Montoya on front row
•
Newton: Small-town boy, big-time dreams
•
Blount: Should Johnson be worried?
•
Schwarb: Solving the Brickyard puzzle
•
Notebook: Competition yellow will fly
•
ESPN.com's Allstate 400 at the Brickyard picks
•
Five drivers to watch at the Brickyard
•
Five things to watch at the Brickyard
•
Blount: Brickyard launched the new NASCAR
•
Inside The Hauler: Get big or get out?
•
Chase Tales: A special race at special place
•
The Eliminator: You have to love Jeff Gordon
•
Newton: Will Martin make a DEI dream team?
•
Door-To-Door: Siegel comes full circle
•
Blount's Blitz: That good ol' Indy magic
•
Power Rankings: Is Stewart ready to roar?
Video
•
Draft Track: Introduction
•
Draft Track: Jeff Gordon and Denny Hamlin
•
Draft Track: Matt Kenseth and Jimmie Johnson
•
Tony Stewart wins at the Brickyard
•
Stewart celebrates second Brickyard win
•
Rusty Wallace's take on this year's Brickyard
•
Dale Jarrett breaks down the Brickyard
•
Sorenson scores first career pole
•
Who'll kiss the bricks?
•
Brickyard brings out the best in drivers
•
Tech Center with Tim Brewer
•
State of Evernham Motorsports
•
Crew chief suspensions
•
Dale Jr.'s ready to roll with Mark Martin
•
Mark Martin's ready to go
•
The history of NASCAR at Indy
•
Is NASCAR welcomed at Indy?
•
NASCAR Driver Pick'em
•
Fantasy NASCAR: Brickyard Preview
•
Kissing the Bricks at Indy
•
Which are the biggest NASCAR races?
•
Racing at the Brickyard
•
NASCAR's 2007 First Half Images
PodCasts

•
RaceDay: Stewart masters the Brickyard
•
RaceDay: Stewart, Johnson talk Brickyard
•
RaceDay: Burton, Gordon and Mears get ready