Commentary
Sputtering engine program biggest disappointment for Toyota
Dave Blaney has a pole and Brian Vickers has two top-10s, but these "random moments of overachievement" have been scant in Toyota's foray into Nextel Cup racing, writes David Newton.
Updated:
August 18, 2007, 4:04 PM ET
By
David Newton
| ESPN.com
Lee White leaned forward in the leather chair, his face buried in a computer in the back of Toyota Racing Development's plush wood-grained motor coach.In December, the senior vice president of TRD scoffed at reports that Toyota was doubling the salaries of engineers and crew members around the Nextel Cup garage to guarantee the foreign manufacturer immediate success.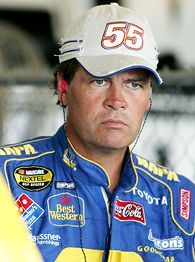 Jonathan Daniel/Getty ImagesToyota got bad news at the season-opening Daytona 500 when Michael Waltrip's team was accused of cheating.
He laughed at suggestions the Japan-based company was going to be strong enough to put a couple of drivers in the 2007 Chase for the Championship.Few believed him."We've done a pretty good job of knocking a hole in that theory," White chuckled as he leaned back. "We tried to tell everybody that's not the way we operate."Those who didn't believe White eight months ago need only look at the numbers. Toyota has just one car in the top 35 in points heading into Sunday's race at Michigan International Speedway. That is the Bill Davis Racing car of
Dave Blaney
, who is 34th.The other six cars are 39th or worse, with
Michael Waltrip
bringing up the rear at 51st.Blaney also leads the way in qualifying, making 20 of 22 races and claiming the manufacturer's only pole, at New Hampshire. Nobody else has made more than 15 events, with three making nine or fewer.Toyotas have led a total of 119 laps out of about 6,000. Despite numbers that should make White's white hair even whiter -- not to mention the embarrassment Waltrip's team caused the company when it was caught cheating at Daytona -- he's optimistic about the future.He reminds us that Toyota is in the seventh year of a 10-year introductory program that began with an ARCA race in 2000.He also asks that if things are so bad, why would every owner in the garage outside of Jack Roush continue to feel him out about possible factory support?"I've had probably six phone calls from George Gillett," White said of the new majority owner of Gillett Evernham Motorsports. "I knew him 18 years ago when we tried to put an Indy-car team together."I haven't talked to him in 18 years and suddenly I get six phone calls in a couple of months. There must be some interest in something."Must be.In fact, the biggest story in NASCAR, now that Dale Earnhardt Jr. and
Kyle Busch
have decided their futures, involves Toyota's relationship with Joe Gibbs Racing.Longtime Chevrolet owner Richard Childress is so convinced JGR is leaving General Motors that he expressed concern about having the organization present at the monthly key partners' meetings that include RCR, Hendrick Motorsports, Dale Earnhardt Inc. and JGR.
Trying Times For Toyota
A look at how Toyota has performed over the first 22 races of its first 36-race Nextel Cup season:
Cup Regulars In The Hot Seat

| | | | | |
| --- | --- | --- | --- | --- |
| Driver | Races | Made | Top 10 | Laps led |
| Dave Blaney | 22 | 20 | 1 | 34 |
| Brian Vickers | 22 | 13 | 2 | 84 |
| Dale Jarrett | 22 | 15 | 0 | 0 |
| David Reutimann | 22 | 15 | 0 | 0 |
| Jeremy Mayfield | 22 | 9 | 0 | 6 |
| A.J. Allmendinger | 22 | 8 | 0 | 0 |
| Michael Waltrip | 22 | 5 | 1 | 1 |