Commentary
Holy guacamole! New York trip reveals much about Chase drivers
NASCAR's 12 Chase drivers stormed New York this week to drum up attention before the playoffs start. It was all fun and games for 24 hours, but it's about to turn real serious, writes David Newton.
Updated:
September 14, 2007, 5:54 PM ET
By
David Newton
| ESPN.com
NEW YORK CITY --
Tony Stewart
was waiting to do a segment for CBS' "The Early Show" in the Fifth Avenue plaza Thursday when he noticed a group of people holding signs.Not NASCAR signs. Not No. 20 Home Depot signs.National Guacamole Day signs.The two-time Nextel Cup champion became so intrigued that he seemingly spent almost as much time talking about the signs as he did the Chase for the Nextel Cup, the purpose of his visit to New York City."I didn't know there was such a thing," he said. "Is there a day for salsa?"No, but there is a month. May.You learn a lot of things during NASCAR's 24-hour blitz featuring the 12 drivers who on Sunday -- which coincidentally is National Guacamole Day -- will begin a 10-race playoff at New Hampshire International Speedway
(ABC, 1 p.m. ET)
.For instance, did you know that
Martin Truex Jr.
can drive 200 mph at Talladega Superspeedway without thinking twice but he gets nervous riding in the back seat of a chauffeur-driven SUV?Or that
Kyle Busch
had the same line on David Letterman's show during Wednesday night's taping of the Top Ten -- expanded to Top 12 for the first time so nobody would be left out -- that
Mark Martin
had a year earlier?Or that
Clint Bowyer
can talk politics -- OK, so he stumbled through a question -- as he did when asked on "Fox & Friends" about presidential candidate Rudy Giuliani?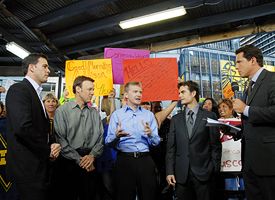 Jonathan Fickies/Getty Images for NASCARJimmie Johnson, from left, Matt Kenseth, Jeff Burton and Jeff Gordon spent some quality time on Good Morning America.
Or that
Jeff Gordon
knows the streets of New York City better than most taxi drivers?Fun was had by all as they made appearance after appearance, from "Live with Regis and Kelly" to "The Tyra Banks Show," promoting what they hope will be the best Chase ever.But they all know the fun will stop Sunday when the slightest hiccup, from a bad pit stop to a blown tire, can dim their hopes of winning a championship."A lot can happen in 10 weeks," said
Kevin Harvick
, who left New Hampshire last season with a 35-point lead only to finish the Chase in fourth, 78 back. A lot can happen, but most agree the Chase likely will come down to defending Cup champion
Jimmie Johnson
, Gordon and Stewart.Johnson has a 20-point lead over Gordon and 30 points over Stewart after collecting 10 bonus points for each of his series-high six victories in the first 26 events.If those three continue to compile top-5s and top-10s as they have thus far, it will be tough for anyone further back to pass them."Fifty points, that's hard to make up," said Kyle Busch, one of six drivers 50 points behind Johnson. "Even if you're third and they're fifth, sixth or seventh, you'll only make up like 10 points a race."Gordon, who has a series-high 21 top-10s, agreed."If we continue on with that, yeah [it would be tough]," he said. "But it could be one of those things where it could be a huge surprise that comes in and steps up."It could be three or four guys pull away. That's the great thing about the Chase. There's no way to predict."

Fifty points, that's hard to make up. Even if you're third and they're fifth, sixth or seventh, you'll only make up like 10 points a race.

Kyle Busch
Johnson, for example, was 156 back in eighth place after four races a year ago. He then went on a tear of four second-place finishes and a victory, clinching his first title with a ninth in the season finale at Homestead-Miami Speedway.Each driver has his own theory on what it will take to claim the crystal prize. Busch said he believes the champion will have at least a couple of wins but not necessarily take chances. Harvick said he believes you have to become more aggressive than you were in the regular season.Stewart said he believes you race the same way you did in the regular season, and he theorized that one potentially could finish 32nd every week and win the championship."It's not about dominating," said Gordon, who is seeking his fifth title. "It's about putting solid performances out there every weekend."They all agreed they'll be more focused on the Chase than on National Guacamole Day.Except maybe Stewart, who was greeted after the show by a female member of the National Guacamole Society."She thanked him for mentioning their day," NASCAR spokesman Kerry Tharp said with a laugh. "Then she said, 'Anytime you need any guacamole, give us a call.'"
David Newton covers NASCAR for ESPN.com. He can be reached at dnewtonespn@aol.com.
ESPN Carolina Panthers reporter
Covered Panthers, NFL for 11 years
More than 25 years experience covering NFL, college football and NASCAR
Joined ESPN in 2006
SPONSORED HEADLINES
ESPN TOP HEADLINES
MOST SENT STORIES ON ESPN.COM