Commentary
Reluctant Truex soaks in big-city excitement on eve of Chase
Martin Truex Jr. would rather have been racing. Or bass fishing. Anything but spending the day on the streets of New York City. Turns out, the Chase contender's visit to the Big Apple wasn't so bad after all, writes David Newton.
Updated:
September 16, 2007, 3:12 PM ET
By
David Newton
| ESPN.com
NEW YORK --
Martin Truex Jr.
slowly made his way down the steps to the lobby of the Peninsula Hotel, his eyes barely open and only a banana and some ginger ale to kick-start his day."I get the rookie shift," he said.In other words, the early shift.It was 6:24 a.m., and Truex -- not one to rise before 10 a.m. when he doesn't have to get behind the wheel of one of his Dale Earnhardt Inc. cars -- was the first driver on the grid for NASCAR's Chase for the Nextel Cup media blitz in New York City.This is Truex's first appearance in the Chase in only his second full season on the circuit. He and
Clint Bowyer
, also a rookie in NASCAR's 10-race playoff, drew the short straws.Bowyer had to stay until 5:30 p.m., long after the other 11 drivers competing for the title departed for New Hampshire International Speedway.Neither got the high-profile appearances, such as "Good Morning America," "Live with Regis and Kelly" and "The Tyra Banks Show." They spent most of the day doing local television and radio, the latter by phone as they rode through streets busier than a Talladega restart in black sport utility vehicles.But many consider them as possible dark horses to win the title, particularly Truex, who has a win and seven of his 10 top-10 finishes in the past 13 races.He's definitely a candidate to get off to a fast start, having finished third and first at the tracks hosting the Chase's first two events, New Hampshire and Dover."I pick Martin to win," said teammate
Dale Earnhardt Jr.
, who missed the Chase for the second time in three years. "Anytime somebody asks me, I tell them Martin's team is competitive enough."The way Martin has run and how his team has performed, he has as good and probably a better chance than even he believes he has."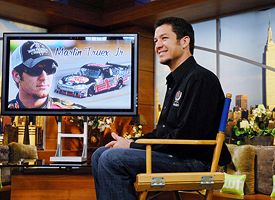 Jonathan Fickies/Getty Images for NASCARNot a morning person by any means, Martin Truex Jr. got an early wake-up call Thursday for a media interview in New York City.
At this moment, Truex was concerned with darkness, not dark horses, because the sun had yet to rise."When I get up early, my body don't like it at all," he said. "My internal clock is always on West Coast time, I think."Truex is anything but a West Coast guy like Hendrick Motorsports teammates
Jimmie Johnson
and
Jeff Gordon
, the favorites to win the Chase. He was born about two hours south of New York City in the small town of Mayetta, N.J.It was there he began racing go-karts at age 11, following in the footsteps of his father, who once drove in the Busch Series. It was there that he learned to hunt and fish with his grandfather, making his primary sponsor, Bass Pro Shops, a perfect fit."It's a straight shot down to the coast," Truex said. "It might be quicker by boat."Truex didn't visit New York City often growing up. His most vivid memory was a sixth-grade field trip on which he went to the top of the Empire State Building and visited the Twin Towers that later were turned to dust by terrorists."It's different coming back," he said.Truex's life is very different, period. In the past six months, he has gone from the shadows of Earnhardt, who is headed for Hendrick Motorsports in 2008, to the primary driver for DEI.He has gone from a rookie just wanting to make a name for himself to a serious contender for a title.But some things haven't changed. Truex is as humble and polite as always, often wondering why he's in this position when others with as much talent remain undiscovered."This is a new position for me, obviously," Truex said. "It's been a lot of fun so far. This whole week has been great. Really, ever since we found out we were going to be in the Chase, it's been surreal."
First stop
Truex barely was settled into the leather seats of the SUV when he pulled out his new iPod and began showing off pictures of him fishing in the Bahamas.
"Forgot my damn earplugs," he said.Truex was still a bit irritable from his early wake-up call, but his mood and tone quickly changed when he arrived at CW11 News for his first interview of the morning."That's the star of the show," said the man behind the security counter, not really sure who Truex was.

Never crossed my mind to wear a suit. I wore the only one I own yesterday. Yeah, I own only one. Jeff Gordon probably owns more suits than I own T-shirts.

Martin Truex Jr.
Truex nodded his head and made his way to the green room to wait for his call."Look at that sign," he told public relations representative Blair Minton. "Attention guests. Potty-mouths beware." This world isn't totally new to the 27-year-old, who less than 24 hours earlier was part of the Top Ten -- turned into a Top 12 for the Chase -- segment of David Letterman's Late Night show."Just different," he said. "It's not bad, but I'd rather be at the racetrack, obviously." The desire to be in his No. 1 Chevrolet magnified when Truex was taken to makeup. "Am I shining or something?" he asked.No, but he was blushing when the woman began applying things to his face that he's sure the elk will sense when he goes bow hunting in Colorado next week or with Earnhardt in Oklahoma the following week."You don't know how much crap I'm going to get for this," said Truex, blocking the lens from a NASCAR Images crew tailing him.The woman in an adjacent chair didn't make Truex feel any more comfortable as he left the room."Have a great drag queen show," she said with a laugh.The piling on continued after Truex returned to the green room and watched a promo for his segment in which the host referred to him as Martin Tru. "Tru?" he said. "Tru? I've never been called that."Minton laughed and replied, "I'll have all the guys on the team calling you that tomorrow."
Junior vs. Junior
Back in the SUV, Truex was handed a cell phone for his first radio interview of the day.
The first three questions were about Earnhardt, which was no surprise because Truex often gets asked more questions about NASCAR's most popular driver than he does about himself."He answers all the questions about Dale Jr., and he does it with patience," Earnhardt said. "I would have a tough time putting up with that all the time."Truex doesn't mind. Or if he does, he doesn't show it."Hell, we're great friends," he said. "I just tell the truth. It's actually kind of good for us. He keeps us flying under the radar. People love him. If he says the sky is purple, then the sky is purple."Truex is grateful for the opportunity Earnhardt gave him in the Busch Series, in which he won the 2004 and 2005 titles in cars co-owned by Dale Jr. and stepmother Teresa Earnhardt."I've always felt very fortunate," he said. "I have a lot of respect for people that have ever given me chances to do anything."Truex hates that Earnhardt felt the need to go elsewhere. He also understands, though, having had a front-row seat for the war between Earnhardt and Teresa, the owner of DEI.That doesn't mean Truex agrees with everything Earnhardt says about his stepmother. He respects her as an owner and for what she has done for his career.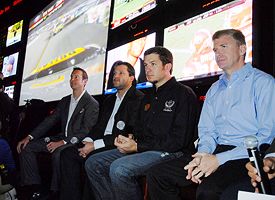 Jonathan Fickies/Getty Images for NASCARKurt Busch, Tony Stewart, Martin Truex Jr. and Jeff Burton field questions during Thursday's NYC media blitz for Chase contenders.
"Obviously, I don't see her as often as some people see their owners," he said. "But I know her best interests are in our race team. She wants nothing more than for us to be successful and gives us all the things to do that. "Times like these, when she's getting a lot of criticism … ''Truex paused."Early in the year, it was she didn't come around enough and she didn't care," he continued. "Now all of a sudden, she cared enough that people think she's making Junior's engines blow up."But she's always been great for me. She's always been fair, treated me very, very well. I obviously have a lot of respect for her."DEI has a lot of respect for Truex. There are no qualms about making him the centerpiece of the organization begun by Dale Earnhardt Sr.And Truex has no qualms about taking on a leadership role."I feel comfortable with it," he said. "I've been around there for a while. I feel comfortable with all the people that are around there and all the people that work so hard and are able to give us a chance to do what we do and be successful."That's a big part of it, being comfortable with the people you're racing for. I know they've got a lot of confidence in me. That, in turn, makes me enjoy what I'm doing."Dale Jr. says that Truex wanted and needed this opportunity to take his career to the next level."He can totally take on that role, man, and get that whole company believing in him and behind him and listening to him," he said. "He can start forming and steering that company in decisions it makes, whether it would be a change in manufacturer and huge decisions like that."Or small decisions, as small as a shock guy on a different team."In many ways, Truex is a leader in the same soft-spoken sense Earnhardt is."We're similar in our personalities in being quiet and stuff," Earnhardt said. "I told Martin when he went to New York to really try to have a good attitude about it. "He would do the same thing I would do, 'Man, got to get up at 6 a.m. Got to be downstairs at the hotel at 6:30. Got to do appearances and all that stuff.' … I told Martin to really enjoy it. He's worked so hard to get there."Truex remembered the advice slightly different. "He told me to make sure to get enough sleep and have a good time," he said. Sleep
and
have a good time?"I was thinking that, too," he said.
Squeaky clean
The headline on the front of the New York Post resting on a table in the "Fox & Friends" studio reads, "Knick Knock. Marbury Tells of Sex in a Truck."
Truex doesn't have any such skeletons in his closet. He has a quiet, polite demeanor that makes him seem almost invisible when around the other Chase competitors.In many ways, he's naive about things outside his world. Until Thursday, he didn't know Starbucks served bagels. Until Thursday, he'd never been to a Starbucks."They have great bagels," Truex said as he swallowed the last bite.Truex isn't a Starbucks kind of guy. He's not a suit-and-tie guy, either.All the other Chase contenders wore suits Thursday. Truex wore jeans and a black shirt adorned with DEI and Bass Pro Shops logos over the chest pockets.OK, so the jeans are William Rast, a $200 pair that was noticed by a woman in the lobby of the Peninsula. But it was a much more casual look than anybody else, fitting the laid-back personality that defines Truex. "Never crossed my mind to wear a suit," Truex said. "I wore the only one I own yesterday. Yeah, I own only one. Jeff Gordon probably owns more suits than I own T-shirts."
Past to present
Truex ran into Jimmy Blewett in the infield of New Hampshire International Speedway on Friday, the first time the two had talked in person since Blewett's brother died in a racing accident Aug. 16.
Truex raced against Blewett when coming up through the racing ranks in New Jersey. His dad raced against Blewett's dad.They share a history.But they didn't talk about the accident, in which Jimmy blew a tire that started the chain reaction that killed John.

When we made the decision to leave [DEI], he went out and won at Dover, sort of stepped up to the plate and became that guy. He wants to be that guy.
Dale Earnhardt Jr. on Truex
"That's kind of the unspoken racer deal," Truex said. "As a racer, you just don't talk about things like that. You just do your prayers and go on. It's what you do. As a racer, you don't know how to do anything else."Truex remembered past conversations in which Blewett had told his brother that if they had to die young, there would be no better place than a race car. He still can't imagine what his good friend is going through."Getting in that car is the best medicine for everything," said Truex, who sent Blewett a helmet when Blewett had trouble getting one after the accident. "Once you're in there, you forget about everything that is going on around you. When that car and helmet is on, that's the only thing that matters."Little outside of racing matters to Truex. Perhaps fishing on his bass boat and hunting come close, but he knows he might not have the luxury to afford those things were it not for his career."I'm very thankful for where I'm at, where I came from," Truex said. "I don't forget. I'll be honest: There are a lot of people out there that can do what we do. "There's just a select few that get the chance. You really just need to be in the right place at the right time and just have talent. It's being able to show it."
Zoned out
A woman wearing a Dale Earnhardt Jr. shirt sat in front of Truex during a question-and-answer session with fans at the ESPN Zone in Times Square.
"Hell, she was big on the conspiracy theory," he said of those who believe Earnhardt's five blown engines were the result of sabotage by Teresa.Afterward, Truex made his way through the facility, stopping only occasionally to sign autographs. He's not nearly as well known as Earnhardt, but that doesn't seem to bother him."Everybody knows who he is," Truex said. Truex might never reach Earnhardt's level of popularity, but he's not concerned about popularity. His focus is on winning races."When we made the decision to leave [DEI], he went out and won at Dover, sort of stepped up to the plate and became that guy," Earnhardt said. "He wants to be that guy."He really wants to. He's raced underneath me for a couple of years. … In a sense, this is what he's been waiting for. He's that talented behind the wheel."
Times Square vs. Talladega
Truex was impressed with the way his chauffeur whipped the SUV through traffic as Truex returned to the hotel before catching a private jet to New Hampshire.
"It's like driving Talladega," he said. "If there is a hole big enough, you're getting in it."Truex's New York City tour was over. He already was focused on Sunday's race and next week's hunting trip."I really wasn't looking forward to being here, but it's been pretty cool," Truex said. "I usually stay to myself at the track, and being here has given me a chance to get to know a lot of these guys. "I don't normally talk to many of them, and it's been pretty funny to watch some of these guys interact."Watch is the right word. While at the ESPN Zone, Truex sat over to the side and watched drivers
Kyle Busch
and
Denny Hamlin
lap up the attention like a freshman watching the seniors on the first day of high school."It's a lot more to celebrate than I've ever had to celebrate," he said. "It's an exciting time. I've had a lot of fun this year. We've come a long way. It's only our second year in the Cup series, and that says a lot about what we've been able to do."But Truex isn't done celebrating. He doesn't plan to be a spectator in the Chase.Asked what his expectations are, he lowered his head and smiled."Give me an inch and I'll want a mile," he said. "I want to win it. What else is there?"
David Newton covers NASCAR for ESPN.com. He can be reached at dnewtonespn@aol.com.
ESPN Carolina Panthers reporter
Covered Panthers, NFL for 11 years
More than 25 years experience covering NFL, college football and NASCAR
Joined ESPN in 2006