Commentary
Bowyer's win a happy one for RCR as Harvick and Burton struggle
Kevin Harvick and Jeff Burton seemed pleased with their teammate Clint Bowyer's win. They could use something to brighten their moods after their recent struggles, writes David Newton.
Updated:
September 17, 2007, 2:40 PM ET
By
David Newton
| ESPN.com
LOUDON, N.H. --
Kevin Harvick
made a quick stop in Victory Lane to congratulate
Clint Bowyer
on his first Nextel Cup victory and dashed for his helicopter.
Jeff Burton
sprinted out the back of his hauler and disappeared into the garage without talking to reporters.While Sunday was a banner day for Bowyer, it was anything but for his
Richard Childress
Racing teammates.Harvick finished 17th to settle into 10th in points, 88 behind co-leaders
Jimmie Johnson
and
Jeff Gordon
. He has only one top-10 -- seventh at Richmond -- in the past seven races after having five in the previous six. He hasn't won since the controversial opener at Daytona.Burton was 18th for the second straight week to fall to 11th in points, 91 out of the lead. He has only one top-10 -- fourth at California -- in the past seven races after having four in the previous five. He hasn't won since the seventh race at Texas.As happy as they were for Bowyer, Harvick and Burton weren't in the mood to talk about their day."If you paid attention, we had two flat tires," Harvick said without breaking stride.Both admitted a few days earlier during a media blitz in New York City that they needed to turn momentum around to make a title run. They admitted there were some internal problems that have kept them from getting the finishes to match the equipment."We know we need to step it up," Burton said in New York. "We know our performance hasn't been as it needs to be. We're not hiding from that fact. We are working very hard and have worked very hard to be able to step it up."We have room to grow in some areas. I think we will grow. I go into this Chase knowing we have had problems addressed. I believe we will be better in the Chase than before the Chase."Harvick felt the same way. Perhaps that's why both were in such a hurry to get out of Loudon."We've got to race hard and take it to another level and do different things," he said in New York.Harvick and Burton were at another level entering the Chase a year ago. Harvick won at New Hampshire to take the points lead by 35 over
Denny Hamlin
. Burton was seventh, and then followed with a win at Dover to take a six-point lead over Jeff Gordon.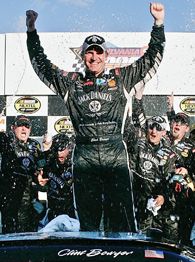 Jason Smith/Getty Images for NASCARClint Bowyer is the third RCR driver to win a race this season.
Both were on a high, the kind Bowyer felt on Sunday although maybe not quite as big since it was Bowyer's first Cup win.Both might learn something from Bowyer's attitude. Although he wants to win as badly as anybody, he doesn't let things simmer for days or weeks. He doesn't normally get uptight despite the nervousness he displayed over the final 50 laps.He is the class clown, as Burton once said, the one who keeps everybody loose at the shop.He does, as spotter Mike Dillon noted, live for the moment."Harvick is a fighter," Dillon said. "He's mad when he's not running good. Burton is a philosopher. Clint just is in the middle there. He's just going and flowing along with it."Clint's just having a good time."Bowyer definitely had a good time on Sunday. He should have. First wins are special, which is why so many of his fellow competitors stopped by to congratulate him."I was crying with two laps to go," Gordon said when recalling his first win. "It is one of the coolest experiences, as a race car driver, to get to this level and race against the best drivers, the best teams. "It sends a chill up your spine that first time you do it, because you have worked so hard to get to this level. There isn't a greater feeling, except having a baby, there isn't a greater feeling than getting that first checkered flag."
Tony Stewart
, whose third-place finish left him third in points, agreed."I felt like it was huge," he said. "It wasn't just a win. It put me in a group with guys that had won NASCAR Cup-level races."The neat thing is, when Clint gets back to the garage, it doesn't matter what team these guys are from that will still be in the garage area, when he goes by, they are going to congratulate him and everybody knows how hard it is to get that first win."Gordon and Stewart were just the opposite of Harvick and Burton. They were joking and laughing during their postrace news conferences like a couple of boys on the last day of school.Yes, they were happy to get through the first race of the Chase without a disaster that would have put them in catch-up mode.

We know we need to step it up. We know our performance hasn't been as it needs to be. We're not hiding from that fact. We are working very hard and have worked very hard to be able to step it up.

Jeff Burton
But they genuinely were happy for Bowyer."He is going to flip through the channels, he is going to see his face and name up there on ESPN and every other racing show," Gordon said. "If he reads the papers, he is going to see it there."But more importantly, when he comes back to the racetrack, people are going to look and talk to him a little bit differently because they are happy for him. He is the last guy that has won on the circuit and first guy to win in the Chase, so there is something special about that."Meanwhile, Harvick and Burton will continue searching for a way to turn their seasons around, find a happy place and make this season special for them. Hopefully, after a day to reflect, Bowyer's win will help lighten their mood."It's just awesome," Harvick said of Bowyer's win. "To see him finally get that off of him and not have to answer that question [about not winning a race] anymore is good for him, good for the company and everybody involved."
David Newton covers NASCAR for ESPN.com. He can be reached at dnewtonespn@aol.com.
ESPN Carolina Panthers reporter
Covered Panthers, NFL for 11 years
More than 25 years experience covering NFL, college football and NASCAR
Joined ESPN in 2006
SPONSORED HEADLINES
ESPN TOP HEADLINES
MOST SENT STORIES ON ESPN.COM