Commentary
If Gordon really wants to win the title, parking Johnson may be the best way
In a win-at-all-cost society, Jeff Gordon -- owner of half of Jimmie Johnson's race team -- could always park the 48 to win the title, writes David Newton.
Updated:
November 15, 2007, 6:20 PM ET
By
David Newton
| ESPN.com
MIAMI -- NASCAR has gone to great lengths to explain all that has to happen for
Jeff Gordon
to pass teammate
Jimmie Johnson
and win the Nextel Cup championship on Sunday.They broke it down to where he has to finish in relation to Johnson, and how leading the most laps or winning the race might factor in. They left out one scenario.Gordon, you see, is listed as the owner of Johnson's car. All he has to do is withdraw the No. 48 from the field at Homestead-Miami Speedway
(3 p.m. ET, ABC)
and basically finish the race and the title is his."Well, unfortunately they don't allow you to put on the entry blank co-owners, so I think Rick [Hendrick] would definitely have something to say," Gordon, who co-owns the car with
Rick Hendrick
, said on Thursday at the championship week media luncheon."But I went over there to the shop this week and looked around the 48 car, the engine a little bit, made sure everything was nice and tight."Gordon laughed. Hendrick laughed. Even Johnson laughed.As much as Gordon wants to win a fifth title, as much as he believed this was his year a few months ago, he doesn't want to win it any way but on the track. Odds are that won't happen because all Johnson has to do is finish 18th regardless of where Gordon finishes and a second straight championship is his.Johnson has finished worse than 18th only once in the last 15 events. He was 21st at Bristol.
[+] Enlarge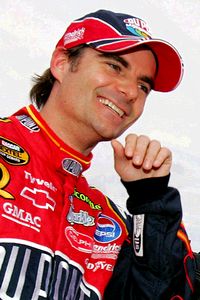 Todd Warshaw/Getty ImagesJeff Gordon could always park the 48 and win the title.
During that span he's had six wins, or as many as Gordon has had all season. So beyond sabotage or pulling the 48 out of the race, Gordon knows he doesn't have much of a chance."I think back to when Rick and I were talking about the fourth team," Gordon said. "I don't think [I thought this would happen] and I know for a fact he wasn't thinking that this opportunity would ever present itself or he would have never included me on it."Gordon laughed again.He spent most of the formal session of the hour-long press conference smiling. He was loose, knowing for the first time since the 10-race Chase started he has nothing to lose and everything to gain.He also knows that regardless of whether something traumatic happens to Johnson and allows him to win the title that he's had a great season. Six wins and 29 top-10s would be good enough to walk way with the championship in any other year.He also feels a sense of pride as the co-owner of a team that will compete for championships for years to come."When we all talked about this and tried to put this together, this surpasses any dream of the season you could ever ask for," Gordon said. "As well as the 48 has done -- they've outperformed us the last several years -- here we are battling for a championship. "And I don't know if we could say we'd be battling for this championship without that 48 team being in there and continuing to take it to the next level and pushing all of us at Hendrick to excel and be better. It's a good problem to have, let's put it that way."If Gordon is disappointed, which he has to be, he isn't showing it. Johnson looked more nervous as he sat on the platform with Hendrick and Gordon.But Gordon has to know that if he ever was going to challenge
Dale Earnhardt
and
Richard Petty
for the most titles at seven he needed to capitalize on this season.


To have a year like that at this point in my career and not be able to get it done, there's no doubt in the back of your mind there is some frustration and thoughts of how many more of these opportunities are going to come our way.

-- Jeff Gordon
As he admitted, it'll be "hard for us to top this type of year.""To have a year like that at this point in my career and not be able to get it done, there's no doubt in the back of your mind there is some frustration and thoughts of how many more of these opportunities are going to come our way," he said. Gordon, 36, has been where Johnson is. He was on top of the world in 1998, having won 13 races to capture a second straight title. People were comparing him with NASCAR's all-time greats. On Thursday, people were referring to the Johnson Era, even though Gordon would have won the title at least twice in the last four years under the pre-Chase format."I always said no matter how good you are, there is always somebody better," Gordon said. "No matter how great your team is, there is always a team that can be better, and you have your time."And I've enjoyed my time. I hope it's not completely over. I don't think it is. It's been a great year and I think we've got more left. But Jimmie is definitely on top of his game. He sets the mark. And he's the mark that we all have to aspire to and look towards."If Gordon wants to change that, he admittedly will have to step up his game.Or simply pull the 48 from competition.
David Newton covers NASCAR for ESPN.com. He can be reached at dnewtonespn@aol.com.
ESPN Carolina Panthers reporter
Covered Panthers, NFL for 11 years
More than 25 years experience covering NFL, college football and NASCAR
Joined ESPN in 2006