Commentary
Adding Earnhardt to the mix ups the complexity for a Hendrick repeat
Owner Rick Hendrick, fresh off his second title in a row with Jimmie Johnson, now faces his toughest challenge. Not only will he strive to win it all again, but he has to figure out how to fold Dale Earnhardt Jr. into the operation, too, writes David Newton.
Updated:
November 19, 2007, 5:46 PM ET
By
David Newton
| ESPN.com
HOMESTEAD, Fla. -- Rick Hendrick was covered in confetti and champagne as he celebrated a second straight Nextel Cup title with
Jimmie Johnson
early Sunday evening. His smile was wider than the everglades not far from Homestead-Miami Speedway.He'd better enjoy it.The 2008 season could be Hendrick's biggest challenge. Not because his organization will be favored to win the title with Johnson and four-time champion
Jeff Gordon
.Not because NASCAR is going to the Car of Tomorrow on a full-time basis or because Roush Fenway Racing seemingly has closed the gap on his four-car team.Because of
Dale Earnhardt Jr.
"The biggest challenge of his life, of his racing career," fellow owner Felix Sabates said. "I told Rick the fans are going to be on your butt if he doesn't start winning every race. They'll expect him to win every race and every championship. "It's not going to happen. He's not going to come in and dominate this sport. He's going to win some races, but he's not going to kick Jimmie Johnson's butt and he's not going to kick Jeff Gordon's butt."Hendrick doesn't seem concerned. He doesn't believe the challenges of satisfying Earnhardt Nation -- which he acknowledges will be a challenge -- will be any tougher than having Johnson and Gordon duke it out for the title this year."I think the pressure's on me, because of his fan base expecting him to do well," Hendrick said. "And I said it before, if he does well it's because of his talent. If he doesn't, it's going to be my fault. That's kind of the way it works when you have multiple cars. "It's not like this is something that we're going to have a bunch of hiccups on. I just don't foresee it. I think it's going to be fairly smooth. And I'm looking forward to the challenge."Gordon, who already has begun working with Earnhardt on the transition, agrees there will be added pressure on Hendrick and the organization because of Earnhardt's notoriety. He admitted that could cause distractions like they've never experienced before.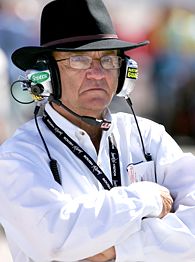 Matthew Stockman/Getty ImagesJack Roush saw his team run stronger in Car of Tomorrow races late in the season, showing signs Roush Fenway Racing may be closing the gap on Hendrick Motorsports.
"It's going to be a lot to overcome, but Hendrick Motorsports is used to things like that," he said. "By having Tony Eury Jr. [Earnhardt's crew chief] in there, that's going to make the transition a lot easier."We'll just have to wait and see. I think he's going to do great. I don't see how it's going to affect what we're doing with the other teams. I still think next year can be a very strong year for us." It would be hard to be stronger than HMS was this season. The organization won 18 of 36 points events, nine of 16 in the Car of Tomorrow that will be fully implemented in 2008.Johnson won 10 races, the most since Gordon's 13 in 1998. Gordon won six races and amassed a record 30 top-10 finishes. The two completely blew away the field in the Chase, with Johnson winning four times and compiling an average finish of 5.0. Gordon had two wins with a 5.1 average finish.Roush Fenway Racing was HMS's closest competitor with six wins, including
Matt Kenseth
's victory at Homestead. Joe Gibbs Racing was next with four."Obviously, Jimmie and Jeff set a new standard," Kenseth said after winning his final race with long-time crew chief Robbie Reiser. "It was just unbelievable how good their average finish was and the things they were able to do. You've got to be pretty darn good to beat that."Jack Roush said Hendrick has raised the bar for everybody. But he's not waving any white flags or suggesting next year two of his five drivers can't do what Johnson and Gordon did."We see what we need to do," said Roush, who had five drivers in the Chase in 2005. "We've been there before and we know what we need to do."Unfortunately for everybody else, Hendrick isn't content with the status quo. He's already hard at work on next year, as was evident by his recent presence at Atlanta to oversee Earnhardt's first test in one of his cars."These guys in the garage area, they have a ton of smart people," Hendrick said. "We can't come back just like we are this year. [Johnson's crew chief] Chad [Knaus] and I were talking about it, and [Gordon's crew chief] Stevie [Letarte] and Jeff Gordon and I talked about it. We're going to have to be better.


The good thing, I feel, is we're just really hitting our stride. We have a lot of good years ahead of us, and we'll be fighting for more championships and certainly winning more races as years go by. Hopefully, we can be a three-time champion in the near future.

-- Jimmie Johnson
"We're going to have to look at every area of our company and all of our teams and figure out where we're a little weak, and come back better. Or we're not going to be able to compete at the level we have this year."Roush may be in the best position to catch Hendrick. Kenseth had a strong car all season, and were it not for a rash of bad luck might have been in contention down the stretch.
Greg Biffle
and
Carl Edwards
each have shown the ability to win races, and both are optimistic about their chances in the COT now that Roush has dedicated the man hours in testing that Hendrick was earlier in the year.Joe Gibbs Racing may struggle the first half of next season as it transitions from Chevrolets to Toyotas, which struggled in its first season in NASCAR's premier series.Richard Childress Racing placed all three of his teams in the Chase, and second-year driver
Clint Bowyer
had a breakout year with his third-place finish. But that organization remains far behind HMS.Dale Earnhardt Inc. will be in a transition year with the loss of Earnhardt. Nobody else has the talent or financial wherewithal to compete with the top teams.So once again, everything points to Hendrick.More so, it points to Johnson, who already can't wait to get back to Daytona for the opening race."The good thing, I feel, is we're just really hitting our stride," Johnson said. "We have a lot of good years ahead of us, and we'll be fighting for more championships and certainly winning more races as years go by. "Hopefully, we can be a three-time champion in the near future."For Hendrick's sake, he better hope Earnhardt is battling for it with him.
David Newton covers NASCAR for ESPN.com. He can be reached at dnewtonespn@aol.com.
ESPN Carolina Panthers reporter
Covered Panthers, NFL for 11 years
More than 25 years experience covering NFL, college football and NASCAR
Joined ESPN in 2006