Commentary
Edwards gets high marks for his post-victory backflip
We asked some of the top gymnastics coaches in the country to critique Carl Edwards' signature backflip. He passed with flying colors, writes David Newton.
Updated:
March 7, 2008, 2:43 PM ET
By
David Newton
| ESPN.com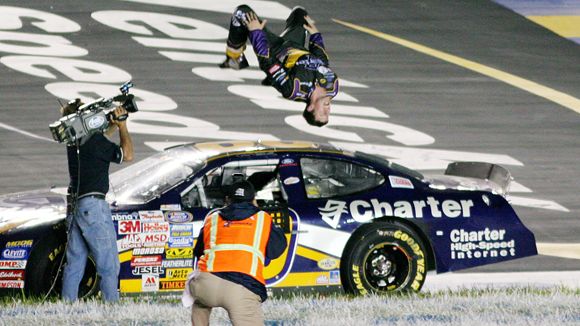 AP Photo/James Crisp Our judges docked Carl Edwards points for spreading his legs too wide while going head over heels.
HAMPTON, Ga. -- Suzanne Yoculan was preparing her No. 1-ranked University of Georgia women's gymnastics team for a weekend meet at Michigan when she received a phone call about a prospective recruit."
Carl Edwards
?" Yoculan asked. "What team does he play for?"Roush Fenway Racing, the caller replied."Thought he was a football player," Yoculan responded. No, Sprint Cup series, the caller said."I'm a
Dale Jarrett
-type person," Yoculan said with a laugh. The conversation quickly turned to the signature backflip Edwards performs after a win, something we've seen often lately with victories in the past two events at California and Las Vegas that took him to first in the points before NASCAR hammered his team with a 100-point penalty on Wednesday.Yoculan hadn't seen the backflip that Edwards does from the window of his No. 99 car, but she was sure it would be amateurish and predicted he threw his head back to gain momentum.She changed her mind after a quick glance on YouTube."Actually, it was a pretty good flip," Yoculan admitted. "He lifts his arms up like he's supposed to do and checks off like he's supposed to do. And he does not throw his head back like a lot of amateurs do.
[+] Enlarge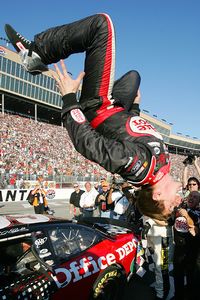 AP Photo/Ric FeldCarl Edwards' signature backflip didn't capture the national spotlight until his Nationwide-Cup sweep in March 2005 at Atlanta.
"He actually lifts and sets it pretty well. Then he circles his arms and grabs his shins, which is pretty correct technically. Everything is correct except for his legs are apart, which is called a cowboy position. But in terms of positioning of the way he does the flip, he's pretty good."So the score from the judge from Georgia?"I'd say a 9.35 if we were still grading on a 10-point scale," Yoculan said.Kevin Mazeika, coach of the U.S. men's team that will compete in the Summer Olympics in Beijing, was equally impressed. "I'd have to give him a pretty high degree of difficulty," he said. "After driving 500 miles, and to jump out of a car and do a backflip, it's really amazing in a lot of respects."So the score from the U.S. Olympic team judge?"I'd give him a 9.5," Mazeika said. "I'd say it's technically pretty sound."D-D Breaux, a five-time SEC Coach of the Year for the LSU women's gymnastics program, was even more impressed that Edwards flips in a driver's uniform that is much heavier than the tights typically worn by gymnasts."It's amazing he gets that much amplitude for a guy in a fire-retardant suit," she said. "Amplitude" is another word for lift in gymnastics, which is quite different from "downforce" in NASCAR.So the score from the judge from LSU?"He'd probably get a 9.6," Breaux said. "He's not sticking it and he's got some leg separation and his execution is not perfect, but I'd give him a 10 for his driving."Edwards, pit crew mistakes aside, has been nearly perfect the past two weekends. He's led 150 out of 517 laps and clearly has been the class of the field in both races.Were it not for the 100-point penalty NASCAR gave him after the lid to his oil tank was found missing following the win at Las Vegas, he would have a 21-point advantage over
Kyle Busch
instead of being in seventh place.Now he comes to Atlanta Motor Speedway, where he swept both Cup races during his rookie season of 2005, where he finished second in the October race a year ago, where he has five top-7s in six Cup events.Although the 28-year-old Edwards performed the flip at small tracks around his home in Columbia, Mo., and in the Truck Series, they didn't gain national notoriety until that spring weekend in 2005 at this 1.54-mile facility, when he also won the Nationwide Series.
"It's awesome to see," Mazeika said of the flip. "It's definitely got a place in the heart of the gymnastics folks."
In the beginning
Nancy Sterling looked out the back window of her house just in time to see her son, 7 or 8 at the time, come down hard on the frame of the trampoline.
"I swear I thought he'd broken both legs," she said with a laugh.That was the first time Sterling recalled seeing Edwards do a backflip. She didn't think much of it at the time, and thought of it even less as he became a drummer in the school marching band and a guitarist in the jazz band."He never did gymnastics or anything like that," Sterling said.Edwards didn't start to perfect the backflip until he was out of high school and working at a local shop that raced Trans-Ams. It was there he began working out with a crew member that practiced his gymnastic skills during lunch breaks.After seeing
Tyler Walker
, then a Sprint Car star from California, perform the backflip after wins, Edwards decided to implement that into his routine at his home track, Capital Speedway.

If he stays like he is, he probably could do it off doors for another 20 years. As long as he doesn't fatten up and get a big belly, he'll be fine.
-- D-D Breaux
"People loved it," Sterling said. "They went crazy."Edwards didn't showcase the flip in NASCAR until the 11th race of the 2003 Truck Series season following a win at Kentucky Speedway. Sterling recalled how her husband gave a local photographer a heads-up that the flip might happen so he could be in position."The guy looked at him and said, 'Are you crazy?'" Sterling recalled. "But the guy ran out there and he was real happy that he did."Edwards performed the flip two more times during a five-week stretch, and again after being named rookie of the year at the season-ending banquet, the last time Sterling recalls seeing him practice it. "The only reason he practiced for the ceremony was because he had on a tuxedo and shoes that were pretty slippery," she said.But the flip didn't truly gain notoriety until the weekend of March 18-19 in 2005. Edwards first wowed the Atlanta crowd when he leaped off the door of his Nationwide car after his first win in the series.Twenty-four hours later, he did it again after edging
Jimmie Johnson
with a gutsy last-lap move on near-bald tires for his first Cup win. That started a funny exchange between Johnson and
Tony Stewart
in the postrace interview over whether Edwards was a driver or a ballet dancer."He's a race car driver, not a ballerina," Stewart said.Replied Johnson, "He did a backflip on the frontstretch, though."Said Stewart, "Yeah, but he didn't land on his toes doing it. … I'm not going to do a backflip. I don't care how many races I win."Edwards did the backflip after four Cup wins in 2005. He finished tied with teammate
Greg Biffle
for second in the points standings, 35 behind Stewart. The flip took a 52-race hiatus, at least in Cup, from the 34th race of 2005 through the 24th race of 2007. Edwards has been flipping out since then, winning three Cup events and four Nationwide events last season, the latter good enough to give him the series title.He's won two of the first three Cup races this season to temporarily make fans forget the Hendrick Motorsports dominance of a year ago and the new Toyota power."There isn't anyone else that can do it as exciting and fun as him," said Walker, who last weekend returned to the Sprint Car series after nearly a year suspension by NASCAR for failing its drug-testing policy. "I don't believe there's anybody else in the sport that could do one."It's brought a lot of publicity for him and all of his sponsors. It's great for the fans. That's what it's all about, anyway, doing it for the fans so they get their money's worth."
Marketing tool?
Geoff Smith began seeing dollar signs after the 2005 Atlanta weekend. The president of Roush Fenway Racing could only imagine ways he could market the backflip with slogans such as "Win one for the Flipper."
Those thoughts occasionally still creep into his mind. For instance, he could sell Edwards to a laundry detergent sponsor with the slogan, "Carl flipped out over your soap suds." "That might make a little money," Smith said. "It might make a lot."But Edwards doesn't want to cheapen the act by making it part of a marketing campaign."He feels like it will dilute the moment for the race fans," Smith said. "So for the time being, the time to see Carl do a backflip is after he wins a race." If Yoculan had her way, Edwards would add a full twist to his backflip. She insisted she could teach him in less than half a day."He could be the first athlete other than a gymnast to do a full backflip with a full twist," she said.With the right training, Mazeika said Edwards possibly could have been Olympic material. He would be willing to try in exchange for equal seat time in Edwards' car."Not in time for Beijing," Mazeika said. "Maybe London [in 2012]." Breaux laughed at the suggestion."Not at his age," she said. "I wouldn't want to take that on. Carl Edwards Jr., maybe."But if Edwards were to give up driving for gymnastics, Breaux would start him off on the floor exercise.Why? No particular reason."I'd just like to see him in tights," she said.Tights aside, Breaux is glad Edwards has moved his backflips from the concrete to the grass infield to protect his knees. So are track presidents who don't want a liability suit for a cracked kneecap or torn anterior cruciate ligament. Roush officials, concerned with the long-range health of their star, are happy as well."If he stays like he is, he probably could do it off doors for another 20 years," Breaux said. "As long as he doesn't fatten up and get a big belly, he'll be fine."
David Newton covers NASCAR for ESPN.com. He can be reached at dnewtonespn@aol.com.
ESPN Carolina Panthers reporter
Covered Panthers, NFL for 11 years
More than 25 years experience covering NFL, college football and NASCAR
Joined ESPN in 2006
SPONSORED HEADLINES
ESPN TOP HEADLINES
MOST SENT STORIES ON ESPN.COM