Five drivers worth watching for a breakthrough
Not every driver can be a title contender, but there are some in the Champ Car World Series not among the favorites who could make waves, writes John Oreovicz.
Updated:
April 5, 2007, 10:01 PM ET
By
John Oreovicz
| Special to ESPN.com
The Champ Car World Series gets back on track with the season-opening Las Vegas Grand Prix on Sunday (4 p.m. ET).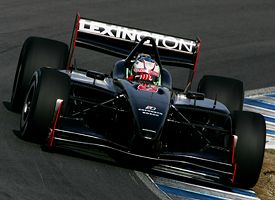 Darrell Ingham/Getty ImagesAlex Tagliani is hoping he can get back to Victory Lane in 2007.
ESPN.com motorsports writers and editors already tabbed their top five Champ Car drivers in 2007 -- Sebastien Bourdais, Paul Tracy, Justin Wilson, Graham Rahal and Neel Jani -- but here are five others to watch:
1. Alex Tagliani
You won't find a more down-to-earth or approachable driver in any form of motorsport than Alex Tagliani, but his career has been overshadowed by other French Canadians from Patrick Carpentier to Andrew Ranger. Yet he remains a motorsports bedrock in Quebec and a potential race winner in the Champ Car series.
For 2007, Tagliani will again team up with Paul Gentilozzi under the R-SPORT banner. When Tagliani drove for Gentilozzi in 2003 and 2004, he scored Rocketsports Racing's only Champ Car race win (at Elkhart Lake in '04), and joining the former RuSPORT team and driver Justin Wilson will put them closer to the front on a weekly basis.
"It's the best opportunity I've had in my Champ Car career, working with a hell of a driver like Justin," Tagliani remarked. "I said to Paul and Dan Pettit, 'You have no idea how happy I am for this opportunity.'
"Paul was miserable the last couple of years and my goal is to help the team get back to the level it was at when we were together in 2003 and 2004."
In addition to sharing data with Wilson, Tagliani is also working with the biggest budget he's had since parting ways with Forsythe Racing after the 2002 season. Gentilozzi landed support from Lexington Financial Services, and Tagliani now serves as an ambassador for Wal-Mart Canada's children's charities.
"I haven't looked forward to a new season like this in a long time," he smiled.
2. Bruno Junqueira
After five seasons in Champ Cars, nine poles and eight race wins, this quiet Brazilian unexpectedly found himself in the unemployment line. Junqueira was the odd man out when Newman/Haas/Lanigan Racing brought in rookie Graham Rahal and funding couldn't be secured to run a third car.
His career lifeline comes courtesy of Dale Coyne Racing, a team that has helped Oriol Servia and Cristiano da Matta remain in the business when they didn't have other options.
"I love Champ Car and I wanted to stay in this series," Junqueira said. "I know I can still run up front and win races and I just hope I get a chance."
Junqueira spent four years in the shadow of Sebastien Bourdais at Newman/Haas and the move to Coyne at least gives himself the chance to re-establish himself as a team leader. Katherine Legge is expected to drive the second DCR entry, and 2007 is a critical season for England's fastest female.
3. Will Power
Team Australia principal Craig Gore likes to tell a story about how Will Power didn't have any shoes to travel in when he called up the Toowoomba-born driver for an initial interview. The 26-year-old is now an acknowledged hot shoe in the Champ Car series, concluding the 2006 season with the pole for his home race at Surfers Paradise and his first podium finish in the category in the Mexico City finale.
Power ran the last couple of Champ Car races of 2005 and immediately made an impression. The 2006 campaign started slowly for Derrick Walker's team, but a midseason engineering focus on the last few races paid off. The splash Team Australia made on home turf at Surfers fired up Gore even more and encouraged him to expand his involvement.
Power continued that form into the spring, running second fastest in the final preseason tuneup at Laguna Seca. "The team is working really well," he said. "We are understanding the car and making it better with every session."
4. Mario Dominguez
With the departure of Adrian Fernandez and Michel Jourdain Jr., Mario Dominguez became the face of the Champ Car World Series. But he nearly fell out of the series in mid-2006, and after splitting with Forsythe Championship Racing, a second-place run for Rocketsports at Surfers Paradise put the Mexico City native back on the radar screen.
Dominguez, a two-time winner on the Champ Car tour, tested for RuSPORT in January but didn't have any prospects until he was surprisingly named to drive Forsythe's second car alongside Paul Tracy -- in the first three races of the year, at least.
It's a great opportunity for Dominguez to re-establish himself with one of the series' top teams after his acrimonious departure a year ago. Mario crashed team leader Tracy out of two of the first three races in 2006.
"I feel like I have unfinished business here and I would like to thank Mr. Forsythe from the bottom of my heart for giving me this opportunity to go chase victories for him again," Dominguez said. "We are going to give it all we've got for the first three races and we'll all keep working on sponsorship which will hopefully come through so we can race for the rest of the year."
5. Simon Pagenaud
After bouncing around the European open-wheel ranks, this 25-year-old Frenchman didn't have any career prospects until his friend Sebastien Bourdais helped him land a Team Australia Atlantic Championship ride in 2006. Pagenaud won only one race (compared to Rahal's five), but he was fast and consistent enough to claim the series championship -- and more importantly, the $2 million Champ Car sponsorship prize that came with it.
Making the jump to the top division with the same team he already has been working with for a year will make the transition easier for Pagenaud, who has solidly run in the top 10 in testing.
"Simon was a big part of our 2006 Atlantic Championship and I expect he and Will will work really well together and make a positive impact on our Team Australia race program," team boss Derrick Walker said.
"With the new car and all the new changes, the Champ Car series is getting stronger and stronger," Pagenaud added. "It will be a challenging year, but I'm very happy where I am at this time and I'm ready to grow with the team and the series."
John Oreovicz covers open-wheel racing for National Speed Sport News and ESPN.com.
Autos, Open-Wheel
Motorsports Writer for ESPN.com
Covered Indy car racing for 20 years
Work published in 12 countries