Andretti's F1 win at Long Beach holds test of time
Mario Andretti became the first (and only) American to win a U.S. Grand Prix when he stormed Long Beach on April 3, 1977. Thirty years later, he revisits that historic day with John Oreovicz.
Updated:
April 12, 2007, 3:23 PM ET
By
John Oreovicz
| Special to ESPN.com
LONG BEACH, Calif. -- In the spring of 1977, Mario Andretti was a 37-year-old race-car driver whose career had taken him to a crossroads. I was a 12-year-old boy who had just moved to Indiana and discovered car racing -- Formula 1, surprisingly enough, given that I lived an hour from the Indianapolis Motor Speedway.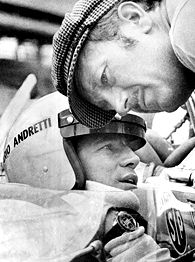 AP PhotoBlast from the past: Mario Andretti confers with car builder Colin Chapman during practice for the 1969 Indy 500.
Our paths indirectly intersected on the afternoon of April 3.
On that day, Mario drove a Lotus 78-Ford to victory in the third Long Beach Grand Prix, arguably the most significant of his 12 F1 race wins. It was a classic race, with Andretti, Jody Scheckter and Niki Lauda rarely separated by more than a few feet.
Formula 1 races rarely were broadcast in America in those days, so it was a unique treat for young Oreo to be able to see the action as it happened, live on CBS, rather than wait three months for Rob Walker's report in Road & Track. To this day, I credit that Long Beach '77 telecast as one of the most significant milestones in the long, strange trip that brought me to where I am today -- in Long Beach, to report on the 33rd annual version of the classic street race.
Thirty years down the line, I'm a 42-year-old motorsports reporter, a career that gave me the opportunity a couple of weeks ago to ask Mario -- now a 67-year-old certified living legend -- to reminisce about Long Beach '77. It was an important race for both of us.
"It's an event that was obviously very important to me personally," Andretti said. "I was a proponent of Long Beach to begin with. That was the beginning of a wave that was unlikely to really be successful -- street racing in modern times. Street racing was becoming a thing of the past, being phased out in other parts of the world. I raced in Barcelona, Spain, through Montjuich Park, and at Monte Carlo, obviously. But this was a new wave that made you say, 'Is [race co-founder] Chris Pook crazy or what?'
"Yet it was so appealing to me. And having competed in the first one, the Formula 5000 race, I was there from the beginning."
Lauda took pole position in 1:21.63 in his Ferrari 312T2, almost half a second faster than Mario. Scheckter lined up third, but he grabbed the lead on a chaotic opening lap. Lauda was slow to get away because he couldn't see the starting lights from his position on the track, while Andretti had to avoid a first corner melee triggered by Carlos Reutemann.
"The race could have been a disaster at the beginning," Mario recalled. "James Hunt got up on two wheels and came clear over me. It really could have been spectacular. The start was right on Ocean Avenue, and the first corner was real tight going down Pine. Everything would come to a halt, and if you went on the inside, it was very slippery. So it was a recipe for disaster. I almost got caught in that one and I was so lucky. But it was one of those days and I popped into second."
Lauda took an early run at Andretti but locked up his brakes and severely flat-spotted his front tires. That was a huge problem because there weren't routine pit stops for fuel and tires in those days and the Austrian had to contend with the issue for almost the full 80 laps.
It was obvious even to a 12-year-old watching on a 19-inch RCA XL-100 that Andretti was faster than Scheckter, but the John Player Special Lotus lost ground to Scheckter's Wolf WR-1 on the long Shoreline straight and Mario never got close enough to pass for the lead.
"The biggest problem was Scheckter, who, the whole race, made his car very wide," Andretti said. "Our car was notoriously slow on the straight and I spent the whole race trying to figure out how the hell I was going to pass him. Toward the end I figured I was going to have to do a banzai, sixth gear to first, or something. I was attacking him the whole race so I kept him in defense mode.
"And Lauda was lurking, always," he continued. "Jody quite honestly was holding up the train. If I could have gotten the lead, I would have broke away. But I could not pass him. It was almost impossible. He was a master of really blocking. I tried, but I couldn't get by and it was a very frustrating race."
With about 20 laps to go, Scheckter sustained a puncture in his right front tire. He chose to stay out rather than pitting, but the problem worsened near the end and Andretti finally made his banzai move into the Queen's hairpin at the end of Lap 77. Lauda passed Scheckter a few corners later, but the Lotus was ahead of the Ferrari by 0.773 second at the checkered flag. Scheckter was five seconds back in third, while fourth-place finisher Patrick Depailler (in a six-wheel Tyrrell) was a full minute and a quarter behind.
"It was a very interesting era for cars and drivers. ... It was right at the beginning of the technology we know today. Fertile minds were coming forward and making a difference. I used to love that."
-- Mario Andretti
The result made Mario Andretti the first (and so far only) American to win a United States Grand Prix. But for a man rebuilding his Formula 1 career, it was just another step on the road to the world championship he won a year later.
"All of that plays later," Mario related. "At the time, it's just another race. You don't even think about it while it's happening. I was there to win races, and I don't care where it was -- Long Beach or Australia. It gives you a little extra satisfaction at the end of the day when you're told all of these things, but I had no idea that was the case until somebody tells you."
Andretti's American victory helped stabilize the Long Beach Grand Prix, which in 1977 was far from the established blockbuster event we know today. And he remained linked to Long Beach for the rest of his career, winning three times after it was converted to a successful CART Champ Car race in 1984.
Of significance to gearheads is the fact that Long Beach 1977 was the first win for a car using ground-effect aerodynamics. The Lotus 78 pioneered the basic concepts that made the following year's Type 79 absolutely dominant in the hands of Andretti and Ronnie Peterson, who finished 1-2 in the 1978 world championship.
By 1979, every car on the F1 grid had copied the Lotus 79, and ground-effect aerodynamics soon spread into American open-wheel racing on cars like the Penske PC-7 and PC-9 and John Barnard's beautiful Chapparal 2K. That kind of rapid technological advance was exciting for veteran racers and budding Indy-style race fans like me.
"It was fun; that was a great era for me career-wise," Andretti reflected. "It was everything I hoped for in every way, and if we would have had the reliability that today's cars have, I would have put a freaking record together in those couple of years like you have never seen. The car just wouldn't finish.
"Nevertheless it was fun and I look back on those days with a lot of fondness. It was a very interesting era for cars and drivers, I think, anyway. It was right at the beginning of the technology we know today. Fertile minds were coming forward and making a difference. I used to love that."
John Oreovicz covers open-wheel racing for National Speed Sport News and ESPN.com.
Autos, Open-Wheel
Motorsports Writer for ESPN.com
Covered Indy car racing for 20 years
Work published in 12 countries
SPONSORED HEADLINES
ESPN TOP HEADLINES
MOST SENT STORIES ON ESPN.COM