Franchitti avoids mistakes -- and there were many -- in wild Iowa race
Dario Franchitti padded his IndyCar Series lead by doing what the other title contenders could not. He managed to stay out of trouble in the inaugural -- and wild -- Iowa Corn 250, writes John Oreovicz.
Updated:
June 24, 2007, 7:38 PM ET
By
John Oreovicz
| Special to ESPN.com
NEWTON, Iowa -- Maybe Tony George's original vision for the Indy Racing League wasn't so far off.
Sunday's Iowa Corn Indy 250 at the new Iowa Speedway showed that the IRL founder wasn't wrong in believing there is indeed demand for open-wheel oval racing in America -- at least in the heartland.
The IndyCar Series show played out before a packed house at the new 7/8-mile oval 40 miles east of Des Moines, and the estimated 40,000 enthusiastic fans on hand got their money's worth.
Dario Franchitti scored his second win of the season, beating Marco Andretti in a 1-2 finish for Andretti Green Racing. But beyond that, the 250-lap contest was anything but predictable.
The attrition in the first half of the race resembled the early days of the IRL. Just past the 100-lap mark, only 10 of the 19 starters were still running and Franchitti was basically the only championship contender who still had four wheels and three wings on his Dallara-Honda.
The Scotsman watched his rivals drop like flies and happily extended his IndyCar Series championship lead to 51 points.
"Some of the guys we're fighting for the championship with had some problems, and we took full advantage of it," he said. "You have to be in the right place at the right time, and if you get taken out in someone else's accident, there's not much you can do about it."
Things got so crazy that Target/Ganassi Racing's Scott Dixon and Dan Wheldon both rejoined the race more than 75 laps down after early misfortunes and still wound up 10th and 11th, respectively, when the checkered flag finally flew.
Dixon said after winning pole position that the race likely would be won on starts and restarts, and he remarked that the Ganassi team planned to adjust the front suspension caster on his car to reduce the steering effort resulting from Iowa Speedway's massive g-force loads. Both points were crucial in the race.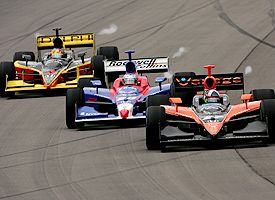 Chris McGrath/Getty ImagesDario Franchitti managed to hold off teammate Marco Andretti at the finish to win the inaugural Iowa Corn 250.
Wheldon proved the first one. Eager to gain ground at the start from his midfield grid position, Wheldon spun exiting Turn 2 and took Tomas Scheckter with him.
"To tell the truth, I think I was trying to go too quick on the start for the temperature of the tires and got loose," Wheldon said.
Several drivers have bemoaned the fact that the IRL has done away with race morning warm-ups, and Dixon joined that club at Iowa. Had there been an opportunity to test his race car at speed before the green flag, he would have known something was wrong. Instead, he made the realization during the caution for his teammate's crash.
"The steering just seized up, and I couldn't turn anywhere past halfway," the New Zealander said. "I had to bring the car in to the pits, or I would have ended up in the wall.
"Even if we were able to get back out there for some championship points, it's very disappointing to have an issue like that ruin your race."
Once the race went green, Helio Castroneves led up to the first round of pit stops. But the Brazilian made an unforced error, spinning and stalling while exiting the pits on his out lap.
The yellow for Castroneves changed the course of the race because it put the drivers who had not yet pitted at the tail of the lead lap. Panther Racing's Vitor Meira now led Andretti, Danica Patrick, A.J. Foyt IV, Ed Carpenter and Franchitti.
On the Lap 86 restart, Kanaan was the next star to try to accomplish too much on a restart. He spun in Turn 2, collecting Jeff Simmons in a manner reminiscent of the earlier Wheldon-Scheckter crash.
The next restart also proved problematic. Patrick appeared to spin her tires approaching the green flag, and when things got squirrelly on her, she touched Carpenter. Foyt, Sam Hornish Jr. and Kosuke Matsuura also were eliminated in the multicar wreck that ensued.
"We were four-wide and got pinched, and I got pinched the most," Patrick said. "This race is not going good and you're seeing a lot of stupid stuff happen because it's so slippery."
Hornish was furious about being caught up in the carnage, and he blamed leader Meira for triggering the shunt.
"The 4 car [Meira] sped up and slowed down and jacked a bunch of people up," said the Team Penske driver. "You've got people who haven't won out here who are desperate, and it's unfortunate when they take out championship contenders."
Franchitti was almost eliminated in the same wreck.
"Everybody knew the restarts were a big chance to make up places, so people were doing a couple of crazy things," he said. "I was four-wide at one point going across the start line, and I guess the three people on the inside didn't take any further part.
"So I guess I was lucky."
The conditions certainly contributed to the drivers' struggle. Anticipating typical hot summer temperatures, Firestone brought a speedway package of Motegi/Indy tires for the left side, matched with Homestead/Kansas/Texas spec tires for the right side.
The tires proved fast and durable -- if a driver waited until they got up to temperature before leaning on them.

We knew we couldn't do anything stupid, and we played a conservative game. We didn't need that last yellow, but the car was fantastic all day.
Dario Franchitti
"It's a challenge for everybody when it's cooler," remarked Bridgestone/Firestone motorsport director Al Speyer. "But the other situation, when the tires are too soft, is even worse."
Franchitti certainly didn't have any complaints about the tires. He chose not to change tires during his final pit stop, helping him extend his lead over Andretti.
"We knew from [practice] that the [tire] performance was so consistent, so I made the decision to keep them on," Franchitti said. "The car was getting faster as the tires wore, so full marks to Firestone on a great job."
Andretti kept the pressure on Franchitti for the last 100 laps, but the 20-year-old didn't help his cause by overshooting his pit during the final round of stops. A subsequent caution period erased Franchitti's 5-second lead, but Andretti was never able to work past on the outside.
Still, a second-place finish was crucial for young Andretti, who hadn't made the finish in six of seven previous races in 2007.
"Marco did a great job, and this is what he really needed -- a confidence builder," Franchitti said. "It was all track position. Had he been in front, I don't think I'd have had enough for him."
In reality, the 34-year-old had the race under control even though his winning margin was just 0.068 second.
"We knew we couldn't do anything stupid, and we played a conservative game," he said. "We didn't need that last yellow, but the car was fantastic all day."
Approaching the halfway point of the IndyCar season, Franchitti has a comfortable cushion in his quest for his first major championship, and he is heading into a series of events at which he traditionally excels. He leads his Andretti Green teammate Kanaan by 51 points, with the Ganassi and Penske drivers also within 80 points.
John Oreovicz covers open-wheel racing for National Speed Sport News and ESPN.com.
Autos, Open-Wheel
Motorsports Writer for ESPN.com
Covered Indy car racing for 20 years
Work published in 12 countries
SPONSORED HEADLINES
ESPN TOP HEADLINES
MOST SENT STORIES ON ESPN.COM