Door-To-Door: Kurt Busch's Super plans
It's Super Bowl week, and that means the attention is on football. But there's still racing to talk about, and there are even racers like Kurt Busch headed to Miami, writes Marty Smith in Door-To-Door.
Updated:
February 5, 2007, 11:31 AM ET
By
Marty Smith
| ESPN.com
Well, it's Super Bowl week (newsflash!) so we don't much matter. The entire sports and entertainment world bows to the pigskin pinnacle, loses its collective mind in the hype-driven haze. Judgment is clouded. Folks do irrational things.
Door-To-Door
with Marty Smith
Do you have a question for ESPN NASCAR analyst Marty Smith? Go to Smith's SportsNation page to submit your question or comment for Marty, and check back regularly for the column in which he will provide the answers.
Ask Marty
NASCAR star Kurt Busch is a prime example.
Busch, a Chicago Bears fan, wants so badly to attend the game he's scheduled an elaborate transcontinental red-eye flight operation from Las Vegas to Miami and back again. In, oh, just enough time to see Rex Grossman face the music.
(Speaking of, is there a more ridiculous debate than the Rex Grossman dichotomy? Come on. Give the guy a break. The folks voting him the worst quarterback ever in the Super Bowl, when he hasn't so much as taken a snap, are far too easily influenced by ESPN's "Around the Horn." I digress … which again proves my point. The Super Bowl puts a hex on us all.)
Anyway, back to Busch. When you represent Miller Lite for a living, as he does, Vegas on Super Sunday is an important place to be.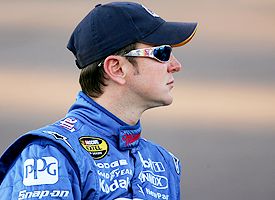 Lisa Blumenfeld/Getty ImagesKurt Busch could need the sunglasses to hide bloodshot eyes on Monday.
"It's their No. 1 distribution point during the week of the Super Bowl," explained Busch, who will appear on Miller Lite's behalf Saturday evening before hopping the plane east.
"I'm going to have my own red-eye to the game on Sunday, do the game and then fly back after they finally release all the air traffic."
That's right, he said fly back. It'd be one thing if Busch was headed home to Charlotte, but he has to test his Penske Racing Busch Series car Monday. At Vegas.
"I don't plan on seeing any of you [media] Monday morning," he joked. "It's going to be a little rough."
Especially if the Bears lose. Busch has money on the game, and if they win he triples his cash.
"I didn't buy the points, though," he said. "I bought it heads-up, because if my Bears lose I'm going to lose with them."
He's already lost -- his mind.
Dear Marty,
I had a question regarding Bobby Labonte and a situation that could have possibly arisen if Kyle Petty had finished out of the top 35 in owners points. Could Petty Enterprises have transferred the owner points from Labonte's No. 43 to Petty's No. 45, and then used Labonte's past champion's provisional to get Petty into the first five races of the '07 season?
Or have switched Labonte to the No. 45 with Cheerios for the first five races? I had been wondering about this at the end of last year. (It would have been great to see one less Toyota guaranteed a spot in the 500!)
-- DEI 1, 8, 15 Fan, Toms River, N.J.
If their respective sponsors signed off on it, Petty and Labonte could have switched cars. In doing so, Petty would be guaranteed a starting position in the first five races of 2007 based on Labonte's 2006 performance in the No. 43, and Labonte would get in via the past champion's provisional. He won the Winston Cup in 2000, so he'd box out Dale Jarrett, the '99 champ, for that free pass by one year.
That said, at least two Toyotas, Jarrett's and Dave Blaney's, will be in the field on Feb. 18.
Marty,
What's up with Erin Crocker? I haven't heard all the hype from last year. Is she done?
-- Ricky Shanks, Knoxville, Iowa
Crocker's not done, Ricky, but she's definitely scaling back and might even change teams, team owner Ray Evernham said last week. Goals are redirected, but the primary mission remains the same: Become the best female driver in the sport's history.
Right now the plan for 2007 includes 12 ARCA races and four Busch Series races. Evernham admits 2006 was a disappointment, that they didn't achieve what they'd hoped and, of course, had to endure considerable media scrutiny regarding the extent of their relationship.
Marty,
Should NASCAR change the races in The Chase? Tracks like Kansas, Dover, Michigan have no business being in the Chase over Bristol, Daytona, Darlington and others. Thoughts?
-- Joe, Sea Isle City, N.J.
First of all, Joe, Michigan isn't in the Chase. But I know what you mean. On paper it seems prudent to include NASCAR's marquee venues in its 10-race playoff: Best races/most prestigious tracks/highest profile, right?
Well, yeah. But like everything else, politics are involved. When NASCAR developed the Chase and chose to leave the schedule layout alone in 2004, it created a problem for itself in regards to schedule alteration in future Chases for the Cup.
How can you offer New Hampshire International Speedway, a privately-owned track in the Boston market, the first race in the playoffs, one that invariably offers trouble for frontrunners -- Tony Stewart in '04, Kurt Busch in '05, Jimmie Johnson in '06 -- and then just take it away?
Not that NASCAR wouldn't do it if it wanted to. NASCAR always does what it wants to do.
But now these tracks are established Chase venues and use that as a key marketing strategy year-round. Again, in the end NASCAR will do what NASCAR wants to do, but explaining to its established Chase tracks that they aren't good enough wouldn't go over so well.
Hey Marty,
I noticed that as soon as Matt Borland came on board at Michael Waltrip Racing, that Larry Carter bolted for Roush. Is there a history behind this?
I'm thinking it has something to do with back in the days at Penske that Borland and Ryan Newman wouldn't share stuff with the Blue Duce team of Rusty Wallace and the gang?
So am I off my rocker, or did Jack really dig deep into his pockets to pull Carter over just to show that he could beat Toyota at their own game?
John, Madison, Ala.
Interesting observation, John. And since I wouldn't be surprised if your inclination were true -- Roush certainly doesn't mask his disdain for Toyota -- I checked on any potential festering drama with driver Jamie McMurray.
He told me Monday that Carter's departure from Waltrip had nothing to do with Borland coming aboard. McMurray told me he has courted Carter to become the crew chief for his car since last October, and finally made it happen.
Of course, I feel certain Roush has no qualms capturing a key Toyota piece in the great Cup chess game.
Marty,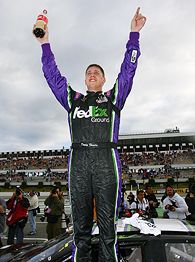 Rusty Jarrett/Getty ImagesWatching Denny Hamlin win 1,000 miles worth of Pocono racing in six weeks last season wasn't a big thrill for many racing fans.
As a Pennsylvanian I don't see what everyone has against Pocono. Pocono is a great racetrack. I mean what other track out there is like it? It is unique. It should keep its two dates, just move one to May when it's great to be in Pennsylvania, and keep one in July/August.
Also why make it shorter? NASCAR has always been about 500 miles. The drivers should learn to deal with it and the fans who say it is too long are not real NASCAR fans, because a NASCAR fan should love and respect 500-mile races.
If you want to get rid of a boring race take out California -- it sucks even though I know the last time I e-mailed you, you said it's all about the money and the fame that California brings to NASCAR.
-- Chris, Kennett Square, Pa.
On average, 500 miles at Pocono takes roughly three hours and 50 minutes to complete. That's not much longer than it takes to finish 500 miles at Atlanta or Darlington or Daytona. The difference in the eyes of most fans, though, is action. Most races have a tendency to drag at times. But Pocono, from a fan perception, is among the worst, despite a slimmer average margin of victory -- some 1.4 seconds in 2006 -- than many large tracks.
The field strings out single file and rides. And rides. And rides. Reducing it to 400 miles would help. Like any track, Pocono has flashes of greatness. Denny Hamlin's march from adversity last year was great. And two years ago when Carl Edwards passed Brian Vickers for the victory late in the race, after Vickers led all day long, was also fun to watch.
But the fact is, most fans don't want to see 1,000 miles at Pocono in six weeks.
Marty,
Do you think that the questions are in short supply because people just don't give a rip anymore?
-- Sundaemunny, Flint, Mich.
No. People care. It's undeniable that many fans are disgruntled by this or that, but they still want their NASCAR scoop.
Marty,
Who is singing the National Anthem and making the call this year at Daytona?
-- Ray, Advance, N.C.
Sources in Daytona tell me the best songwriter in Nashville, Tenn., is singing the Anthem, Ray -- Brad Douglas Paisley.
I can't wait. Doesn't get any better. The excitement during the Daytona 500 National Anthem is intoxicating. It's one of my favorite moments of every year. And this year will be extra special with Paisley on the mic.
Big fan. Big, big fan.
Oh, and Nicholas Cage is the Grand Marshal.
Womack!
Hey Marty,
Just wanted your opinion on the chances of Kentucky Speedway getting a Nextel Cup race somewhere down the line. The attendance for the Busch races has been great and they are in the media market for several cities. The drivers seem to like the track and so do the fans. Do you think it will ever happen?
-- Anderson, Burlington, Ky.
Zero, Anderson. Kentucky is a good track in a good market that drivers love to race on -- it gets no better than David Gilliland's coming out party. But quite honestly, Kentucky doesn't serve NASCAR's current big picture initiatives: diversity and penetration of mainstream American consciousness.
At this point, there are no plans whatsoever to hold a Nextel Cup event at Kentucky.
Marty,
What chance would you give the Toyota teams of winning at a non-plate track in 2007? And which Toyota team seems to have its stuff together (more than the others) at this early juncture?
-- Keith, Mercer, Pa.
Call it 10 percent, max, Keith. In my opinion, Toyota benefits greatly from the Car of Tomorrow, because all established teams are still searching for answers, too. COT will be used in 16 races this season -- nearly half the schedule -- so Toyota could sneak a win. If Toyota had debuted last year, that percentage I gave would be much smaller.
For reference, look at the Las Vegas test. The most impressive Toyota? Mike Skinner.
Marty,
Have any fights broken out before driver introductions stemming from a driver grabbing the wrong "Barbie?" Why exactly do all these drivers desire these long, blonde, straight-haired clones? Is there a dire shortage of hot brunettes and redheads in the South?
-- Jen, Rutland, Mass.
Hysterical. I don't rightly know how to respond to that one, Jen, but I must admit you provided my buddies and me quite the chuckle. There is indeed an abundant supply of hot brunettes and redheads in the Southland. Maybe they're just not big on guys in sponsored long underwear.
Please keep 'em coming, y'all. That's more like it.
Oh, and for the record, I say Bears 24, Colts 21.
Marty Smith is a contributor to ESPN's NASCAR coverage. He can be reached at ESPNsider@aol.com.
NASCAR
ESPN NASCAR lead reporter
Former NASCAR.com senior writer
15 years covering NASCAR
SPONSORED HEADLINES
ESPN TOP HEADLINES
MOST SENT STORIES ON ESPN.COM