Door-To-Door: Do we need independent refs?
Does NASCAR need to bring in independent officials in the wake of the Daytona 500 controversy? Marty Smith goes Door-To-Door to ask some experts.
Updated:
March 1, 2007, 1:52 PM ET
By
Marty Smith
| ESPN.com
For the past several days, every driver and owner and newspaper columnist present at the Daytona 500 has taken his or her stance regarding whether NASCAR got it right on the final lap Sunday.
Door-To-Door
with Marty Smith
Do you have a question for ESPN NASCAR analyst Marty Smith? Go to Smith's SportsNation page to submit your question or comment for Marty, and check back regularly for the column in which he will provide the answers.
Ask Marty
But a fan -- in the Orlando Airport john, no less -- posed a very interesting question to me Monday: Should NASCAR-employed officials even be making that call? Or might it be time for an outside officiating agency to call the shots?
Hmmm. NFL referees are not full-time salaried employees of the league, but they're the only ones. Like NASCAR officials, NBA and NHL referees and MLB umpires are salaried employees.
As it stands right now, many of the "casual" stick-and-ball fans NASCAR so ardently covets are puzzled by the uncertainty and controversy surrounding this decision or that. I have proof, just next door.
My neighbor is a Duke-educated sports nut from an affluent Connecticut background. He was an accomplished college athlete. He is one of the smartest, most rational, inquisitive people I've ever known. He is open-minded, a realist, a thought-provoking conversationalist.
That's why his assertion that NASCAR's inconsistency makes him hesitant to take it totally seriously is so poignant. He has no allegiances. And he's the Northeastern casual fan for which NASCAR so badly yearns.
He did stress, though, that NASCAR's stiffer penalties to Michael Waltrip Racing and Evernham Motorsports help foster legitimacy for him.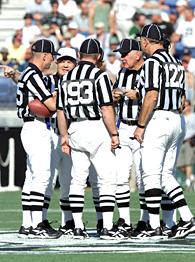 Eliot J. Schechter/ Getty ImagesIs this what you want to see after every NASCAR race?
Another friend of mine, in Philadelphia, questions how the last-lap decision is fair to Matt Kenseth. He says that Kenseth should've finished third but that because of the timing of the caution flag, he is credited with a 27th-place finish. Playing devil's advocate, I rebut, "Well, is it fair to Bryon Russell that Michael Jordan blatantly pushed off to win the [1998] NBA Finals?'
Subjectivity is inevitable, no matter how concrete the rules package. Holding is holding in football, and it could get called on virtually every play. Sometimes it is. Sometimes it isn't.
Sometimes the caution flies. Sometimes it doesn't. It always should fly when driver safety is in question. Even remotely.
Any other time than the final turn of the final lap of the year's biggest race, the caution flies -- Kyle Busch and Kenseth were perpendicular to the field, after all. But given the circumstances of that specific moment, NASCAR nailed this call. It was absolutely right.
I called around and asked whether the hierarchy of NASCAR's officiating crew was viable.
Ray Evernham: "I feel our officiating agency is NASCAR. They have a better understanding of what we do. Should an outside agency be brought in? No. That's not the answer."
Ricky Rudd: "It's not a totally absurd thought. With the penalty situation, there ought to be more black and white. I've always said that. What doesn't quite make sense to me is when they dish out rules.
"Like the [Michael] Waltrip situation. Usually, [NASCAR] goes back and looks at precedent. They gave Jeremy Mayfield 151 points [penalty] for tampering with fuel. So the question I'd ask as a fan is this: Well, why'd he get 151 and Michael got 100 points?
"I don't quite understand why one penalty was heavier than another when they're very similar, if not a bolder move with the Waltrip deal. Most of the time, it's not too big a problem, but the crime and punishment don't seem to fit each other [with Waltrip]."
Very interesting. It's a worthy debate. Ultimately, though, it matters not who is making the judgment call. It's still a judgment call. And that means it's always a damned if you do, damned if you don't scenario.
It is an unenviable position, and NASCAR must not waver in this new, tougher stance. The sport's credibility depends on it.
Championship prediction: Still Tony Stewart. The last time Smoke finished dead last in the 500, in 2002, he went on to win the title. He'll do it again. Sunday proved to me that he has matured considerably. I remember that day in 2002 well.
I stood alongside his race car and watched closely as he exited. He fumed, stomped, pouted. Five years later, he left the infield care center and answered the same question 48 times as diplomatically and honestly as possible. And he had a race-winning car Sunday. This is his year.
"Friday Night Lights" Highlight: This week on television's best show, Coach Taylor is faced with a dilemma. He wants to inflict bodily harm on the young man who's courting his 15-year-old daughter. Problem is that same individual is also his starting quarterback. Coach's daughter, Julie, and QB Matt Saracen are great kids and make mature decisions. One, Julie, bases her choices on stellar parenting and the other, Saracen, draws from necessity. His daddy is in Iraq, and he's the primary caregiver for a screw's-loose granny. If you don't watch this show, you're missing out. Wednesdays, 8 p.m., NBC.
Hey Marty,
Glad you found a new home at ESPN. I always read you at the other site. Anyhow, I have a question for you: What do Kevin Harvick, Marty Smith, and I all have in common? We all have more Nextel Cup points than Michael Waltrip. Have a good one.
-- Eric Williams, Cleveland
Actually, in effect Eric is correct. I have zero Nextel Cup points, and Waltrip stands at minus-27. That's rather humorous, unless you work for Michael Waltrip.
Marty,
If NASCAR determined that Gordon's car being too low wasn't done purposely, then why does he essentially get the worst punishment? He started 42nd.
WALTRIP didn't have to start last. Kenseth started 10th. Granted they lost money which I'm sure isn't coming out of the drivers' pockets, and points, but Gordon starting that far back could cost him more points than the ones who cheated intentionally.
Why didn't NASCAR just let him stay where he was if it was unintentional?
-- Brian, Newport News, Va.
I asked that very question of NASCAR competition director Robin Pemberton the night Gordon's fate was announced: If it's unintentional, and you're dead certain it wasn't purposefully doctored, then why send the guy to the back? His response:
"Fact is the car was still low, Marty, that's the rule."
So if that's the rule, how's he keep the win?
"We don't take wins away."
Hmmm.
Marty,
While watching DirecTV Hot Pass, I saw Jeff Gordon clean his windshield while under the red flag. Is that legal? Also, one of the track attendants who was handing out bottles of water to the drivers saw what was going on and helped clean the windshield as well.
Again, please clarify this rule. Amid all the accusations of cheating, favoritism and such during the past week, it may have been legal but it sure didn't appear that way. Even heard Steve Letarte mention over the team radio that he hoped it was legal.
Keep up the good work and write more articles. I don't always agree with your point of view but most of the time you are spot on. Thanks.
-- Keith, N.C.
Interesting observation, Keith. And get this: Neither is legal.
NASCAR spokesman Kerry Tharp told me Wednesday that neither Gordon nor the water boy is permitted to clean the windshield under the red flag and that if a NASCAR official sees it happen, a penalty would be assessed.
If what you say is true -- and I can't confirm it is because I've not seen it -- Gordon got away with one.
Marty,
Everyone is talking about how great the Daytona 500 was. Besides the last 50 laps or so it was one of the worst races I have seen. I can't wait for the COT. What say you?
-- Brandon, Napa, Calif.
I say you have access to stellar wine, Brandon. Sonoma is my favorite trip of the year by a substantial margin. Can't wait. …
Anyway, about the Daytona 500: I'm right there with you. Before the sun went down, it was a mundane event that someone -- wish I could take credit, but it wasn't me -- described as cars driving around a Wal-Mart parking lot looking for an open space.
Ultimately, NASCAR had better thank its lucky stars that the green-white-checker was so exhilarating. That's what everyone is talking about. Had the 500 finish been so-so, the Michael Waltrip intake goo controversy would be the lasting memory from Speedweeks 2007. We'll still talk about that for a long time, given the repercussions to Waltrip's team.
But as it stands, Harvick/Martin at the finish is seared into our minds instead.
Hey Marty,
I respect your opinion so here goes … I just can't fathom that a misaligned shock bolt will allow the rear of [Jeff Gordon's] car to drop one inch on both sides, unless both shock bolts were done the same way. Doesn't seem feasible to me. If both bolts were the same, I would say that it was intentional. What do you say?
-- The Wolf Man, MIA
Both bolts weren't the same, Wolfey. I asked No. 24 crew chief Stevie Letarte the deal Wednesday, and he told me the right side was the only one compromised. Gordon claims it wasn't a performance advantage, anyway, that all cars at speed lower to that level through aerodynamics.
Ultimately, I say I trust The Mayor, Jeff Burton. Burton believes the No. 24 is innocent, and that's all the proof I need. Burton told me he rolled by the NASCAR hauler Friday morning to ensure Gordon got proper treatment, and he said that after seeing the part in question, he is absolutely certain the No. 24 didn't try to cheat.
Burton is the most honest cat in the garage, so if he says it, believe it. It's gospel.
Speaking of the gospel, I sat beside Harvick's crew chief, Todd Berrier, at church Sunday before the race, and he told me his car couldn't lead. No lightning bolts shot from the sky, so he was telling me the truth.
Glad I didn't say that anywhere.
Hit me with more questions and send some e-mails. I need something to do while my son stuffs his face with mutilated Nutri-Grain bars.
Marty Smith is a contributor to ESPN's NASCAR coverage. He can be reached at ESPNsider@aol.com.
NASCAR
ESPN NASCAR lead reporter
Former NASCAR.com senior writer
15 years covering NASCAR
SPONSORED HEADLINES
ESPN TOP HEADLINES
MOST SENT STORIES ON ESPN.COM