Siegel, DEI facing life after Junior
Dale Earnhardt Jr. is leaving the team his father founded at the end of this season. That begs the question what Dale Earnhardt Inc. will do next, writes Marty Smith.
Updated:
May 14, 2007, 4:52 PM ET
By
Marty Smith
| ESPN.com
MOORESVILLE, N.C. -- Max Siegel, president of Dale Earnhardt Inc. and the man appointed to negotiate one of the most important contracts in NASCAR history -- that of driver Dale Earnhardt Jr. to continue on under the DEI banner -- was on hand Thursday as the sport's most popular driver announced he would leave the company his father founded at the conclusion of the season.
As Earnhardt spoke, Siegel stood stage left, arms folded, watching and listening intently.
His face wasn't pained, per se, but he appeared less than enthralled.
Until the last moment, Siegel had wondered what Earnhardt would do.
"Even today when he came in [to the news conference], I think he was genuinely conflicted," Siegel said. "I think he did want to work something out. Even when he and Teresa and I addressed the employees, he had peace, but he was conflicted."
Siegel was there to support Earnhardt Jr. They'll have a business relationship moving forward, one both hope will preserve and grow the future of DEI.
This was a gesture of respect from Siegel to Earnhardt, akin to that which Earnhardt showed DEI employees earlier in the day with an early-morning farewell address.
David Newton's Take
Dale Earnhardt Jr. said he wants to go to a team that can help him win. There are plenty that can offer that, but maybe only one that really fits, writes David Newton. Story
• Mike Massaro podcast

Farewell. The word stings.
Earnhardt is really leaving.
So what is left for DEI? What is DEI without Dale Jr.?
"Teresa is very committed to her people," Siegel said. "Teresa is very realistic, mature. We talked throughout the process of all the realistic possibilities. She made the comment that all Dale Jr. wanted to do since he was a kid was race, and she enjoyed the opportunity for them to do that together.
"Regardless of anyone's personal feelings -- he came over and addressed the employees. That was a difficult thing for him to do. I'm here to support him."
-- Max Siegel
"Now we all want to focus on how we can have a successful future. I don't want to discuss the details of the contract negotiations, don't want to discuss the past. With respect to everyone's opinion about will DEI be here to stay? Only time will tell."
Siegel said that drivers Martin Truex Jr. and Paul Menard have both voiced to him their commitment to DEI, and that they plan to remain with the company.
Earnhardt's crew chief, Tony Eury Jr., told ESPN in March that he'd follow Earnhardt wherever he chose to go. Earnhardt said he was uncertain what Eury or Truex would do, but that he would fully support both no matter what.
"This decision is based solely on my personal driving career," Earnhardt said. "This is very difficult. I don't expect everyone at DEI to fully understand [the decision]."
Siegel said that DEI must improve its performance. Running well mends many wounds.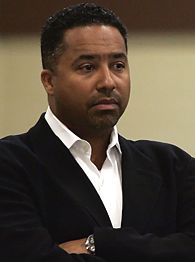 Jason D. Smith-US PRESSWIRE DEI's Max Siegel on Dale Earnhardt Jr.: "I think he did want to work something out."
"The first thing we have to do is win on the track," Siegel said. "You have to be good at your core business. If you win, and you win consistently, it takes care of a lot of issues.
"Our job is to develop all the assets at DEI so we have four 'Dale Jr.'s' to help grow the sport. We remain committed to focusing on how we got there. It's a 25-year-old company. Teresa's had an incredible vision and she continues to get the support of everyone there."
Siegel said an offer was made to Earnhardt, but refused to divulge specifics. He said both sides of the negotiation jointly reached out to sponsor Budweiser to inform it of Junior's decision.
Siegel would not comment as to whether he felt Budweiser would stay with DEI or depart with Earnhardt. The general consensus is the latter.
Two weeks ago, DEI officials said they'd met with Robert Yates Racing about a potential merger. Was that a contingency plan for an instance just like what has occurred?
"As a company, when you're looking to have a healthy company that's diversified, you try to operate efficiently, control costs and be competitive, you have to look at all the opportunities in the marketplace," Siegel said. "We're looking for opportunities that are consistent with our growth plan and diversification plan with championship-caliber competition.
"You look at all options. I think any industry changes. The way you survive is to have diversification of how you create revenue. Our core business is motorsports, and we're committed to reinvesting our resources in motorsports to be competitive.
"But we have to get creative to figure out how to grow a company and sustain it in the long term. We have to be a better company to our commercial sponsors, and not become solely reliant on our sponsorship revenue to survive."
Siegel also said he doesn't think Earnhardt's announcement will affect the No. 8 team's performance over the remainder of the season.
"It's a great group of guys," he said. "They do it because they love it. They're passionate about it. One would think this has been a distraction this entire year, but they've rallied together.
"Regardless of anyone's personal feelings -- he came over and addressed the employees. That was a difficult thing for him to do. I'm here to support him."
Marty Smith is a contributor to ESPN's NASCAR coverage. He can be reached at ESPNsider@aol.com.
NASCAR
ESPN NASCAR lead reporter
Former NASCAR.com senior writer
15 years covering NASCAR