Next up for the No. 8? How about Greg Biffle?
We know who won't be Driver 8 in 2008. The big question is who will step into that car? Marty Smith goes Door-To-Door and comes up with his answer.
Updated:
May 24, 2007, 5:07 PM ET
By
Marty Smith
| ESPN.com
As we bid adieu to crisp spring sunrises and slap on the SPF 48, the two biggest questions swirling through the Nextel Cup garage center on the No. 8 Dale Earnhardt Inc. Chevrolet: Who's leaving, of course, and then who's assuming?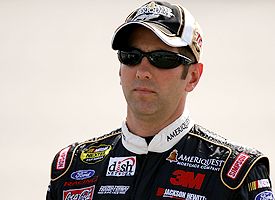 Streeter Lecka/Getty ImagesGreg Biffle said he's happy at Roush Fenway Racing, but he is a hot commodity.
When Dale Earnhardt Jr. eases off into the South Beach sunset come November, to whom go the keys to his chariot? Who becomes the esteemed Driver No. 8?
It is a mammoth opportunity to achieve legendary hero status, to step in and plug the hole in the DEI bow, to change a culture.
It is a tall order. And not just anyone will suffice. A mediocre "bring it home in one piece" fill-in won't do it justice. This situation calls for a no-nonsense, shut-up-and-drive-the-wheels-off-it hustler.
Greg Biffle, to me, is a perfect choice.
From a driving-style perspective, he's as close to Dale Earnhardt as you'll find in today's Cup Series. He has an intangible edge, a competitive burn that suggests a fear that someone's trying to take his job.
He's not concerned with making friends. He's not about being flashy. He's about using up every last ounce of wherewithal that race car has to offer.
Granted, Biffle is under contract with Roush Fenway Racing through 2008, and is currently negotiating an extension with the team. He told me recently he's happy at Roush, likes the seniority and equity he's built there and would like to see it through with a Cup Series championship.
But his phone is abuzz with inquiries about his future. He is among the hottest commodities in the garage at present.
DEI won't divulge whom they've spoken with about the No. 8. Sources within the organization tell me the list of potential candidates includes five drivers.
Just my opinion, but Biffle should be at the top of that list.
Speaking of Biffle &
Marty,
Big 16 car fan here. After winning six races in 2005 and being runner-up, he has since not had the same consistency (2006 had some really strong runs with bad finishes -- damn Kurt Busch!) but in 2007 he has really not run very well at all.
Why do you suppose he has been struggling so much with consistency, and now quality? Any chance he leaves Roush and runs for Gibbs or another powerhouse team?
-- Josh, Dallas
Biffle can leave if he so desires, Josh. He's an elite talent who can garner requisite sponsorship dollars. And he's had the opportunity before. He told me at Talladega that Joe Gibbs Racing was quite interested in him for the No. 11 Chevrolet before Denny Hamlin hopped in, but he was apprehensive given Jason Leffler's struggles.
As for the drop in performance at Roush Fenway, I asked Carl Edwards for his thoughts. He explained that Roush's dominance in 2005 made the organization apprehensive to change its model. Meanwhile, other organizations looked toward the future. Edwards estimated Roush is about six months away from consistently competing for wins.
Granted, Matt Kenseth's team is stellar. Kenseth told me he didn't feel the organization had gotten complacent last season, rather the personnel shakeups in 2006 reverberated through the entire company. He feels the proper continuity is back, and that's why we're seeing markedly improved performance by Edwards and Jamie McMurray.
Keeping with the McMurray theme &
Marty,
Come on man! Where's the love for Jamie McMurray this year? He's a new man with Larry Carter. Think he can make the Chase? And what's up with Kasey Kahne? They went from awesome to awful.
-- Jackson, Birmingham, Ala.
Maybe it has something to do with that Nextel bunny commercial, Jackson. McMurray wound up with the "magic," Kahne with the "sleight of hand." Foreshadowing?
McMurray can definitely make the Chase. He's proven he can run with the big dogs on every type of racetrack this year, sans the road courses since we've not run any just yet. He's notched top-10 runs on short tracks, and top-5s on intermediate and restrictor plate tracks thus far.
He and David Stremme are the pleasant surprises of 2007. I asked McMurray recently if he was ever concerned last year about losing his job.
"I was fortunate that Jack [Roush] would always come up to me and say, 'Jamie, we've just got to get our cars where you like them,' or 'We have to get you better cars,'" McMurray explained. "He never doubted my ability.
"But everyone knows this is based on results, and when you run the way we did, it wasn't fun for me or the sponsors or anyone on the team. We had to run better. Fortunately, I don't have to worry about that anymore, but yeah, if I'd had another year like what we had last year, I would have wanted to have done something different and so would everyone else."
Kahne, meanwhile, is the biggest disappointment of the season thus far. With just one top-10 finish -- and just four finishes inside the top-20 -- he and his team are utterly baffled. He's led just 38 laps this year. This time last year he had a pair of victories. Again, he doesn't know what to make of it.
"It's weird," he said.
Marty,
On "NASCAR Now" the other day you said Hendrick wasn't dominant in NASCAR. What the hell are you smoking? They've won almost every race. Do you even pay attention to the sport you report on?
-- Debbie Rule, Johnson City, Tenn.
I try to, Debbie. It ain't easy.
In context I'm uncertain Hendrick Motorsports is as dominant as it might appear on paper. Consider the following:
Bristol: Tony Stewart had the best car, dominated, led 257 laps before he suffered a part failure. Phoenix: Denny Hamlin had the best car but was issued a pit-road speeding penalty that forced him to the rear of the field. He drove all the way to third. Richmond: Kevin Harvick had the best car but had the right-front corner of his race car removed by young David Ragan on pit road. Darlington: Hamlin has the most-dominant car the Lady in Black has seen in decades and a miscue by his crew was too much to overcome.
I know these are major assumptions, and HMS is excelling in cars old and new. But the fact is Hendrick isn't leading every lap of every race. And its Car of Tomorrow dominance, while readily evident in the win column -- five races, five trophies -- may not be as pronounced as we're all making it out to be.
Granted, Gordon, Johnson and Busch are up front every single weekend. Mears has run well at times when Lady Luck doesn't leave him at the altar. They aren't falling into these victories. They're placing themselves in position to capitalize every week. It matters not the type of racetrack.
The Hendrick organization has unparalleled depth. Dale Earnhardt Jr. said DEI can't keep up with that. And if DEI can't, how is Morgan McClure supposed to? How is BAM supposed to? How is Robby Gordon supposed to?
And is this really that much different than it's been over the past several years? Since 2002, Hendrick Motorsports' 54 wins are the most in the Nextel Cup Series. It led the series in wins in 2003, 2004 and 2006. Roush led the way in 2002 and 2005. Overall, Roush Fenway Racing has 46 wins since 2002, 15 of which came in that dominant '05 campaign.
Bottom line, HMS is on pace to win about 25 races in 2007. And it's not by accident. It saw an opportunity with the COT and grabbed it by the throat. Everyone knew the new car was an opportunity. He who found an edge early would run away from the field.
And right now, Hendrick is running away with win upon win upon win -- but not without resistance.
And it won't have this advantage forever.
Marty,
I was watching the Busch prerace show at Darlington. Great interview with Junior. He looked really emotional, and gave you some great answers. But Marty, what's with the tan line? You were so white it was distracting me.
-- Sandra Ponson, Oklahoma City
That interview was really cool. I was proud of it. Then when it ran, all my buddies did was bust my tail about my farmer's tan. Some friends.
Marty Smith is a contributor to ESPN's NASCAR coverage. He can be reached at ESPNsider@aol.com.
NASCAR
ESPN NASCAR lead reporter
Former NASCAR.com senior writer
15 years covering NASCAR
SPONSORED HEADLINES
ESPN TOP HEADLINES
MOST SENT STORIES ON ESPN.COM