Siegel's merger maneuver brings him full circle; may have saved DEI
Max Siegel was ready to get into NASCAR years ago with best friend Reggie White. With White gone, Siegel has come full circle, shepherding the acquisition of Ginn Racing into DEI and scoring the driver -- Aric Almirola -- he and White wanted all along, writes Marty Smith.
Updated:
July 26, 2007, 7:08 PM ET
By
Marty Smith
| ESPN.com
INDIANAPOLIS -- When Dale Earnhardt Inc. president Max Siegel finalized his company's acquisition of Ginn Racing on Tuesday evening his NASCAR experience came eerily full circle.Siegel told ESPN.com on Wednesday that three years ago he was prepared to partner with NFL Hall of Famers Reggie White and Ronnie Lott, as well as former San Francisco 49ers owner Eddie DeBartalo Jr., in purchasing MB2 Motorsports, which at the time fielded the Nos. 01 and 10 Chevrolets. The papers were drawn. All that was left was the official closing, which was slated for Jan. 15, 2005. But when White died suddenly on Dec. 26, 2004, and the deal died with him.Before that, Siegel had worked alongside White, his best friend, on a driver diversity initiative with Joe Gibbs Racing. Their driver of choice? Aric Almirola.Last week, Almirola left Gibbs to share the No. 01 Chevy with Mark Martin at Ginn, and, in turn, he becomes part of the package in the DEI/Ginn merger. But that's not all. Ginn Racing is the former MB2. Still in need of financial assistance, MB2 was sold to Bobby Ginn exactly a year ago -- July 26, 2006. Despite the perception of infinite expendable cash, the inability to secure sponsorship for its Nextel Cup teams left Ginn Racing in financial trouble this season, prompting the DEI merger.Siegel is ecstatic, as well he should be. He and his senior management team -- John Story, Joe Hedrick, Richie Gilmore, Steve Hmiel, Chad Warpula and Judy Queen -- achieved the impossible. Not only does DEI get Mark Martin, an unparalleled mentor to its existing drivers Martin Truex Jr. and Paul Menard, it also gets Almirola, the driver whose career Siegel helped launch in the first place.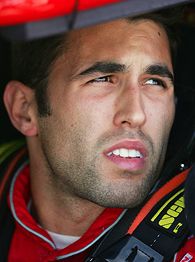 Jonathan Daniel/Getty ImagesAric Almirola was the guy Max Siegel -- and the late Reggie White -- wanted all along.
"It's actually kind of scary to me that we're back where I started," Siegel said Wednesday. Siegel said he and White originally had planned to partner with Rick Hendrick on a NASCAR Busch Series operation. Then the Hendrick Motorsports plane crash in October 2004 halted that initiative. A couple of months had passed, and Siegel said Hendrick contacted him about the program. Hendrick explained that in order for him to be involved, White and Siegel had to purchase a team with an existing Hendrick partnership. Enter MB2, whose engines were supplied by Hendrick. At the time, Valvoline was part-owner of MB2, as well. All the pieces were in place, then White passed away.Fast-forward to 2006. Siegel came onboard at DEI amid massive obstacles. The rift between team owner Teresa Earnhardt and superstar driver and company namesake Dale Earnhardt Jr. was virtually irreparable. Siegel was assigned to fix it and retain Junior's services. When that didn't happen, most felt the company would fold the moment Junior walked out the door. Siegel saw to it that that wouldn't happen. He was adamant that the company would forge on -- then went out and proved it. This merger solidifies DEI's future. With it comes 180,000 square feet of shop space that will house all four Nextel Cup teams. It also houses a brand new seven-post shaker rig that just became operational a week ago. It also plants Menard safely in the top 35 in owner's points, by way of assuming the owner points from Ginn's former No. 14 team. That guarantees Menard will make every race, so long as he remains in the top 35.
Door-To-Door
with Marty Smith
Do you have a question for ESPN NASCAR analyst Marty Smith? Go to Smith's SportsNation page to submit your question or comment for Marty, and check back regularly for the column in which he will provide the answers.
Ask Marty
"We've been putting our heads down and figuring out what we could do make sure the world knows we're a world-class organization." Siegel said. "I wanted to make sure we had the best people and the best resources and were focused on our core business. "[Ginn] is a turn-key operation with state-of-the-art equipment. On the outside it's not the Garage Mahal, but on the inside it's unbelievable."Siegel is also adamant that this merger proves Teresa Earnhardt's devotion to racing."For me, clearly, I've always known it but it clearly shows her commitment to the core business," Siegel said. "It proves her commitment to the 400 [DEI] employees. It'll have immediate impact on us operating a really high level."Siegel said he is uncertain how this will affect Regan Smith, but that Smith's future will be solidified over the next week. This weekend, Smith will drive the No. 47 Craftsman Truck at O'Reilly Raceway Park. Siegel also said DEI hopes to run two full-time Busch Series cars in 2008, and possibly a Truck Series program with Mark Martin. "We have to have a serious conversation in terms of [driver] development," Siegel said. "Regan's still in the fold. There has been no official determination with respect to that."All said, by forging this merger Siegel has accomplished an impressive, if not nearly impossible feat. In doing so his NASCAR existence became whole -- and he may have saved DEI in the process, too.
Marty, When a car like the No. 13 is in the top 35 in owner's points and does not show for qualifying, does the 36th-place car automatically get in or is it just another car getting in on speed?-- Mark, Mount Airy, Md.The 36th-place team in owner's points simply moves into 35th position, Mark. At this moment, no one is happier about the DEI/Ginn merger than Eddie and Len Wood. Since the No. 13 won't race Sunday at Indy, the Wood Brothers' No. 21 has a guaranteed starting position in the Allstate 400 -- the second richest race of the year. In 2006, Boris Said's No. 60 Ford -- a part-time team that ran just four races all season -- earned $134,225 for completing 19 laps and finishing 42nd at Indy. Not a bad payday.
Marty,What's the deal with Gordon and Hendrick? I've read numerous times that he holds one of the following stakes: part owner of JJ's team; owns JJ's team; owns 5 percent of Hendrick. Which is it?-- Paul, TorontoI asked Gordon's people for clarity on this for you, Paul, and I'm told Gordon is an "equity owner" in the Nos. 24 and 48 teams. That essentially means Gordon's price tag is so high that Rick Hendrick gave him a percentage of the teams as compensation.
Marty, Why do you and others at ESPN insist on throwing Sterling Marlin under the bus? Because of his age? Marketability? He can still get the job done like Harry Gant, just give him good equipment! I can't wait for your reaction when the same thing happens to yourself, and you are replaced with say ... a twenty-something hottie.-- Andy, Redford, Mich. First of all, that's not my reasoning, Andy. That's the teams' reasoning. Why? Because the perception in the industry is that young and attractive is the avenue to financial backing from corporate America. I'm not saying it's right or even accurate. I'm just telling you what I know to be the mind-set in the NASCAR garage. Bobby Ginn flat said it: Age was the reason the team chose to stop running Marlin in favor of 23-year-old Regan Smith.There's no question that guys like Mark Martin and Ricky Rudd and Dale Jarrett -- and probably Sterling Marlin -- could contend for championships in the No. 48. No question. They don't forget how to drive overnight. But the resources have to be there. At Ginn, they weren't there for Marlin. He was driving an underfunded ride and running at the back of the pack. His best finish of the year was 13th at Darlington. His average finish this season is 27th. So from that aspect it's hard to argue with Ginn's decision. If you're going to run 27th, and Smith is your chosen driver of the future, why not get him more seat time? I can pretty much guarantee that if Marlin was running where Martin is running every week that wouldn't have happened.
Marty, Brian Lowe is right. You do look like a Backstreet Boy. My buddies are just waiting for you to break into that "Bye Bye Bye" dance. And Bill the 80-year-old bartender knows more than you do about racing. -- Jackie, Peachtree City, Ga.Man, I'd do that for you, Jackie, but Backstreet didn't do any "Bye Bye Bye" dancing. That was N'Sync.Staying on that topic, sort of ...
Marty, It takes [guts] to include the fans' criticisms in your column -- not many people are secure enough to do that. Thanks for doing that. Some of them are really funny. I hope you don't take them to heart. -- Candice in Charlotte, N.C.If you can't laugh at yourself in this deal, you're taking it way too seriously, Candice.
Bob in Maryland, many thanks for this week's installment of lawn care advice. I will, indeed, invest in some fertilizer sticks and pine straw. The Spectracide weed killer worked fabulously. Thank you. Y'all be good. Time to head to the Brickyard.
Marty Smith is a contributor to ESPN's NASCAR coverage. He can be reached at ESPNsider@aol.com.
NASCAR
ESPN NASCAR lead reporter
Former NASCAR.com senior writer
15 years covering NASCAR
SPONSORED HEADLINES
ESPN TOP HEADLINES
MOST SENT STORIES ON ESPN.COM
ALLSTATE 400 AT THE BRICKYARD
Related Content

Cup Surround | Standings | Schedule
Stories
•
Newton: Kyle Busch growing up?
•
Blount: Dodge poised to make move?
•
Monday Rundown: Chevy still on top
•
Crucial Crew Call: 42 crew good, 20's better
•
Blount: Stewart starting another summer roll?
•
Newton: More Montoya magic
•
Recap: Stewart tames the Brickyard
•
Schwarb: Junior's trouble a break for bubble boys
•
Schwarb: Johnson's hopes go up in smoke
•
Notebook: Harvick won't be penalized for love tap
•
Sorenson, Montoya on front row
•
Newton: Small-town boy, big-time dreams
•
Blount: Should Johnson be worried?
•
Schwarb: Solving the Brickyard puzzle
•
Notebook: Competition yellow will fly
•
ESPN.com's Allstate 400 at the Brickyard picks
•
Five drivers to watch at the Brickyard
•
Five things to watch at the Brickyard
•
Blount: Brickyard launched the new NASCAR
•
Inside The Hauler: Get big or get out?
•
Chase Tales: A special race at special place
•
The Eliminator: You have to love Jeff Gordon
•
Newton: Will Martin make a DEI dream team?
•
Door-To-Door: Siegel comes full circle
•
Blount's Blitz: That good ol' Indy magic
•
Power Rankings: Is Stewart ready to roar?
Video
•
Draft Track: Introduction
•
Draft Track: Jeff Gordon and Denny Hamlin
•
Draft Track: Matt Kenseth and Jimmie Johnson
•
Tony Stewart wins at the Brickyard
•
Stewart celebrates second Brickyard win
•
Rusty Wallace's take on this year's Brickyard
•
Dale Jarrett breaks down the Brickyard
•
Sorenson scores first career pole
•
Who'll kiss the bricks?
•
Brickyard brings out the best in drivers
•
Tech Center with Tim Brewer
•
State of Evernham Motorsports
•
Crew chief suspensions
•
Dale Jr.'s ready to roll with Mark Martin
•
Mark Martin's ready to go
•
The history of NASCAR at Indy
•
Is NASCAR welcomed at Indy?
•
NASCAR Driver Pick'em
•
Fantasy NASCAR: Brickyard Preview
•
Kissing the Bricks at Indy
•
Which are the biggest NASCAR races?
•
Racing at the Brickyard
•
NASCAR's 2007 First Half Images
PodCasts

•
RaceDay: Stewart masters the Brickyard
•
RaceDay: Stewart, Johnson talk Brickyard
•
RaceDay: Burton, Gordon and Mears get ready