Gordon's move places target on his head
Updated:
July 13, 2006, 4:51 PM ET
By
Rusty Wallace
| Special to ESPN.com
There's been a lot of talk about the end of the USG Sheetrock 400 on Sunday at Chicagoland Speedway when Jeff Gordon spun Matt Kenseth off the track with four laps to go.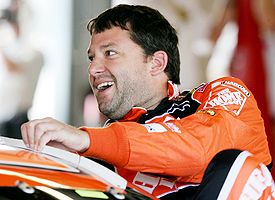 Jonathan Daniel/Getty ImagesTony Stewart's been up and down lately, but he's always been good at Loudon.
I think it was good racing. What happened is they got right down to the end of the race and Gordon could definitely smell the victory.
Kenseth's car was really starting to fade and I think in another lap Gordon would have passed him. He didn't need to run all over him, though. His car was so fast that on the next corner he could have driven around him or driven underneath him without any problem, but it looks like Kenseth got out of the throttle -- not on purpose, but he was just so much slower in the middle of the corner -- and I think Gordon just got into him.
I don't think it was real cool on Jeff's part, but I'm not the one making the decision. It could have been avoided, but I would still call it a racing accident and not a dirty move.
But now Gordon has to be careful. I think NASCAR is really looking at Gordon right now.
He has two victories and it looks like he's back on track and has things going, but he needs to stay out of trouble. He looks comfortable in the seat, in contrast to the beginning of the year when he looked distracted and the car wasn't running well. He's got his rhythm back and he's got his goals in order, so he's looking good. But NASCAR will be watching him closely.
And the drivers will be watching him, too. Gordon has a bull's-eye on his head right now. A lot of the drivers aren't in the mood to take any more crap from him, so the next time he bumps somebody, they're going to whack the -- well, you know -- out of him.
Somebody ahead of Gordon in the Chase but didn't have much of a day at Chicagoland was Tony Stewart.
That team is strong, there's no doubt about that, but Stewart has hot and cold days like everybody else. Overall, that's still one of the best teams out there because there has been a lot of inconsistency in Nextel Cup this year. Stewart has been more inconsistent than usual, but he's also been faster than most of the rest, so that's made up for it.
And he's run really well at Loudon -- site of this weekend's race -- so he could bounce right back.
Loudon is an incredible track. It's got long -- long -- straightaways and these slow, lazy corners and that means it's really hard to pass because the corners don't have enough banking to create enough grip. It's really tough to get around there, and it tends to be more of a one-lane racetrack than it should be, but Mr. (Bob) Bahre, the track's owner, has worked really hard on that track to make it better.
You will see an exciting race, and then the Chase for the Nextel Cup starts there and that will be really exciting.
Stewart always runs well there, Jeff Burton has won a lot of races there, both Cup and Busch, so I expect him to contend. Kevin Harvick should do well there. But that track can change dramatically from year to year as to who will be on top of their game.
Another team I expect a lot out of in the future is Robert Yates Racing. There have been rumors Elliott Sadler might want out if he doesn't feel the team is headed in the right direction. That would be Sadler's loss.
Yates will definitely be able to straighten things out and I have all the confidence in the world in that team. Robert Yates is a top player in the sport, but race teams have down times. Yates is a racer, he builds an unbelievable engine and he's a top-quality owner. They'll be back soon.
And new talent is already coming into Nextel Cup. Chip Ganassi Racing announced this week Juan Pablo Montoya was leaving Formula One for NASCAR.
It will be a steep learning curve for Montoya, but I would expect him to be able to handle it. He's a world-class driver, one of the best in the world without a doubt, but he's going to have to get used to a big, heavy, car and learn the grooves in the racetracks and understand that life on and off the track is going to be very different.
Understanding the NASCAR fans and how to treat them will be a challenge. He will have to realize that the fans will expect more out of him than Formula One fans. They are going to expect him to be more accessible than what he is accustomed to.
He's got a lot to learn, but I expect him to be up for it. I think Chip Ganassi made a great decision there.
The talk of the week was whether or not Danica Patrick was going to make the jump to NASCAR. Now it seems she isn't quite as interested as it sounded like early on. I have watched her all season as part of the broadcast team for IndyCar races, and I said earlier she's the best female driver I've ever seen, and I still believe that. But that said, with her physique -- that small a person -- getting in that big, heavy, car, it's going to be tough to handle.
I think NASCAR is a good move for Danica Patrick in the future, but not right now.
She needs to get her IRL stuff in order and settle in with her team first.
You talk about Montoya probably having a tough time switching to NASCAR, the pressure on her would be incredible. She would have it tough because the cars are so much different and it takes a person with a lot of energy and strength to drive a 3,500-pound car for a 500-mile race.
Her physique alone would create a huge challenge.
If she really wants to go into NASCAR, I'm all for it. It won't be a cakewalk, it will be one of the hardest things she has ever done in her life.
But if she does want to do it, I think we'll all pull for it and want her to be successful, but I'll be one of the first guys telling her, "Hey, don't expect success right off the bat, because these drivers out here are really good."
Former Cup champion Rusty Wallace will provide coverage for ESPN and ABC during this year's IndyCar Series and selected Nextel Cup races. You can check out all things Rusty at his constantly updated and upgraded Web site at rustywallace.com.
NASCAR
Former Cup champion Rusty Wallace will provide coverage for ESPN and ABC during this year's IndyCar Series and selected Nextel Cup races. You can check out all things Rusty at his constantly updated and upgraded Web site at rustywallace.com.
SPONSORED HEADLINES
ESPN TOP HEADLINES
MOST SENT STORIES ON ESPN.COM