Commentary
Open-wheel invasion in full swing for 2008
The open-wheel invasion of NASCAR is in full swing. But despite some impressive résumés, Dario Franchitti, Sam Hornish Jr., Jacques Villeneuve and Patrick Carpentier have plenty to prove, writes Terry Blount.
Updated:
February 6, 2008, 2:59 PM ET
By
Terry Blount
| ESPN.com
Since NASCAR's early days, stars of open-wheel racing have occasionally stopped by to visit.Things have changed. Now they're coming to stay.
[+] Enlarge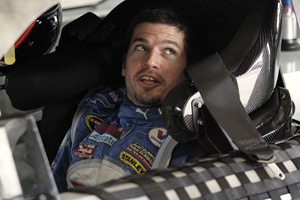 AP Photo/John RaouxPatrcik Carpentier has a full-time ride with Gillett-Evernham Motorsports, but not a guaranteed spot in the top 35, meaning he has to qualify for the first five races on speed.
The 2008 Daytona 500 will have at least three Indy 500 winners on the starting grid --
Juan Pablo Montoya
,
Sam Hornish Jr
. and
Dario Franchitti
.
Jacques Villeneuve
will make it a historic foursome if he qualifies.Having Indy 500 winners at Daytona is nothing new. Even 45 years ago, four men who would win Indy competed in the Daytona 500 --
A.J. Foyt
,
Johnny Rutherford
,
Troy Ruttman
and
Parnelli Jones
. But two of them -- Jones and Rutherford -- hadn't accomplished the feat at the time.The 1981 race was the last time two men with Indy 500 wins on their résumés -- Rutherford and Foyt -- competed in the Daytona 500.In the past, the big names of Indy were just passing through, racing in NASCAR's biggest show as a little sidelight before heading back to the open cockpit.And for the most part, they were Americans who sounded the same (well, sort of) and didn't have hard-to-pronounce names. They just happened to spend most of their racing careers in a different discipline.They could make more money and gain more fame by concentrating on Indy cars. Frankly, the idea of racing full time in NASCAR was laughable.Who's laughing now? Indy-car racing did everything possible to destroy itself over the past decade with two competing leagues and constant feuding. The open-wheelers are here now because it's the place to be. The men who won the past two Indy 500s -- Hornish and Franchitti -- will race full time in Sprint Cup. Neither will race in the 2008 Indy 500.Montoya coming to Sprint Cup last year was just the beginning. Montoya is a Formula One winner, but Villeneuve is a Formula One champion (1997). Villeneuve and
Patrick Carpentier
are Canadians who plan to race full time in Cup this season. Cup will have four foreign-born drivers competing for the first time. Montoya is Colombian and Franchitti is a Scotsman.They are bringing attention to the sport from people and places that never cared in the past. But there's also an element of NASCAR's old guard that doesn't like it.No one is screaming, "Go back where you came from." At least not publicly. But some NASCAR traditionalists feel the open-wheelers are taking rides away from young short-trackers trying to move up.NASCAR officials have embraced a "return-to-its-roots" theme for the 2008 season to try to regain the trust of the old-school fans. Obviously, the open-wheel invasion doesn't help sell that concept. Most of the veteran drivers don't care. The open-wheelers are just other guys they have to beat.
[+] Enlarge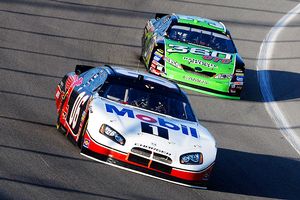 Mark J. Rebilas/US PresswireSam Hornish Jr., front, has three IndyCar Series titles, an Indy 500 victory and teammate Kurt Busch's points entering 2008.
"To me, it makes no difference," said
Ryan Newman
, Hornish's teammate at Penske Racing. "I was an open-wheel driver [sprint cars] when I came in. I just wasn't an IndyCar driver."The bottom line is they're drivers, they're competitors. I don't care whether they're male or female, open-wheel drivers or late-model drivers from the local short track. They will learn if they deserve to be here. In the car owners' and sponsors' eyes, they feel that they are."Clearly, these are accomplished race car drivers with unquestioned talent. But learning this style of racing and becoming successful at the Cup level is no easy task. The days of showing up every now and then and winning the Daytona 500, as Foyt and
Mario Andretti
did decades ago, are long gone.This is an uphill climb on an icy slope. It's unlikely any of them will enjoy the type of success Montoya had last year when he finished 20th in the standings. Montoya won the road race at Sonoma and had six top-10s. For now, Montoya is in a league of his own among the open-wheel newbies."I'm so proud of what Juan did last year," said team owner Chip Ganassi. "What makes me even more excited is that I know he has only scratched the surface of what he is going to do in a stock car. He is a talent like few others."Talent isn't always enough. Carpentier and Villeneuve don't have guaranteed spots in the field, racing in cars that never have come close to winning.Hornish, a three-time IndyCar Series champion, does have a guaranteed spot. He swapped points with teammate
Kurt Busch
. But Hornish is part of a new third car at Penske with a new crew, an almost certain recipe for struggle.Franchitti is going to an organization (Ganassi Racing) that hasn't won an oval-track race in five seasons.


I know it's going to be hard. But every year since I started racing, I've always asked myself one question at the end of the season: 'Do I still want to do this?' Being in NASCAR is what I really want to do.

-- Dario Franchitti
It makes you wonder why any of them want to do it."It was a tough decision to make," Hornish said. "But I got to a point in my career where I decided this was the next challenge. "I felt that I was at the right age [28] where I could do it, where I didn't feel like I'm too old or too young. I accomplished more than I ever thought I would in an Indy car, but I wanted to know I could do this, too."All of them say they welcome the challenge. No doubt that's true, but there are reasons none of them talk about. Money tops the list. NASCAR is their best option for cashing in while they can. Villeneuve and Carpentier are 36. Franchitti is 34. Time is running out. Another reason is safety. NASCAR has become a much safer form of racing compared to open-wheel cars. Franchitti was lucky to escape unhurt from two terrifying airborne crashes last year en route to the IndyCar Series championship.Whatever the reasons, all of them are risking their reputations to show they have the skills to make this work. "I know it's going to be hard," Franchitti said. "But every year since I started racing, I've always asked myself one question at the end of the season: 'Do I still want to do this?' Being in NASCAR is what I really want to do."
Terry Blount covers motorsports for ESPN.com. He can be reached at terry@blountspeak.com.
ESPN Seattle Seahawks reporter
Covered the NFL at the Houston Post and Houston Chronicle, including eight Super Bowls
Received Citation for Writing Excellence from Hearst Newspapers
Also has covered NBA Finals, World Series, Finals Fours, Indy 500 and Daytona 500
DAYTONA 2008
More Sprint Cup Coverage
•
Monday Rundown: Big opening weekend
•
Newman: McCauley shares in emotional win
•
Ryan Newman takes on Mike & Mike

•
Jayski podcast: What a finish in Daytona

•
Blount: Newman, Penske and Dodge golden
•
Zoom Gallery: 50th running of the Daytona 500
•
Newton: Junior's storybook start has so-so ending
•
Ashenfelter: Hornish 'masterful' at Daytona
•
Newman delivers Daytona 500 win for Penske
•
Notebook: No Wood Brothers entry in 500
•
Blount: Ganassi hoping merger rumors true
•
Newton: Salley says he wants to own Cup team
•
McGee: Little double-dipping at Daytona
•
Blount: Bowyer's 07 takes beating
•
Blount: All aboard the Earnhardt Express
•
The Eliminator: Take Gordon, please
•
Inside The Hauler: Controversy doesn't stir JJ
•
ESPN.com's Top 25 Drivers vote
|
Rank 'em
•
Kyle Busch worried about tires in Daytona 500
•
Jayski podcast: Looking ahead to Sunday

•
Insider: Dr. Jerry Punch on Mike Tirico Show


•
Duels:
Newton
|
Blount
|
Recap
|
500 grid
•
Jayski podcast: The Duels and The King

•
Newton: Hendrick leader of Chevrolet pack
•
Blount: Feel-good afternoon at Daytona
•
Newton: Junior off to blazing start
•
Vickers, Wallace hitch onto Daytona 500 field
•
Cowlishaw's Power Rankings: JJ No. 1
•
Newton: Ford teams unite
•
Blount: Gatorade Duels mystify
•
Jayski podcast: Kyle Busch and more

•
Newton: Who's leading Dodge?
•
Garrow: Daytona 500 preview
•
Door-To-Door: Jarrett's Daytona dream
•
Notebook: Jarrett says no to Reutimann's ride
•
Newton: Probation right call for Stewart, Busch
•
Jayski podcast: Stewart ain't talking about it

•
Blount: Fairy-tale ending at Daytona?
•
Blount's Blitz: Let the Junior comparisons begin
•
Jayski.com's Mark Garrow wraps up Week 1

•
Newton: Beware of Toyotas
•
McGee: 500 turns 50
...
Zoom Gallery
•
Blount: 2008 a matter of redemption
•
Newton: 2007 in rearview mirror
•
Jayski: How do you make the Daytona 500?
•
JJ on 500 pole
|
Speeds
|
Grids:
Duel 1
|
Duel 2
•
Blount: Waltrip goes from disgraced to embraced
•
Newton: Junior Nation alive and well
•
Smith: Eury dedicates Shootout win
•
Newton: Get your No. 3 commemorative die-cast
•
Blount: Junior wins quickly
|
Shootout recap
•
Newton: Interchangeable cars? Not quite
•
Sources: Stewart punched Kurt Busch
•
Ashenfelter: Hamlin's '07 a learning experience
•
Inside The Hauler: Martin not looking back
•
Blount: Big weekend with Shootout, Pole Day
•
Newton: Reality check for McMurray
•
McGee: 'Shifting Gears' with Junior
•
Ashenfelter: Truex now the man at DEI
•
Marty Smith's Door-To-Door: Valentines for Liam
•
Blount: Who are these open-wheel guys?
•
Blount: Daytona 500 victory or Cup title?
•
Blount's Blitz: Boys will be boys
•
Ashenfelter: Bowyer drawing lofty comparisons
•
McGee: 50 things you need to know
Nationwide Series
•
Stewart smokes 'em from pole
...

•
2008 season preview

•
Ashenfelter: Opener no lock for Harvick
•
Dale Jr.'s Nationwide ride impounded for spoiler
•
Ashenfelter: Coleman ready for full-time gig
•
Mark Garrow previews the series

•
Ashenfelter: Times change, but maybe not at top
Craftsman Truck Series
•
Notebook: Unfinished business for Skinner
•
Schwarb preview: It's the Ron & Jack Show
Blogs
•
Breeze: The scissors were ready for Smoke
•
Newton: Judd settles for jeans on race day
•
Newton: NASCAR tells Judd to dress down
•
Blount: Moonshiner Johnson's come full circle
•
Newton: Ashley who? Say hello to Ingrid
•
Newton: NASCAR must rule on Judd's dress
•
Blount: Junior still sells big
•
Smith: Smoke vs. Busch? All good
•
Blount: Say what? Media Day talkers
Fantasy
•
The Good, The Bad, The Ugly: Daytona 500
•
Harris: Spin The Black Circle
•
Daytona 500 fantasy rankings
•
Fantasy Focus Weekly

•
Chat wrap: Garrow on Fantasy NASCAR

•
ESPN.com experts' Mock Draft
•
Engel: Stock car strategy guide
•
ESPN Fantasy Stock Car 2008
•
ESPN Stock Car Challenge
•
2008 ESPN Fantasy Draft Kit
SportsNation
•
Chat wrap: Jayski

•
Chat wrap: Analyst Brad Daugherty

•
Chat wrap: ESPN.com writer Tim Cowlishaw

•
Chat wrap: Sprint Cup driver Sam Hornish Jr.

•
Chat wrap: David Newton and Terry Blount

•
Chat wrap: ESPN.com writer Terry Blount

•
Chat wrap: ESPN analyst Rusty Wallace

•
Chat wrap: Jayski.com's Mark Garrow

•
Chat wrap: ESPN.com writer David Newton

•
Chat wrap: Driver Ryan Newman

•
Chat wrap: Driver Jamie McMurray

•
Chat wrap: ESPN.com writer Terry Blount

•
Chat wrap: Jayski.com's Jayski

•
Chat wrap: NASCAR Now's Nicole Manske

Classic 500s
•
McGee: Blizzards, the King and a fight
•
McGee: Cope with a surprising victory
•
McGee: Finally, one for the 3
•
McGee: The Kid against the world
•
McGee: It was Harvick by a nose
MOST SENT STORIES ON ESPN.COM