Commentary
Junior, Waltrip, Toyota, COT off to sizzling start in 2008
They were maligned much of 2007, but Dale Earnhardt Jr., Michael Waltrip, Toyota and the Car of Tomorrow have quieted their critics early on in 2008, writes Terry Blount.
Updated:
February 11, 2008, 3:53 PM ET
By
Terry Blount
| ESPN.com
DAYTONA BEACH, Fla. -- One word describes the opening weekend of the 2008 season: redemption.
Dale Earnhardt Jr.
won his first race for Hendrick Motorsports, showing in the Bud Shootout that he hasn't forgotten how to wheel a race car at Daytona.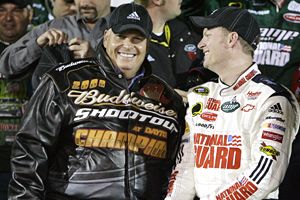 AP Photo/John RaouxDale Earnhardt Jr., right, made his debut in a Rick Hendrick car a good one, winning the Bud Shootout Saturday night at Daytona.
Michael Waltrip
showed he can play by the rules and end up on the front row for the Daytona 500. The car, formerly know as the Car of Tomorrow, looked darn racy in its Daytona debut. And Toyota showed it has the horses under the hood to compete in its sophomore season after a miserable first year in Cup.Earnhardt, Waltrip, Toyota and the COT all were criticized last season for various reasons. But 2008 started with a bang, showing things could change in a big way this season.Earnhardt suffered through a miserable year in 2007, agonizing over what to do with the rest of his career. He wanted controlling interesting in Dale Earnhardt Inc., which brought to the surface the biggest family feud since Cain and Abel.Earnhardt announced he was leaving DEI at midseason after owner and stepmother Teresa Earnhardt held her ground. Then Earnhardt listened to salivating suitors before picking the best of the best, Hendrick Motorsports, as his new home.Meanwhile, his lame-duck season at DEI was going down the tubes. He failed to make the Chase, suffering numerous engine failures in races where he was running up front.Earnhardt didn't win a race last year. The end wasn't pretty.So the big question about him remained. Was it the car or the driver? Could Earnhardt win consistently in better equipment?He aced the first test with his victory in the Bud Shootout, but all that earned him was a little momentum before things start counting."It's such a joy to have this opportunity," Earnhardt said. "Everyone on this team [the No. 88 Chevy] has dedicated themselves to this effort. I think it going to be worth it." The same is true for Waltrip, Earnhardt's former DEI teammate. Waltrip suffered though the worst year of his career in 2007 as a new team owner/driver.It started with a scandal at Daytona when an illegal substance was found in his car's fuel line. Things never got much better.Now he has a revamped organization at Michael Waltrip Racing and new business partner in Robert Kauffman. Waltrip, who finished 11th in the Shootout, begins 2008 with realistic hopes of a third Daytona 500 victory.It's not out of the question because Toyota has shown dramatic improvement on the speed charts.Toyota drivers posted three of the top five laps in qualifying Sunday. MWR driver
David Reutimann
was fourth and
Dave Blaney
was fifth among the 54 drivers vying for spots in the Daytona 500.
[+] Enlarge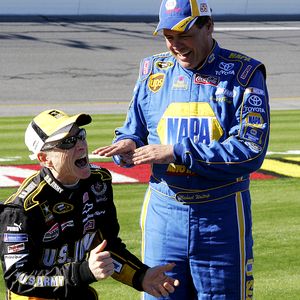 AP Photo/David GrahamA year after the fuel additive scandal at Daytona, Michael Waltrip, right, is laughing again.
Tony Stewart
, in his first race for Toyota, was second to Earnhardt in the Bud Shootout. The addition of Stewart and Joe Gibbs Racing is a big boost to the Toyota camp, but the other Toyota teams also are showing major gains."We all have a different mentality at the track and back at the shop," Reutimann said. "Last year we had our struggles, but we're putting all of that behind us. Thankfully, Toyota hasn't given up on us. I'm a firm believer in Toyota and I feel like we will be in the position to win this year."Toyota, with the help of JGR engineers and engine builders, has found significant horsepower gains. But it also experienced a few engine problems at Daytona over the weekend.Engines are under more strain with the COT at Daytona, resulting in increased RPMs and horsepower. Couple that with Toyota's improvement and the power surge has caused a few motors to break down.If Toyota officials can keep the motors running, a Camry could make it to Victory Lane for the first time next weekend.If the Bud Shootout was a preview of things to come, the Daytona 500 should be a whale of a show in the new car.The boxier design of the COT, the only car in Cup now, makes the cars less stable on the track. But that's often a good thing for passing.Drivers raced side-by-side up front for most of the Shootout. Passing the leader was easier, down low or up high, if you had the right setup and some help behind you in the draft.That wasn't true in the first restrictor race for the COT at Talladega in the fall, but Daytona is a much different challenge. How the car handles in the turns is a big issue, but it also creates more opportunities for passing. Along with better racing, the 500 could bring more danger. These cars are extremely jumpy on the many dips in the Daytona turns."The car is really a handful," Earnhardt said. "But the racing can be pretty spectacular."For Earnhardt, Waltrip, Toyota and the COT, things are off to a pretty spectacular start, in a redeeming sort of way.
Terry Blount covers motorsports for ESPN.com. He can be reached at terry@blountspeak.com.
ESPN Seattle Seahawks reporter
Covered the NFL at the Houston Post and Houston Chronicle, including eight Super Bowls
Received Citation for Writing Excellence from Hearst Newspapers
Also has covered NBA Finals, World Series, Finals Fours, Indy 500 and Daytona 500
DAYTONA 2008
More Sprint Cup Coverage
•
Monday Rundown: Big opening weekend
•
Newman: McCauley shares in emotional win
•
Ryan Newman takes on Mike & Mike

•
Jayski podcast: What a finish in Daytona

•
Blount: Newman, Penske and Dodge golden
•
Zoom Gallery: 50th running of the Daytona 500
•
Newton: Junior's storybook start has so-so ending
•
Ashenfelter: Hornish 'masterful' at Daytona
•
Newman delivers Daytona 500 win for Penske
•
Notebook: No Wood Brothers entry in 500
•
Blount: Ganassi hoping merger rumors true
•
Newton: Salley says he wants to own Cup team
•
McGee: Little double-dipping at Daytona
•
Blount: Bowyer's 07 takes beating
•
Blount: All aboard the Earnhardt Express
•
The Eliminator: Take Gordon, please
•
Inside The Hauler: Controversy doesn't stir JJ
•
ESPN.com's Top 25 Drivers vote
|
Rank 'em
•
Kyle Busch worried about tires in Daytona 500
•
Jayski podcast: Looking ahead to Sunday

•
Insider: Dr. Jerry Punch on Mike Tirico Show


•
Duels:
Newton
|
Blount
|
Recap
|
500 grid
•
Jayski podcast: The Duels and The King

•
Newton: Hendrick leader of Chevrolet pack
•
Blount: Feel-good afternoon at Daytona
•
Newton: Junior off to blazing start
•
Vickers, Wallace hitch onto Daytona 500 field
•
Cowlishaw's Power Rankings: JJ No. 1
•
Newton: Ford teams unite
•
Blount: Gatorade Duels mystify
•
Jayski podcast: Kyle Busch and more

•
Newton: Who's leading Dodge?
•
Garrow: Daytona 500 preview
•
Door-To-Door: Jarrett's Daytona dream
•
Notebook: Jarrett says no to Reutimann's ride
•
Newton: Probation right call for Stewart, Busch
•
Jayski podcast: Stewart ain't talking about it

•
Blount: Fairy-tale ending at Daytona?
•
Blount's Blitz: Let the Junior comparisons begin
•
Jayski.com's Mark Garrow wraps up Week 1

•
Newton: Beware of Toyotas
•
McGee: 500 turns 50
...
Zoom Gallery
•
Blount: 2008 a matter of redemption
•
Newton: 2007 in rearview mirror
•
Jayski: How do you make the Daytona 500?
•
JJ on 500 pole
|
Speeds
|
Grids:
Duel 1
|
Duel 2
•
Blount: Waltrip goes from disgraced to embraced
•
Newton: Junior Nation alive and well
•
Smith: Eury dedicates Shootout win
•
Newton: Get your No. 3 commemorative die-cast
•
Blount: Junior wins quickly
|
Shootout recap
•
Newton: Interchangeable cars? Not quite
•
Sources: Stewart punched Kurt Busch
•
Ashenfelter: Hamlin's '07 a learning experience
•
Inside The Hauler: Martin not looking back
•
Blount: Big weekend with Shootout, Pole Day
•
Newton: Reality check for McMurray
•
McGee: 'Shifting Gears' with Junior
•
Ashenfelter: Truex now the man at DEI
•
Marty Smith's Door-To-Door: Valentines for Liam
•
Blount: Who are these open-wheel guys?
•
Blount: Daytona 500 victory or Cup title?
•
Blount's Blitz: Boys will be boys
•
Ashenfelter: Bowyer drawing lofty comparisons
•
McGee: 50 things you need to know
Nationwide Series
•
Stewart smokes 'em from pole
...

•
2008 season preview

•
Ashenfelter: Opener no lock for Harvick
•
Dale Jr.'s Nationwide ride impounded for spoiler
•
Ashenfelter: Coleman ready for full-time gig
•
Mark Garrow previews the series

•
Ashenfelter: Times change, but maybe not at top
Craftsman Truck Series
•
Notebook: Unfinished business for Skinner
•
Schwarb preview: It's the Ron & Jack Show
Blogs
•
Breeze: The scissors were ready for Smoke
•
Newton: Judd settles for jeans on race day
•
Newton: NASCAR tells Judd to dress down
•
Blount: Moonshiner Johnson's come full circle
•
Newton: Ashley who? Say hello to Ingrid
•
Newton: NASCAR must rule on Judd's dress
•
Blount: Junior still sells big
•
Smith: Smoke vs. Busch? All good
•
Blount: Say what? Media Day talkers
Fantasy
•
The Good, The Bad, The Ugly: Daytona 500
•
Harris: Spin The Black Circle
•
Daytona 500 fantasy rankings
•
Fantasy Focus Weekly

•
Chat wrap: Garrow on Fantasy NASCAR

•
ESPN.com experts' Mock Draft
•
Engel: Stock car strategy guide
•
ESPN Fantasy Stock Car 2008
•
ESPN Stock Car Challenge
•
2008 ESPN Fantasy Draft Kit
SportsNation
•
Chat wrap: Jayski

•
Chat wrap: Analyst Brad Daugherty

•
Chat wrap: ESPN.com writer Tim Cowlishaw

•
Chat wrap: Sprint Cup driver Sam Hornish Jr.

•
Chat wrap: David Newton and Terry Blount

•
Chat wrap: ESPN.com writer Terry Blount

•
Chat wrap: ESPN analyst Rusty Wallace

•
Chat wrap: Jayski.com's Mark Garrow

•
Chat wrap: ESPN.com writer David Newton

•
Chat wrap: Driver Ryan Newman

•
Chat wrap: Driver Jamie McMurray

•
Chat wrap: ESPN.com writer Terry Blount

•
Chat wrap: Jayski.com's Jayski

•
Chat wrap: NASCAR Now's Nicole Manske

Classic 500s
•
McGee: Blizzards, the King and a fight
•
McGee: Cope with a surprising victory
•
McGee: Finally, one for the 3
•
McGee: The Kid against the world
•
McGee: It was Harvick by a nose
MOST SENT STORIES ON ESPN.COM