Commentary
Plenty of sentimental favorites in 50th running of Daytona 500
Who's your sentimental favorite to win the 50th running of the Daytona 500? Five drivers made Terry Blount's short list: Dale Earnhardt Jr., Mark Martin, Dale Jarrett, Bobby Labonte and Kyle Petty.
Updated:
February 12, 2008, 11:09 AM ET
By
Terry Blount
| ESPN.com
DAYTONA BEACH, Fla. -- Everybody loves a fairy-tale ending. Give us that syrupy sweet finish that brings a tear to your eye, a smile to your face or such a good feeling in your heart that you want to jump for joy.
[+] Enlarge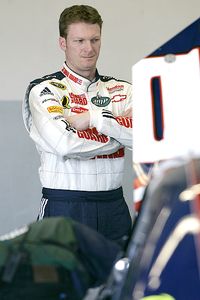 AP Photo/John RaouxDale Earnhardt Jr. is the hands-down sentimental favorite to win the 2008 Daytona 500.
Ahhhh. I'm getting all warm and fuzzy just thinking about it.New York Giants fans know all about that these days.Warm and fuzzy isn't the typical way most people see NASCAR, but it has it moments. One of those moments could come in the 50th Daytona 500.Five names meet the test on the list of sentimental favorites --
Dale Earnhardt Jr.
,
Mark Martin
,
Dale Jarrett
,
Bobby Labonte
and
Kyle Petty
.We don't mean favored to win it, although an Earnhardt or Martin victory wouldn't surprise us. We mean favored status. A victory by one of these five drivers would bring almost universal praise.One stands above the others. Do you really have to guess which one?If Junior wins the Daytona 500 in his first points race at Hendrick Motorsports, NASCAR should declare him the sovereign leader and knight him in Victory Lane."It's going to be quite a spectacle with it being the 50th," Earnhardt said. "I'm sure we want to win it as bad as anybody right now. It'll be a pretty big deal whoever wins it. But it would be great for our team to start off like that."The I-told-you-so comments from Earnhardt's legion of fans would include listing him as the instant favorite to win the title. In the eyes of many, it would prove Earnhardt only needed top equipment to reach championship status.Would it? Earnhardt won the Daytona 500 while racing for Dale Earnhardt Inc. The restrictor-plate races always have been DEI's strength, and Junior has shown he has the family gene for drafting to the front on the two-plate tracks.However you look at it, an Earnhardt victory is the biggest and most dramatic way NASCAR could imagine to start the 2008 Cup season.Second on the list is Martin. For pure sentimentality, he's the clear pick. Martin has competed in 23 Daytona 500s without winning, but he came within inches of a victory last year.
Kevin Harvick
edged ahead of Martin at the line as a dozen cars were wrecking behind them in one of the wildest final laps in Daytona history. Martin is one of the most respected and well-liked drivers to ever sit in a stock car. But two things have eluded him -- a Cup title and a Daytona 500 win.Martin switched to a partial schedule last year, so a championship isn't doable now. But winning the Daytona 500 is a realistic possibility in his first Daytona race for DEI.Some of the people who worked on the No. 8 car when Earnhardt won the 500 are still there, which gives Martin confidence about his chances. "On paper, I have a better shot at it than I had a year ago," Martin said. "But let me tell you something. I drove the race of my life last year. My team [at Ginn Racing] gave the effort of their lifetime. That doesn't happen every day. "But the 8 car has done it and DEI has a great history here. Those things all point in the right direction, but I also believe in the odds. After last year, the odds are against you'll come that close again one year later."
[+] Enlarge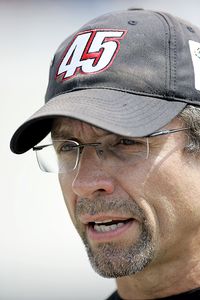 AP Photo/Carolyn KasterKyle Petty is a long shot to find Victory Lane -- he hasn't won a race in a dozen years.
At age 49, Martin understands how much it would mean to many fans for him to finally win NASCAR's biggest show. "It's a real special time in my career with the way people have supported me and rallied behind me," Martin said. "It's meant more to me than any trophy. I know how much of a fairy tale it would be to win this."This may or may not be Martin's last Daytona 500, but Jarrett says this is it for him. He's competing in the first five races this season before embarking on a full-time career as a broadcaster.Jarrett's situation is much different from Martin's. Jarrett has a chance to become only the third man to win four Daytona 500s (
Richard Petty
won seven and
Cale Yarborough
won four) and the first to do so in 24 years."That would be perfect," Jarrett said. "Those are storybook endings, and we know those don't happen a lot. I've been very fortunate. I've exceeded all the dreams I had for my career."It's time to move on. I've come to grips with it, but February 17th may be a difficult day. To finish well in my last 500 would make it much more enjoyable."Petty also is near the end of his career. This will be his 30th year in Cup, but Petty hasn't experienced the success that Jarrett and Martin have enjoyed. Petty hasn't won a race in 12 years. A victory for Kyle in the Daytona 500 would go down as one of the biggest surprises in sports history, not just NASCAR history. Having Petty Enterprise back in Victory Lane at Daytona isn't out of the question. Labonte thinks this is the best chance he's had in his three seasons as the driver of the famous No. 43 Dodge."We can see so many things moving forward now," Labonte said. "You actually notice the progress we're making."Winning the 500 is the big thing the Labonte family hasn't done in NASCAR. Big brother Terry won two Cup titles and Bobby has one, but neither man has won at Daytona."That's one of the things I still want to accomplish," Labonte said. "It's our Super Bowl, so everybody wants to win it at least once."If one of these five guys takes the checkered flag, the 50th Daytona 500 gets the fairy-tale ending everyone loves to see.
Terry Blount covers motorsports for ESPN.com. He can be reached at terry@blountspeak.com.
ESPN Seattle Seahawks reporter
Covered the NFL at the Houston Post and Houston Chronicle, including eight Super Bowls
Received Citation for Writing Excellence from Hearst Newspapers
Also has covered NBA Finals, World Series, Finals Fours, Indy 500 and Daytona 500
DAYTONA 2008
More Sprint Cup Coverage
•
Monday Rundown: Big opening weekend
•
Newman: McCauley shares in emotional win
•
Ryan Newman takes on Mike & Mike

•
Jayski podcast: What a finish in Daytona

•
Blount: Newman, Penske and Dodge golden
•
Zoom Gallery: 50th running of the Daytona 500
•
Newton: Junior's storybook start has so-so ending
•
Ashenfelter: Hornish 'masterful' at Daytona
•
Newman delivers Daytona 500 win for Penske
•
Notebook: No Wood Brothers entry in 500
•
Blount: Ganassi hoping merger rumors true
•
Newton: Salley says he wants to own Cup team
•
McGee: Little double-dipping at Daytona
•
Blount: Bowyer's 07 takes beating
•
Blount: All aboard the Earnhardt Express
•
The Eliminator: Take Gordon, please
•
Inside The Hauler: Controversy doesn't stir JJ
•
ESPN.com's Top 25 Drivers vote
|
Rank 'em
•
Kyle Busch worried about tires in Daytona 500
•
Jayski podcast: Looking ahead to Sunday

•
Insider: Dr. Jerry Punch on Mike Tirico Show


•
Duels:
Newton
|
Blount
|
Recap
|
500 grid
•
Jayski podcast: The Duels and The King

•
Newton: Hendrick leader of Chevrolet pack
•
Blount: Feel-good afternoon at Daytona
•
Newton: Junior off to blazing start
•
Vickers, Wallace hitch onto Daytona 500 field
•
Cowlishaw's Power Rankings: JJ No. 1
•
Newton: Ford teams unite
•
Blount: Gatorade Duels mystify
•
Jayski podcast: Kyle Busch and more

•
Newton: Who's leading Dodge?
•
Garrow: Daytona 500 preview
•
Door-To-Door: Jarrett's Daytona dream
•
Notebook: Jarrett says no to Reutimann's ride
•
Newton: Probation right call for Stewart, Busch
•
Jayski podcast: Stewart ain't talking about it

•
Blount: Fairy-tale ending at Daytona?
•
Blount's Blitz: Let the Junior comparisons begin
•
Jayski.com's Mark Garrow wraps up Week 1

•
Newton: Beware of Toyotas
•
McGee: 500 turns 50
...
Zoom Gallery
•
Blount: 2008 a matter of redemption
•
Newton: 2007 in rearview mirror
•
Jayski: How do you make the Daytona 500?
•
JJ on 500 pole
|
Speeds
|
Grids:
Duel 1
|
Duel 2
•
Blount: Waltrip goes from disgraced to embraced
•
Newton: Junior Nation alive and well
•
Smith: Eury dedicates Shootout win
•
Newton: Get your No. 3 commemorative die-cast
•
Blount: Junior wins quickly
|
Shootout recap
•
Newton: Interchangeable cars? Not quite
•
Sources: Stewart punched Kurt Busch
•
Ashenfelter: Hamlin's '07 a learning experience
•
Inside The Hauler: Martin not looking back
•
Blount: Big weekend with Shootout, Pole Day
•
Newton: Reality check for McMurray
•
McGee: 'Shifting Gears' with Junior
•
Ashenfelter: Truex now the man at DEI
•
Marty Smith's Door-To-Door: Valentines for Liam
•
Blount: Who are these open-wheel guys?
•
Blount: Daytona 500 victory or Cup title?
•
Blount's Blitz: Boys will be boys
•
Ashenfelter: Bowyer drawing lofty comparisons
•
McGee: 50 things you need to know
Nationwide Series
•
Stewart smokes 'em from pole
...

•
2008 season preview

•
Ashenfelter: Opener no lock for Harvick
•
Dale Jr.'s Nationwide ride impounded for spoiler
•
Ashenfelter: Coleman ready for full-time gig
•
Mark Garrow previews the series

•
Ashenfelter: Times change, but maybe not at top
Craftsman Truck Series
•
Notebook: Unfinished business for Skinner
•
Schwarb preview: It's the Ron & Jack Show
Blogs
•
Breeze: The scissors were ready for Smoke
•
Newton: Judd settles for jeans on race day
•
Newton: NASCAR tells Judd to dress down
•
Blount: Moonshiner Johnson's come full circle
•
Newton: Ashley who? Say hello to Ingrid
•
Newton: NASCAR must rule on Judd's dress
•
Blount: Junior still sells big
•
Smith: Smoke vs. Busch? All good
•
Blount: Say what? Media Day talkers
Fantasy
•
The Good, The Bad, The Ugly: Daytona 500
•
Harris: Spin The Black Circle
•
Daytona 500 fantasy rankings
•
Fantasy Focus Weekly

•
Chat wrap: Garrow on Fantasy NASCAR

•
ESPN.com experts' Mock Draft
•
Engel: Stock car strategy guide
•
ESPN Fantasy Stock Car 2008
•
ESPN Stock Car Challenge
•
2008 ESPN Fantasy Draft Kit
SportsNation
•
Chat wrap: Jayski

•
Chat wrap: Analyst Brad Daugherty

•
Chat wrap: ESPN.com writer Tim Cowlishaw

•
Chat wrap: Sprint Cup driver Sam Hornish Jr.

•
Chat wrap: David Newton and Terry Blount

•
Chat wrap: ESPN.com writer Terry Blount

•
Chat wrap: ESPN analyst Rusty Wallace

•
Chat wrap: Jayski.com's Mark Garrow

•
Chat wrap: ESPN.com writer David Newton

•
Chat wrap: Driver Ryan Newman

•
Chat wrap: Driver Jamie McMurray

•
Chat wrap: ESPN.com writer Terry Blount

•
Chat wrap: Jayski.com's Jayski

•
Chat wrap: NASCAR Now's Nicole Manske

Classic 500s
•
McGee: Blizzards, the King and a fight
•
McGee: Cope with a surprising victory
•
McGee: Finally, one for the 3
•
McGee: The Kid against the world
•
McGee: It was Harvick by a nose
MOST SENT STORIES ON ESPN.COM