Commentary
Earnhardt, Hamlin, Jarrett, Toyota big winners in Daytona Duels
What did we learn from Thursday's Daytona 500 qualifying races? Junior is red-hot. Bill Elliott is not. Toyota is for real. And Dale Jarrett will get a shot at No. 4, writes Terry Blount.
Updated:
February 15, 2008, 9:33 AM ET
By
Terry Blount
| ESPN.com
DAYTONA BEACH, Fla. --
Brian Vickers
jumped out of a plane at 13,000 feet on Wednesday for the first time in his life.Piece of cake. Well, compared to racing his way into the Daytona 500, as Vickers did Thursday.
[+] Enlarge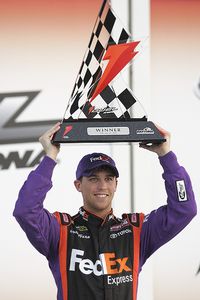 AP Photo/Terry RennaDenny Hamlin put Toyota in Victory Lane for the first time in the Sprint Cup Series.
It was a feel-good afternoon in the Gatorade Duels, topped with
Dale Jarrett
racing his way into his final Daytona 500. The happy moments were widespread.
Dale Earnhardt Jr.
made it 2-for-2 with a victory in the first qualifying race.
Kenny Wallace
, getting another chance after losing his ride last year, sped his way into the field.
John Andretti
was the surprise of the day, making a last-lap charge in the second Duel to earn a spot in the 500. And for the first time in 54 years, a foreign manufacturer made it to Victory Lane in NASCAR's top series when
Denny Hamlin
won in his No. 11 Toyota.Forget all that talk about Joe Gibbs Racing needing a transition period in its switch to Toyota.
Tony Stewart
finished second to his JGR teammate in the second Duel, proving that the Camry drivers can hang with the big boys on Sunday.But Toyota's first win was overshadowed by its favorite son in Jarrett, the three-time Daytona 500 winner whom everyone wanted to see race at Daytona one last time.Jarrett was hoping
Kurt Busch
would race to the front in the first Duel. Busch had the first champion's provisional, which would have gone to Jarrett if Busch had earned a spot in the Duel.No such luck. Busch's No. 2 Dodge had a mechanical problem and limped to the garage on Lap 10.Jarrett would have to earn that final 500 start. He needed to finish in the top two among the nonqualified drivers in the second Duel.After a green-white-checkered overtime, Jarrett took ninth overall, but first among the go-or-go-homers. He made it in by beating the guys he had to beat. "It is very gratifying," Jarrett said. "I went out there knowing what I had to do. I feel very good about what we were able to accomplish. Now the hard part is over with. We can tune up this baby and see what we can do this weekend."
Heading Home

Ten drivers are heading home after failing to qualify for Sunday's Daytona 500, none of those with a name bigger than Bill Elliott. The two-time Daytona 500 winner failed to race his way in, meaning a Wood Brothers car failed to qualify for the 500 for the third time in 50 years, after also missing the 500 in 1960 and 1962.
No. 21 Bill Elliott, Ford
No. 84 A.J. Allmendinger, Toyota
No. 09 Sterling Marlin, Chevrolet
No. 08 Carl Long, Dodge
No. 50. Stanton Barrett, Chevrolet
No. 27 Jacques Villeneuve, Toyota
No. 10 Patrick Carpentier, Dodge
No. 49 Ken Schrader, Dodge
No. 37 Eric McClure, Chevrolet
No. 60 Boris Said, Ford
Jarrett, 51, is competing in the first five events in the No. 44 Toyota before following his father Ned's footsteps as a racing broadcaster Like his father, Jarrett is a class act. So is Andretti. His first words on TV after qualifying Thursday expressed how happy he was for Jarrett."Dale is such great champion," Andretti said. "I'm probably more excited, or at least equally excited, about him making it in as me."Andretti, 44, has raced in 12 Daytona 500s, but the last one was three years ago. He was a huge long shot to get in this time, but Andretti had a stunning final lap.He put the pedal to the floorboard heading into the tri-oval and passed five cars to earn the second transfer spot, finishing 10th in the No. 34 Chevy, one spot behind Jarrett.
"I was driving my guts out," Andretti said. "That last lap was everything. I was out of the [Daytona 500] until I came off Turn 4. I didn't expect to be here."Neither did Kenny Wallace, but his eighth-place showing in the first Duel made him the top finisher among the nonqualified racers."I'm very grateful and a little shocked," Wallace said. "This is a real moral victory for me." Wallace was driving a second car for the fledgling Furniture Row team that removed him as the driver last season."I guess they didn't really fire me because they kept paying me," Wallace said. "But they called me and said they made a mistake. They realized how bad their motors were last year."Team owner Barney Visser is leasing engines from Hendrick Motorsports this season."This gave me a chance to show my talent with a Hendrick motor," Wallace said. "You've just got to have equipment, man. I wanted to go out today and prove it, and holy crap, I proved it."Vickers proved something to his team by overcoming an early spin and a cut tire to earn the other transfer spot in the first Duel with an 11th-place showing in the No. 83 Toyota."Talk about adversity," Vickers said. "We had plenty of it today, but this Red Bull team overcame it. It's like I won the race. In fact, the last time I felt this good I did win a race."Vickers said he would gladly sky dive any day compared to what he went through Thursday."Honestly, my heart rate and stress level today were higher than any point prior to jumping out of that plane," Vickers said. "Jumping out and seeing the ground coming at you is definitely an eye-opener. But it doesn't hold a candle to trying to make the Daytona 500 in one of these races."
Terry Blount covers motorsports for ESPN.com. He can be reached at terry@blountspeak.com.
ESPN Seattle Seahawks reporter
Covered the NFL at the Houston Post and Houston Chronicle, including eight Super Bowls
Received Citation for Writing Excellence from Hearst Newspapers
Also has covered NBA Finals, World Series, Finals Fours, Indy 500 and Daytona 500
SPONSORED HEADLINES
ESPN TOP HEADLINES
MOST SENT STORIES ON ESPN.COM
DAYTONA 2008
More Sprint Cup Coverage
•
Monday Rundown: Big opening weekend
•
Newman: McCauley shares in emotional win
•
Ryan Newman takes on Mike & Mike

•
Jayski podcast: What a finish in Daytona

•
Blount: Newman, Penske and Dodge golden
•
Zoom Gallery: 50th running of the Daytona 500
•
Newton: Junior's storybook start has so-so ending
•
Ashenfelter: Hornish 'masterful' at Daytona
•
Newman delivers Daytona 500 win for Penske
•
Notebook: No Wood Brothers entry in 500
•
Blount: Ganassi hoping merger rumors true
•
Newton: Salley says he wants to own Cup team
•
McGee: Little double-dipping at Daytona
•
Blount: Bowyer's 07 takes beating
•
Blount: All aboard the Earnhardt Express
•
The Eliminator: Take Gordon, please
•
Inside The Hauler: Controversy doesn't stir JJ
•
ESPN.com's Top 25 Drivers vote
|
Rank 'em
•
Kyle Busch worried about tires in Daytona 500
•
Jayski podcast: Looking ahead to Sunday

•
Insider: Dr. Jerry Punch on Mike Tirico Show


•
Duels:
Newton
|
Blount
|
Recap
|
500 grid
•
Jayski podcast: The Duels and The King

•
Newton: Hendrick leader of Chevrolet pack
•
Blount: Feel-good afternoon at Daytona
•
Newton: Junior off to blazing start
•
Vickers, Wallace hitch onto Daytona 500 field
•
Cowlishaw's Power Rankings: JJ No. 1
•
Newton: Ford teams unite
•
Blount: Gatorade Duels mystify
•
Jayski podcast: Kyle Busch and more

•
Newton: Who's leading Dodge?
•
Garrow: Daytona 500 preview
•
Door-To-Door: Jarrett's Daytona dream
•
Notebook: Jarrett says no to Reutimann's ride
•
Newton: Probation right call for Stewart, Busch
•
Jayski podcast: Stewart ain't talking about it

•
Blount: Fairy-tale ending at Daytona?
•
Blount's Blitz: Let the Junior comparisons begin
•
Jayski.com's Mark Garrow wraps up Week 1

•
Newton: Beware of Toyotas
•
McGee: 500 turns 50
...
Zoom Gallery
•
Blount: 2008 a matter of redemption
•
Newton: 2007 in rearview mirror
•
Jayski: How do you make the Daytona 500?
•
JJ on 500 pole
|
Speeds
|
Grids:
Duel 1
|
Duel 2
•
Blount: Waltrip goes from disgraced to embraced
•
Newton: Junior Nation alive and well
•
Smith: Eury dedicates Shootout win
•
Newton: Get your No. 3 commemorative die-cast
•
Blount: Junior wins quickly
|
Shootout recap
•
Newton: Interchangeable cars? Not quite
•
Sources: Stewart punched Kurt Busch
•
Ashenfelter: Hamlin's '07 a learning experience
•
Inside The Hauler: Martin not looking back
•
Blount: Big weekend with Shootout, Pole Day
•
Newton: Reality check for McMurray
•
McGee: 'Shifting Gears' with Junior
•
Ashenfelter: Truex now the man at DEI
•
Marty Smith's Door-To-Door: Valentines for Liam
•
Blount: Who are these open-wheel guys?
•
Blount: Daytona 500 victory or Cup title?
•
Blount's Blitz: Boys will be boys
•
Ashenfelter: Bowyer drawing lofty comparisons
•
McGee: 50 things you need to know
Nationwide Series
•
Stewart smokes 'em from pole
...

•
2008 season preview

•
Ashenfelter: Opener no lock for Harvick
•
Dale Jr.'s Nationwide ride impounded for spoiler
•
Ashenfelter: Coleman ready for full-time gig
•
Mark Garrow previews the series

•
Ashenfelter: Times change, but maybe not at top
Craftsman Truck Series
•
Notebook: Unfinished business for Skinner
•
Schwarb preview: It's the Ron & Jack Show
Blogs
•
Breeze: The scissors were ready for Smoke
•
Newton: Judd settles for jeans on race day
•
Newton: NASCAR tells Judd to dress down
•
Blount: Moonshiner Johnson's come full circle
•
Newton: Ashley who? Say hello to Ingrid
•
Newton: NASCAR must rule on Judd's dress
•
Blount: Junior still sells big
•
Smith: Smoke vs. Busch? All good
•
Blount: Say what? Media Day talkers
Fantasy
•
The Good, The Bad, The Ugly: Daytona 500
•
Harris: Spin The Black Circle
•
Daytona 500 fantasy rankings
•
Fantasy Focus Weekly

•
Chat wrap: Garrow on Fantasy NASCAR

•
ESPN.com experts' Mock Draft
•
Engel: Stock car strategy guide
•
ESPN Fantasy Stock Car 2008
•
ESPN Stock Car Challenge
•
2008 ESPN Fantasy Draft Kit
SportsNation
•
Chat wrap: Jayski

•
Chat wrap: Analyst Brad Daugherty

•
Chat wrap: ESPN.com writer Tim Cowlishaw

•
Chat wrap: Sprint Cup driver Sam Hornish Jr.

•
Chat wrap: David Newton and Terry Blount

•
Chat wrap: ESPN.com writer Terry Blount

•
Chat wrap: ESPN analyst Rusty Wallace

•
Chat wrap: Jayski.com's Mark Garrow

•
Chat wrap: ESPN.com writer David Newton

•
Chat wrap: Driver Ryan Newman

•
Chat wrap: Driver Jamie McMurray

•
Chat wrap: ESPN.com writer Terry Blount

•
Chat wrap: Jayski.com's Jayski

•
Chat wrap: NASCAR Now's Nicole Manske

Classic 500s
•
McGee: Blizzards, the King and a fight
•
McGee: Cope with a surprising victory
•
McGee: Finally, one for the 3
•
McGee: The Kid against the world
•
McGee: It was Harvick by a nose