Commentary
Junior one victory shy of Daytona's version of Triple Crown
Can Dale Earnhardt Jr. do what no driver has ever done in the history of Speedweeks? Can Junior win the 500 after taking the checkers in the Bud Shootout and Gatorade Duel? Terry Blount thinks so.
Updated:
February 17, 2008, 11:43 AM ET
By
Terry Blount
| ESPN.com
DAYTONA BEACH, Fla. -- Any prognosticators out there who aren't picking
Dale Earnhardt Jr
. to win the 50th running of the Daytona 500 haven't been paying attention.Yeah, go ahead. I know it's coming. Call me an Earnhardt homer. I can take it.I also have two eyes. And what I've seen over the past few days is complete domination by Earnhardt in his shiny new No. 88 Chevy for Hendrick Motorsports.
[+] Enlarge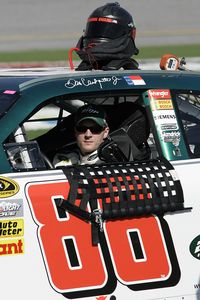 AP Photo/John RaouxDale Earnhardt Jr. has been driving with renewed confidence since landing in the No. 88 Hendrick Motorsports Chevrolet.
Sure he's the easy pick, but I'm also going out on a limb here. I'm going against history. No driver ever has swept Daytona with a Speedweeks version of the Triple Crown, winning the Bud Shootout, the Gatorade Duel and the 500.That's zero in 29 tries, not good odds for Earnhardt. But something special is happening here this week.Earnhardt is born again as a racer since freeing himself from his perceived shackles at Dale Earnhardt Inc. His confidence is soaring and the Junior tsunami is zooming over everything in its path.Earnhardt Jr. never will catch his daddy for the top spot in NASCAR history. Not even close. But the one area where Junior does come close to his old man is the highly specialized skill of restrictor-plate racing.The magic gene that helped Dale Sr. see the air in the draft at Daytona and Talladega was passed down to Dale Jr.He may be Clark Kent at some racetracks, but Earnhardt Jr. is Superman at the restrictor-plate superspeedways. Give him a competitive car and Junior will get to the front at Daytona and Talladega.No one in the sport today is better. Knowing how to race with a choked-down engine is an art form. It requires timing, daring, planning and figuring out which drivers can help push you forward.Some of this stuff can't be taught. It's instinct. You either have it or you don't, and Junior has it.But as Earnhardt Sr. knew all too well, talent and victory often fail to match up in the Daytona 500. So many things can go wrong.Engines blow, tires give out. Both are looming concerns on Sunday. Hendrick replaced all its engines because of a coating issue on the lifters. Toyota teams have endured the same problem.All the teams believe they have the motor woes under control, but 500 miles is a long race.Tire failures also have haunted many teams this week. The new car design places additional weight on the right side and increases the load on the tires in the high-banked turns.The teams are trying to figure out how much camber (tire tilt) is safe to use without gambling on a blowout."Everybody is pretty concerned about it," driver
Brian Vickers
said. "We can't even make it a full fuel run. It's a big factor."Tires are one of many X factors that explain why the best driver in the best car doesn't always win the 500. Even
Derrike Cope
and
Ward Burton
won this race.Barring a surprising upset, Earnhardt's biggest competition could come from his teammates:
Jimmie Johnson
and
Jeff Gordon
. Johnson won it in 2006 and Gordon won it for the third time in 2005.And don't count out the Joe Gibbs Racing trio.
Tony Stewart
,
Denny Hamlin
and
Kyle Busch
all are capable of bringing Toyota a historic victory on Sunday. But if you're asking who should win, clearly it's Earnhardt Jr. He has done some things on the track this week that conventional logic says can't be done.En route to his qualifying race victory Thursday, Earnhardt moved out of line to swing low in Turn 4. No one went with him. Why follow the guy you can't beat?A car by itself usually is slower than a train of cars in the draft, but Earnhardt pulled to the front all alone. If not for the roar of the pack of cars going by, you could have heard guys on pit road saying "Wow!"Part of the credit belongs to the new car. This is the first race at Daytona for the Car of Tomorrow, a moniker that no longer applies.The boxier design has made for some exciting racing during Speedweeks. There were 71 green-flag passes for the lead in the two Duel races Thursday, a whopping 43 more than a year ago.Earnhardt started near the back in his Duel because of an engine change. By Lap 18, he was in the lead, slicing his way through traffic like George Jetson in rush hour.
Who needs asphalt when you're the ruler of the air, an Earnhardt family trademark at this track. Earnhardt Jr. is the master of Daytona for the moment. All the hopes and dreams he had for his new team's debut are coming true. But he still has one big brushstroke left to make the masterpiece complete.
Terry Blount covers motorsports for ESPN.com. He can be reached at terry@blountspeak.com.
ESPN Seattle Seahawks reporter
Covered the NFL at the Houston Post and Houston Chronicle, including eight Super Bowls
Received Citation for Writing Excellence from Hearst Newspapers
Also has covered NBA Finals, World Series, Finals Fours, Indy 500 and Daytona 500
DAYTONA 2008
More Sprint Cup Coverage
•
Monday Rundown: Big opening weekend
•
Newman: McCauley shares in emotional win
•
Ryan Newman takes on Mike & Mike

•
Jayski podcast: What a finish in Daytona

•
Blount: Newman, Penske and Dodge golden
•
Zoom Gallery: 50th running of the Daytona 500
•
Newton: Junior's storybook start has so-so ending
•
Ashenfelter: Hornish 'masterful' at Daytona
•
Newman delivers Daytona 500 win for Penske
•
Notebook: No Wood Brothers entry in 500
•
Blount: Ganassi hoping merger rumors true
•
Newton: Salley says he wants to own Cup team
•
McGee: Little double-dipping at Daytona
•
Blount: Bowyer's 07 takes beating
•
Blount: All aboard the Earnhardt Express
•
The Eliminator: Take Gordon, please
•
Inside The Hauler: Controversy doesn't stir JJ
•
ESPN.com's Top 25 Drivers vote
|
Rank 'em
•
Kyle Busch worried about tires in Daytona 500
•
Jayski podcast: Looking ahead to Sunday

•
Insider: Dr. Jerry Punch on Mike Tirico Show


•
Duels:
Newton
|
Blount
|
Recap
|
500 grid
•
Jayski podcast: The Duels and The King

•
Newton: Hendrick leader of Chevrolet pack
•
Blount: Feel-good afternoon at Daytona
•
Newton: Junior off to blazing start
•
Vickers, Wallace hitch onto Daytona 500 field
•
Cowlishaw's Power Rankings: JJ No. 1
•
Newton: Ford teams unite
•
Blount: Gatorade Duels mystify
•
Jayski podcast: Kyle Busch and more

•
Newton: Who's leading Dodge?
•
Garrow: Daytona 500 preview
•
Door-To-Door: Jarrett's Daytona dream
•
Notebook: Jarrett says no to Reutimann's ride
•
Newton: Probation right call for Stewart, Busch
•
Jayski podcast: Stewart ain't talking about it

•
Blount: Fairy-tale ending at Daytona?
•
Blount's Blitz: Let the Junior comparisons begin
•
Jayski.com's Mark Garrow wraps up Week 1

•
Newton: Beware of Toyotas
•
McGee: 500 turns 50
...
Zoom Gallery
•
Blount: 2008 a matter of redemption
•
Newton: 2007 in rearview mirror
•
Jayski: How do you make the Daytona 500?
•
JJ on 500 pole
|
Speeds
|
Grids:
Duel 1
|
Duel 2
•
Blount: Waltrip goes from disgraced to embraced
•
Newton: Junior Nation alive and well
•
Smith: Eury dedicates Shootout win
•
Newton: Get your No. 3 commemorative die-cast
•
Blount: Junior wins quickly
|
Shootout recap
•
Newton: Interchangeable cars? Not quite
•
Sources: Stewart punched Kurt Busch
•
Ashenfelter: Hamlin's '07 a learning experience
•
Inside The Hauler: Martin not looking back
•
Blount: Big weekend with Shootout, Pole Day
•
Newton: Reality check for McMurray
•
McGee: 'Shifting Gears' with Junior
•
Ashenfelter: Truex now the man at DEI
•
Marty Smith's Door-To-Door: Valentines for Liam
•
Blount: Who are these open-wheel guys?
•
Blount: Daytona 500 victory or Cup title?
•
Blount's Blitz: Boys will be boys
•
Ashenfelter: Bowyer drawing lofty comparisons
•
McGee: 50 things you need to know
Nationwide Series
•
Stewart smokes 'em from pole
...

•
2008 season preview

•
Ashenfelter: Opener no lock for Harvick
•
Dale Jr.'s Nationwide ride impounded for spoiler
•
Ashenfelter: Coleman ready for full-time gig
•
Mark Garrow previews the series

•
Ashenfelter: Times change, but maybe not at top
Craftsman Truck Series
•
Notebook: Unfinished business for Skinner
•
Schwarb preview: It's the Ron & Jack Show
Blogs
•
Breeze: The scissors were ready for Smoke
•
Newton: Judd settles for jeans on race day
•
Newton: NASCAR tells Judd to dress down
•
Blount: Moonshiner Johnson's come full circle
•
Newton: Ashley who? Say hello to Ingrid
•
Newton: NASCAR must rule on Judd's dress
•
Blount: Junior still sells big
•
Smith: Smoke vs. Busch? All good
•
Blount: Say what? Media Day talkers
Fantasy
•
The Good, The Bad, The Ugly: Daytona 500
•
Harris: Spin The Black Circle
•
Daytona 500 fantasy rankings
•
Fantasy Focus Weekly

•
Chat wrap: Garrow on Fantasy NASCAR

•
ESPN.com experts' Mock Draft
•
Engel: Stock car strategy guide
•
ESPN Fantasy Stock Car 2008
•
ESPN Stock Car Challenge
•
2008 ESPN Fantasy Draft Kit
SportsNation
•
Chat wrap: Jayski

•
Chat wrap: Analyst Brad Daugherty

•
Chat wrap: ESPN.com writer Tim Cowlishaw

•
Chat wrap: Sprint Cup driver Sam Hornish Jr.

•
Chat wrap: David Newton and Terry Blount

•
Chat wrap: ESPN.com writer Terry Blount

•
Chat wrap: ESPN analyst Rusty Wallace

•
Chat wrap: Jayski.com's Mark Garrow

•
Chat wrap: ESPN.com writer David Newton

•
Chat wrap: Driver Ryan Newman

•
Chat wrap: Driver Jamie McMurray

•
Chat wrap: ESPN.com writer Terry Blount

•
Chat wrap: Jayski.com's Jayski

•
Chat wrap: NASCAR Now's Nicole Manske

Classic 500s
•
McGee: Blizzards, the King and a fight
•
McGee: Cope with a surprising victory
•
McGee: Finally, one for the 3
•
McGee: The Kid against the world
•
McGee: It was Harvick by a nose
MOST SENT STORIES ON ESPN.COM