Commentary
Earnhardt reveals plenty in telltale documentary 'Shifting Gears'
What's it like to walk in Dale Earnhardt Jr.'s shoes? From his decision to leave the company that his dad built to his decision to join Hendrick Motorsports, Junior's life is exposed like never before in the behind-the-scenes documentary "Shifting Gears."
Updated:
February 7, 2008, 12:44 PM ET
By
Ryan McGee
| ESPN The Magazine
Finally,
Dale Earnhardt Jr.
could smile again.On Wednesday, June 13, at 12:05 p.m. ET, he stood up from his seat on the stage at JR Motorsports and audibly exhaled. Moments earlier he had revealed to the world that he would be driving for Hendrick Motorsports in 2008. Just 34 days earlier he had stood on this same stage to announce his departure from Dale Earnhardt Inc. During that grueling month of free agency, fan outrage and media frenzy, smiling was a luxury that he hadn't been able to enjoy.
[+] Enlarge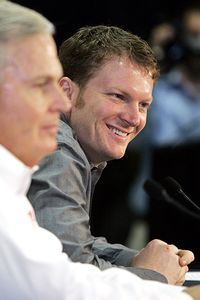 AP Photo/Chuck BurtonRick Hendrick on Junior: "I don't know if fans realize how smart he really is."
From the moment he'd stunned the sport with his decision to leave the team that bore his very name, the one his father had basically built for him, he'd also taken great pains to keep his emotions, thought processes, and job search away from prying eyes and inquisitive reporters. He politely turned down hundreds of television interview requests, asking for time to sort it all out.The only people allowed to join him behind closed doors were his family, his closest advisers and one lone television camera crew. Now, as he emerged from behind the curtain and backstage, that same crew that was waiting to capture that first smile emerged with him."Oohhhh … man, I'm so glad that's over," he said as he leaned forward to land in his mother's waiting arms."You did so good.""Thanks."A genuine, guard-down moment shared between Earnhardt, his mom, and a cameraman -- a cameraman commissioned by Earnhardt to be there. A moment captured and soon to be revealed as part of the documentary series "Shifting Gears," premiering Friday on ESPN2.A shotgun seat
The idea first hit Earnhardt as he began to contemplate bolting DEI. Why not have a camera tailing him throughout the entire experience? He figured that if the footage never saw the light of day, at least he'd have it all on tape. But the goal all along was to find a place to air it out, to give the public a chance to see what all the fuss was really about. If fans or the media had questions about the reasons behind the move or doubted the difficulty of it all, they could see it for themselves.The result of his foresight was an entire room of videotapes, hundreds of hours of footage that began piling up on May 10, 2007, the day of his initial announcement that he would be leaving. Since then, those tapes have captured moments as poignant as that backstage hug as well as the business end of the move, from securing sponsors to selecting the No. 88 to finalizing the design of the paint scheme (which, believe it or not, was conceptualized by one of Dale Jr.'s online video-gaming buddies).What resides on those tapes will be uncovered during the five-part documentary series. Episode 1 premieres Friday at 7 p.m. ET, beginning with the decision to leave DEI and ending with the close of the 2007 season. Episode 2, centered on the relationships with his family and the other drivers at Hendrick Motorsports, airs one week later. Episode 3 airs on Feb. 16 and follows Earnhardt through testing, Speedweeks and right on through to the eve of the Daytona 500. From there, the cameras will keep rolling, working toward the final two episodes that will air prior to the Allstate 400 at The Brickyard in July."It was very important to me that people get to see what all has happened during all of this," Earnhardt says. "Let them see what really happened. You know people hear all kinds of stuff about this happened here and he did this because of so-and-so ... but this show really shows it how it happened. And it kind of gives people a chance to see how much goes into a career change like this."Like the moment he and Rick Hendrick met with the crew at JR Motorsports to assure them that their Nationwide Series team was still intact and that their jobs were safe. Or the time he took his paint design to Hendrick for approval (the boss liked it, but wanted to combine one hood design with another body scheme). Or the meeting when his sister/manager Kelley Earnhardt-Elledge managed to get the suits at Pepsico (parent company of Amp and Mountain Dew) into the same boardroom with the uniforms of the National Guard to get a co-sponsorship deal finalized.Commercial shoots, a visit back to his old military school, fitting sessions for his new seat and adidas racing shoes ... it's all there. In between are some of the 33-year-old's most open and honest comments on his expectations for the coming year, living with the Earnhardt name, and his relationship with his father."You come to the realization that you're the son of someone who is really, just insanely cool," he says during the second episode of "Shifting Gears." "He was just the best at everything he ever did. Even if he did s--- wrong, people just admired the hell out of him. People would say, 'Did you see Earnhardt flip that bulldozer, man? That was the coolest freaking bulldozer flip I've ever seen.' I'm lucky to have known him as good as I knew him -- I was really lucky."
Racer, businessman, producer
One of the greatest lessons Junior learned from his old man is how to strike a balance between racing and "all the other stuff." When he first exploded onto the Cup scene in 1999, finding that balance was admittedly difficult, especially when winning races became a struggle. But over the past few years, Earnhardt has become more comfortable with his wide variety of exposure opportunities, especially the kind of "stuff" that's much more than the typical avenues open to race car drivers."Of course he gets to do a lot of things that most guys don't," new teammate
Jeff Gordon
says with a laugh. "Because he's not exactly your regular race car driver." Earnhardt's latest non-racing venture is Hammerhead Entertainment, named after one of the many nicknames bestowed upon him by his father. ESPN is airing "Shifting Gears," but it's Hammerhead that shot and produced it.As you pull through the gates of Earnhardt's Mooresville, N.C., homestead (the DMA for "Dirty Mo Acres"), the first building on the left is a nondescript little office sitting perpendicular to what used to be the headquarters of JR Motorsports, but now houses a large chunk of his ever-expanding motor pool. Occupying that office all winter long has been a round-the-clock team of sleep-deprived producers, sifting through all that footage and piecing it together for the Worldwide Leader.Their marching orders from the boss were simple and direct. Show the truth, honestly, how it happened. (And while you're at it, make it look cool because the future of my new company is probably riding on it.)"He is so smart," says Hendrick, a man who knows a thing or two about starting new businesses and creating new revenue streams. "I don't know if fans realize how smart he really is. It reminds you so much of his dad. Nobody knows what all Dale Sr. was involved in, from real estate to merchandising to all sorts of things. Well, when we started talking about making this deal happen with Dale Jr., I was really blown away with his business smarts and his vision for where this sport is headed in the future."A future that Earnhardt believes will continue to blur the lines between racing and entertainment. Hammerhead allows him to be ready for that future."There's a lot of freedom we have now to explore opportunities like Hammerhead that we really didn't have before," Earnhardt-Elledge admitted last fall as the No. 88 team and JR Motorsports began moving into post-DEI warp speed. "It's important for us to find ways to give our fans and our sponsors more than we ever have before."Shifting into overdrive
Like "Shifting Gears," which manages to deliver big for both. Fans get exclusive insider access while the Guard and Amp get five episodes of big-time coverage on the world's biggest sports stage.In the end, everybody wins. As for Earnhardt, the show is merely the final stage of the unprecedented countdown to his "Dream Team" debut in the Daytona 500. Once that countdown ends, it's up to him to deliver on the expectations. That means winning races. And now that he's with Hendrick, anything less will be nothing less than one of the greatest flops in racing history.To most people, that kind of pressure would be crushing. But as Earnhardt explains in Episode 2, he's not most people."Pressure. … Everybody talks about pressure like it's a bad thing, man. That's good. That's what drives you. If you ain't under pressure, then I don't know … maybe you need to put yourself out there more."Beginning Friday night, he'll do just that.
Ryan McGee, a senior writer for ESPN The Magazine, is the author of "ESPN Ultimate NASCAR: 100 Defining Moments in Stock Car Racing History." He can be reached at mcgeespn@yahoo.com.
ESPN The Magazine, NASCAR
ESPN The Magazine senior writer
2-time Sports Emmy winner
2010, 2014 NMPA Writer of the Year
DAYTONA 2008
More Sprint Cup Coverage
•
Monday Rundown: Big opening weekend
•
Newman: McCauley shares in emotional win
•
Ryan Newman takes on Mike & Mike

•
Jayski podcast: What a finish in Daytona

•
Blount: Newman, Penske and Dodge golden
•
Zoom Gallery: 50th running of the Daytona 500
•
Newton: Junior's storybook start has so-so ending
•
Ashenfelter: Hornish 'masterful' at Daytona
•
Newman delivers Daytona 500 win for Penske
•
Notebook: No Wood Brothers entry in 500
•
Blount: Ganassi hoping merger rumors true
•
Newton: Salley says he wants to own Cup team
•
McGee: Little double-dipping at Daytona
•
Blount: Bowyer's 07 takes beating
•
Blount: All aboard the Earnhardt Express
•
The Eliminator: Take Gordon, please
•
Inside The Hauler: Controversy doesn't stir JJ
•
ESPN.com's Top 25 Drivers vote
|
Rank 'em
•
Kyle Busch worried about tires in Daytona 500
•
Jayski podcast: Looking ahead to Sunday

•
Insider: Dr. Jerry Punch on Mike Tirico Show


•
Duels:
Newton
|
Blount
|
Recap
|
500 grid
•
Jayski podcast: The Duels and The King

•
Newton: Hendrick leader of Chevrolet pack
•
Blount: Feel-good afternoon at Daytona
•
Newton: Junior off to blazing start
•
Vickers, Wallace hitch onto Daytona 500 field
•
Cowlishaw's Power Rankings: JJ No. 1
•
Newton: Ford teams unite
•
Blount: Gatorade Duels mystify
•
Jayski podcast: Kyle Busch and more

•
Newton: Who's leading Dodge?
•
Garrow: Daytona 500 preview
•
Door-To-Door: Jarrett's Daytona dream
•
Notebook: Jarrett says no to Reutimann's ride
•
Newton: Probation right call for Stewart, Busch
•
Jayski podcast: Stewart ain't talking about it

•
Blount: Fairy-tale ending at Daytona?
•
Blount's Blitz: Let the Junior comparisons begin
•
Jayski.com's Mark Garrow wraps up Week 1

•
Newton: Beware of Toyotas
•
McGee: 500 turns 50
...
Zoom Gallery
•
Blount: 2008 a matter of redemption
•
Newton: 2007 in rearview mirror
•
Jayski: How do you make the Daytona 500?
•
JJ on 500 pole
|
Speeds
|
Grids:
Duel 1
|
Duel 2
•
Blount: Waltrip goes from disgraced to embraced
•
Newton: Junior Nation alive and well
•
Smith: Eury dedicates Shootout win
•
Newton: Get your No. 3 commemorative die-cast
•
Blount: Junior wins quickly
|
Shootout recap
•
Newton: Interchangeable cars? Not quite
•
Sources: Stewart punched Kurt Busch
•
Ashenfelter: Hamlin's '07 a learning experience
•
Inside The Hauler: Martin not looking back
•
Blount: Big weekend with Shootout, Pole Day
•
Newton: Reality check for McMurray
•
McGee: 'Shifting Gears' with Junior
•
Ashenfelter: Truex now the man at DEI
•
Marty Smith's Door-To-Door: Valentines for Liam
•
Blount: Who are these open-wheel guys?
•
Blount: Daytona 500 victory or Cup title?
•
Blount's Blitz: Boys will be boys
•
Ashenfelter: Bowyer drawing lofty comparisons
•
McGee: 50 things you need to know
Nationwide Series
•
Stewart smokes 'em from pole
...

•
2008 season preview

•
Ashenfelter: Opener no lock for Harvick
•
Dale Jr.'s Nationwide ride impounded for spoiler
•
Ashenfelter: Coleman ready for full-time gig
•
Mark Garrow previews the series

•
Ashenfelter: Times change, but maybe not at top
Craftsman Truck Series
•
Notebook: Unfinished business for Skinner
•
Schwarb preview: It's the Ron & Jack Show
Blogs
•
Breeze: The scissors were ready for Smoke
•
Newton: Judd settles for jeans on race day
•
Newton: NASCAR tells Judd to dress down
•
Blount: Moonshiner Johnson's come full circle
•
Newton: Ashley who? Say hello to Ingrid
•
Newton: NASCAR must rule on Judd's dress
•
Blount: Junior still sells big
•
Smith: Smoke vs. Busch? All good
•
Blount: Say what? Media Day talkers
Fantasy
•
The Good, The Bad, The Ugly: Daytona 500
•
Harris: Spin The Black Circle
•
Daytona 500 fantasy rankings
•
Fantasy Focus Weekly

•
Chat wrap: Garrow on Fantasy NASCAR

•
ESPN.com experts' Mock Draft
•
Engel: Stock car strategy guide
•
ESPN Fantasy Stock Car 2008
•
ESPN Stock Car Challenge
•
2008 ESPN Fantasy Draft Kit
SportsNation
•
Chat wrap: Jayski

•
Chat wrap: Analyst Brad Daugherty

•
Chat wrap: ESPN.com writer Tim Cowlishaw

•
Chat wrap: Sprint Cup driver Sam Hornish Jr.

•
Chat wrap: David Newton and Terry Blount

•
Chat wrap: ESPN.com writer Terry Blount

•
Chat wrap: ESPN analyst Rusty Wallace

•
Chat wrap: Jayski.com's Mark Garrow

•
Chat wrap: ESPN.com writer David Newton

•
Chat wrap: Driver Ryan Newman

•
Chat wrap: Driver Jamie McMurray

•
Chat wrap: ESPN.com writer Terry Blount

•
Chat wrap: Jayski.com's Jayski

•
Chat wrap: NASCAR Now's Nicole Manske

Classic 500s
•
McGee: Blizzards, the King and a fight
•
McGee: Cope with a surprising victory
•
McGee: Finally, one for the 3
•
McGee: The Kid against the world
•
McGee: It was Harvick by a nose
MOST SENT STORIES ON ESPN.COM