Commentary
Junior didn't win a race in 2007, but he still stole the spotlight
Jimmie Johnson dominated. Michael Waltrip was implicated. The Car of Tomorrow struggled. And Kyle Busch changed teams. But who wrote most of the headlines in 2007? No contest: It was Dale Earnhardt Jr.
Updated:
February 11, 2008, 6:38 PM ET
By
David Newton
| ESPN.com
DAYTONA BEACH, Fla. -- The 2007 Sprint Cup season began with
Dale Earnhardt Jr.
saying his relationship with DEI owner/stepmother Teresa Earnhardt wasn't a bed of roses and ended with NASCAR's most popular driver leaving his father's company for Hendrick Motorsports.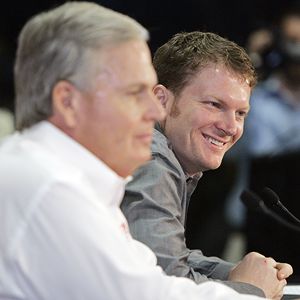 AP Photo/Chuck BurtonDale Earnhardt Jr.'s decision to leave DEI and join Rick Hendrick was the top story of 2007.
In between there was Earnhardt's new number.And Earnhardt's new sponsor.And Earnhardt testing an HMS car.Earnhardt, Earnhardt, Earnhardt.And, oh by the way,
Jimmie Johnson
won a second consecutive Cup title with one of the most dominating performances in NASCAR history.There were plenty of other great story lines as well, from the introduction of the Car of Tomorrow to Toyota's burst onto the circuit to the Michael Waltrip "GoopGate Scandal" to Joe Gibbs Racing leaving Chevrolet for Toyota to
Juan Pablo Montoya
leaving Formula One for Cup.But in the end, Earnhardt stole most of the headlines in a year when he didn't win a race and failed to make the championship Chase.This saga actually began at the end of 2006 when Teresa told the Wall Street Journal that Earnhardt needed to decide whether he wanted to become a race car driver or a public personality. Earnhardt fired back with the "it ain't no bed of roses" comment during the first test at Daytona in January 2007.That this was taking place in the middle of arguably the biggest contract negotiation in NASCAR history should have been a hint that things weren't going well despite what both parties said.
Kevin Harvick
's thrilling victory over
Mark Martin
on the last lap of the Daytona 500 took the spotlight away for a few moments as critics debated whether the race should have been called before the finish line because of a huge multicar wreck.So did NASCAR's investigation into the foreign substance found in Waltrip's engine prior to qualifying, resulting in the indefinite suspension of competition director Bobby Kennedy and crew chief
David Hyder
, and a whole lot of embarrassment for the first-year Toyota organization.So did the introduction of the COT five weeks later at Bristol, where
Kyle Busch
won and promptly trashed the car.The early dominance of HMS, particularly Johnson and
Jeff Gordon
, also took some of the focus from Earnhardt as they won seven of the first 11 races. But by early May those all became a blur as Earnhardt announced he was leaving DEI, for which he won the 2004 Daytona 500 and 16 other Cup events.That started intense speculation about where he might land. First it was
Richard Childress
Racing, where his father won six of his seven titles. Then it was JGR, where he would replace
J.J. Yeley
in the No. 18.But when the dust settled on June 13, Earnhardt announced that
Rick Hendrick
had won the so-called lottery for his services."We talked with many teams, but one stood out above the rest," Earnhardt said from his Nationwide Series operation known as JR Motorsports. "It became apparent to me [he was] the man that I wanted to drive for. I've known him since childhood. He competes with integrity, and more importantly he wins races."Hendrick in turn announced that Earnhardt would replace Busch in a car number to be named later for a new sponsor to be named later.That triggered more Earnhardt mania from the nation of fans who had followed their favorite driver in the red No. 8 Budweiser car since his Cup career began eight years ago.
[+] Enlarge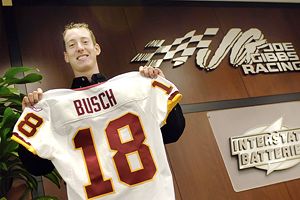 AP Photo/Mike McCarnKyle Busch made headlines with his announcement that he'd join Joe Gibbs Racing in 2008.
It also triggered Lottery II, otherwise known as the Chase for Busch.This one ended on Aug. 14 with Busch announcing 2008 plans to drive for JGR and form a potential power team with 2006 Cup rookie of the year
Denny Hamlin
and two-time Cup champion
Tony Stewart
.A few weeks later, JGR announced its 16-year relationship with General Motors would end in 2008 so the company could side with Toyota.Those announcements still didn't draw as much media attention as the Sept. 19 press conference in Dallas where Earnhardt announced that in 2008 he would drive the No. 88 car sponsored by Amp, Mountain Dew and National Guard.Neither did the announcements that open-wheel drivers
Dario Franchitti
,
Jacques Villeneuve
,
Patrick Carpentier
and
Sam Hornish Jr.
would follow Montoya -- who would be named rookie of the year -- into Cup this season.Fortunately, the championship Chase heated up to briefly put the Earnhardt drama to rest. Gordon won consecutive races at Talladega and Charlotte to make his quest for a fifth title more real than ever. He had a 68-point lead over Johnson that seemed almost insurmountable with the kind of year he was having. But that would be as close as the driver with a record 30 top-10s would get. Johnson went on a run of four consecutive wins the next week at Martinsville, which also should be noted for the famed
Carl Edwards
-throwing-a-fake-punch-at-Roush Fenway Racing-teammate-
Matt Kenseth
-while-on-Speed Channel moment. Johnson went into the final race at Homestead with an 86-point lead over Gordon and won the title by 77 with an uneventful seventh-place finish in a year in which he won 10 races.That puts Johnson into position to equal
Cale Yarborough
's record as the only driver to win three consecutive championships (1976-78). But before Johnson could complete his acceptance speech in New York City, the focus already was turning to Earnhardt's HMS debut. It became apparent just how big of a deal it would be during a January media stop at Hendrick's Concord, N.C., shop in which the crowds around Earnhardt were more than triple the size of those around Johnson and Gordon. Predictions of six wins and a championship became the norm. The only person not anxious to see Earnhardt on the track in '08, it appears, is Earnhardt."Well, I'm not necessarily in a big hurry for the race getting here," he said as he anticipated the 50th running of the Daytona 500, days before he won the Bud Shootout in his HMS debut. "I'm having fun testing, doing work. I just want to be working, doing something."The season is very long and it will get here when it gets here. I don't rush the season to get here. I rushed it when I was a rookie, the first couple of years. I ended up burning out. ... So it can get here when it gets here."
David Newton covers NASCAR for ESPN.com. He can be reached at dnewtonespn@aol.com.
ESPN Carolina Panthers reporter
Covered Panthers, NFL for 11 years
More than 25 years experience covering NFL, college football and NASCAR
Joined ESPN in 2006
SPONSORED HEADLINES
ESPN TOP HEADLINES
MOST SENT STORIES ON ESPN.COM
DAYTONA 2008
More Sprint Cup Coverage
•
Monday Rundown: Big opening weekend
•
Newman: McCauley shares in emotional win
•
Ryan Newman takes on Mike & Mike

•
Jayski podcast: What a finish in Daytona

•
Blount: Newman, Penske and Dodge golden
•
Zoom Gallery: 50th running of the Daytona 500
•
Newton: Junior's storybook start has so-so ending
•
Ashenfelter: Hornish 'masterful' at Daytona
•
Newman delivers Daytona 500 win for Penske
•
Notebook: No Wood Brothers entry in 500
•
Blount: Ganassi hoping merger rumors true
•
Newton: Salley says he wants to own Cup team
•
McGee: Little double-dipping at Daytona
•
Blount: Bowyer's 07 takes beating
•
Blount: All aboard the Earnhardt Express
•
The Eliminator: Take Gordon, please
•
Inside The Hauler: Controversy doesn't stir JJ
•
ESPN.com's Top 25 Drivers vote
|
Rank 'em
•
Kyle Busch worried about tires in Daytona 500
•
Jayski podcast: Looking ahead to Sunday

•
Insider: Dr. Jerry Punch on Mike Tirico Show


•
Duels:
Newton
|
Blount
|
Recap
|
500 grid
•
Jayski podcast: The Duels and The King

•
Newton: Hendrick leader of Chevrolet pack
•
Blount: Feel-good afternoon at Daytona
•
Newton: Junior off to blazing start
•
Vickers, Wallace hitch onto Daytona 500 field
•
Cowlishaw's Power Rankings: JJ No. 1
•
Newton: Ford teams unite
•
Blount: Gatorade Duels mystify
•
Jayski podcast: Kyle Busch and more

•
Newton: Who's leading Dodge?
•
Garrow: Daytona 500 preview
•
Door-To-Door: Jarrett's Daytona dream
•
Notebook: Jarrett says no to Reutimann's ride
•
Newton: Probation right call for Stewart, Busch
•
Jayski podcast: Stewart ain't talking about it

•
Blount: Fairy-tale ending at Daytona?
•
Blount's Blitz: Let the Junior comparisons begin
•
Jayski.com's Mark Garrow wraps up Week 1

•
Newton: Beware of Toyotas
•
McGee: 500 turns 50
...
Zoom Gallery
•
Blount: 2008 a matter of redemption
•
Newton: 2007 in rearview mirror
•
Jayski: How do you make the Daytona 500?
•
JJ on 500 pole
|
Speeds
|
Grids:
Duel 1
|
Duel 2
•
Blount: Waltrip goes from disgraced to embraced
•
Newton: Junior Nation alive and well
•
Smith: Eury dedicates Shootout win
•
Newton: Get your No. 3 commemorative die-cast
•
Blount: Junior wins quickly
|
Shootout recap
•
Newton: Interchangeable cars? Not quite
•
Sources: Stewart punched Kurt Busch
•
Ashenfelter: Hamlin's '07 a learning experience
•
Inside The Hauler: Martin not looking back
•
Blount: Big weekend with Shootout, Pole Day
•
Newton: Reality check for McMurray
•
McGee: 'Shifting Gears' with Junior
•
Ashenfelter: Truex now the man at DEI
•
Marty Smith's Door-To-Door: Valentines for Liam
•
Blount: Who are these open-wheel guys?
•
Blount: Daytona 500 victory or Cup title?
•
Blount's Blitz: Boys will be boys
•
Ashenfelter: Bowyer drawing lofty comparisons
•
McGee: 50 things you need to know
Nationwide Series
•
Stewart smokes 'em from pole
...

•
2008 season preview

•
Ashenfelter: Opener no lock for Harvick
•
Dale Jr.'s Nationwide ride impounded for spoiler
•
Ashenfelter: Coleman ready for full-time gig
•
Mark Garrow previews the series

•
Ashenfelter: Times change, but maybe not at top
Craftsman Truck Series
•
Notebook: Unfinished business for Skinner
•
Schwarb preview: It's the Ron & Jack Show
Blogs
•
Breeze: The scissors were ready for Smoke
•
Newton: Judd settles for jeans on race day
•
Newton: NASCAR tells Judd to dress down
•
Blount: Moonshiner Johnson's come full circle
•
Newton: Ashley who? Say hello to Ingrid
•
Newton: NASCAR must rule on Judd's dress
•
Blount: Junior still sells big
•
Smith: Smoke vs. Busch? All good
•
Blount: Say what? Media Day talkers
Fantasy
•
The Good, The Bad, The Ugly: Daytona 500
•
Harris: Spin The Black Circle
•
Daytona 500 fantasy rankings
•
Fantasy Focus Weekly

•
Chat wrap: Garrow on Fantasy NASCAR

•
ESPN.com experts' Mock Draft
•
Engel: Stock car strategy guide
•
ESPN Fantasy Stock Car 2008
•
ESPN Stock Car Challenge
•
2008 ESPN Fantasy Draft Kit
SportsNation
•
Chat wrap: Jayski

•
Chat wrap: Analyst Brad Daugherty

•
Chat wrap: ESPN.com writer Tim Cowlishaw

•
Chat wrap: Sprint Cup driver Sam Hornish Jr.

•
Chat wrap: David Newton and Terry Blount

•
Chat wrap: ESPN.com writer Terry Blount

•
Chat wrap: ESPN analyst Rusty Wallace

•
Chat wrap: Jayski.com's Mark Garrow

•
Chat wrap: ESPN.com writer David Newton

•
Chat wrap: Driver Ryan Newman

•
Chat wrap: Driver Jamie McMurray

•
Chat wrap: ESPN.com writer Terry Blount

•
Chat wrap: Jayski.com's Jayski

•
Chat wrap: NASCAR Now's Nicole Manske

Classic 500s
•
McGee: Blizzards, the King and a fight
•
McGee: Cope with a surprising victory
•
McGee: Finally, one for the 3
•
McGee: The Kid against the world
•
McGee: It was Harvick by a nose