Commentary
Roush Fenway Racing carrying the Ford flag in united front
Ford teams in the Sprint Cup Series are showing a united front in 2008. Roush Fenway Racing has taken Yates Racing under its wing, writes David Newton, and the one-car Wood Brothers operation may not be too far behind.
Updated:
February 14, 2008, 12:17 PM ET
By
David Newton
| ESPN.com
CONCORD, N.C. -- The future of Ford Motorsports in the Sprint Cup Series can be found here on a strip of land near a private landing strip at 4600 Roush Place. It is here where seven of the eight cars that will make up the Ford lineup in 2008 are being built.
[+] Enlarge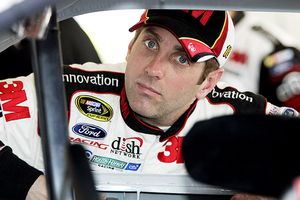 AP Photo/Reinhold MatayGreg Biffle has won only three times since racking up six victories in his 2005 breakout season.
Five belong to Roush Fenway Racing. The other two belong to Yates Racing, which moved its shop from nearby Mooresville to partner with the top Ford team.Only the Wood Brothers' one-car operation remains in Mooresville."I get a little concerned when you have all your eggs in one basket and at Roush Fenway," said
Greg Biffle
, the senior driver at Roush Fenway. "We're kind of carrying the flag for Ford. With the opportunity kind of hanging out there, we're gonna take Yates under our wing -- which we've done -- and possibly the Wood Brothers."That puts all the Ford teams under one umbrella."That can be good because Ford has more engineers than ever working for a common cause. It can be bad because there aren't other teams experimenting with new ideas that those at Roush Fenway haven't thought of.Biffle is taking a wait-and-see approach.Dan Davis, the director of Ford Racing technology, likes that all three Ford organizations will be pulling in the same direction, sharing information that will help the engineers at Ford headquarters in Dearborn, Mich., help the team engineers improve the product."The resources I have is way more effective," he said. "They're going do things quicker, more accurately. We haven't added any engineers, but we're not as diluted as we were in the past. It's gotten to the point now where the engineering is so complicated -- you need a mass of engineers to make a difference."Davis admits 2007, when Ford was a distant second in wins with seven to Chevrolet's 26, was a disappointment. He acknowledges that the manufacturer fell behind on the development of the Car of Tomorrow, which Jack Roush takes responsibility for because he didn't test early like many of his peers. He also believes since Roush began a test program in June Ford has closed the gap, winning two COT events over the final 12 races and three of the final nine events overall."If you're not testing the car, you're not gathering data," Davis said. "If you're not gathering data, you don't know how to do simulations -- you don't have the fundamental data you need in order to do the things that the engineers in Dearborn can use to make the car better."So it really evolved around getting experience with the car, which means testing. Now that we've got that well under way and under our belt, we've got the fundamental data that we need to help make the car perform better."Davis compared combining the entire efforts of Roush Fenway Racing with the other Ford teams to combining the efforts of the Roush and Yates engine program a few years ago."You had the best of what Jack was doing, the best of what Robert Yates was doing," he said. "One plus one equaled four in that case. So what we're trying to do is the same thing. Let's take the best ideas everyone has, combine them, and let's let one and one equal four one more time. "The way we're looking at it is we want the best. It really doesn't matter where it comes from. It makes sense financially, performance-wise. Let's take the best, let's be adults about really what is best and move forward with it."Roush Fenway Racing
Crew chief
Robbie Reiser
and
Matt Kenseth
were one of the most consistent combinations in the garage the last six years, finishing eighth or better in points and winning the title in 2003. Roush hopes Reiser can help the rest of his five-car organization reach that same consistency.Reiser was moved into the role as team manager, where he will attempt to integrate everything that helped Kenseth record 120 top-10s and 57 top-5s -- more than any Ford driver -- since 2002."Robbie is gonna be a key ingredient in catching up to these other teams," Biffle said. "Robbie is a very smart person. He's a very, very good organizer, and we've lacked that position, so to speak, in the past. "We've had people, but not of Robbie's caliber of understanding the race cars, the race teams and how they operate and what they need to do technically behind the scenes. Robbie is gonna help bridge that gap and close up quickly to the rest of the teams."The good news for Reiser is he inherits a stable in which four of the five drivers won a race in 2007, including three in the final nine weeks to signal a turnaround of fortune. The good news for Kenseth is new crew chief Chip Bolin has been with the team since its inception in 1999. "So communication is definitely not gonna be a problem," Kenseth said. "The good thing about Robbie going into the role that he's in is he's gonna help all these teams and everybody that's getting help from Roush Fenway Racing."Robbie is a great organizer and a great motivator, and he's already done a lot of great things over there ... we can already see a difference in the shop. For everybody, it's gonna be better."
Outlook:
Kenseth finished fourth in points last season and had one of his best season's statistically with 22 top-10s and 13 top-5s. There's no reason to expect a dropoff with Bolin, his original team engineer, calling the shots. Biffle is due a turnaround. He's won only three races and missed the Chase each of the past two years after winning six times and finishing 35 points behind champion
Tony Stewart
in 2005.
Carl Edwards
may be the Roush driver to look out for. He's been fast in preseason tests and was Roush's top winner a year ago with three. This could be
Jamie McMurray
's last chance to prove himself or become a strong candidate to move to Yates Racing when NASCAR forces Roush to shrink to four teams.
David Ragan
had only three top-10s and two top-5s in '07, but showed improvement that has Roush officials optimistic about his future.Yates Racing
Team owner Robert Yates has retired, turning the organization over to his son, Doug, and new teammate manager Max Jones.They face a daunting task with a lack of full-time sponsorship for
David Gilliland
and
Travis Kvapil
, but are optimistic they can rise from the ashes with the support of Roush Fenway. "There are some great things in store for Yates Racing in the future," Doug said. "Max and I complement each other. He's gonna run the racing side of it and I'm gonna be able to focus on the engine side, so it's a great start for Yates Racing."There are sure to be growing pains. Gilliland, after starting last year's Daytona 500 on the pole and finishing eighth, had an average finish of 27.4 and average starting position of 27.7. He was 29th in points, finishing 22nd or worse in the final 14 races.Most of Kvapil's experience has come in the Craftsman Truck Series, which he won in 2003. Last season, he won four times and finished sixth in points.During his two full-time seasons in Cup in 2005 and 2006, Kvapil had two top-10s and finished no better than 33rd in points."Right now, being that everything is so new, we just need to get going and show everybody what we can do," Gilliland said. "But I feel really good. Travis has a lot of experience. He's a champion and won a lot of races, and I feel like Max and Doug have really come together and put everything into our team that we think we need to go out and win races."
Outlook:
Gilliland was 12th in points after three races last season, so he's shown the ability to be competitive. Having Roush technology behind him can only help. Perhaps Kvapil's experience with front-end splitters in the truck series will help him make the adjustment to the COT faster, but likely not fast enough to make him a top-25 driver.Wood Brothers
The Wood Brothers once again have turned to an old friend to help keep one of NASCAR's most storied organizations afloat.
Bill Elliott
will start the season in the famed No. 21 to help get the car inside the top 35 in owners' points. He'll then turn it over to
Jon Wood
and former Australian V8 Supercar champion
Marcos Ambrose
, who is scheduled to drive in 12 events.Team owner Eddie Wood hopes Elliott, the 1988 Cup champion who has 44 career wins, will provide much-needed leadership."Everybody learns from someone like that, especially younger drivers," he said. "I know Jon is looking forward to being around him and listening to him, and asking him questions. At the end of the day, it's really, really hard to be experience."
Outlook:
Elliott didn't exactly show championship form in 2007, recording an average finish of 28.4 in 20 starts for the Wood Brothers. Experience is fine, but he's way past his prime. Wood has only one Cup start, finishing 41st at Las Vegas a year ago. He'll need more than Elliott's guidance to improve. Ambrose showed promise in the Nationwide Series a year ago, collecting six top-10s and finishing eighth in the standings. It may be time to give him the wheel full time.
David Newton covers NASCAR for ESPN.com. He can be reached at dnewtonespn@aol.com.
ESPN Carolina Panthers reporter
Covered Panthers, NFL for 11 years
More than 25 years experience covering NFL, college football and NASCAR
Joined ESPN in 2006
DAYTONA 2008
More Sprint Cup Coverage
•
Monday Rundown: Big opening weekend
•
Newman: McCauley shares in emotional win
•
Ryan Newman takes on Mike & Mike

•
Jayski podcast: What a finish in Daytona

•
Blount: Newman, Penske and Dodge golden
•
Zoom Gallery: 50th running of the Daytona 500
•
Newton: Junior's storybook start has so-so ending
•
Ashenfelter: Hornish 'masterful' at Daytona
•
Newman delivers Daytona 500 win for Penske
•
Notebook: No Wood Brothers entry in 500
•
Blount: Ganassi hoping merger rumors true
•
Newton: Salley says he wants to own Cup team
•
McGee: Little double-dipping at Daytona
•
Blount: Bowyer's 07 takes beating
•
Blount: All aboard the Earnhardt Express
•
The Eliminator: Take Gordon, please
•
Inside The Hauler: Controversy doesn't stir JJ
•
ESPN.com's Top 25 Drivers vote
|
Rank 'em
•
Kyle Busch worried about tires in Daytona 500
•
Jayski podcast: Looking ahead to Sunday

•
Insider: Dr. Jerry Punch on Mike Tirico Show


•
Duels:
Newton
|
Blount
|
Recap
|
500 grid
•
Jayski podcast: The Duels and The King

•
Newton: Hendrick leader of Chevrolet pack
•
Blount: Feel-good afternoon at Daytona
•
Newton: Junior off to blazing start
•
Vickers, Wallace hitch onto Daytona 500 field
•
Cowlishaw's Power Rankings: JJ No. 1
•
Newton: Ford teams unite
•
Blount: Gatorade Duels mystify
•
Jayski podcast: Kyle Busch and more

•
Newton: Who's leading Dodge?
•
Garrow: Daytona 500 preview
•
Door-To-Door: Jarrett's Daytona dream
•
Notebook: Jarrett says no to Reutimann's ride
•
Newton: Probation right call for Stewart, Busch
•
Jayski podcast: Stewart ain't talking about it

•
Blount: Fairy-tale ending at Daytona?
•
Blount's Blitz: Let the Junior comparisons begin
•
Jayski.com's Mark Garrow wraps up Week 1

•
Newton: Beware of Toyotas
•
McGee: 500 turns 50
...
Zoom Gallery
•
Blount: 2008 a matter of redemption
•
Newton: 2007 in rearview mirror
•
Jayski: How do you make the Daytona 500?
•
JJ on 500 pole
|
Speeds
|
Grids:
Duel 1
|
Duel 2
•
Blount: Waltrip goes from disgraced to embraced
•
Newton: Junior Nation alive and well
•
Smith: Eury dedicates Shootout win
•
Newton: Get your No. 3 commemorative die-cast
•
Blount: Junior wins quickly
|
Shootout recap
•
Newton: Interchangeable cars? Not quite
•
Sources: Stewart punched Kurt Busch
•
Ashenfelter: Hamlin's '07 a learning experience
•
Inside The Hauler: Martin not looking back
•
Blount: Big weekend with Shootout, Pole Day
•
Newton: Reality check for McMurray
•
McGee: 'Shifting Gears' with Junior
•
Ashenfelter: Truex now the man at DEI
•
Marty Smith's Door-To-Door: Valentines for Liam
•
Blount: Who are these open-wheel guys?
•
Blount: Daytona 500 victory or Cup title?
•
Blount's Blitz: Boys will be boys
•
Ashenfelter: Bowyer drawing lofty comparisons
•
McGee: 50 things you need to know
Nationwide Series
•
Stewart smokes 'em from pole
...

•
2008 season preview

•
Ashenfelter: Opener no lock for Harvick
•
Dale Jr.'s Nationwide ride impounded for spoiler
•
Ashenfelter: Coleman ready for full-time gig
•
Mark Garrow previews the series

•
Ashenfelter: Times change, but maybe not at top
Craftsman Truck Series
•
Notebook: Unfinished business for Skinner
•
Schwarb preview: It's the Ron & Jack Show
Blogs
•
Breeze: The scissors were ready for Smoke
•
Newton: Judd settles for jeans on race day
•
Newton: NASCAR tells Judd to dress down
•
Blount: Moonshiner Johnson's come full circle
•
Newton: Ashley who? Say hello to Ingrid
•
Newton: NASCAR must rule on Judd's dress
•
Blount: Junior still sells big
•
Smith: Smoke vs. Busch? All good
•
Blount: Say what? Media Day talkers
Fantasy
•
The Good, The Bad, The Ugly: Daytona 500
•
Harris: Spin The Black Circle
•
Daytona 500 fantasy rankings
•
Fantasy Focus Weekly

•
Chat wrap: Garrow on Fantasy NASCAR

•
ESPN.com experts' Mock Draft
•
Engel: Stock car strategy guide
•
ESPN Fantasy Stock Car 2008
•
ESPN Stock Car Challenge
•
2008 ESPN Fantasy Draft Kit
SportsNation
•
Chat wrap: Jayski

•
Chat wrap: Analyst Brad Daugherty

•
Chat wrap: ESPN.com writer Tim Cowlishaw

•
Chat wrap: Sprint Cup driver Sam Hornish Jr.

•
Chat wrap: David Newton and Terry Blount

•
Chat wrap: ESPN.com writer Terry Blount

•
Chat wrap: ESPN analyst Rusty Wallace

•
Chat wrap: Jayski.com's Mark Garrow

•
Chat wrap: ESPN.com writer David Newton

•
Chat wrap: Driver Ryan Newman

•
Chat wrap: Driver Jamie McMurray

•
Chat wrap: ESPN.com writer Terry Blount

•
Chat wrap: Jayski.com's Jayski

•
Chat wrap: NASCAR Now's Nicole Manske

Classic 500s
•
McGee: Blizzards, the King and a fight
•
McGee: Cope with a surprising victory
•
McGee: Finally, one for the 3
•
McGee: The Kid against the world
•
McGee: It was Harvick by a nose