Commentary
What you see is what you get in reigning Cup champ Johnson
Jimmie Johnson never got into this thing wanting to become the greatest personality in NASCAR. Now, becoming the greatest driver ... that's another story, writes David Newton.
Updated:
February 15, 2008, 4:06 PM ET
By
David Newton
| ESPN.com
DAYTONA BEACH, Fla. --
Jimmie Johnson
wandered over to the mint dish on the hostess stand at La Crepe en Haut on Thursday night and began picking through all the colors.
[+] Enlarge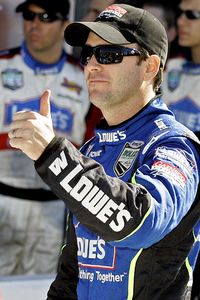 AP Photo/John RaouxJimmie Johnson's not going to apologize for a lack of controversy in his life.
Red. Yellow. Blue.He finally disappeared to his table, only to return a few seconds later to look over his choices again before returning to his wife and guests.Moments later, the two-time defending Sprint Cup champion was back at the dish, digging through it like a kid in a candy store before settling on blue.Many in NASCAR are having just as difficult a time trying to figure out Johnson. Is he the seemingly programmed person they see on camera during interviews, shying away from controversy and strong opinion? Is he the hellion who broke his wrist surfing on top of a golf cart following his 2006 championship?Is he the fun-loving guy they hear on his weekly radio show?Red. Yellow. Blue. Johnson understands the confusion. He realizes that, right or wrong, he has become almost programmed trying to say and do all the right things for his sponsors and fans. He realizes that most people outside of those in his tight circle don't know him like they know Hendrick Motorsports teammates
Jeff Gordon
and
Dale Earnhardt Jr.
"You don't realize it until people ask questions about it," he said. "You don't think you're doing it and then you start to recognize it. I want to have my real personality show. I like to have fun. I'm living the American dream, from a trailer park all the way to here. ''Johnson, 32, personifies the American dream. The son of a school-bus driver and heavy-equipment operator in Southern California, he has more wins (33) in NASCAR's premier series than anybody since his first full season in 2002. He's won every big race on the circuit, from the Daytona 500 to the Brickyard 400 at Indianapolis to the All-Star race. He has a chance this season to become only the second driver --
Cale Yarborough
was the other -- in NASCAR history to win three consecutive titles.And he's sitting on the pole for Sunday's 50th running of the Daytona 500.But Johnson doesn't get the attention that Earnhardt and Gordon do, particularly this week with Earnhardt winning every race. He's way behind them in merchandise sales as well as overall popularity. He doesn't get the advertising and marketing opportunities they do.Gordon, who co-owns Johnson's car with
Rick Hendrick
, takes some of the blame. He advised his good friend early to avoid saying the things that draw headlines, to focus on being the best driver he can instead of the best personality."And it's obviously worked very well for him on the track," the four-time Cup champion said. "Now he's getting a little bit of criticism with his image or personality."That's the funny thing about this sport. Nobody used to think about it that way. ... Take me, what created my popularity was I was different. I had a rivalry with Dale Sr. and Rusty [Wallace], so there was a love-hate relationship with the fans."Gordon also went through a much-publicized divorce that landed him on the cover of celebrity magazines, then married model Ingrid Vandebosch to land him on more."I hate to put it this way, but controversy does get a lot of attention," Gordon said. "Jimmie, he's popular, but one of the reasons he might not be more popular is because there isn't a rivalry, there isn't a controversy." In other words, he's vanilla."But if you look at the flip side and I came out and was a different way, hell, I'd have problem after problem right now," Johnson said. "That's nothing I want. I'm more interested in being myself and following the things that are right for me."Being smart and looking back at it though, yeah, there's some things I need to work on."Hiring an agency
Red. Yellow. Blue.Johnson went through a process similar to the one at the candy dish trying to pick out a company to help mold his image and brand his name. He went through eight agencies in a process that began six years ago before recently selecting Creative Artist Agency (CAA)."I feel that there are certain drivers in our sport that have cornered our hard-core fan and Dale Jr. is a prime example," Johnson said. "There is no way that what I do is going to switch them into being a Jimmie Johnson fan. So my goal is to get out to our larger fan base and to new fans who are coming in and are going to pick a driver, say maybe a casual fan, and have them decide that's my guy and that's who I want to pull for.
[+] Enlarge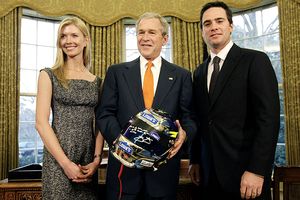 AP Photo/Pablo Martinez MonsivaisJimmie Johnson and his wife, Chandra, met with President Bush earlier this month.
"But at the same time, I want to do quality, solid, products. ... I want to be able to create in a brand the look and feel I would want and be portrayed in a positive light."CAA could help. The agency represents more than 350 athletes, including LeBron James, Derek Jeter, LaDainian Tomlinson and David Beckham. "They have enough tentacles, they have enough areas they work to where I can have some range and distance in my career with them," Johnson said. "It's not just think inside the NASCAR box. I don't know what that is, but I think I have more range and opportunities down the road."Johnson still is formulating a plan with CAA. He hopes ultimately the agency will land him opportunities such as those that Gordon has had with "Saturday Night Live" and "Live with Regis and Kelly."That, in turn, he believes will help the general public understand better who he is. "I do have this personality, but having it show up is probably the toughest thing for me to do and probably one of the challenges they have," Johnson said. "And I think as you all get to know me, you know that there's a lot here. So, it's just about putting that out there. "It's tough because you want it to be natural and you want it to feel good. And the last thing I've ever wanted to do is to get on TV and start bad-mouthing people and making wise remarks and trashing people. That's just not me." Crazy side
Johnson had just won a stadium truck race in San Diego during his senior year in high school. He was standing on a stage in front of about 62,000 fans when he invited everybody to his house for a party.His father,
Gary Johnson
, stood there with his jaw hanging."I was like, 'Uh-oh!'" the elder Johnson said. "I couldn't believe he did that. I had to park 3 miles from my house and walk in. But that's the way Jimmie is. I wish people could get to know him and see what a really fun person he is."Johnson has an adventurous side that goes beyond driving 200 mph. He grew up cliff diving from 30 to 40 feet, doing double and triple jumps on motorcycles like one would expect to see on the X Games. He also lives more of a rock star life than most know with celebrity friends such as former major league all-star Marcus Giles, a high school classmate, Carolina Panthers defensive end Mike Rucker and singer Nick Lachey.He spent his last few days before arriving in Daytona flying between the Super Bowl, where he hosted a golf tournament with Lachey, and the White House, where he met with President Bush."The offseason has been a little out of character, and I'm ready for the season to start and get back to driving race cars and do what I know and get back to work," Johnson said.Out of character?"Hosting parties and red carpets and things like that," Johnson explained. "It's a fantastic experience and something I enjoyed and it has probably done a lot for me in reaching different fans and new fans out there in the sport, so I understand the positives that go with it."But at the same time I'm sitting there thinking about driving a race car and I want to be back in a race car. I look forward to the schedule and hiding behind the schedule and saying 'no' to some opportunities because I need to be more thinking about driving a car."Avoid controversy
Johnson was asked about last week's incident in which
Tony Stewart
and
Kurt Busch
got into a confrontation on the track and later in the NASCAR hauler. He could have offered a strong opinion, but didn't. Red. Yellow. Blue.Or in this case, vanilla."I don't think I'm very witty, on the spot," he said. "I'm not going to sit home and obsess over what I could say to sound cool or be funny. I just react."Johnson doesn't expect CAA to change that side of his personality. He's not ready to stick his neck out with an opinion that could tick off his primary sponsor, Lowe's."I don't think he needs to change his image," said Gordon's stepfather, John Bickford, who helped Johnson pick an agency. "That would be a big mistake. His image is excellent. His image is just not known by the whole world. "What [CAA] needs to do is get him out in front of more people. Right now he is out in front of the core NASCAR fans, and he's respected by the core NASCAR fans. Jimmie Johnson has more depth to him than just a race car driver."Bickford understands because he went through a similar process building Gordon's image and brand. He said Johnson actually is well ahead of Gordon at the same point in their careers from a marketing standpoint.Gordon agreed. He said that, with patience and a good plan by CAA, Johnson will elevate himself even further."I don't know if he needs to do something edgy," he said. "Just something that connects with the fans we have but reaches outside as well. It's like
Danica Patrick
. You pick up any magazine and she's all over the thing. Why is she that popular? Well, she relates to men and women. "That's what it comes down to, having people start to recognize your name, your face, and not just associate you with a race car."But Johnson's ultimate goal is to be known as one of the greatest drivers ever, not the sports' greatest personality."The key is finding stuff I'm comfortable doing, something that I can pull off," he said. "The last thing I need to be doing is something where I look like a fool and I get laughed out of town."
David Newton covers NASCAR for ESPN.com. He can be reached at dnewtonespn@aol.com.
ESPN Carolina Panthers reporter
Covered Panthers, NFL for 11 years
More than 25 years experience covering NFL, college football and NASCAR
Joined ESPN in 2006
SPONSORED HEADLINES
ESPN TOP HEADLINES
MOST SENT STORIES ON ESPN.COM
DAYTONA 2008
More Sprint Cup Coverage
•
Monday Rundown: Big opening weekend
•
Newman: McCauley shares in emotional win
•
Ryan Newman takes on Mike & Mike

•
Jayski podcast: What a finish in Daytona

•
Blount: Newman, Penske and Dodge golden
•
Zoom Gallery: 50th running of the Daytona 500
•
Newton: Junior's storybook start has so-so ending
•
Ashenfelter: Hornish 'masterful' at Daytona
•
Newman delivers Daytona 500 win for Penske
•
Notebook: No Wood Brothers entry in 500
•
Blount: Ganassi hoping merger rumors true
•
Newton: Salley says he wants to own Cup team
•
McGee: Little double-dipping at Daytona
•
Blount: Bowyer's 07 takes beating
•
Blount: All aboard the Earnhardt Express
•
The Eliminator: Take Gordon, please
•
Inside The Hauler: Controversy doesn't stir JJ
•
ESPN.com's Top 25 Drivers vote
|
Rank 'em
•
Kyle Busch worried about tires in Daytona 500
•
Jayski podcast: Looking ahead to Sunday

•
Insider: Dr. Jerry Punch on Mike Tirico Show


•
Duels:
Newton
|
Blount
|
Recap
|
500 grid
•
Jayski podcast: The Duels and The King

•
Newton: Hendrick leader of Chevrolet pack
•
Blount: Feel-good afternoon at Daytona
•
Newton: Junior off to blazing start
•
Vickers, Wallace hitch onto Daytona 500 field
•
Cowlishaw's Power Rankings: JJ No. 1
•
Newton: Ford teams unite
•
Blount: Gatorade Duels mystify
•
Jayski podcast: Kyle Busch and more

•
Newton: Who's leading Dodge?
•
Garrow: Daytona 500 preview
•
Door-To-Door: Jarrett's Daytona dream
•
Notebook: Jarrett says no to Reutimann's ride
•
Newton: Probation right call for Stewart, Busch
•
Jayski podcast: Stewart ain't talking about it

•
Blount: Fairy-tale ending at Daytona?
•
Blount's Blitz: Let the Junior comparisons begin
•
Jayski.com's Mark Garrow wraps up Week 1

•
Newton: Beware of Toyotas
•
McGee: 500 turns 50
...
Zoom Gallery
•
Blount: 2008 a matter of redemption
•
Newton: 2007 in rearview mirror
•
Jayski: How do you make the Daytona 500?
•
JJ on 500 pole
|
Speeds
|
Grids:
Duel 1
|
Duel 2
•
Blount: Waltrip goes from disgraced to embraced
•
Newton: Junior Nation alive and well
•
Smith: Eury dedicates Shootout win
•
Newton: Get your No. 3 commemorative die-cast
•
Blount: Junior wins quickly
|
Shootout recap
•
Newton: Interchangeable cars? Not quite
•
Sources: Stewart punched Kurt Busch
•
Ashenfelter: Hamlin's '07 a learning experience
•
Inside The Hauler: Martin not looking back
•
Blount: Big weekend with Shootout, Pole Day
•
Newton: Reality check for McMurray
•
McGee: 'Shifting Gears' with Junior
•
Ashenfelter: Truex now the man at DEI
•
Marty Smith's Door-To-Door: Valentines for Liam
•
Blount: Who are these open-wheel guys?
•
Blount: Daytona 500 victory or Cup title?
•
Blount's Blitz: Boys will be boys
•
Ashenfelter: Bowyer drawing lofty comparisons
•
McGee: 50 things you need to know
Nationwide Series
•
Stewart smokes 'em from pole
...

•
2008 season preview

•
Ashenfelter: Opener no lock for Harvick
•
Dale Jr.'s Nationwide ride impounded for spoiler
•
Ashenfelter: Coleman ready for full-time gig
•
Mark Garrow previews the series

•
Ashenfelter: Times change, but maybe not at top
Craftsman Truck Series
•
Notebook: Unfinished business for Skinner
•
Schwarb preview: It's the Ron & Jack Show
Blogs
•
Breeze: The scissors were ready for Smoke
•
Newton: Judd settles for jeans on race day
•
Newton: NASCAR tells Judd to dress down
•
Blount: Moonshiner Johnson's come full circle
•
Newton: Ashley who? Say hello to Ingrid
•
Newton: NASCAR must rule on Judd's dress
•
Blount: Junior still sells big
•
Smith: Smoke vs. Busch? All good
•
Blount: Say what? Media Day talkers
Fantasy
•
The Good, The Bad, The Ugly: Daytona 500
•
Harris: Spin The Black Circle
•
Daytona 500 fantasy rankings
•
Fantasy Focus Weekly

•
Chat wrap: Garrow on Fantasy NASCAR

•
ESPN.com experts' Mock Draft
•
Engel: Stock car strategy guide
•
ESPN Fantasy Stock Car 2008
•
ESPN Stock Car Challenge
•
2008 ESPN Fantasy Draft Kit
SportsNation
•
Chat wrap: Jayski

•
Chat wrap: Analyst Brad Daugherty

•
Chat wrap: ESPN.com writer Tim Cowlishaw

•
Chat wrap: Sprint Cup driver Sam Hornish Jr.

•
Chat wrap: David Newton and Terry Blount

•
Chat wrap: ESPN.com writer Terry Blount

•
Chat wrap: ESPN analyst Rusty Wallace

•
Chat wrap: Jayski.com's Mark Garrow

•
Chat wrap: ESPN.com writer David Newton

•
Chat wrap: Driver Ryan Newman

•
Chat wrap: Driver Jamie McMurray

•
Chat wrap: ESPN.com writer Terry Blount

•
Chat wrap: Jayski.com's Jayski

•
Chat wrap: NASCAR Now's Nicole Manske

Classic 500s
•
McGee: Blizzards, the King and a fight
•
McGee: Cope with a surprising victory
•
McGee: Finally, one for the 3
•
McGee: The Kid against the world
•
McGee: It was Harvick by a nose