Commentary
Newman crew chief McCauley shares big part in emotional win
Roy McCauley had to put NASCAR on the back burner to help his wife in her fight with cancer. Back at the track -- and with Amy's cancer in remission -- McCauley even took getting locked out of the garage in stride after a career-defining victory, writes David Newton.
Updated:
February 18, 2008, 4:03 PM ET
By
David Newton
| ESPN.com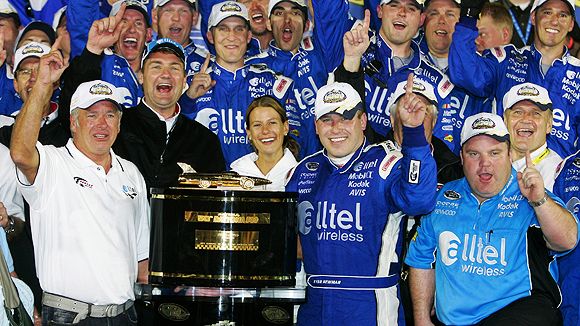 Icon SMIRyan Newman, center, and crew chief Roy McCauley, right, have gotten on the winning track in a hurry.
DAYTONA BEACH, Fla. -- Roy McCauley, carrying a trophy almost as tall as his 5-foot-4 frame, walked up and down the fence that separates the Sprint Cup garage from the rest of the Daytona International Speedway infield Sunday night.First gate, locked.Second gate, locked."Unfreaking unbelievable," the crew chief for
Ryan Newman
said. "You win the Daytona 500 and then get locked out of the garage. Hey, Brad, can you help me here?"The NASCAR official heard McCauley's plea, walked to a 4-foot-high section of fence and offered to help him over with a chair. McCauley declined the chair, handing the official his trophy, then thrusting his 250-pound body over the top.He probably could have leaped the 8-foot section the way he was feeling after helping his driver win the 50th running of the Great American Race."This is so surreal," McCauley said.As happy as owner Roger Penske was at winning his first 500 after almost 30 years of trying, as happy as Newman was at ending his 81-race losing streak with what he called one of the "most awesome things that's ever happened to me," nobody was more thrilled than McCauley.Or more emotional. McCauley stepped aside as the crew chief for
Kurt Busch
, who gave Newman the push to the lead on the final lap, midway through last season to help care for his wife, who was diagnosed with leukemia exactly a year ago Sunday.There were times when he wondered whether he would be back at the track, much less standing in Victory Lane at Daytona. He didn't agree to return to work with Newman until Amy went into remission, and then only with her permission.In his own words, he has gone from the lowest of lows to the highest of highs."You know, when we sat down and talked at the end of last fall, they asked if I would be willing to take over the 12 car," McCauley said, referring to Newman's car. "[My wife and I] had to have a serious talk and say, 'OK, we're going to beat this, and we are beating this, and we're not going to let cancer dictate the rest of our lives.'"So McCauley agreed to come back, dedicating himself to getting Newman and Penske in Victory Lane. His only problem once Newman got there was getting high enough on his toes to give his driver a hug through the window."I give my wife a lot of credit," McCauley said. "She's kind of my rock with wings, if you want to call it that. It means a lot to me to come back and stand in Victory Lane with Ryan because the last time I was his crew chief we stood in Victory Lane [in the Nationwide Series]."McCauley was referring to the 2005 season, in which Newman won six of the nine Nationwide races he entered, including the finale at Homestead-Miami Speedway."It's just an emotional roller coaster, and it's nice to be on the top of it right now," McCauley said.Nobody was happier for McCauley than Newman. The two share similar backgrounds, each growing up with a father who owned an auto repair shop and graduating from college with an engineering degree.Both also have stocky builds that make them look like a pair of bulldogs as they wade through the garage."Roy's situation was as tough as anybody could probably go through," Newman said. "My wife is very close with Amy. They did a lot of things together when we did our foundation effort with the animals. She actually owned the marketing company."We stayed in very close contact with Amy and Roy through that ordeal. Happy to say that Amy is on the mend."McCauley had to wait nearly an hour to talk to his wife after the race. The phone call was emotional for both."Helping my wife through cancer, that's the only thing that means more than this," he said. "It's not over yet. It's a process, which means family first and everything else after that. I don't want to take away from the Daytona 500, but family's still first."

I've wanted to win the Daytona 500 since I was a little kid. To me, it's a culmination of 38 years thinking about it.
-- Roy McCauley
No, McCauley's roller-coaster ride is not over. He knows his wife's condition could turn at any moment, so he's not taking anything for granted, just as he never took Sunday's win for granted with the Toyotas of
Tony Stewart
and
Kyle Busch
dominating throughout.It's still hard for him to believe he won the Daytona 500 only a few months after he first returned to the garage in September to help
Sam Hornish Jr
. make the jump from the IndyCar Series to NASCAR."I couldn't think that many days ahead," McCauley said. "You've just got to take one day at a time."McCauley, now on the right side of the fence, looked at the trophy back in his hand. It was heavy, but he wasn't willing to let anybody help carry it."The Daytona 500, like I told the boys [Sunday morning], it's the biggest marble and we'd like to put it in our pockets," he said. "I've wanted to win the Daytona 500 since I was a little kid. To me, it's a culmination of 38 years thinking about it."He can't wait to share the moment and the trophy in person with his wife before having to leave again Thursday for California."I just can't wait to get home," McCauley said. "I've been down here for 14 days. It's all still very surreal. It hasn't sunk in yet. It will at some point."
David Newton covers NASCAR for ESPN.com. He can be reached at dnewtonespn@aol.com.
ESPN Carolina Panthers reporter
Covered Panthers, NFL for 11 years
More than 25 years experience covering NFL, college football and NASCAR
Joined ESPN in 2006
DAYTONA 2008
More Sprint Cup Coverage
•
Monday Rundown: Big opening weekend
•
Newman: McCauley shares in emotional win
•
Ryan Newman takes on Mike & Mike

•
Jayski podcast: What a finish in Daytona

•
Blount: Newman, Penske and Dodge golden
•
Zoom Gallery: 50th running of the Daytona 500
•
Newton: Junior's storybook start has so-so ending
•
Ashenfelter: Hornish 'masterful' at Daytona
•
Newman delivers Daytona 500 win for Penske
•
Notebook: No Wood Brothers entry in 500
•
Blount: Ganassi hoping merger rumors true
•
Newton: Salley says he wants to own Cup team
•
McGee: Little double-dipping at Daytona
•
Blount: Bowyer's 07 takes beating
•
Blount: All aboard the Earnhardt Express
•
The Eliminator: Take Gordon, please
•
Inside The Hauler: Controversy doesn't stir JJ
•
ESPN.com's Top 25 Drivers vote
|
Rank 'em
•
Kyle Busch worried about tires in Daytona 500
•
Jayski podcast: Looking ahead to Sunday

•
Insider: Dr. Jerry Punch on Mike Tirico Show


•
Duels:
Newton
|
Blount
|
Recap
|
500 grid
•
Jayski podcast: The Duels and The King

•
Newton: Hendrick leader of Chevrolet pack
•
Blount: Feel-good afternoon at Daytona
•
Newton: Junior off to blazing start
•
Vickers, Wallace hitch onto Daytona 500 field
•
Cowlishaw's Power Rankings: JJ No. 1
•
Newton: Ford teams unite
•
Blount: Gatorade Duels mystify
•
Jayski podcast: Kyle Busch and more

•
Newton: Who's leading Dodge?
•
Garrow: Daytona 500 preview
•
Door-To-Door: Jarrett's Daytona dream
•
Notebook: Jarrett says no to Reutimann's ride
•
Newton: Probation right call for Stewart, Busch
•
Jayski podcast: Stewart ain't talking about it

•
Blount: Fairy-tale ending at Daytona?
•
Blount's Blitz: Let the Junior comparisons begin
•
Jayski.com's Mark Garrow wraps up Week 1

•
Newton: Beware of Toyotas
•
McGee: 500 turns 50
...
Zoom Gallery
•
Blount: 2008 a matter of redemption
•
Newton: 2007 in rearview mirror
•
Jayski: How do you make the Daytona 500?
•
JJ on 500 pole
|
Speeds
|
Grids:
Duel 1
|
Duel 2
•
Blount: Waltrip goes from disgraced to embraced
•
Newton: Junior Nation alive and well
•
Smith: Eury dedicates Shootout win
•
Newton: Get your No. 3 commemorative die-cast
•
Blount: Junior wins quickly
|
Shootout recap
•
Newton: Interchangeable cars? Not quite
•
Sources: Stewart punched Kurt Busch
•
Ashenfelter: Hamlin's '07 a learning experience
•
Inside The Hauler: Martin not looking back
•
Blount: Big weekend with Shootout, Pole Day
•
Newton: Reality check for McMurray
•
McGee: 'Shifting Gears' with Junior
•
Ashenfelter: Truex now the man at DEI
•
Marty Smith's Door-To-Door: Valentines for Liam
•
Blount: Who are these open-wheel guys?
•
Blount: Daytona 500 victory or Cup title?
•
Blount's Blitz: Boys will be boys
•
Ashenfelter: Bowyer drawing lofty comparisons
•
McGee: 50 things you need to know
Nationwide Series
•
Stewart smokes 'em from pole
...

•
2008 season preview

•
Ashenfelter: Opener no lock for Harvick
•
Dale Jr.'s Nationwide ride impounded for spoiler
•
Ashenfelter: Coleman ready for full-time gig
•
Mark Garrow previews the series

•
Ashenfelter: Times change, but maybe not at top
Craftsman Truck Series
•
Notebook: Unfinished business for Skinner
•
Schwarb preview: It's the Ron & Jack Show
Blogs
•
Breeze: The scissors were ready for Smoke
•
Newton: Judd settles for jeans on race day
•
Newton: NASCAR tells Judd to dress down
•
Blount: Moonshiner Johnson's come full circle
•
Newton: Ashley who? Say hello to Ingrid
•
Newton: NASCAR must rule on Judd's dress
•
Blount: Junior still sells big
•
Smith: Smoke vs. Busch? All good
•
Blount: Say what? Media Day talkers
Fantasy
•
The Good, The Bad, The Ugly: Daytona 500
•
Harris: Spin The Black Circle
•
Daytona 500 fantasy rankings
•
Fantasy Focus Weekly

•
Chat wrap: Garrow on Fantasy NASCAR

•
ESPN.com experts' Mock Draft
•
Engel: Stock car strategy guide
•
ESPN Fantasy Stock Car 2008
•
ESPN Stock Car Challenge
•
2008 ESPN Fantasy Draft Kit
SportsNation
•
Chat wrap: Jayski

•
Chat wrap: Analyst Brad Daugherty

•
Chat wrap: ESPN.com writer Tim Cowlishaw

•
Chat wrap: Sprint Cup driver Sam Hornish Jr.

•
Chat wrap: David Newton and Terry Blount

•
Chat wrap: ESPN.com writer Terry Blount

•
Chat wrap: ESPN analyst Rusty Wallace

•
Chat wrap: Jayski.com's Mark Garrow

•
Chat wrap: ESPN.com writer David Newton

•
Chat wrap: Driver Ryan Newman

•
Chat wrap: Driver Jamie McMurray

•
Chat wrap: ESPN.com writer Terry Blount

•
Chat wrap: Jayski.com's Jayski

•
Chat wrap: NASCAR Now's Nicole Manske

Classic 500s
•
McGee: Blizzards, the King and a fight
•
McGee: Cope with a surprising victory
•
McGee: Finally, one for the 3
•
McGee: The Kid against the world
•
McGee: It was Harvick by a nose
MOST SENT STORIES ON ESPN.COM