Dale Jr., Hamlin win Daytona qualifiers
Updated:
February 15, 2008, 2:13 AM ET
Associated Press
DAYTONA BEACH, Fla. -- Denny Hamlin gave Toyota its first victory at NASCAR's top level, winning Thursday's second qualifying race to set up a Daytona 500 showdown between Joe Gibbs Racing and mighty Hendrick Motorsports.
[+] Enlarge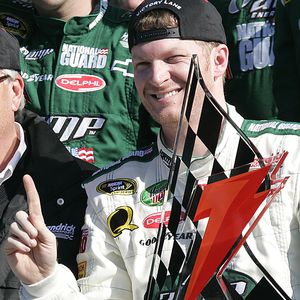 AP Photo/Terry RennaDale Earnhardt Jr., who won the first qualifier, has gone 2-for-2 in his Hendrick Motorsports debut.
Dale Earnhardt Jr. won the first qualifier for Hendrick and will start on the second row of Sunday's race with Hamlin. Hendrick driver Jimmie Johnson is on the pole. Tony Stewart will start in the third row for Gibbs.
Hendrick drivers Jeff Gordon and Casey Mears start from the next two rows, meaning six of the first 10 starting spots will be filled by Hendrick or Gibbs drivers.
It pits NASCAR's top two teams against each other in a battle between Chevrolet and Toyota. Gibbs left General Motors this season when it grew tired of playing second fiddle to Hendrick, which won 18 of 36 races last year.
"It's going to be the epic battle, and it should be the battle of a lifetime and the century," Stewart quipped. "There may not be another battle of this proportion for the rest of my life, my career, for the century."
Three-time Daytona 500 winner Dale Jarrett, who is retiring next month, raced his way into his final 500 start. He joined John Andretti, Kenny Wallace and Brian Vickers as drivers who made their way into the race through Thursday's qualifiers.
But two-time Daytona 500 winners Sterling Marlin and Bill Elliott joined former open-wheel standouts Jacques Villeneuve and Patrick Carpentier as drivers who failed to make NASCAR's showcase event.
They'll have to watch from home in what looks to be a classic duel between Hendrick and Gibbs drivers -- something Stewart tried to downplay.
"I think you can't just limit to those two teams," Stewart said. "But like I said, if it helps us make a better headline for tomorrow, yeah, it's going to be the battle of a lifetime."
Earnhardt has established himself as one of the favorites by going 2-for-2 in his Hendrick debut. He stole a win from Stewart in last week's exhibition Budweiser Shootout and then held on to win the first of Thursday's qualifiers.
Stewart seemed poised to win the second qualifier, but a late race caution set up a two-lap shootout to the finish. During a six-minute red flag he talked strategy with Hamlin, debating how to hold off Gordon, who lurked in third place.
Stewart, who has lost more than his fair share of races because the Hendrick fleet ganged up on him, predicted Gordon would lay off on the re-start and try to chase the Gibbs drivers down.
"That's his normal deal, he won't take off when we do," Stewart said. "Watch your rearview mirror and react accordingly. Do what you gotta do after that, man."
That's exactly what Hamlin did, sticking with Gordon before passing his teammate for the win. It was a big picture victory, and Stewart didn't mind losing out to his teammate.
"Great job, bud," Stewart radioed. "You did right. You did exactly what you needed to do."
Now they'll try to do it again Sunday, where a Hendrick driver -- any of the four -- should be an overwhelming favorite to win. The team has shown zero dropoff from 2007 and appears even stronger with Earnhardt now in the mix.
But NASCAR's most popular driver -- the 2004 Daytona 500 winner -- wasn't ready to declare himself the favorite.
"I feel like we got a shot, you know what I mean?" Earnhardt said. "Nobody is boastful enough, I don't think, personality-wise, to come in here and claim that. I wouldn't expect anybody to do that.
"But I think we got a great shot," he said.
Earnhardt goes into the 500 searching for his first points-victory in almost two years. After winning two races so far this Speedweeks, he seems poised to pull off a rare sweep.
"It's a Cinderella story," said Wallace, one of two drivers to race their way into the 500 in the first qualifier. "It looks like he's going to sweep Speedweeks if he doesn't break."
The first qualifying race was a showdown between Red Bull Racing teammates Brian Vickers and AJ Allmendinger, who both had to race their way into the 500 field. Vickers made it in with a last-lap pass of Joe Nemechek to finish 11th and secure his spot in the field.
It was a comeback for Vickers, who was spun by Boris Said three laps into the race and had to make an unscheduled pit stop for a flat tire. Vickers, a one-time star at Hendrick Motorsports, struggled horribly through his first season with Red Bull when the team struggled to make races.
"Oh, it's like I won the race," Vickers said. "I think the last time I felt this good was when I won a race (at Talladega in 2006). I mean, the 50th running of the Daytona 500 is special, but just to start the year off right."
Allmendinger failed to make the 500, finishing 13th in the qualifier. He, too, struggled to make races last season and was disappointed in not being able to put both Red Bull cars in the field.
"I mean, unfortunately, everybody at Red Bull, they deserve to have two cars in," Allmendinger said. "It's good that Brian got in, at least, [for] the guys back in the shop but my guys deserve better than that. Just never had the car right."
Kurt Busch lost power in his Dodge about 10 laps into the race, and the failure had a huge effect on several drivers. Because the 2004 series champion gave his points earned from last season to new teammate Sam Hornish Jr. -- a move that ensures Hornish a spot in the first five races of the season, Busch will make the Daytona 500 under the past champion's provisional.
"We got some burned-up wires under the dash, so that's not good," Busch said. "We've got the champion's provisional to fall back on, and so we're not too worried about it."
But it created a huge worry for Jarrett, who had hoped the provisional still would be available for him just in case he failed to race his way into the field in the second qualifying race. It didn't matter, though, when Jarrett finished ninth in his qualifier.
"Certainly, I wanted to be a part of the 50th running of the Daytona 500," Jarrett said. "Now we've got the hard part over with. We'll go to work on this baby and see if we can tune it up a little bit and see what we can do on Sunday."

Copyright 2008 by The Associated Press
SPONSORED HEADLINES
ESPN TOP HEADLINES
MOST SENT STORIES ON ESPN.COM
DAYTONA 2008
More Sprint Cup Coverage
•
Monday Rundown: Big opening weekend
•
Newman: McCauley shares in emotional win
•
Ryan Newman takes on Mike & Mike

•
Jayski podcast: What a finish in Daytona

•
Blount: Newman, Penske and Dodge golden
•
Zoom Gallery: 50th running of the Daytona 500
•
Newton: Junior's storybook start has so-so ending
•
Ashenfelter: Hornish 'masterful' at Daytona
•
Newman delivers Daytona 500 win for Penske
•
Notebook: No Wood Brothers entry in 500
•
Blount: Ganassi hoping merger rumors true
•
Newton: Salley says he wants to own Cup team
•
McGee: Little double-dipping at Daytona
•
Blount: Bowyer's 07 takes beating
•
Blount: All aboard the Earnhardt Express
•
The Eliminator: Take Gordon, please
•
Inside The Hauler: Controversy doesn't stir JJ
•
ESPN.com's Top 25 Drivers vote
|
Rank 'em
•
Kyle Busch worried about tires in Daytona 500
•
Jayski podcast: Looking ahead to Sunday

•
Insider: Dr. Jerry Punch on Mike Tirico Show


•
Duels:
Newton
|
Blount
|
Recap
|
500 grid
•
Jayski podcast: The Duels and The King

•
Newton: Hendrick leader of Chevrolet pack
•
Blount: Feel-good afternoon at Daytona
•
Newton: Junior off to blazing start
•
Vickers, Wallace hitch onto Daytona 500 field
•
Cowlishaw's Power Rankings: JJ No. 1
•
Newton: Ford teams unite
•
Blount: Gatorade Duels mystify
•
Jayski podcast: Kyle Busch and more

•
Newton: Who's leading Dodge?
•
Garrow: Daytona 500 preview
•
Door-To-Door: Jarrett's Daytona dream
•
Notebook: Jarrett says no to Reutimann's ride
•
Newton: Probation right call for Stewart, Busch
•
Jayski podcast: Stewart ain't talking about it

•
Blount: Fairy-tale ending at Daytona?
•
Blount's Blitz: Let the Junior comparisons begin
•
Jayski.com's Mark Garrow wraps up Week 1

•
Newton: Beware of Toyotas
•
McGee: 500 turns 50
...
Zoom Gallery
•
Blount: 2008 a matter of redemption
•
Newton: 2007 in rearview mirror
•
Jayski: How do you make the Daytona 500?
•
JJ on 500 pole
|
Speeds
|
Grids:
Duel 1
|
Duel 2
•
Blount: Waltrip goes from disgraced to embraced
•
Newton: Junior Nation alive and well
•
Smith: Eury dedicates Shootout win
•
Newton: Get your No. 3 commemorative die-cast
•
Blount: Junior wins quickly
|
Shootout recap
•
Newton: Interchangeable cars? Not quite
•
Sources: Stewart punched Kurt Busch
•
Ashenfelter: Hamlin's '07 a learning experience
•
Inside The Hauler: Martin not looking back
•
Blount: Big weekend with Shootout, Pole Day
•
Newton: Reality check for McMurray
•
McGee: 'Shifting Gears' with Junior
•
Ashenfelter: Truex now the man at DEI
•
Marty Smith's Door-To-Door: Valentines for Liam
•
Blount: Who are these open-wheel guys?
•
Blount: Daytona 500 victory or Cup title?
•
Blount's Blitz: Boys will be boys
•
Ashenfelter: Bowyer drawing lofty comparisons
•
McGee: 50 things you need to know
Nationwide Series
•
Stewart smokes 'em from pole
...

•
2008 season preview

•
Ashenfelter: Opener no lock for Harvick
•
Dale Jr.'s Nationwide ride impounded for spoiler
•
Ashenfelter: Coleman ready for full-time gig
•
Mark Garrow previews the series

•
Ashenfelter: Times change, but maybe not at top
Craftsman Truck Series
•
Notebook: Unfinished business for Skinner
•
Schwarb preview: It's the Ron & Jack Show
Blogs
•
Breeze: The scissors were ready for Smoke
•
Newton: Judd settles for jeans on race day
•
Newton: NASCAR tells Judd to dress down
•
Blount: Moonshiner Johnson's come full circle
•
Newton: Ashley who? Say hello to Ingrid
•
Newton: NASCAR must rule on Judd's dress
•
Blount: Junior still sells big
•
Smith: Smoke vs. Busch? All good
•
Blount: Say what? Media Day talkers
Fantasy
•
The Good, The Bad, The Ugly: Daytona 500
•
Harris: Spin The Black Circle
•
Daytona 500 fantasy rankings
•
Fantasy Focus Weekly

•
Chat wrap: Garrow on Fantasy NASCAR

•
ESPN.com experts' Mock Draft
•
Engel: Stock car strategy guide
•
ESPN Fantasy Stock Car 2008
•
ESPN Stock Car Challenge
•
2008 ESPN Fantasy Draft Kit
SportsNation
•
Chat wrap: Jayski

•
Chat wrap: Analyst Brad Daugherty

•
Chat wrap: ESPN.com writer Tim Cowlishaw

•
Chat wrap: Sprint Cup driver Sam Hornish Jr.

•
Chat wrap: David Newton and Terry Blount

•
Chat wrap: ESPN.com writer Terry Blount

•
Chat wrap: ESPN analyst Rusty Wallace

•
Chat wrap: Jayski.com's Mark Garrow

•
Chat wrap: ESPN.com writer David Newton

•
Chat wrap: Driver Ryan Newman

•
Chat wrap: Driver Jamie McMurray

•
Chat wrap: ESPN.com writer Terry Blount

•
Chat wrap: Jayski.com's Jayski

•
Chat wrap: NASCAR Now's Nicole Manske

Classic 500s
•
McGee: Blizzards, the King and a fight
•
McGee: Cope with a surprising victory
•
McGee: Finally, one for the 3
•
McGee: The Kid against the world
•
McGee: It was Harvick by a nose