Last-lap pass sends Newman, Penske to first Daytona 500 win
Updated:
February 17, 2008, 10:04 PM ET
Associated Press
DAYTONA BEACH, Fla. -- Another thriller, another heartbreak at the Daytona 500.
For the second straight year, The Great American Race came down to the last lap. This time the drama rewarded Ryan Newman, who hadn't won in 81 races over more than two years, and team owner Roger Penske, long the king at Indianapolis but never a winner at Daytona.
[+] Enlarge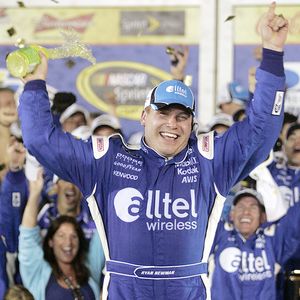 AP Photo/Terry RennaRyan Newman celebrates his first win since New Hampshire in September 2005.
Newman waited while the big stars fell back one by one. Then, with only Tony Stewart ahead of him, Newman got a "push from heaven" from teammate Kurt Busch to take the lead on the final lap.
"Kurt was the push from heaven that made it all happen," Newman said. "Without a doubt, he could have easily gone three-wide and split us through the center and made one heck of a mess there. But he chose to be a teammate, and that was the most honorable thing that he could do."
Penske, the most successful owner in open-wheel history with 14 wins in the prestigious Indianapolis 500, now has a victory in NASCAR's showcase event.
It only took him 23 years to get it.
And it came in the 50th running of the Daytona 500, in thrilling fashion, with a last-lap pass for the second consecutive year.
When the car owner finally made it to storied Victory Lane, he was met by Rick Hendrick, NASCAR's most powerful owner.
"I talked to Rick earlier today, and I said, 'You've been in the winner's circle so many times, if we win will you give me your hat?' He was the first one down here. So I thank him," Penske said while wearing that very cap.
"We've been working here for many years. Certainly Kurt and the teamwork was just unbelievable. It's a big day in our life and for our whole team."
Daytona 500 Results

Ryan Newman sure knows how to break out of a slump. Newman snapped an 81-race winless streak Sunday, bringing home the first Daytona 500 win for owner Roger Penske along the way.
1. Ryan Newman, Dodge
2. Kurt Busch, Dodge
3. Tony Stewart, Toyota
4. Kyle Busch, Toyota
5. Reed Sorenson, Dodge
6. Elliott Sadler, Dodge
7. Kasey Kahne, Dodge
8. Robby Gordon, Dodge
9. Dale Earnhardt Jr., Chevrolet
10. Greg Biffle, Ford

Complete results
The Penske cars were quiet for 199 of the 200 laps, letting Joe Gibbs Racing stars Stewart and Kyle Busch race each other in a battle of Toyotas. With one lap to go, it appeared Stewart finally would get his first Daytona 500 win in his 10th try.
Running out front in the high line, he held off the two Penske cars as they circled the famed speedway. But as the Penske teammates closed in on him, Stewart didn't feel safe running alone without any allies.
At the last second, he dropped low on the track to line up in front of Kyle Busch. The JGR teams had talked all week about the importance of teamwork, and Stewart thought he'd need Busch to make it to the checkered flag.
But the decision backfired in the blink of an eye.
Stewart couldn't hook up with Kyle Busch fast enough, and the two Penske cars steamrolled past him on the top.
Newman pulled away for his first win since New Hampshire in September 2005, while Stewart had to settle for third.
"I don't think there's too many people that would take the white flag and like finishing third," a dejected Stewart sighed. "We tried to win the Daytona 500. That's all I can say. I just made the wrong decision on the backstretch.
"My intention was to get in front of Kyle and pull Kyle along with us. It's hard to explain. It's probably one of the most disappointing moments in my racing career."
The disappointment was also evident on Greg Zipadelli, who starts his 10th season with Stewart in NASCAR's longest active driver-crew chief pairing.
Team Effort
Ryan Newman might have finished first, but chances are Penske Racing is pretty proud of the runner-up too. Teammate Kurt Busch finished second, marking the fourth time since 1980 teammates finished 1-2 at the Daytona 500.
| | | | |
| --- | --- | --- | --- |
| Year | Winner | Runner-up | Team |
| '08 | Ryan Newman | Kurt Busch | Penske |
| '01 | Michael Waltrip | Dale Earnhardt Jr. | DEI |
| '97 | Jeff Gordon | Terry Labonte | HMS |
| '89 | Darrell Waltrip | Ken Schrader | HMS |
"We've worked all winter, we've worked the last 10 years, I've worked my whole life," Zipadelli said. "It's just the way that it is. There's a lot of good people that haven't won this race. I'm not going to get hung up on it. I'm going to work as hard as I can, and when it's done, if we have our turn, we will.
"It won't be because we didn't work at it."
The failure was a setback for Toyota, which seemed destined to win its first points race in NASCAR's top series behind the strength of JGR.
"There's no doubt the Gibbs guys feel dejected tonight," Kurt Busch said.
The Gibbs organization joined Toyota this season, giving the manufacturer instant credibility after an embarrassing 2007 debut. Based on a strong month of testing and Denny Hamlin's win in one of Thursday's qualifying races, the JGR cars set the stage for an intense battle with powerful Hendrick Motorsports for the biggest prize in NASCAR.
But the Hendrick cars never challenged. Jeff Gordon dropped out with mechanical problems, Casey Mears and Jimmie Johnson both wrecked and, without any Hendrick help, Dale Earnhardt Jr. didn't have the muscle to hold off the Gibbs entries.
It allowed Stewart and Kyle Busch to dominate the race, only to fade at the end. Busch, who led a race-high 86 laps, finished fourth, while Hamlin was 17th.
"Just frustrating to come home fourth, but that's part of the Daytona 500," said Kyle Busch, who joined Gibbs this season after Hendrick let him go to sign Earnhardt.
"On the last lap, Stewart had a chance to go high to block [Newman] and [Busch], but they just had such a big run, I think he knew it was going to be a waste of time."
The disappointment was a stark contrast to the euphoria in the Penske camp, which finished 1-2 in NASCAR's Super Bowl and finally gave the storied car owner his first victory in a restrictor-plate race. Despite total domination in Indianapolis, Penske never could figure out how to win at Daytona.
He finally did it with teamwork -- the same teamwork Gibbs and Hendrick preached all week -- and a pair of drivers who share in each other's success. It took years for Penske to build this and make his teams even. Once they were, Newman didn't get along with Penske star Rusty Wallace.
But when Wallace retired after the 2005 season, Penske tabbed Busch, a former series champion, to replace him. He and Newman forged an instant working relationship that is finally paying dividends.
"I was very emotional crossing the line finishing second, because I know we did something very special for The Captain tonight," said Busch, the runner-up, who was near tears when he visited Victory Lane.
The win was the first for Dodge at Daytona since Ward Burton's win in 2001 and came hours after new chairman Bob Nardelli guaranteed the victory. Besides the win, Dodge drivers took six of the eight top spots.
Pledging his commitment to NASCAR despite sluggish car sales and just so-so on-track performance, Nardelli seemed certain he'd be in Victory Lane late Sunday night.
"A Dodge is going to win today. That's why I'm here," Nardelli boasted Sunday morning. "I told the pilots, 'Make sure you get 12 hours of rest because we're going to be here a while.' I'm looking forward to being in that winner's circle and having that champagne flowing."
The victory earned Penske a $1 million bonus from Nardelli, who had promised the payout to any Dodge team that won the Daytona 500. Penske vowed to pump the money right back into his race team, and the car owner already was thinking about the rest of the season.
"Comparing it to the Indy 500, as Ryan knows, we've been open-wheel guys and coming down here has been tough," Penske said. "This has got to go to the top of the charts here, this win. What I'm going to try to do this year is have them back-to-back, have one in May, too.
"That's my real challenge right now."

Copyright 2008 by The Associated Press
DAYTONA 2008
More Sprint Cup Coverage
•
Monday Rundown: Big opening weekend
•
Newman: McCauley shares in emotional win
•
Ryan Newman takes on Mike & Mike

•
Jayski podcast: What a finish in Daytona

•
Blount: Newman, Penske and Dodge golden
•
Zoom Gallery: 50th running of the Daytona 500
•
Newton: Junior's storybook start has so-so ending
•
Ashenfelter: Hornish 'masterful' at Daytona
•
Newman delivers Daytona 500 win for Penske
•
Notebook: No Wood Brothers entry in 500
•
Blount: Ganassi hoping merger rumors true
•
Newton: Salley says he wants to own Cup team
•
McGee: Little double-dipping at Daytona
•
Blount: Bowyer's 07 takes beating
•
Blount: All aboard the Earnhardt Express
•
The Eliminator: Take Gordon, please
•
Inside The Hauler: Controversy doesn't stir JJ
•
ESPN.com's Top 25 Drivers vote
|
Rank 'em
•
Kyle Busch worried about tires in Daytona 500
•
Jayski podcast: Looking ahead to Sunday

•
Insider: Dr. Jerry Punch on Mike Tirico Show


•
Duels:
Newton
|
Blount
|
Recap
|
500 grid
•
Jayski podcast: The Duels and The King

•
Newton: Hendrick leader of Chevrolet pack
•
Blount: Feel-good afternoon at Daytona
•
Newton: Junior off to blazing start
•
Vickers, Wallace hitch onto Daytona 500 field
•
Cowlishaw's Power Rankings: JJ No. 1
•
Newton: Ford teams unite
•
Blount: Gatorade Duels mystify
•
Jayski podcast: Kyle Busch and more

•
Newton: Who's leading Dodge?
•
Garrow: Daytona 500 preview
•
Door-To-Door: Jarrett's Daytona dream
•
Notebook: Jarrett says no to Reutimann's ride
•
Newton: Probation right call for Stewart, Busch
•
Jayski podcast: Stewart ain't talking about it

•
Blount: Fairy-tale ending at Daytona?
•
Blount's Blitz: Let the Junior comparisons begin
•
Jayski.com's Mark Garrow wraps up Week 1

•
Newton: Beware of Toyotas
•
McGee: 500 turns 50
...
Zoom Gallery
•
Blount: 2008 a matter of redemption
•
Newton: 2007 in rearview mirror
•
Jayski: How do you make the Daytona 500?
•
JJ on 500 pole
|
Speeds
|
Grids:
Duel 1
|
Duel 2
•
Blount: Waltrip goes from disgraced to embraced
•
Newton: Junior Nation alive and well
•
Smith: Eury dedicates Shootout win
•
Newton: Get your No. 3 commemorative die-cast
•
Blount: Junior wins quickly
|
Shootout recap
•
Newton: Interchangeable cars? Not quite
•
Sources: Stewart punched Kurt Busch
•
Ashenfelter: Hamlin's '07 a learning experience
•
Inside The Hauler: Martin not looking back
•
Blount: Big weekend with Shootout, Pole Day
•
Newton: Reality check for McMurray
•
McGee: 'Shifting Gears' with Junior
•
Ashenfelter: Truex now the man at DEI
•
Marty Smith's Door-To-Door: Valentines for Liam
•
Blount: Who are these open-wheel guys?
•
Blount: Daytona 500 victory or Cup title?
•
Blount's Blitz: Boys will be boys
•
Ashenfelter: Bowyer drawing lofty comparisons
•
McGee: 50 things you need to know
Nationwide Series
•
Stewart smokes 'em from pole
...

•
2008 season preview

•
Ashenfelter: Opener no lock for Harvick
•
Dale Jr.'s Nationwide ride impounded for spoiler
•
Ashenfelter: Coleman ready for full-time gig
•
Mark Garrow previews the series

•
Ashenfelter: Times change, but maybe not at top
Craftsman Truck Series
•
Notebook: Unfinished business for Skinner
•
Schwarb preview: It's the Ron & Jack Show
Blogs
•
Breeze: The scissors were ready for Smoke
•
Newton: Judd settles for jeans on race day
•
Newton: NASCAR tells Judd to dress down
•
Blount: Moonshiner Johnson's come full circle
•
Newton: Ashley who? Say hello to Ingrid
•
Newton: NASCAR must rule on Judd's dress
•
Blount: Junior still sells big
•
Smith: Smoke vs. Busch? All good
•
Blount: Say what? Media Day talkers
Fantasy
•
The Good, The Bad, The Ugly: Daytona 500
•
Harris: Spin The Black Circle
•
Daytona 500 fantasy rankings
•
Fantasy Focus Weekly

•
Chat wrap: Garrow on Fantasy NASCAR

•
ESPN.com experts' Mock Draft
•
Engel: Stock car strategy guide
•
ESPN Fantasy Stock Car 2008
•
ESPN Stock Car Challenge
•
2008 ESPN Fantasy Draft Kit
SportsNation
•
Chat wrap: Jayski

•
Chat wrap: Analyst Brad Daugherty

•
Chat wrap: ESPN.com writer Tim Cowlishaw

•
Chat wrap: Sprint Cup driver Sam Hornish Jr.

•
Chat wrap: David Newton and Terry Blount

•
Chat wrap: ESPN.com writer Terry Blount

•
Chat wrap: ESPN analyst Rusty Wallace

•
Chat wrap: Jayski.com's Mark Garrow

•
Chat wrap: ESPN.com writer David Newton

•
Chat wrap: Driver Ryan Newman

•
Chat wrap: Driver Jamie McMurray

•
Chat wrap: ESPN.com writer Terry Blount

•
Chat wrap: Jayski.com's Jayski

•
Chat wrap: NASCAR Now's Nicole Manske

Classic 500s
•
McGee: Blizzards, the King and a fight
•
McGee: Cope with a surprising victory
•
McGee: Finally, one for the 3
•
McGee: The Kid against the world
•
McGee: It was Harvick by a nose
MOST SENT STORIES ON ESPN.COM