Commentary
Penske: Hornish drives 'masterful race' at Daytona
Sam Hornish Jr.'s 15th-place finish in the Daytona 500 was a thing of beauty in team owner Roger Penske's eyes, writes Mark Ashenfelter.
DAYTONA BEACH, Fla. --
Sam Hornish Jr.
might have a long way to go to learn what it will take to win in NASCAR, but he covered a lot of ground in a hurry in the Daytona 500.Making just his third Sprint Cup start -- and his first on a superspeedway -- Hornish was overshadowed by teammates
Ryan Newman
and
Kurt Busch
, who blew past
Tony Stewart
on the last lap to finish first and second.
[+] Enlarge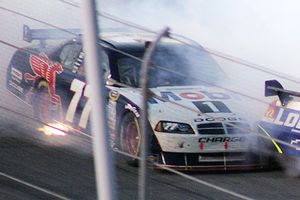 AP Photo/Jim TopperSam Hornish Jr. (77) sends Jimmie Johnson spinning on Lap 176 of Sunday's Daytona 500.
Overshadowed doesn't mean overlooked, however.Team owner Roger Penske, who helped convince Hornish last year that it was time for the former IndyCar Series and Indianapolis 500 winner to make the full-time move to NASCAR, couldn't say enough about Hornish's 15th-place performance."He drove a masterful race; he was working with the teammates [to learn from them]. I think he's going to be a real great team player here," Penske said. "To finish 15th in his first race and stay out of trouble, I was amazed and I know the team was excited."You've got to take a chance [developing drivers]. We started with Ryan and what we called an 'A-B-C' program -- ARCA, Busch and Cup -- and we're sitting here at the Daytona 500 victory table. I hope we do the same with Sam someday."If that day arrives, Hornish will be happier than he was after Sunday's race.For now, though, it wasn't bad. He finished 31st in his only restrictor-plate race in what is now the Nationwide Series here last February, so this was a huge step in the right direction."I'm about as happy as I can be with a 15th-place finish. I want to win every time we go out there, not to be disappointed about it," Hornish said. "We came in with a goal that if we were in the top 20, we would be happy with that. Not only were we able to do that but we were able to see one of our teammates win, so that was great."Crew chief Chris Carrier was ecstatic with how the race went. Carrier joined the team after a stint at Morgan-McClure Motorsports, which has shut down because of a lack of sponsorship.At the time, the Penske Racing camp said it felt Carrier had the right personality to guide a rookie. Carrier jokingly asked after the race where the rookie was that he's supposed to be working with."Sam was great this week. I can't say enough about him. I really think somebody has lied to me here because they told me I had a rookie and I don't believe I've got a rookie," Carrier said. "But all jokes aside, Sam is a great individual. He's very calm. He doesn't say a whole lot. He's very quiet. And to me that shows confidence and inner strength."There's not an arrogant bone in his body, but on top of that, down deep, there is a fierce competitor. Roger has told me all week that 'You're going to have to keep a leash on him.' And we did that. Man, he did a good job. We got fouled up in the pits a couple times. We apparently had a loose wheel right there, a pretty strange situation at the first of the race, and kind of got us out of sync."Hornish's one rookie moment came when he got together with two-time defending Sprint Cup champion
Jimmie Johnson
and Johnson went spinning.

I'm about as happy as I can be with a 15th-place finish. I want to win every time we go out there, not to be disappointed about it.
-- Sam Hornish
"[Johnson] was stuck in the middle and I got down on the bottom and I was trying real hard not to get into him. I don't know if he came down a little bit or I came up; just not enough room there," Hornish said. "I feel really bad about it if it was my fault. I'll go talk to Jimmie about it and apologize. Even if it wasn't my fault, [his spin was] still off the front of my car. I'm trying to learn as much as I can and get as much out of it while I do that."Hornish was guaranteed a spot in the field by virtue of the points transfer made by Penske Racing, giving Hornish the owners' points Kurt Busch earned last year. So the biggest win in Carrier's eyes might have to do with the team's long-term success this season."One thing that a lot of people lose focus on is the first five races. You gain points for the sixth race, and the ones that are solidly in the top 35 after the first five races are the guys that don't have to worry about qualifying their way in at Martinsville," Carrier said. "I'm well aware of that. I've been in that swamp for about three years [with Morgan-McClure], and it's no fun. This is a good start on it; when you have a good finish the first race, it gives you a little boost."The only other rookies in the field wish they could say the same thing, as
Dario Franchitti
finished 33rd, the first driver a lap down, and
Regan Smith
was 37th after contact with the wall on Lap 131 damaged his
Dale Earnhardt
Inc. Chevrolet. Smith finished six laps off the pace. "What we did was we were very conservative to start with and it went green for so long," Franchitti said. "When I got in a pack, I was so loose I really couldn't hang on, so we've got to work on that. "We finished, that's about all I can say. A great effort from my guys, but I definitely got to work on some stuff. We're going to do better next time."If Hornish does the same, Penske Racing might have even more to celebrate than it already did at the end of the Daytona 500.
Mark Ashenfelter is an associate editor at ESPN.
NASCAR
• Ashenfelter is an Event News Editor at ESPN.
• Worked at NASCAR Scene for eight years.
• Has covered NASCAR since 1999.
DAYTONA 2008
More Sprint Cup Coverage
•
Monday Rundown: Big opening weekend
•
Newman: McCauley shares in emotional win
•
Ryan Newman takes on Mike & Mike

•
Jayski podcast: What a finish in Daytona

•
Blount: Newman, Penske and Dodge golden
•
Zoom Gallery: 50th running of the Daytona 500
•
Newton: Junior's storybook start has so-so ending
•
Ashenfelter: Hornish 'masterful' at Daytona
•
Newman delivers Daytona 500 win for Penske
•
Notebook: No Wood Brothers entry in 500
•
Blount: Ganassi hoping merger rumors true
•
Newton: Salley says he wants to own Cup team
•
McGee: Little double-dipping at Daytona
•
Blount: Bowyer's 07 takes beating
•
Blount: All aboard the Earnhardt Express
•
The Eliminator: Take Gordon, please
•
Inside The Hauler: Controversy doesn't stir JJ
•
ESPN.com's Top 25 Drivers vote
|
Rank 'em
•
Kyle Busch worried about tires in Daytona 500
•
Jayski podcast: Looking ahead to Sunday

•
Insider: Dr. Jerry Punch on Mike Tirico Show


•
Duels:
Newton
|
Blount
|
Recap
|
500 grid
•
Jayski podcast: The Duels and The King

•
Newton: Hendrick leader of Chevrolet pack
•
Blount: Feel-good afternoon at Daytona
•
Newton: Junior off to blazing start
•
Vickers, Wallace hitch onto Daytona 500 field
•
Cowlishaw's Power Rankings: JJ No. 1
•
Newton: Ford teams unite
•
Blount: Gatorade Duels mystify
•
Jayski podcast: Kyle Busch and more

•
Newton: Who's leading Dodge?
•
Garrow: Daytona 500 preview
•
Door-To-Door: Jarrett's Daytona dream
•
Notebook: Jarrett says no to Reutimann's ride
•
Newton: Probation right call for Stewart, Busch
•
Jayski podcast: Stewart ain't talking about it

•
Blount: Fairy-tale ending at Daytona?
•
Blount's Blitz: Let the Junior comparisons begin
•
Jayski.com's Mark Garrow wraps up Week 1

•
Newton: Beware of Toyotas
•
McGee: 500 turns 50
...
Zoom Gallery
•
Blount: 2008 a matter of redemption
•
Newton: 2007 in rearview mirror
•
Jayski: How do you make the Daytona 500?
•
JJ on 500 pole
|
Speeds
|
Grids:
Duel 1
|
Duel 2
•
Blount: Waltrip goes from disgraced to embraced
•
Newton: Junior Nation alive and well
•
Smith: Eury dedicates Shootout win
•
Newton: Get your No. 3 commemorative die-cast
•
Blount: Junior wins quickly
|
Shootout recap
•
Newton: Interchangeable cars? Not quite
•
Sources: Stewart punched Kurt Busch
•
Ashenfelter: Hamlin's '07 a learning experience
•
Inside The Hauler: Martin not looking back
•
Blount: Big weekend with Shootout, Pole Day
•
Newton: Reality check for McMurray
•
McGee: 'Shifting Gears' with Junior
•
Ashenfelter: Truex now the man at DEI
•
Marty Smith's Door-To-Door: Valentines for Liam
•
Blount: Who are these open-wheel guys?
•
Blount: Daytona 500 victory or Cup title?
•
Blount's Blitz: Boys will be boys
•
Ashenfelter: Bowyer drawing lofty comparisons
•
McGee: 50 things you need to know
Nationwide Series
•
Stewart smokes 'em from pole
...

•
2008 season preview

•
Ashenfelter: Opener no lock for Harvick
•
Dale Jr.'s Nationwide ride impounded for spoiler
•
Ashenfelter: Coleman ready for full-time gig
•
Mark Garrow previews the series

•
Ashenfelter: Times change, but maybe not at top
Craftsman Truck Series
•
Notebook: Unfinished business for Skinner
•
Schwarb preview: It's the Ron & Jack Show
Blogs
•
Breeze: The scissors were ready for Smoke
•
Newton: Judd settles for jeans on race day
•
Newton: NASCAR tells Judd to dress down
•
Blount: Moonshiner Johnson's come full circle
•
Newton: Ashley who? Say hello to Ingrid
•
Newton: NASCAR must rule on Judd's dress
•
Blount: Junior still sells big
•
Smith: Smoke vs. Busch? All good
•
Blount: Say what? Media Day talkers
Fantasy
•
The Good, The Bad, The Ugly: Daytona 500
•
Harris: Spin The Black Circle
•
Daytona 500 fantasy rankings
•
Fantasy Focus Weekly

•
Chat wrap: Garrow on Fantasy NASCAR

•
ESPN.com experts' Mock Draft
•
Engel: Stock car strategy guide
•
ESPN Fantasy Stock Car 2008
•
ESPN Stock Car Challenge
•
2008 ESPN Fantasy Draft Kit
SportsNation
•
Chat wrap: Jayski

•
Chat wrap: Analyst Brad Daugherty

•
Chat wrap: ESPN.com writer Tim Cowlishaw

•
Chat wrap: Sprint Cup driver Sam Hornish Jr.

•
Chat wrap: David Newton and Terry Blount

•
Chat wrap: ESPN.com writer Terry Blount

•
Chat wrap: ESPN analyst Rusty Wallace

•
Chat wrap: Jayski.com's Mark Garrow

•
Chat wrap: ESPN.com writer David Newton

•
Chat wrap: Driver Ryan Newman

•
Chat wrap: Driver Jamie McMurray

•
Chat wrap: ESPN.com writer Terry Blount

•
Chat wrap: Jayski.com's Jayski

•
Chat wrap: NASCAR Now's Nicole Manske

Classic 500s
•
McGee: Blizzards, the King and a fight
•
McGee: Cope with a surprising victory
•
McGee: Finally, one for the 3
•
McGee: The Kid against the world
•
McGee: It was Harvick by a nose