Commentary
Roush Fenway Racing drivers lay eggs -- not bricks -- at Indy
Roush Fenway Racing is the best team in NASCAR never to kiss bricks at Indy. With five of its drivers qualifying in the top 16 for Sunday's Allstate 400 at the Brickyard, RFR likes its chances in 2008, writes Terry Blount.
Updated:
July 26, 2008, 4:52 PM ET
By
Terry Blount
| ESPN.com
INDIANAPOLIS -- A Roush Fenway Racing driver has won at 20 of the 22 speedways where the Sprint Cup Series competes. Indianapolis Motor Speedway is not one of them.The Jack Roush bunch is the best team in NASCAR to never taste Victory Lane at Indy. Roush's boys are 0-for-14 entering Sunday's Allstate 400 at the Brickyard."It's a fluke," said second-year RFR driver
David Ragan
. "It's weird that it's happened, but it's something that could change this weekend very easily. All five cars have a shot to win."The Indy shutout is the longest drought for RFR at any Cup track. The organization also is winless in Cup races at Chicagoland Speedway, but only eight events have taken place on the 1.5-mile Joliet oval.RFR isn't the only major Cup team without a victory on the historic 2.5-mile Indy rectangle. Roger Penske has 14 victories in the Indy 500, but none in the Allstate 400. Dale Earnhardt Inc. is another team that hasn't won at the Brickyard.But RFR is the only championship team in the past 15 years that hasn't won at Indy. Hendrick has five Indy victories (four with
Jeff Gordon
and one with
Jimmie Johnson
), Joe Gibbs Racing has three (two with
Tony Stewart
and one with
Bobby Labonte
), Richard Childress Racing has two (
Dale Earnhardt
and
Kevin Harvick
) and Yates Racing has two (both by
Dale Jarrett
).Seven different drivers have won a championship over the past 11 seasons. RFR racer
Matt Kenseth
and former Roush driver
Kurt Busch
are the only two who haven't won at the Brickyard.It defies logic. So what's the problem?"I don't know," Kenseth said. "I know we've had really good cars at times and have never quite been able to pull it off or get it figured out. Hopefully, it's just a matter of time." RFR drivers have come close several times. Kenseth finished second in 2003 and 2006. Former Roush driver
Mark Martin
was second in 1998. RFR drivers have posted 10 top-5s in the 14 Cup events at Indy.
[+] Enlarge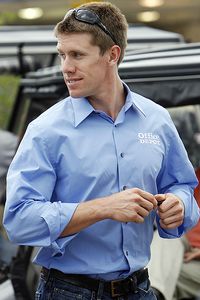 AP Photo/Nam Y. HuhCarl Edwards says the Brickyard is won or lost on the tricky four corners of the famed quad-oval.
"I've seen Mark run really good here a lot of times and be really close," Kenseth said. "And I've seen [former Roush driver]
Jeff Burton
be really close a bunch of times."Coming close would seem to indicate RFR guys are simply a victim of bad luck. But a closer looks shows other factors are involved. Long, flat tracks with sharp turns haven't been RFR's forte.Pocono, a relatively flat 2.5-mile triangle, is considered the track most similar to the flat quad-oval at Indy. Since Roush began Cup racing in 1988, the organization has gone winless at Pocono every year but one.
Carl Edwards
and former Roush driver Kurt Busch won the two Pocono races in 2005.Kenseth finished seventh and Edwards ninth at Pocono in June.Flat tracks are one issue; big events are another. The team has an allergy to getting it done at the biggest races. The two top shows in NASCAR have eluded them. RFR also is winless in the Daytona 500.Kenseth feels they started this big-event weekend at a disadvantage because no Ford driver was part of a Goodyear tire test at the track earlier this year. "They used one Chevy, one Toyota and one Dodge," Kenseth said. "So everybody had data except us. If we can sort it out quickly we'll be OK."If qualifying is any indication, they sorted things out pretty well. All five RFR cars qualified in the top 16, including three in the top 10. Kenseth qualified 10th Saturday morning, easily his best starting spot ever for this event. His previous best qualifying effort was 17th in 2003.Edwards qualified ninth. His previous best starting spot at Indy was 22nd in 2006.
Jamie McMurray
led the RFR contingent, qualifying eighth.Edwards said the key to running up front at Indy is getting the car to turn smoothly on the tricky four corners of the Brickyard."If you go down into the corner and it doesn't turn, you're in trouble," Edwards said. "If you have to slow down a little extra there, it just kills you down the straightaway. If you're hitting the splitter or you're chattering the front tires, you lose all you momentum for the straightaway."RFR driver
Greg Biffle
said Indy is one of the most difficult tracks to get the car dialed in properly."This is a track where you can't hide anything," Biffle said. "Any little problem with the car will show up. If you're not running strong, you're not going to fluke your way into the front here."Ragan said 14 years is long enough. He foresees things changing for RFR at Indy. "Someone in the Roush stable is going to find themselves in a fast car with good track position at the end," Ragan said. "And nothing crazy will happen, and we'll win one of these things for Jack."
Terry Blount covers motorsports for ESPN.com. He can be reached at terry@blountspeak.com.
ESPN Seattle Seahawks reporter
Covered the NFL at the Houston Post and Houston Chronicle, including eight Super Bowls
Received Citation for Writing Excellence from Hearst Newspapers
Also has covered NBA Finals, World Series, Finals Fours, Indy 500 and Daytona 500