Commentary
From JJ's first Cup title to Knaus' suspension, nothing dull about 2006 Chase
Imagine winning the Daytona 500, the Allstate 400 at the Brickyard and the Cup Series championship in the same year. Jimmie Johnson doesn't need to imagine, writes Terry Blount.
Updated:
September 10, 2008, 11:23 AM ET
By
Terry Blount
| ESPN.com
[+] Enlarge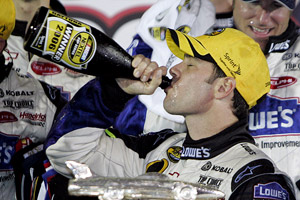 AP Photo/John RaouxJimmie Johnson won the 2006 Daytona 500 without suspended crew chief Chad Knaus.
The 2006 season was the year
Jimmie Johnson
could do more than win races and finish well in the Cup standings. He learned he had what it takes to win the championship, and he hasn't lost one since.Johnson and the No. 48 Chevrolet team had a dream season, but a lot of interesting and unusual things happened in the series along the way. Here are a few that stand out:Highs
•
NASCAR's first Triple Crown winner --
Johnson became the first driver to win the Daytona 500, the Allstate 400 at the Brickyard and the Cup championship in the same season. •
Kahne breaks out --
Kasey Kahne
enjoyed his best season, winning six races and making the Chase for the first time.•
Hamlin a rookie sensation --
On his way to Rookie of the Year honors,
Denny Hamlin
swept the two Pocono events and won the Bud Shootout to begin his rookie year.•
RCR gets back in contention --
Richard Childress Racing made a surprising return to championship form, placing
Kevin Harvick
and
Jeff Burton
in the Chase. No RCR driver made the Chase in the first two years of the playoff.•
Stewart wins again at Daytona --
Tony Stewart
won the Pepsi 400 at Daytona for the second consecutive year.•
Back-to-back winners --
A driver won back-to-back races three times in 2006:
Matt Kenseth
at Michigan and Bristol, Hamlin at Richmond and New Hampshire, and Stewart at Atlanta and Texas. •
Biffle hits the Miami Trifecta --
Greg Biffle
won the Ford 400 at Homestead-Miami Speedway for the third consecutive year.
Lows
•
Stewart fails to make the Chase --
One year after winning his second championship, Stewart failed to make the Chase. But he won three times in the 10 Chase races.•
Biffle and Edwards fail to make the Chase --
Biffle and
Carl Edwards
finished only 35 points behind Stewart for the 2005 title, but neither of them made the 2006 Chase. So the top three drivers from 2005 weren't even in the playoff in 2006. •
Knaus suspended --
Chad Knaus had to watch from his house when his team won the Daytona 500. He was suspended for four races for manipulating the rear window of the No. 48 Chevy before Daytona 500 qualifying. •
Harvick wins Nationwide championship --
Harvick became the first full-time Cup driver to win the title in the feeder league, sort of like Alex Rodriguez's winning the Triple-A batting title.
Odd and ends
•
ZZ Top recruit --
Tom Giacchi, the motorcoach driver for Edwards, kept his word and lots of whiskers because of it. Giacchi vowed not to shave until Edwards won a Cup race in 2006. That didn't happen, so Giacchi's beard was down to his chest by the end of the season. Edwards finally won again in June 2007 at Michigan.•
Texas cat fight --
Nicole Lunders did her Tammy Wynette "Stand By Your Man" routine after her boyfriend, Biffle (now her husband), wrecked when he was bumped by
Kurt Busch
at Texas Motor Speedway. Lunders stormed down to Busch's pit box, climbed up and had an angry exchange with Eva, Busch's wife.•
Golfing accident --
Johnson suffered an injury in 2006, but it didn't come on the track. It came during a golf outing after the season, when he was horsing around and fell off the roof of a golf cart.•
Wedding celebrity --
Jeff Gordon
and Ingrid Vandebosch kept it quiet and didn't tell friends when and where they were getting hitched, but they did tell Us Weekly, which had exclusive photos of the ceremony in Mexico.•
Take that, Tony --
Jamie McMurray
had the quote of the season after Stewart caused McMurray to wreck at Phoenix. McMurray was asked how he felt about the incident: "Well, I guess I'll be buying my Irwin Tools at Lowe's." Zing. Irwin Tools is one of McMurray's sponsors. Home Depot is Stewart's sponsor.•
Best prediction --
In 2006, before it ever raced in a Cup event, Stewart called the Car of Tomorrow "a flying brick."
Terry Blount covers motorsports for ESPN.com. He can be reached at terry@blountspeak.com.
ESPN Seattle Seahawks reporter
Covered the NFL at the Houston Post and Houston Chronicle, including eight Super Bowls
Received Citation for Writing Excellence from Hearst Newspapers
Also has covered NBA Finals, World Series, Finals Fours, Indy 500 and Daytona 500
CHASE FOR THE SPRINT CUP PREVIEW
Monday
•
Hinton: How the Chase was born
•
Hinton: How the 2004 Chase was won
•
Willis: Ancient Chaseology: 1975-79
•
Chat wrap: Jayski insider Mark Garrow

•
Chat wrap: NASCAR Now's Andy Petree

Tuesday
•
Newton: Stewart does it old and new in '05
•
Newton: How the 2005 Chase was won
•
Willis: Ancient Chaseology: 1980-84
•
Chat wrap: Terry Blount

Wednesday
•
Blount: Jimmie took 'em to school
•
Blount: How the 2006 Chase was won
•
Willis: Ancient Chaseology: 1985-89
•
SportsNation chat: David Newton

Thursday
•
Smith: No Chase breaks for Gordon
•
Smith: How the 2007 Chase was won
•
Willis: Ancient Chaseology: 1990-94
•
SportsNation chat: Tim Cowlishaw

Friday
•
McGee: This Chase thing is all Kenseth's fault
•
McGee: So who do we think will win?
•
Willis: Ancient Chaseology: 1995-99
Saturday
•
Hinton: Dale Jr.'s burden
•
Hinton: Gordon & Co. working on it
•
Newton: Fast start nice, not necessary
•
Willis: Ancient Chaseology: 2000-03
MOST SENT STORIES ON ESPN.COM