Commentary
Newman nipping at boss's heels
Updated:
June 9, 2009, 5:11 PM ET
By
Terry Blount
| ESPN.com
Want to know who the most overlooked driver in NASCAR is right now? It's easy to go overlooked these days.
Kyle Busch breaks a guitar, Dale Earnhardt Jr. changes crew chiefs, Jeremy Mayfield and Carl Long say they were wronged, and Tony Stewart earns a special victory.
Meanwhile, one man has quietly made himself a contender again and hardly anyone has noticed.
It's that other guy at Stewart-Haas Racing, the always-analytical engineer with no neck, a devoted wife and five dogs.
Ryan Newman doesn't make rash decisions. He's a cerebral fellow, a man who meticulously plans his moves and calculates the risk involved.
[+] Enlarge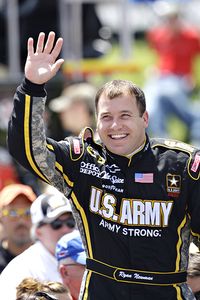 AP Photo/Rob CarrAfter a rough start, it's been pretty smooth sailing for Ryan Newman, who has six straight top-10 finishes and is ranked fourth in the Cup standings.
He weighed his options carefully last summer and decided Stewart's new team was worth the risk.
Newman went against his nature. He took a chance. He played a hunch. He went with his gut feeling.
Sometimes you just need to put all your knowledge aside and follow your heart. And for Newman, the gamble has paid off bigger, better and faster than he could have imagined.
Newman is fourth in the Sprint Cup standings, the highest he has been ranked after 14 races in his eight-year career.
While watching the boss win at Pocono on Sunday, Newman finished fifth for his sixth consecutive top-10, including five top-5s, in the No. 39 Chevrolet.
"It's a group effort and you're seeing the results," Newman said Sunday. "When you get both cars in the top five, it's not by luck."
Virtually no one expected Stewart to contend for the championship. He was a new owner/driver for a team that never was competitive before he arrived.
If it was a long shot for Stewart, how much tougher was it going to be for Newman?
He left Penske Racing believing he needed a fresh start. Things couldn't have started much worse when Newman failed to post a top-20 in the first four races.
"We battled back from a rough start," Newman said. "We've all just jelled and everyone seems to work together well. We're working toward a common goal."
The team is doing all the little things right. The crew replaced a faulty spark plug midway through Sunday's race. Newman fell to 28th at one point, but crew chief Tony Gibson made the right call on fuel mileage to help the car finish near the front. Gibson isn't surprised at the team's improvement.
"I knew this team was capable of consistently getting top-5s and top-10s," he said. "We just had some misfortune [early in the season] and we never got a chance to show how good we could be. This team has stuck together and they haven't given up. We stayed focused and our luck turned around."
And hardly anyone noticed. That will change soon if Newman and the No. 39 crew continue to post top-5s. Consistent top-5s usually pay off with a victory somewhere.
"They say that first win is the hardest thing," Newman said. "If we keep doing what we're doing, we're going to get what we want."
Stewart got the first victory for the new organization, but he better keep an eye on his teammate, the man everyone overlooked.
"I'm just really proud of what we have accomplished so far," Newman said. "I'm ecstatic with where we are sitting in points. We keep moving forward. I just want to keep the ball rolling. I'm happy to be in the position I'm in."
It's a big risk that paid off for a calculating guy.
It's only a trophy, right?
For his next act, Kyle "Rock Star" Busch will set his winning car on fire in Victory Lane, saying he is giving pieces of the charred metal to the members of his team.
It's the only way to top his boorish display at Nashville on Saturday night, when he shattered the one-of-a-kind guitar trophy in Victory Lane.
Good thing Kyle didn't win the Samsung 500 at Texas Motor Speedway in April. No telling where he would have wanted to put the boot trophy.
And if Kyle wins at Martinsville, he can call it the day time stood still after he shatters the beautiful grandfather clock trophy.
Bad vibrations
Apparently vibration problems are more contagious than the swine flu. Three drivers -- Dave Blaney, Joe Nemechek and Patrick Carpentier -- took their cars to the garage before the 40-lap mark at Pocono with "vibration" listed as the official reason.
I smell something fishy, or maybe shaky.
Blaney has made 11 starts this season. Races he finished? One.
Nemechek also has made 11 starts in 2009, but he was running at the end in two races.
Carpentier was making his first start in Tommy Baldwin's No. 36 Toyota, but Baldwin's machine has managed to go the distance in five of 10 starts.
Benson loses Truck ride
It's not a good sign for the Camping World Truck Series when Johnny Benson, the defending series champion and the man who ranks seventh in the standings this season, loses his ride.
Red Horse Racing announced Monday it will shut down the No. 1 Toyota Tundra team, leaving Benson to look elsewhere for an opportunity to race. The team could not find a sponsor.
"We gave it our best shot and we tried as long as we could," said team owner Tom DeLoach. "Nothing materialized."
Red Horse Racing will continue to field the No. 11 Toyota, which does have some sponsorship for driver T.J. Bell.
Pocono marathon continues
Joe Mattioli, owner of Pocono Raceway, said over the weekend that he will not sell the facility and will not shorten the Cup races, which are 500 miles and 200 laps around the 2.5-mile triangle track.
No word if Mattioli, who is 84, feel asleep before the end of the event Sunday.
Terry Blount covers motorsports for ESPN.com. His book, "The Blount Report: NASCAR's Most Overrated and Underrated Drivers, Cars, Teams, and Tracks," was published by Triumph Books and is available in bookstores. Click here to order a copy. Blount can be reached at terry@blountspeak.com.
ESPN Seattle Seahawks reporter
Covered the NFL at the Houston Post and Houston Chronicle, including eight Super Bowls
Received Citation for Writing Excellence from Hearst Newspapers
Also has covered NBA Finals, World Series, Finals Fours, Indy 500 and Daytona 500
SPONSORED HEADLINES
MORE RACING HEADLINES
MOST SENT STORIES ON ESPN.COM